Ohel Torah Yeshiva;
Was established in 1907 by Reb Yosef Yozl Horovitz. in the Musar style tradition.
iFrom the net: "In 1921 Reb Elchonon Wasserman ... was asked to head the local yeshiva, Ohel Torah. He was to head the yeshiva till the war years when he, together with hundreds of his students sanctified the Almighty's name. Witnesses have recounted that dreadful day--eleventh day in Tamuz, 5701 when the murderers came in. He was in the midst of learning Tractate Nidoh. Reb Elchonon spoke quietly and calmly, as was his practice. Not even the sound of his voice was changed. On his face, his customary earnestness. His tone betrayed no feeling for self, and he did not attempt to say good-bye to his son, Reb Naftali. He spoke to everyone, to the whole House of Israel.

"In Heaven it appears that they deem us to be righteous because our bodies have been chosen to stone for the Jewish people. Therefore, we must repent now, immediately. There is not much time. We must keep in mind that we will be better offerings if we repent. In this way we will save the lives of our brethren overseas.

"Let no thought enter our minds, G-d forbid, which is abominable and which renders an offering unfit. We are now fulfilling the greatest mizvah. With fire she was destroyed and with fire she will be rebuilt. The very fire which consumes our bodies will one day rebuild the Jewish people."
-----------------------------------------------

In the summer of 1937 at the third convention of the rabbinical leaders of Agudath Israel held in Mariband, which included hundreds of rabbis, heads of yeshiva religious academies and grand rabbis of Chassidic communities from a number of countries, Rabbi Elchonon Wasserman stood out from among all of them.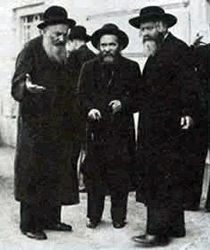 Rabbi Wasserman, Rabbi Blau and Rabbi Kotler
Rabbi Wasserman (left)
with Rabbi Kotler and Rabbi Blau
at the convention in Mariband in 1937
To read about the Yeshiva in Hebrew go to;
http://www.daat.ac.il/encyclopedia/value.asp?id1=1163