From Survival to Prosperity
The story of holocaust survivor Sam Solasz
By Jonathan Zalman
http://www.tabletmag.com/scroll/192945/from-survival-to-prosperity
Sam Solasz was born in Wasilkow, a town near Bialystok, and was interned in the Bialystok Ghetto before escaping a train on its way to Treblinka. Sam was a long time President of The Bialystoker Center in New York City. This last Sunday, Sam was in Bialystok commemorating the 72nd Anniversary of the beginning of the Bialystok Ghetto Uprising. BRAVO SAM!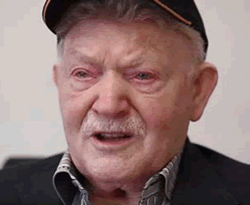 The son of a master butcher, Morris Solasz, 87, was born in Poland in 1928. He had eleven siblings. After the Nazis took over his hometown, he lived in a ghetto until 1942 when Solasz, then 14 years old, was packed into a railway car headed for Treblinka concentration camp.
As he rode towards the death camp, Solasz, according to Mashable, "was able to locate some tools in the cattle car and devise a way to unlatch the door." As the train slowed, he jumped from the car with another woman and headed to the woods where he was taken in by members of the resistance. He hid in the forest, fought with the partisans, and used his butchering skills to prepare game in order to survive.
After the war ended, Solasz found himself an orphan; he was the only member of his family to survive the Holocaust.
Solasz moved to Germany where he became a Golden Gloves boxer. By 1951, he was on a boat to the U.S.—a naval boat called The General Taylor—and he worked for a dollar a day cutting meat. When he arrived, Solasz found work right away, too, reported Mashable:
After a couple exchanges of Polish slang, Solasz was brought to the Hygrade Food Corporation, where his display of knife skills eliminated the need for a formal interview. He had only been in the country a matter of hours when Hygrade hired him at a rate three times higher than their other butchers
In August, 1957, Solasz began his company, Master Purveyors, which was located in New York City's Gansevoort Meat Market. Today the company is run by Solasz and his two sons, Scott and Mark, and has about 60 employees. It's located on Food Center Drive in Hunts Point, Bronx, which feeds New York. Master Purveyors provides top-quality meat to some of the world's best steakhouses, like Peter Luger.
"I'm still working 18 hours a day," said Solasz. "Because I love this business."