An amazing encounter
<![if !supportEmptyParas]> <![endif]>
The story of Chana ( daughter of Michle nee Alperovich and Kuzinietz and Chaim (son of Eliyahu and Reyzl Brunstein)
Translation by their son; Micha Brunstein
from: Eternal fire – Yizkor to Dolhinov
<![if !supportEmptyParas]> <![endif]>
Pages 432-435
<![if !supportEmptyParas]> <![endif]>
<![if !supportEmptyParas]> <![endif]>
<![if !supportEmptyParas]> <![endif]>
<![if !supportEmptyParas]> <![endif]>
We were married in Vilna, on November 11th, 1938, at the home of Rabbi Rubinstein. The time was already stormy and winds of war were blowing ominously, but The war did not break yet. We were a couple since our early youth and the word in town was that we were always together. The Nazis attacked Poland in September of 1939. Chaim was drafted into the Polish army. I stayed behind in the shtetl with my family. I had my Mother, Michle, the daughter of Yosef Binyamin and Yocheved Alperovitz, two brothers and three sisters. Bluma ( wife of Zelig Katz) was the oldest. Bluma was born in 1913, Rachel was born in 1917, Joseph -Binyamin who was named after my grandfather, was in the Middle, Mina was born in 1919 and Shalom the youngest was born in 1926. From the entir family only Joseph-Binyamin Kuzinietz and I survived. Joseph-binyamin lives now in the US.
<![if !supportEmptyParas]> <![endif]>
Chaim continues:
<![if !supportEmptyParas]> <![endif]>
I was sent to serve in the defense of Lvov and upon the German invasion we retreated with the army toward Wholin – Ukraine, and in the forest of Kostopol we were taken as prisoners of war by the Soviet army ( at that point of time Poland was devided between the Soviets and the Nazis and the eastern area, as well as the area of Dolhinov, was under Soviet control). After Sep 17 when the Red Army passed the border I was taken with the officers and we were transferred to the area of Katin.
In Katin they selected from the prisoners those that came from Vilna in order to free them. We left Katin as "released" but we were transferred to Kriboi-Rog as to transfer us over the Polish border but actually we were taken to a closed camp and we started to work in coal mines. After six month they transferred some of us over the Polish border through Kiev – Lvov. We arrived at Verkovitch between Dobna and Robna. From Verkovitch I contacted Dolhinov and told my whereabouts, this was in 1940. Chana my wife came to visit me in the prisoners of war camp. I stayed in that camp until 1941 when German – Russia war started.
When the Nazis attacked the Soviet Union ( June of 1941), I was working outside the camp and when I returned I did not find the camp. The Red Army retreated very deep east and we were taken by them as prisoners. From June 1941 until mid 1942 we were on the road until we arrived to Kuybyshev. We were transferred to Tozk – were the Andreas Polish Army got organized; I was in the first division of that army. Andreas Army planed to fight outside the borders of the Soviet-Union and in the Sikorsky agreement it was decided to transfer this army to the Middle East, Iran and Iraq and from there to the Western Europe fronts.
In Chaksi – area of Tashkent – the Andreas divisions were organized for transfer to Iran. This was in first half of 1942. I met Ahrale Gordon (who escaped from Dolhinov and was able to cross the front and arrive deep in the Soviet Union) and he told me that Chana my wife, my mother Reisel and my sister Raaya survived the actions in Dolhinov, they escaped and they are now in the forests near Dolhinov with the Soviet Partisans.
I decided to stay in Russia so I could find my family. Together with another Dolhinover; Michael Rapson, I returned to Totsk. While I was in the Polish army I worked in a Kolkhoz in the neighborhood of Sorochinsk and I returned there. I worked there together with M. Rapson several months and after my return I started to work in the Sorochinsk Polyclinic as a Dentist. I already settled down and had better conditions. I lived together with Rapson and another Dolhinover in more or less reasonable conditions.
Shifra Gordon (from Sorochinsk) was in the Sorochinsk train station and the train with Dolhinov survivors passed by. Chaim Hershel Katz was looking for work in Sorochinsk and he told me that my sister, mother and Chana my wife and her brother passed on a train on its way to Tashkent. The next day I approached the Clinic manager and asked for his advice how can I get a leave to find my family? He gave me a travel permit (Comandirovka) stating that I am traveling for Dentist exams in Tashkent.
I knew the wagon number and in all stations of the fast train I was traveling on I stopped and tried to locate the wagon and its passengers. After five days of travel I arrived at 2 after midnight to Chimkent station and the station manager brought me to the wagon. It was after five sleepless days and nights and I knocked on the wagon doors and the first person who stepped down was Rafael Sosinsky( also from Dolhinov). This is how I met my family.
<![if !supportEmptyParas]> <![endif]>
Chana:
When the war started on June 22, 1941 I was in Dolhinov with my mother and family, and we stayed together also after the German entered the village.
While the German stayed in the village until the first "Action" (Aktzia) we went to the forest and collected mushrooms, blueberries and berries. We also collected potatoes by my uncle R. Sosinsky who was hiding in Korlin. I did not work for the Germans I was just afraid of them. I tried all the time to be together with my brother Joseph-Binyamin.
At the first German "Action" and mascara all my familywas in hiding. I was by myself in the house, the oven was burning and a German soldier entered, he asked me to boil for him eggs and did nothing to me, he just got the eggs and left. This is how by a miracle I survived the Action. At the end of the killings all the surviving Jews were ordered to move into a small Ghetto and we moved as well. One day a rumor started that the German are coming. I took my brother Joseph-Binyamin and I we ran to the forest. We went to a farmer, which was a client of my mother's store, but he was afraid and refused to hide us.
Few days after the second Action, the Ghetto was surrounded; no one could go in or out. I took my brother Joseph-Binyamin, I left first with my brother and six more people followed me, among them Selig the son of Elimelech Kuzinietz. The German guards shot at us and he was hit by a bullet.
As we run we broke and entered into a basement of Yerachmiel Shapiro on May 3rd Street. We set there for few hours and then crossed the street and continued my brother Joseph-Binyamin and Riesa daughter of Mussia. During the run I saw in the "Boimalach" boulevard a little girl about 8 years old, the daughter of Sandler, I do not know what happened to her. We kept running and we arrived to a granary of a farmer in the village Palant. He was also a customer of my mother's store. We told him that we are in the granary and he brought us to an under ground potato storeroom in his house. For the night the farmer brought us up to his house and we slept on the oven. On the night before that we got to our Uncle R. Sosinsky house and we hided on his attic for 24 hours, when it become dark we went to the farmer's house.
Few days later we asked the farmer to go to Dolhinov for news and he come back telling us there were no survivors from our family.
We decided to go back toDolhinov, I dressed up as a farmer woman wore a scarf on my head, but some people recognized me as Jewish and said:"Eta Z'idovka" (Polish: she is Jewish). We arrive to Dolhinov and entered the Hospital were we met Dr. Kotler and also E. Meisel and they said that they are going to escape to the forest and will take us with them. At that night a group of 8 people left for the forest among them Chaya Shulkin, a beautiful 18 years youngster who later perished. We got to the forest and were waiting for contact with the Partisans. Few days later we got to the Partisans and they allowed us to be close to them. The Partisan headquarter led by Timochek decided to transfer the non-fighters across the front lines, a distance of about 1500 kilometer, which we had to do mostly by foot during the nights. We were able to pass the front into area control by the Soviet Union. We were on a train from there and passed through Chkalov (today: Orenburg) and did not get off. We continued to Tashkent direction but did not get there. In Chimkent a cross road to Alma-Alta and Tashkent I met my husband, who knocked at 2 after midnight on our wagon.
<![if !supportEmptyParas]> <![endif]>
Chaim Continues:
<![if !supportEmptyParas]> <![endif]>
Despite all difficulties I took my family with me to Sorochinsk and returned to my work in the Polyclinic. This was in the end of 1942. After about a year, in end of 1943 our first son Misha (Micha) was born. We were in Sorochinsk until May 1945. On May 5, Germany surrounded, the war was over. After two month we were allowed to return to our area. Chana my wife refused to go back to Dolhinov and we went back to Vilna. We were there few weeks and because the "Repatriation" went to Poland and arrived few moth later to Lodge. Then we moved to Shtetin and with us were Libel Palant, Moshe Furman. In 1943 my wife's brother was drafted to the Polish Army to the Lodova division. We met him again in Shtetin and we also met Libel Chavlin and his family, Liebe Dimenshtein with Selig and Sonia. My sister Raaya was not with us; she left Sorochinsk and arrived to Israel before us. My mother and Joseph-Binyamin my wife's brother moved with us to Berlin and later to Eshwegge by Kassel were we stayed until 1949.
In May 1949 we arrived to Israel on board the ship "Negba", my mother arrived a few months earlier.
<![if !vml]>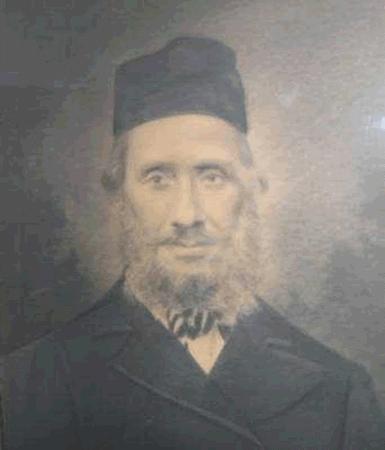 <![endif]>
:Yosef Binyamin Alperovich (born c. 1845) married Hannah Yachved Isaksohn* (born c. 1845) and as far as I know, they had the following 6 children in Dolhinov:
- Gedalya (George) Alpers (born c. 1867)
- Samuel Alpers (born c. 1772, immigrated to USA, lived in Salem, MA - married
Bessie Swift, 7 children)
- Isador Alpers (born 1877, immigrated to USA, lived in Salem, MA - my grandfather
- married Sarah Molly Sushelsky, 7 children)
- Perle Alperovich
- Michle Alperovich (married Kusiniec, 2 children - perished in Holocaust c. 1942 -
appears in Dolhinov Yizkor book as "Michle Kuznitz")
- Ch. Alperovich Chaika" or "Chaike; She married a man named (Rafael) Sosinski / Sosensky / Solsensky (died of pneumonia in 1939 in Dolginovo). One of her children was named Joseph Sosinski (?)(born in Dolginovo in 1922 , escaped from the Dolhinov ghetto and joined the partisans to fight the Germans and later in the Red Army. Married Katia (b. 1928) came to israel in 1962 with two children; Maya, wife of Amikam Shor of Bitzaron, and son, Eli . Died with wife Katia on march 11, 1978) who lived in a small, remote town (a kibbutz?) in Israel during the 1960's. I think Joseph had 4 siblings, but I don't know the names.
(Batia Kramer (born 1926 lives in Ashdod) , Chanoch , Sima Shochetman (born 1935) and Yehuda (lives in Ganay Yochanan))
*The parents of Hannah Y. Isaksohn were Baruch Yaakov Isaksohn (born c. 1820)
and wife Perle. Hannah's siblings that I know of were:
- Sarah Rivka Isaksohn (born c. 1850, married Yitzak Axelrod and had 8 children)
- Gedalya Isaksohn (2 children)

The Axelrod family tree has been well researched by Harold Rhode -

Charlie Alpers

Mikhle Koznitz nee Alperovitz was born in Dolhinow in 1888 to Yosef Binyamin and Sara Riva ( Yocheved). She was married to Khaim. Prior to WWII she lived in Dolhinow, Poland. During the war she was in Dolhinow, Poland. Mikhal perished in 1942 in Dolhinow, Poland. This information is based on a Page of Testimony (displayed on left) submitted on 15-Jun-1956 by her son-in-law Chaim.

Mina was born in Dolhinow in 1919 to Khaim and Mikhla. Prior to WWII she lived in Dolhinow, Poland. During the war she was in Dolhinow, Poland. Mina perished in Dolhinow, Poland. This information is based on a Page of Testimony (displayed on left) submitted by her sister

Shalom

Shalom was born in Dolhinow in 1926 to Khaim and Mikhla. He was a child. Prior to WWII he lived in Dolhinow, Poland. During the war he was in Dolhinow, Poland. Shalom perished in Dolhinow, Poland. This information is based on a Page of Testimony (displayed on left) submitted by his sister

<![if !supportEmptyParas]> <![endif]>

<![if !supportMisalignedColumns]>
<![endif]>

Rakhel

Rakhel was born in Dolhinow in 1917 1917to Khaim and Mikhla. Prior to WWII she lived in Dolhinow, Poland. During the war she was in Dolhinow, Poland. Rakhel perished in Dolhinow, Poland. This information is based on a Page of Testimony (displayed on left) submitted by her sister

<![if !supportEmptyParas]> <![endif]>

Bluma Katz was born in Dolhinow in 1913 to Khaim and Mikhle Kozinetz. She was married to Zelig Katz. During the war she was in Dolhinow, Poland. Bluma perished in 1942 in Dolhinow, Poland. This information is based on a Page of Testimony (displayed on left) submitted on 15-Jun-1956 by her brother in law

<![if !supportEmptyParas]> <![endif]>

<![if !supportEmptyParas]> <![endif]>

Katz Zelig

<![if !supportEmptyParas]> <![endif]>

<![if !supportEmptyParas]> <![endif]>

Bronshtein Khava

<![if !supportEmptyParas]> <![endif]>

Khava Bronshtein was born in Dolhinow in 1920 to Eliahu and Reizl. She was a טעכניק דענטיסט. During the war she was in Dolhinow, Poland. Khava perished in 1942 in Dolhinow, Poland. This information is based on a Page of Testimony (displayed on left) submitted on 15-Jun-1956 by her brother

<![if !supportEmptyParas]> <![endif]>

<![if !supportEmptyParas]> <![endif]>

<![if !supportEmptyParas]> <![endif]>

<![if !supportEmptyParas]> <![endif]>

<![if !supportEmptyParas]> <![endif]>

<![if !supportEmptyParas]> <![endif]>

<![if !supportEmptyParas]> <![endif]>

<![if !supportEmptyParas]> <![endif]>

<![if !supportEmptyParas]> <![endif]>

<![if !supportEmptyParas]> <![endif]>

<![if !supportEmptyParas]> <![endif]>

<![if !supportEmptyParas]> <![endif]>

<![if !supportEmptyParas]> <![endif]>

<![if !supportEmptyParas]> <![endif]>

<![if !supportEmptyParas]> <![endif]>

<![if !supportEmptyParas]> <![endif]>

Bronshtein Batsheva

Batsheva Bronshtein was born in Dolhinow in 1918 to Eliahu and Reizl. She was a manicurist. Prior to WWII she lived in Dolhinow, Poland. During the war she was in Dolhinow, Poland. Batsheva perished in 1942 in Dolhinow, Poland. This information is based on a Page of Testimony (displayed on left) submitted on 15-Jun-1956 by her brother

Gurewicz Hirszl

Hirszl Gurewicz was born in Dolhinov in 1900 to Kopel and Yeta. He was a tailor and married. Prior to WWII he lived in Poland. During the war he was in Dolhinov, Poland. Hirszl perished in 1942 in the Shoah at the age of 42. This information is based on a Page of Testimony found in the Pages of Testimony

<![if !supportMisalignedColumns]>
<![endif]>
<![if !vml]>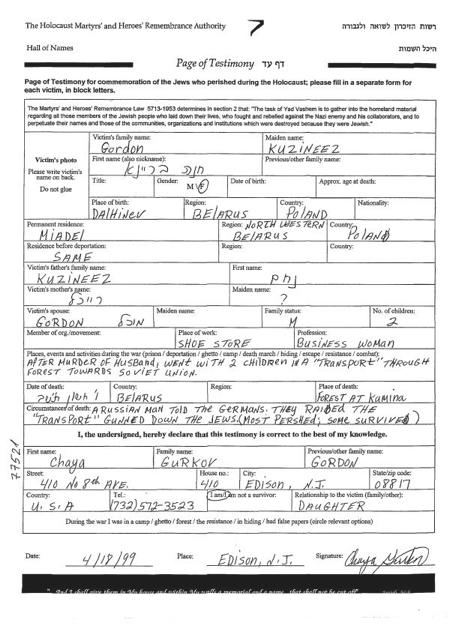 <![endif]>