From: Joan Shrager <jshrager2@comcast.net>
Hello,
I live in Pennsylvania, USA. My grandfather and his family were from Berdichev. He came to America in 1907. His name was originally Meyer Litvok. He was the eldest son of the town's kosher butcher, Aaron Litvok or Litwak. The family consisted of Yacob (Jack), Mottel (Max), Schmerel, Bassi (Bessie), and Ruchel (Rose). His mother was "Sossa Toube"? Spektor who died at an early age when her children were very small.
Family lore has it that Rabbi Itzhak Elchanon Spektor was my grandfather's mother's father or possibly Uncle.
I am very interested in learning if indeed we are related to Rabbi Spektor as my cousins(children and grandchildren of my grandfather's siblings) and I were told when we were little. Most of us are in our 60's and 70's now and the voices from Berdichev are only in our hearts. I am now past 75 and would love to pass this information on to my sons and grandsons.
I'd be most appreciative if you could point me in a direction.
Thanks,
Joan Shrager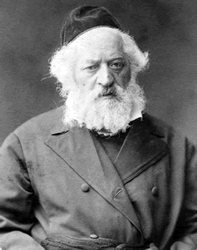 Rabbi Yitzhak Elchanan Spector
MyHeritage Family Trees
Esther Belkin Web Site, managed by Esther Backaleinik Esther Belkin (Contact)
Birth:
1817 - Hrodna, Hrodzyenskaya Voblasts', Belarus
Death:
Mar 6 1896 - Kovno, Lituania
Parents:
Israel Isser Spektor, Rachel Spektor
Siblings:
Abraham Aaron Spektor, Jacob David Spektor, Yakov David Spektor, Moses Joseph Spektor
Wife:
Sora Raizel Spector Yeserski
Partner:
Spector Davidson
Children:
Haim Arye Aryeh Spector, Rachel Spektor Salzovsky Spector, Freda Leah Saltzer Spektor, Miriam Dvora Federman Spector, Tzvi Hirsch Spektor Spector, Binyamin Spektor Rabinowitz