Eilat Gordin Levitan
<![if !supportEmptyParas]> <![endif]>
<![if !supportEmptyParas]> <![endif]>
I was born in Horodok in 1921. My mother; Minya Botvinik, was born in Rakov to Chaim Botvinik (most members of the Botvinik came from Rakov). My father; Leizer Noll, son of Bela and Avraham Hillel Noll, was born in Horodok in 1899. His father, Avraham Hillel lived in the U.S for about five years. He had a good job but he returned to Horodok. He said that he could not be a good Jew in America. Amongst other reasons he said that he was forced to work on Shabat in America. When he returned he became a flax dealer. He would go to the villages in the area and buy flax from the farmers. On Friday he would return home and sell the flax to the big dealer who took it to Vilna to make textile. One time upon his returning from a village with a Christian woman who helped him, the carriage flipped and he was killed. My father replaced him as a dealer in Flax and made a decent living. During winter time he would sell flax to Zukerman and Katz every Friday. They would come to him to check the flax and they only took flax of the best quality. They were much bigger dealers of Flax then my father. They took products to Vilna and sold it to textile makers. You could not get the raw flax during the summer time (it was seeding time). My father would be out of work during the summer and my mother supported us by sewing clothes for the wedding of Rabbi Garbers' beautiful daughter. They lived across the street from us. Today Rabbi Garbers' son; Yisrael, lives in New York.
<![if !supportEmptyParas]> <![endif]>
We owned a nice home, surrounded by vegetables gardens. We had potatoes and other vegetables in our garden year round, so we never starved. I was born immediately after the area of Horodok became part of Poland. The years before my birth were difficult for residents of Vilna region.
<![if !supportEmptyParas]> <![endif]>
The eastern front during World War I, split the region. For some years it kept changing hands between Russia and Germany. Later the Soviets took control, after a war with Poland the border with the Soviet Union passed very near Horodok. The years of war were devastating for the local residents. They suffered poverty, hunger and disease. My father two older brothers and one older sister Dishka were able to get Visas to immigrate to the U.S. One brother settled in San Francisco, the other in Connecticut. The sister Dishka lived in New York and had two daughters. My father and his youngest sister (Chashka) were not able to get visas' or collect money for travel. They both decided to make their lives in Horodok. Chashka married Gedalia Altshuler and they had two children; Shifra born in 1923 and Avraham Hillel born in 1931. My brother; Avraham Hillel, was born in 1922. My sister; Yitka in 1925 and Mary in 1927. I studied at the Tarbut school. I learned all subjects (other than Polish studies) in Hebrew. I was a member of Hashomer hatzair Youth movement and as others dreamed of one day living in Eretx Yisrael. Our leader was Motel Vitorish. My father always dreamed of coming to America, he was not a Zionist. My mother's father; Chaim Botvinik was a very pious Jew. He lived in Rakov with his youngest daughter Feygel who was still single. We used to visit them often. I remember the day that Shapiro family came from the U.S. with a movie camera and made the movie of Horodok. It was around the year 1933. They arrived by a private car. It was the first private car that was seen in Horodok. During the first weekend after they arrived I remember visiting my grandfather in Horodok. I remember the huge feast that they made and the Torah scroll they brought to the synagogue. The entire town danced with the Torah.
<![if !supportEmptyParas]> <![endif]>
After graduating the Tarbut school I was sent to Volozhin to study in the 'little Yeshiva'. I lived at the home of my uncle, brother of my mother, Mula (Shmuel) Botvinik.
<![if !supportEmptyParas]> <![endif]>
Mula was married to Chaia Feygel and had a son Chazkel who was about 10 years younger than me. After a while I studied in Volozhin in a professional school (something to do with equipment for harnessing)
<![if !supportEmptyParas]> <![endif]>
In September of 1939 the Soviets annexed our area.
To be a member of a Zionist youth movement was not permitted anymore.
There were other restrictions of owning private businesses. There were not many opportunities for jobs. All I remember doing during that time was taking Russian classes which were free. At least we felt that our lives were safe.
<![if !supportEmptyParas]> <![endif]>
In June of 1941 the Germans invaded the Soviet Union. The area was soon taken over by Germany. Very early on, some escapees from the Rakov massacre arrived to Horodok and told us horror stories. The Germans took our grandfather Chaim Botvinik, who was a devout Jew, with a long beard, to the center of Rakov. They had shaven his beard while they kept mocking him. Later he was taken with the rest of the Jews to the Rakov synagogue and burned alive.
<![if !supportEmptyParas]> <![endif]>
After some months they established a ghetto in Horodok. Our home was located inside the ghetto and four or five other families moved to our house. Amongst them was the Kur family and the family of Fruma Rogov who now lives in Rishon Lezion. Near Horodok, in the town of Krasne, the Germans established a work camp and took some Jews of Horodok who could work – as slave laborers. Amongst them were my father and brother, in the summer of 1942 the Germans decided to kill all the Horodok Jews.
<![if !supportEmptyParas]> <![endif]>
We were able to hide. There were about 40 or 50 people (the Kur family was also with us).
<![if !supportEmptyParas]> <![endif]>
The non-Jewish neighbors came to look for us. They became busy with robbing our place and did not find us. After a while they left. We knew that we had to leave during the night because the next day they would look for us again. We left at 2 in the morning and walked about 17 kilometers to the Krasne camp. We were able to sneak in. My family members, and the family of my fathers' sister worked for the Germans in Krasne. I worked near the forest, together with a few other young men from Horodok. We decided to escape. One by one we spilt to the forest. Shepsel Shpringer and Zelig Luster were with me as well as two other guys whose names I forget. We reached the forest safely (it was the end of summer, 1942). We had to find food during the many days we lived in the forest. We would carry long sticks on our back and late at night go to the farmers and demand food.
<![if !supportEmptyParas]> <![endif]>
Some time later Soviet Soldiers who were P.O.W's were able to escape from the Germans. We got together and established a partisan Otriad by the name Sovietika Narodny? (for the Soviet Nation). The leader was Eilosha. We took parts in many missions against the enemy. I also made sure to help other Jews escape and help in the fight. Amongst other I helped my brother and father escape and become fighters (not in my unit). I was not able to help my mother (she had problems walking and could not escape), sisters and family of my aunt. They were all killed when the Krasne camp was liquidated in the spring of 1943. From our entire family in Rakov, Volozhin and Horodok only my father, brother and I survived. When our area was liberated in the summer of 1944, I took part in the victory parade of the partisans in Minsk. When the parade was over I was taken to serve in the red army.
<![if !supportEmptyParas]> <![endif]>
While fighting somewhere in Germany I was badly wounded and left alone in the field.
<![if !supportEmptyParas]> <![endif]>
My good luck was that a high Soviet officer came riding on a horse after a few hours. As soon as I saw him I yelled in Russian "Tarvish, come and help me, I am a wounded Red Army Soldier" he promised to send help. After a while a truck full of soldiers came for me. I was taken to a hospital in Bialistok. Later I was transferred to another hospital near Volga where I spent another six months. My brother worked at that time in a prison in the area of Volozhin. I returned to the area and lived in Radishkovitz.
<![if !supportEmptyParas]> <![endif]>
We moved to Minsk.
I married a girl from Rakov. Tragically my brother died of a heart attack in 1950.
In 1959 we moved to Poland (as former Polish citizens). From there the entire family moved to Israel in 1960. The entire family settled in Ashdod. My father's sister sent a Visa to come to the U.S. We settled in the New York. I became a plumber and made a good living, and my children and grandchildren doing well.
Regretfully I have no pictures of my mother or sisters.
<![if !supportEmptyParas]> <![endif]>
<![if !supportEmptyParas]> <![endif]>
Issac Noll
<![if !vml]><![endif]><![if !vml]><![endif]><![if !vml]>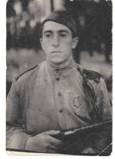 <![endif]>
<![if !vml]>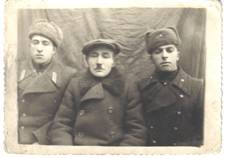 Isaac Noll, Eliezer Noll, Abraham Noll <![endif]>