<![if !supportEmptyParas]> <![endif]>
<![if !supportEmptyParas]> <![endif]>
<![if !supportEmptyParas]> <![endif]>
<![if !vml]> <![endif]>
www.cousinsplus.com<![if !supportNestedAnchors]><![endif]>
CousinsPlus home page
Susan Rogers
for the original site go to;
http://www.cousinsplus.com/families/CousinsPlus/trees/Usher-Russian.htm#spaces%20on%20top
A preview of us Uberstines of Gorodok, Vileika District, Belarus
<![if !supportEmptyParas]> <![endif]>
<![if !supportEmptyParas]> <![endif]>
The descendants of Usher Uberstine, above, and his brother, Lazar Elia, have been the focus of this web page, lacking what we wish we had of their history. Since 1997, new material has come to light. Lazar's children and some of their spouses were from the Gorodok between Radoshkovici and Volozhin, in the Vileika District. Many of their spouses were from Volozhin. Usher's children also appear to have been from there as well. See our new table, Who came from where?

We have a new section with stills captured by digital photo from videotapes of that Gorodok. The original footage was clearly shot long ago with handheld cameras, so the stills cannot be improved beyond a certain point. We saw a sign in mirror image that turned out to say "UBERSZTEJN." Click here for the first third of Shtetl Talk.

A database on the Jewish genealogy web site shows 1912 marriages in Minsk. You can see that on March 6, 1912, Mordukh Ubershtein's daughter, Genia Ubershtein, age 21, married Iosel Tieb, age 24. Mordukh and Genia Ubershtein were from Gorodok. Not Ostroshitskiy Gorodok (prefix assumed in 1886), not Semkov-Gorodok, not David-Gorodok. Just Gorodok, and that's the one that's ours.
<![if !supportEmptyParas]> <![endif]>
Faiva, jeweler and craftsman,
knew diamonds and antiques
After their marriage, Faiva Uberstein and Chipa Heifitz lived in Gorodok, where they had four children.
When it looked as if Faiva might be drafted into the Czar's army, they decided to emigrate and chose South Africa. As was the custom, Faiva went first. When he arrived, he found work and saved so they could join him.
Via England to South Africa
The port of departure for South Africa was Riga, which is far to the north and a little west of Gorodok. Riga was the departure point for South Africa because it was the best way to get to South Hampton, England. That's where the ships set sail for the three weeks' voyage to South Africa.
Lure of shopping
Chipa went to Riga with their children, Annie, Hirschel, Lazar, and George. Unlike Gorodok, Riga was a cosmopolitan city dating from the middle ages, and it was outside the Jewish Pale of Settlement. It was also known for its fine shopping. <![if !vml]>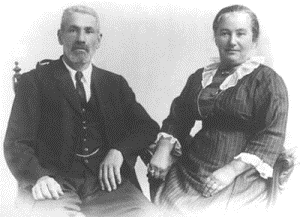 <![endif]>



Photo courtesy of Trevor Uberstein
Last chance
The story goes that several times Faiva sent Chipa the money for passage, but instead of buying tickets, she spent it on clothes for the children and herself. Finally, he wrote saying that if she did not take the next ship, she would not have another chance. So Chipa bought the tickets and set sail with the children.

The Ubersteins spent their first few years in the small town of Tulbagh in the Cape Province. Faiva set up shop in their home, and that's where he would fix the wristwatches and clocks that were brought to him. He was handy and resourceful, and he could also repair shoes when the occasion demanded.
Jewish gardens
By the time the Ubersteins' neighborhood had gone into a decline, their daughter, Annie, was married. Her husband, Solomon Rom, and Harris, Faiva's oldest son, bought a large house for Faiva and Chipa in The Gardens, a suburb of Cape Town that was primarily Jewish. The homes were beautiful, every house had a little garden, and the school was three-quarters Jewish.
Business on the patio
The Ubersteins' house in The Gardens was large enough for them to rent a floor to newly-arrived immigrant families, which provided a continuous source of income. Faiva created a second bathroom, and the patio he turned into his place of business. There he did repairs and created jewelry. For his wife, he made some beautiful brooches.
Man of taste
Faiva not only repaired wristwatches and clocks, but he also resold the antiques and fine furniture he enjoyed finding and refurbishing. That's how the grandfather clock and grand brass bed happened to come into their home. He became known for his wonderful taste, and he would keep his eye out for things people would commission him to find for them.
Blue is better
Faiva also knew his diamonds. When a granddaughter brought over the pure white diamond she had been given by her fiance, Faiva commented that a blue diamond would have been better. He explained that the best diamonds are so white they appear to have a bluish tinge.
Matzoh balls from scratch
Faiva taught himself to read English, and he loved to talk politics. He was also keen on opera, and he and Chipa shared an enthusiasm for the Yiddish Theater flourishing in Cape Town. They were Orthodox, and Chipa kept a kosher kitchen. She was so kosher that she wouldn't let anyone else bring meat into the house. She is also remembered as a wonderful cook, especially her tsimmes and the matzoh balls she made from scratch.
For shul, the blue straw
Chipa was very particular about her appearance and would not go out without looking her best. She had a navy blue straw hat decorated with artifical flowers, which was her favorite for going to shul. She liked brightly colored accents, and she had more than one red sweater in her wardrobe. Even into her 90's, Chipa would show her distaste for something she regarded as dowdy by saying, "That's for old people."
<![if !supportEmptyParas]> <![endif]>
<![if !supportEmptyParas]> <![endif]>
Usher Uberstein of
Gorodok <![if !vml]>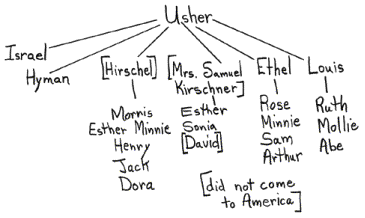 <![endif]>

<![if !vml]>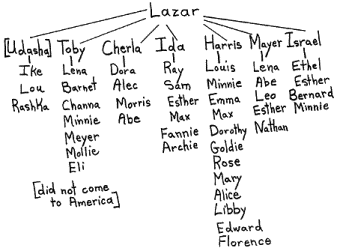 <![endif]>
<![if !supportEmptyParas]> <![endif]>
Toby Uberstine and Aaron Kahanovich
<![if !supportLineBreakNewLine]>
<![endif]>
<![if !supportEmptyParas]> <![endif]>
<![if !vml]><![endif]>

Photo was probably taken while the family was sitting shiva for Aaron, winter of 1905.

index.htm - Toby<![if !vml]><![endif]>
index.htm - Toby

1. Minnie
2. Meyer
3. Rafael Miller,
Lena's husband
4. Mollie (died as
a young mother)

5. Barnet
6. Channa
7. Toby Uberstine
8. Eli, who died young
9. Esther Maslick
10. Lena, Rafael's wife
<![if !supportEmptyParas]> <![endif]>
A Founder of Our Gorodok Landsmanshaftn,
The Gorodok Relief Association

Rafael Miller*
*born Millerkowski
In Russia, Rafael Miller did his three-year stint in the Russian armed forces. When the time came for him to be discharged, he was told that he would have to serve four more years. The next day he made plans to go to America.
"One day when I was telling him about my serving in the Reserve," said Rafael's grandson, David Miller, "he began telling me about how he deserted from the Russian Army." Rafael had not been a soldier, for Jews were not permitted in that role. Rafael served in the army as a tailor. When his required time was over, he was not interested in another tour, and so he just left the country altogether.
Here in America, Rafael, with others, set about founding the Horodoker Relief Association. (Gorodok became Horodok on this side of the Atlantic.) The first goal of the founders was to bring to America their families and other townspeople.
In our story, "Coming to America," the chapter entitled "Trying for a Better Life," describes the living conditions and abuse endured by the family of my grandfather's youngest sister, the last known in our family to migrate to America.
Rafael's name, along with that of the other founders of the Horodoker Relief Association, is inscribed on the gates to the Horodoker's section of the Beth El Cemetery in Paramus, New Jersey.
"I would be interested to know if anyone was left in Russia," Rafael's grandson, David, said recently. Throughout our family, great efforts were made to bring to safety other family members. Perhaps one day, details will surface on the success of Rafael and his associates in that regard.
The son-in-law of Toby's first cousin, Ethel, managed to arrange for no less than 18 members of his family to slip out of Tarnow, Austria, barely minutes ahead of the Gestapo. Ethel's oldest daughter, Rose, had not been enthusiastic about marrying this man, Max Sollender. However, throughout his life, he proved to be one of the most valued members of our extended family.
The jobs he provided for eleven young men during the depression enabled them to finish their education and start families. That is the focus of a feature on our web page, "A Very Important Person." In time, Rafael Millerkowski might be another
<![if !supportEmptyParas]> <![endif]>
<![if !supportEmptyParas]> <![endif]>
<![if !vml]>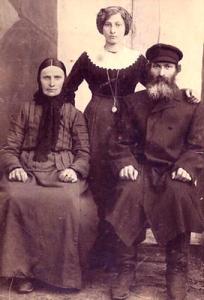 <![endif]>
.
<![if !supportEmptyParas]> <![endif]>
<![if !supportEmptyParas]> <![endif]>
Udasha Uberstine Gelman,
Moishe Gelman, and mystery daughter.
Å
This is the earliest photo we have of Udasha and Moishe.

We are indebted to Cherla Uberstine Glockner's grandson, Marvin Glockner, who presented it among his other mystery photos.
Marvin's grandmother was Udasha's youngest sister
[in America], and so it makes sense that Cherla would have this photo of her oldest sister, Udasha.
Susan Rogers' branch --
minus birth dates of the living
<![if !vml]>

<![endif]><![if !supportEmptyParas]> <![endif]>
Tree currently contains 259 individuals, in 115 family groups.

AARONSON ADAMS ALLEN
BARTH BAUVER BENDOR BLACKMAN BOBBIE BOOI
CARPOL CARRIGAN CHASMAN COHEN CONNER COWAN
DEICH DEUTSCH DEVITA
EDELSTEIN EPSTEIN
FELDSTEIN FLEMING FORMAN FOWLER FRANKLIN FRIBUSH FRIEDLANDER
GARBER GINSBERG GISERMAN GLATT GLAZER GOLD GOLDEN GORDON GROBMAN GROSS
HIRSCHOFF HOWARD HYMAN
JAFFEE JOFF
KARBEN KELLY KIRSHNER KORNBLUH
LEBLANG
MARKOWICZ MELTZER MORTON MYASHE
NELSON
PATASHNICK POER POLACZEK
RAE ROGERS ROSENTHAL RUBEL RUBENSTEIN RUCHEL
SANDMAN SCHURE SHAPIRO SHAYE SHELDON SHELTON SIEGEL SIMON SOLLENDER SPIELMAN
UBERSTINE
VARON VARONOK
<![if !supportEmptyParas]> <![endif]>