Efron Family;
http://efronfamilyhistory.com/Vol2Chap22.htm
--
Abraham of Ivenets


Abraham [RS033], b. approx. 1704. Another of Abraham's sons might be Israel Efron of Ivenets, whose descent is detailed in the chapter following this chapter. It is theoretically possible that the Abraham in this chapter is the same Abraham who was the son of Chaim Zheloduker, in the preceding chapter, who was born approximately 1730.

The Ivenets reviski Statski research includes several instances of Efrons with the same or similar given names, and sorting out the relationships and building the family tree(s) requires some assumptions. As best I can determine, I'll try to show my thought processes when decisions needed to be made in connecting up the family tree.

> Isaac (Itsko) Efron, b. 1734. [RS032; RS033; RS034; RS044; RS045; RS046], d. after 1812. His descendants lived in Ivenets.

> > Leib Shepshel (Leyba) [RS032] (Leyba [RS046], b. 1768, d. 1837, married Golda Dvorah, b. 1766. [RS032, RS046] This Leib was born at the same time as Leib Efron of Amdur, suggesting that they might have been named after the same ancestor. He does not appear to be the same person as Leib of Amdur because none of the children's names are the same, the wife's name is different, and they do not appear to have resided in the same town. It is assumed that the following references to Leib Efron of Ivenets are all the same person: Leyba Shepshel who is the son of Itsko [RS032], the Leyba who is son of Itsko [RS046], the Leib who is father of Tsalko [RS044; RS045; RS047], and the Leib who is the father of Abram [RS045].

> > > Tsalya Israel (Bitsalel; Tsalko), b. abt. 1799, 1800, 1802 or 1804 [RS032; RS044; RS045; RS047;RL016], married 1. Feiga, b. abt. 1799 [RS044], married 2. Beyla, b. abt. 1805 [RS045].There is a possibility that Feiga and Beyla are the same person, with a double name, instead of being two different wives. In the 1818 revision [RS044] his patronymic is given as "Leybov-Itskov," which seems to be a reference to his father and grandfather and not a double name of his father. In the 1816 revision he is reported as having died in 1813, but this seems at odds with the other records which show a Tsalim (Bitsalel) who is the son of Leyba (Leib) who is the son of Itsko (Isaac) well after that date. In 1852 he lives in Ivenets. Tsalko, a/k/a Tsalim, was missing from Iventes, according to RS047, from 1857 forward. Tsalko and Tsalim are nicknames for the Hebrew name Bitsalel.

> > > Sora Riva, b. 1808 [RS032]

> > > Abram, b. abt. 1781, d. 1849 [RS045]. A birth date of 1781 makes him born when his father was 13 years old, if the years are accurate. He could be the father of Gershon or Itsko, both who lived in Ivenets and whose father was Abram, (RS050 and RS045), but that connection needs to be established with more certainty.

> > Israel, b. 1783, married Minda, b. 1781 [RS033; RS034]. The dates and ages in RS033 and RS034 are at odds. The names of the members in the families are virtually identifical, but the difference in ages based on the dates of the revision lists do not make sense.

> > > Rochel Leah, b. 1812 [RS033] or 1796 [RS034]

> > > Shimkha Nechama (Simkha, b. 1813 [RS033]?), b. 1798 [RS034]

> > > Esther Malka, b. 1815 [RS033] or 1811 [RS034]

NEED TO VERIFY BEGIN
The connection of Michael and Baruch as additional children of Israel b' Itsko is a bit speculative.

> > > Michael, b. 1798, d. 1841. [RS056]. RS056 and RL022 & RL023 all indicate residence taken up in Uzda, but the family connections are hard to ascertain.

> > > Baruch, b. approx. 1797, [RS056; RL022]. See note above for Michael about the tentativeness of this connection.

> > > Israel, b. 1816. [RL022] (or b. 1833 [RS056]) He lived in Uzda [RS056; RS057; RL022]. Currently shown as the son of Isarel, this does not make sense.

> > > > Leib, b. 1834 [RL023] He lived in Uzda in 1852 [RL023]

> > > > Baruch, b. 1844 [RS057]

NEED TO VERIFY END

> > Shabshel, b. 1781, d. 1848. [RS048; RS049; RL006; RL007]. It is presumed that Itsak, the father of Shabshel, is the same as the Itsak who is the father of Leib & Israel.

> > > Feivish, b. 1826 [RS048; RS049; RL007], married Shifra, b. 1828 [RS049]. They lived in Koidanovo. He was registered to Ivenets. According to Noah's grave, his father was a Levite ("HaLevi")

> > > > Noah Effron of Koidonovo and Cedar Rapids, IA . [SEE: NOAH EFRON OF CEDAR RAPIDS]

> > > Kalman of Koidonovo [RL006] (Grandfather of Sergii Efron). He is conjectured to be the same person as Konstantin, the grandfather of Sergei Efron. [SEE: SERGEI EFRON, HUSBAND OF MARINA TSVETAEVA]

Noah Effron of Koidonovo and Cedar Rapids,Iowa, son of Feivish, son of Shabshel, son of Isaac, son of Abraham of Ivenets

Noah Effron, b. 5/-/1854 (or 1852 as per Ed), d. 1/24/1938, Cedar Rapids, IA [DEATH090; CEN0006; CEN1036; CEN2022; CEN3126; CEM236], married about 1875 to Fanny (Shifra) Subotski, b. 1/-/1853, d. 1948. Her Hebrew name was Shifra and her father's name was Zvi. He arrived in 1885 or 1887 and she arrived in 1891. In 1900 they lived at 1822 A Ave. and in1920 at 221 N. 10th St., Cedar Rapids, Iowa. Noah ran a dry goods store that his two sons (in 1900) helped him run. In 1920, Stella and Rebecca helped him run a grocery store that Noah owned. Noah arrived in 1886, probably with Frank. In 1890 or 91, Fanny arrived (one census record states that Frank also arrived in 1890/1). Sarah was born in Russia, but according to census records, she did not arrive until 1895. Noah and the family that was born outside the U.S. were naturalized in 1891. In 1910 Sarah and her family are living with Noah and Fanny, and they have a boarder, Abraham Subotski. According to one descendent, they came from Minsk.

[Familysearch.org has a record that shows her maiden name.]

Acknowledgements: Stacey Taylor; Evelyn Herrup, Ralph Effron, Stephen Burka Effron, Ed Effron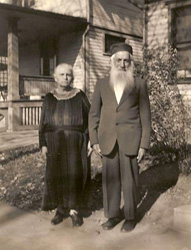 Noah and an unknown woman; who is probably his wife.

Noah was an orthodox Jew and Rabbi. He was written up in a book on Iowa (per E. Herrup) as one of the outstanding citizens. He founded an organization for Jews in Cedar Rapids (the Jewish Benevolent Society?). It is unknown what first brought him to Cedar Rapids. He, his wife, Marvin (and others) are buried at the Jewish Cemetery in Cedar Rapids.

> Frank (Feivish?), b. Russia 5/-/1876 or 1872 [CEN1037; CEN2021; CEN3169], married about 1902 to Anna Baumgarten, b. about 1883, Austria, d. 9/17/1971, Phoenix, AZ [OBIT019]. In 1920 they lived at 1534 6th Ave., Cedar Rapids. Frank arrived in the US in 1891. Anna arrived in the US in 1886 and was naturalized in 1888. In 1923, 1928 and 1930 they live in Chicago. Frank is a furrier, working with raw hides; and in 1930 he has a fur shop in Chicago. His business was Effron, Kushner & Co. and it operated in Cedar Rapids in 1920, and then D. Kaplan & Co. when he was in Chicago. In 1923 he was a vice president, and in 1928 he was President of D. Kaplan & Co. .In 1923 he lived at 61 W. Austin and in 1928 at 6431 Newgard Ave. [DIR039] There was an appellate law case that concerned a 1/9/1920 lost shipment: a 160 pound sack of skunk furs and a 37 pound sack of muskrat furs. In 1910 they have Anna Dvorsky, a cousin, living with them. She is 20 and was born in Russia.

Frank and Anna

Anna's grand-nephew is Ross Baumgarten, the former and great Chicago White Socks "southpaw" pitcher.

> > Florence H. Goldberg b. 4/14/1904, IA, d. 11/1974, Kansas City, MO [SSDI460; CEN30?], married Goldberg. There are two children.

> > Dorothy May Ettelson, b. Iowa abt. 1906, married David Ettelson, d. abt. 10/8/1971. [OBIT021; CEN30?] They lived in Chicago.

> > Ralph Stanley, b. 6/8/1910, Iowa, d. 1/4/1994, AZ [SSDI210; CEN3169], married Evelyn Buka (S. Taylor). She came from Denver. In 1928 he lives at home and is a student. [DIR039]. They first moved to Alburquerque, NM and then to Phoenix, AZ.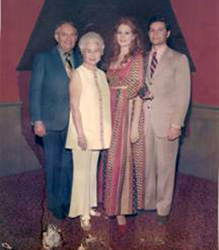 6
Ralph Effron and his wife Evalyn, with Carolynn & Steve Effron.

> Harry, b. Russia, 1/-/1878 [CEN1038; CEN2000; CEN3127], married after 1910 to Jeanette "Jenny" Unknown, b. Russia, abt 1888 or 1881. He lived in Phoenix. She was from Los Angeles, CA. He arrived in 1892 and was naturalized by 1910. In 1910 he is living with Marks Perlman (?) in Phoenix and is a junk dealer He lived at 954 E. Van Buren (Prescott?) in Arizona in 1920. He died young, probably shortly after 1920 or about 1945. He lived in Phoenix as early as 1915 [directory, from Heritage Quest] and had helpers by the name of Morrell in his junk business. In 1930 he lives in Cedar Rapids and is a dealer in hides. They did not have children.

There is a question among some of the family whether Harry married, though census records indicate he was indeed married. He did have a companion, Mary Peterson of Sweden, who worked in the same business and remained a friend of Ralph and Evelyn after Harry's death. (S. Taylor)

Frank and Harry started their scrap metal & hides business around 1935 called EFFRON & COMPANY in Phoenix. Frank's son Ralph took over the business around 1960 and changed the name to RALPH EFFRON STEEL (and he did away with the hides part of the business). Ralph's sister Florence also had a scrap metal business in Albequerque, NM with her husband. (S. Taylor)

> Sarah Braverman, b. Russia, 5/-/1884 or 7/12/1887, d. Wash., D.C. 3/8/1979 (E. Herrup) [CEN1036; CEN2022; SSDI461; CEN3128], married abt. 1902 or 1905 to Max Elihu Braverman, b. Russia, about 1881, d. Cedar Rapids, June, 1932 (E. Herrup). Sarah arrived in 1885. Max arrived in 1885 or1889, and he was naturalized in 1896. In 1920 they lived close to Frank, at 1809 5th Ave., Cedar Rapids. The 1920 census says that Sarah Braverman arrived in 1891. Max is the proprietor of a furniture store, and Sarah is a secretary there. In 1930, he sells phonographs in Cedar Rapids and Sara is the president of a music store.

Max Elihu Braverman went to Cedar Rapids from Chicago when he had lived for about 16 or 17 years. His father came from Stettin, Poland (formerly Germany). Max ran a furniture store and a music store. Sarah lived in Cedar Rapids from the age of seven until 1933. She died while living with her daughter, Evelyn Herrup, in Washington, DC. –[Braverman letter "#21", by Evelyn Braverman Herrup, 9/15/1980].

There is also a Braverman family in nearby Johnson County, Iowa in 1920 in the township of East Lucas. There Joseph Braverman runs a junk and fur business and in 1920 he lives with his wife Sarah, daughter Betty, and his brother Eli. Joseph is 33, Sarah 21, Betty 2 and 4/12ths, and Eli 25. Sarah works in a grocery store, and Eli is a junk dealer. Joseph arrived in 1911, and was naturalized in 1916. Eli arrived a bit later. Sarah arrived in 1910 and was naturalized in 1941. The only Jews that appear to live nearby to the Joseph Braverman famly is the Myer and Salma Snider family. Myer is a junk dealer and he is 40 years old. There children are Himie, 16; Emman, 14; Bertha, 9; Arthur, 5; and Martin, 2 3/12ths. The children were born in Iowa, and the parents came from Russia.

> > Evelyn M. Herrup, b. about 1905, IA, married Herrup. Evelyn lived in Washington, D.C. I spoke to her ca. 1993.

> > Marvin A., b. about 1907, IA. He was a successful lawyer in Washington and at one time was engaged to be married to Margaret Truman, the President's daughter.

> Stella Greenberg, b. Cedar Rapids, IA, 1/-/1894 or 8/24/1893, d. 7/-/1976, Racine, WI or IA [~CEN20; SSDI462; CEN3129], married abt 1919 to Charles Greenberg, b. 10/31/1893, d. 3/2/1989, Racine, WI [SSDI463]. In 1930 he is a fur goods merchant. He arrived in 1912.

> > Maynard

> > Miriam

> Rebecca Leibsohn, b. 2/-/1896, Cedar Rapids, IA [CEN2022; CEN3130], married 1920 to Mayer Leibsohn, b. abt. 1887, Russia. He arrived in 1905 and in 1930 he sells furniture. The moved to Phoenix, where Harry had previously settled.

Rebecca Leibsohn gave an oral history [INT-- ] in 1986, when she was 90 years old.

Sergii Efron, son of Yaacov, son of Konstantin, who may be Kalman, son of Shapshel, son of Isaac, son of Abraham of Ivenets

Konstantin (Kalman? See RL006) Efron. Could the Kalman Efron mentioned in a book about Vilna be the same as this Konstantin? [MISC014b]

Many of the connections within this family are derived from the index to GARF records. Biographies on the life of Tsvetaeva, and to a lesser extent, biographical information about Sergei Efron.

According to biographies of Sergei, his great-grandfather was possibly a rabbi. If Konstantin, Sergei's grandfather, is the same as Kalman of Ivenets (see RL006), then this family is part of the Abraham of Ivenets branch. If the connections to Konstantin are correct, then the great-grandfather would be Shabshel of Ivenets, 1781-1848. Shabshel could also be the source of the name Sergei. This connection is presumed here.

Acknowledgements: Marina Kasteva; Alyssa Dinega

> Nikolai, of Moscow.

> Saveliy (Shevel; Shabshel?). He came from Kaidanovo. He was a student in Kolpino, St. P'g gubernia. He was a correspondent of Vilno Vestnik. He is hypothesized as being the Shabshel of Vilna, the same as the one who is a son of Kalman and mentioned in a book about Vilna [MISC014b].

> > Yankel of Vilna.

> Yaacov (aka Ivan?), b, approx. 1870, d. 1909, Paris, married Elizabeth Durnova (aristocratic, non-Jewish family), suicide, Paris, 1910. He was a student at St. Petersberg University. He was a merchant in Podolsk Gubernia, near Moscow, in 1914. They were revolutionaries and carried out terrorist activities. She was the daughter of Petr.

REVOLUTIONIST SUICIDES.
PARIS, Feb. 3 Mine. Elizabeth
Effron a prominent Russian revolu
tionist; hangcii herself today upon
the discovery that her fourtcen-y ear
old son had committed suicide after
being reprimanded in school. JIme.
Effron was daughter of a former gov
ernor general of Moscow, M. Durn-ovo.
Bisbee Daily Review (Bisbee, AZ) 2/6/1910

> > Peter (aka Pavel), aka Berka Silverman. He was considered to be a murderer. He lived in Paris, Stokholm, Kherson, and Moscow. He was an actor.

> > Sergii, b. 1894, executed 1941, married 1912 to Marina Ivanovna Tsvetaeva, suicide, 8/31/1941, Elabuga, Tatar Republic. She is one of the foremost Russian poets of the last century.

[Boston Globe, 6/20/1993, p. B42, Aaron, Jonathan (Emerson College Professor of wrting and literature), book review of Schweitzer, Viktoria (transl. by Chandler, Robert and Willetts, HT)], Tsvetaeva. Marina Tsvetaeva was b. Moscow, 1892 to an intellectual family of privilege. She published her first book of poetry in 1910. In 1912, already an accomplished poet, she married Sergei Efron, who was born at least two years after her. His parents were revolutionaries. A daughter was b. 8 months after the marriage. Their were many extramarital affairs. They initially lived in Moscow amongst writers until the October 1917 Bolshevik coup. At that time Efron joined the anti-revolutionary Whites and they moved to the Crimea. She remained in Moscow, but lost her material comforts. A second daughter, born in 1917 died three years later at an orphanage where she was left because Tsvetaeva could not feed her. From 1922 to 1939 she lived in Prague and Paris. In 1939 Efron, his son and daughter determined to go back to Russia. He had changed his politics and by 1934 was working for an organization associated with the NKVD, precursor to the KGB. He was involved in the murder of a Soviet defector in September 1937, was interrogated by the French police, and then quickly went on to Moscow. Marina went to the Soviet Union in 1939 with her son. Sergei and Ariadna were put in a Gulag, and Sergei was shot around 1941. In poverty and despair, she hung herself in August 1941 in a town in Central Russia. Her son was drafted into the army and disappeared on active duty in 1944.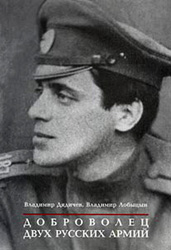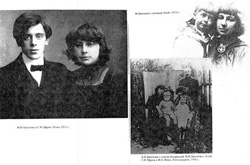 Photograph from a book jacket is M72696.jpg.

> > > Ariadna "Anya", b. 1913 (1912?), d. 1975
> > > Irina, b. 1917, d. 1920
> > > Georgie "Munya", b. 1925, d. 1944

> > Konstantin "Kostya," suicide, Paris, 1910

> > 3 children, died as infants

> > Elizabeth, b. approx. 1900

> > Lilia, b. approx. 1900
http://efronfamilyhistory.com/Vol2Chap22.htm

Israel of Ivenets

The initial section of this chapter shows the earliest generations of the descendents of Israel of Ivenets. Some of the branches where further descendents are known are shown in greater detail in the remainder of this chapter.

Israel Efron, b. approx 1750 [RS022; RS023; RS024; RS025; RS026]

Israel Efron's descendents include:

- Tsirel Soloveitchik, whose son was the highly revered Rabbi Chaim Brisker.
- The Ephron family of screenwriters, authors and film directors that includes Henry, Phoebe and Nora Ephron.
- Leon Effron, a dentist who lived in Philadelphia.
- Chaim Noah Yankel HaLevi Efron, of Dukora. Some of his descendents emigrated to the United States, and the family included Rabbi Manny (Emmanuel) Green (nee Gringlaz or Greenglass) who included some family history in a Yidish book called My Fringed Garment.

This family has been quite challenging, from a genealogical point of view, to figure out who is related to whom. In April 2011 I once again reviewed the Revision List records to try and parse out the branches of this Ivenets family of Efrons. Especially difficult are the branches headed by individuals named "Israel Efron" or some variation of the name "Israel." This reassessment was begun after identifying the three birth records BIRTH043-BIRTH045 and trying to determine the ancestry of Leon Effron of Philadelphia.

> Chaim, b. 1774, d. 1848, married Chaia, b. 1772 [RL008; RL009; RS023; RS024; RS025; RS040; RS041; RS042; RS043; RS052]

> > Isaac (Abram-Itska?), b. 1792 [RL008] or 1796 [RS023], married Minya Basia, b. 1792 or 1796 [RS024; RS040; RS041; RS042] (or Basya, b. 1794 [RS023]). He is easily confused with Abram Chaimovich, b. 1794 [RL009; RS043; RS052; RS064], who also had a son named Israel, born at the same time). This Isaac, and his brother, Abram, are different because they have different wives and because Ivenets resident list entries RL008 and RL009 describe two different individuals. It is confusing because at one time this Isaac is listed as "Abram-Itska." He was in the salt and fish trade [RL008]. In 1852 he was registered to the town of Ivenets [RL008]. In 1816 he may have been referred to as Abram-Itska to fool the authorities and have them think that there was one less son; this would be a way (I'm theorizing) of avoiding the draft for him.

> > > Srol (Israel Samuel) [RS042], b. 1819 or 1824 [RS064], married Yenta, b. 1820 [RS042]. According to an entry in the 1858, Volozhin revision list [RS064], Israel Shmuel's wife was Gittel, b. abt. 1825, the daughter of Itska.The evidence that record RS064 relates to this Efron branch is inconclusive. [SEE FAMILY TREE OF ISRAEL SAMUEL (ISAAC'S SON) EFRON, BELOW].

> > > > Hinda, b. 1837 [RS042]

> > > > Fishel, b. 1840 [RS042]

> > > > Faivel (Fayba, per researcher), b. abt 1841 [RS064] He was registered to the town of Volozhin in 1858. [RS064]

> > > > Baruch "Benjamin", b. abt. 1844. [RS057; RS066]

> > > > Yoel Chaim, b. 1845 [RS066], d. Slutsk, 1919

> > > > Alfred Peisha Ephron, b. 1854, Volozhin, Russia, d. abt. 2/19/1924, Birmingham, England

> > > > Rivel Somach, b. approx. 1855. She is placed here based on information received from her descendent, Paul Fisher, and by virtue of her relationship to Sonya Goldstein and Chaim Nachman, all of whom are purportedly her relatives

> > > > Chaim Nachum, b. approx. 1856. He lived in Volozhin. His family history is set forth below.

> > > > Alexander Ephron, b. abt 1867, Russia, d. 8/4/1925, Newark, NJ

> > > Moshe of Vilna, b. 1822, married Guta, b. 1823. [RS025; RS051]They lived in Vilna. In 1852, he manufactured flax and lived in Vilna [RL010]. There is no proof in the reviski staski that Isaac, father of Moshe, is the same as the Isaac who is the father of Israel Shmuel.

> > > > Gershon, b. 1844 [RS051]
> > > > Rachel, b. 1847 [RS051]
> > > > Yudes, b. 1850 [RS051]

> > > Tsirel Soloveitchik, b. approx. 1823, d. 1871, Slutsk, married Yosef Dov Ber "Yoshe Ber" "The Beis HaLevi" Soloveitchik, b. 1820, Nieswich, d. 1892. [SEE FAMILY TREE OF TSIREL SOLOVEITCHIK, BELOW].

> > > > Chaim "The Brisker Rav", b. 1853, d. 1918

> > Abram, b. abt. 1794, [RL009; RS043; RS052]. In 1852 he resides in Ivenets [RL009]. No wife is listed for him in 1850 or 1858 [RS043; RS052].

> > > Itska (Isaac), b. abt. 1816 [RS059]. His connection here is subject to further verification.

> > > Israel Aron"Arcardi", b. 1819 or 1821 [RL012; RS043; RS052], married Odel, b. 1820 [RS043] and/or Goda, b. 1831 [RS052]. [SEE FAMILY TREE OF ISRAEL ARON EFFRON, BELOW].

Despite the different in the birth dates of the two women who are listed as the wife of Israel, it is very possible that she is one and the same person. Goda is a variation of Hoda, and the lack of a Cyrillic equivalent to the letter H means that it is often replaced with a G or is dropped. If replaced, then the name would be "Goda," if dropped, and a dimunitive "el" suffix is ended, then the name would become "Odel." The differing birth dates are possibly simply a typographic or clerical error.

There is a Borukh who was born abt. 1844 who might be a son of this Israel Efron [RS057].

I had previously assumed that the Israel who is a son of Abram and who was registered in Ivenets [RS043; RS052; RL012] was the same as the Israel who was the son of Abram, living in Volozhin in 1852, and registered to Volozhin in 1858 [RS064]. The current thinking is that they are two different individuals.

> > > Chenya, b. 1822 [RS043]

> > > Chaia, b. 1825 [RS043]

> > > Esther, b. 1831 [RS043, RS052]

> > > Chana, b. 1834 [RS043, RS052]

> > Simcha (f), b. 1798 [RS023; RS024]. Nothing else is known about her.

> > Meshia Beila, b. 1811 [RS023; RS024] RS023 says she is the daughter of Simcha, which is probably wrong. Nothing else is known about her.






> Boruch [RS056] (Boruch-Mikhel ? [RS022]), b. 1781, d. 1849, married Rivka, b. 1784 [RS022; RS026; RS053; RS054]. It is assumed that the Borukh who is the brother of Mikhel and father of Srol [RS056] is the same as the Borukh who is the father of Itsko (Isaac) [RS053; RS054] and they are the same as the "Borukh Mikhel" who is the son of Israel [RS022; RS026]. ]. He is presumed to be the brother of Chaim based on their ages, they have the same last name, they are in the same town, and they have the same father's name.

Note that if his name cannot be Borukh-Mikhel [RS022] if his brother (that is, his son's uncle surnamed Efron) is named Mikhel [RS055; RS056]. There may be an error in the records or transcription of the records. RS022 is the only record that refers to him as Borukh Mikhel. Could it be that his son's uncle named Mikhel Efron is a maternal uncle?

> > Isaac (Itsko), b. 1802 [RS053; RS054; RS065], married Feiga, b. 1802 [RS054; RS065]. In 1818 Itsko has a brother Abram, age 2 [RS053]. In 1850, he has a son Abram, age 3 (probably should be that he was 3 in 1834. See below.) She is the daughter of Faybe (Feivel)l

They re-registered from Ivenets to Volozhin and then lived in Volozhin [RS054; RS065; RS066]. They re-registered from Ivenets to Volozhin between 1834 and 1850 [RS054]. Feiga was a daughter of Fayba [RS065; RS066]. It is assumed that the Baruch who is the father of this Isaac is the same Baruch who is the son of Israel and has children Michela and Mordecai. Feiga is listed twice in the 1858 revision.

> > > Abraham, b. 1831 [RS054], d. 1857 [RS065]. RS054 says that he is 3 years old, but does not list his prior revision list age, which would typically say "not yet born." Based on RS065, I believe that he was 3 years old in 1834 (the revision list prior to 1850) and that the 1850 record left off his age in 1850, or the transcriber made an error.

> > > > Srol Nisan (Israel) , b. 1846 [RS065]

> > > > Slava, b. 1850 [RS065]

> > Michlya, b. 1803 [RS022]. Nothing else is known about him.

> > Abraham, b. 1816 [RL005; RS053]. Nothing else is known about him.

> > > Chaim Noah Yankel HaLevi, b. 1837 [RL005]. It is assumed that the Abraham who was the father of Noah, a soldier in Igumen, as listed in 1873 [RL005], is the same Abraham who was brother to Itsko and son of Barukh [RS053]. There is a strong need for additional evidence for this link. [SEE THE FAMILY TREE OF CHAIM NOAH EFRON OF DUKORA, BELOW]

> > Mordecai of Bobroisk, b. 1817 [RS026; RS027; RS035], married 1. Tsirel, b. 1820 [RS026]. He lived in Bobroisk in 1852, and was a house painter [RL013]. It is not known if he is related to the other Bobruisker Efron families (see page --). Tsirel and Pesya could be the same person, with a double name, though RS026 and RS027 identify different names and slightly different birth dates for the wife of Mordukh.

In 1851, a relative lived with Mordukh and his family [RS027]. Her name was Khaya-Beyla, b. abt 1821, a daughter of Rogovinova Volfovna (that is, her mother was Rogovin, daughter of Wolf).

> > married 2. Peshe, b. 1821 [RS027; RS035]

> > > daughter, b. 1837 [RS027]. The researcher probably left off the name by mistake. If there were indeed two wives, it is not known which was her mother.

> > Srol (Israel), b. 1833. In 1850 he is living with his uncle, Baruch, who is the son of Israel. This Israel appears to be too old to be the son of this Baruch, but that is the best fit for his record [RS056]. He has papers to be re-registered to the town of Uzda. [cite?]

> Mikhel, b. 1798, d. 1841. He was the son of Izrael. [RS055; RS056]. It is assumed here that he is brother to Chaim, also a son of Izrael

A nephew of Mikhel is registered in the same household as Mikhel as of 1850. The nephew is Srol Borukhov Efron, indicating that Mikhel and Baruch are brothers [RS056]




Israel Samuel Efron, son of Isaac, son of Chaim, son of Israel of Ivenets

Israel Samuel Efron, married Bessie Rabinowitz or Yenta Unknown. He lived in Volozhin [Slutsk Pinkas] . According to Revision List records, his wfe was Yenta, although there was a record for his son Yoel Baruch that suggests that Yoel Baruch's mother – and Israel Samuel's wife, was Feyga [RS066]. It may be that Feyga was some other relation to Yoel Baruch – maybe an aunt.

Please refer to the beginning of this chapter for more information about his ancestry and related branches.

Almost all of the information about Yael Chaim's descendents comes from the genealogy done by Tina Efron.

It is not known if there is any connection between this branch, which has many connections to Slutsk, and the Efron family of Leizer Efron, son of Eliezer, son of Yekhiel of Slutsk.

According to Hyman Efron, Ida Tannenbaum was a cousin. This is why it was concluded that Chaim Baruch, the head of this branch, is the same as the Baruch, son of Israel Samuel, who is from the Ivenets revision lists. Hyman's letter also says that Baruch Zalman was born in Bobroisk. There is no documentary evidence of that. Hyman wrote that Ida had told his mother that "her (Ida's) part of the family was in the established genealogy in Poughkeepsie," that is, part of the family in the first volume of this genealogy. There is no evidence that supports that conclusion.

Acknowledgements: Tina Efron, Rose Dolen, Rabbi Mordecai, Marshall Efron; Eyal Efron, Herman Efron, Noah Efron, Adam Efron, Maris Gavzy Rabolini

> Hinda, b. 1837 [RS042]. Nothing else is known about her.

> Fishel, b. 1840 [RS042]. Nothing else is known about him

> Faivel (Fayba, per researcher), b. abt 1841 [RS064] He was registered to the town of Volozhin in 1858. [RS064]

> Baruch (Chaim Baruch) ("Benjamin") Efron, b. abt 1844, married Dora Lessowitz (Lushitz). His name was Chaim Baruch [GEN023], not Baruch, as the documentary sources indicate. On the marriage records, Baruch's name is given as Benjamin, but the arrival record of Joseph agrees with the family tree done by Hyman. [GEN023]. It's unlikely that a father and son have same name – his son's name is Boruch Zalman – but this could happen if the father dies before the son is born.after the father dies.

> > Harry Aaron Efron, b. 6/25/1886, Vilna [NAT--]. He lived in Harrisburg, PA. He arrived in the US at NY on 11/14/1904 by train from Quebec. He had sailed from Copenhagen (to, presumably, Canada) on October 30, 1904. [NAT--]

This may be the brother who went to Mexico City [GEN023]. He left Vilna in the early 1900s and settled in Mexico City according to oral history, but must have passed through Harrisburg first since he was there from 1906 to 1917 based on the arrival records of his brothers Isaac and Joseph, a Russian Consulate record. He was a pharmacist. [GEN023] There are few references to him in US records.

In 1917, there is correspondence with the Russian Consulate from: one H.A. Efron, a native of Vilna, who now resides in Harrisburg.

On 2/11/03, surfing the web, I found a page for a Prof. Kaplan Efron of the University of Mexico City, but I do not know if there is any connection. No Efron family has been located in Mexico other than the Marein-Efron family, which does not appear to be related.

> > Isaac, b. 7/12/1888, Vilna [~CEN20; NAT009; ARR127], married 6/7/1925 in Brooklyn [MAR021] to Emma Kraztsoff "Kraft", b. 2/10/1902, Lubon, Minsk, Russia. Her maiden name was Kraztsoff (HE), perhaps Kravzov [NAT009]. In 1925 Isaac lived at 401 Bristol St., and he was a printer. He also lived at 2033 Bergen St., Brooklyn. He arrived 8/19/1906 at Philadelphia, joining his brother Aaron at 25 N. 5th St., Harrisburg, PA c/o a Mr. (Mrs.?) Levi. Isaac was a private in WW I.[NAT009] (Probably in the 1930 US census ED788, p. 17A). She may be the Emma Efron who was naturalized in 1939 at the age of 40 while living at 440 Rockaway Ave., Brooklyn [NAT056] [CEM—New Montefiore]

> > > Hyman, married Frances Reznick. He sent a letter on 11/15/1998 to Effrons (not sure who) at the suggestion of Annette and Shelly Baskin asking about his family tree. [GEN023]

> > > Judith Wolf, married Frank Wolf

> > Joseph, b. abt. 1891 Vilna [ARR128; ~CEN20 (see Lansford 1920 census, tape 1534, ED 19 (& others?))], married 5/18/1919 in Brooklyn [MAR022] to Katie (Kayla) Zeligman, b. abt. 1892 or 4/6/1895, Vilna, d. 7/25/1973, Massapequa, NY [SSDI078; CEM057]. In 1919 and 1920 they live at 50 Boerum or Bowerum St., Brooklyn, and he was a shoemaker. (Possibly the Joseph who d. 2/22/54 age 60, Verify old DEATH record 57.) In 1920, he lived at 50 Boeru St., Brooklyn. He arrived 9/30/1912 at Philadelphia, joining his brother Aaron at 533 Filber (?) St., Harrisburg, PA. His father, Baruch, was then living in Vilna.

> > > Dorothy "Dora" Monkowitz, [Verify old DEATH record 8;] [verify source, especially marriage], married Martin Monkowitz.

> > > Harold, married Sylvia

> > > Bernard, married Sylvia. This is probably the Bernard referenced in DEATH035 (FL deaths - 7050/27177 23 6/8/21-3/4/88. verify with 1930 census)

> Yoel Chaim Efron, b. 1845, d. 11/10/1919, Slutsk [Slutsk Yiskor book – verify; otherwise, see DEATH094], married Reizel (Rose) Lipschitz, b.1850, d. 7/26/1905 [DEATH094] . She was the daughter of Feitel Lifshits of Slutsk[DEATH094]. He died at an elderly age and she died suddenly (DEATH094] [Eyal Efron] He was registered to the town of Volozhin in 1858 and was then, at age 13, the head of the household where Feyga, his mother (verify), also lived. [RS066]

> > Solomon (Baruch Zalman), b. abt. 1869, Bobroisk, Belarus, d. 8/10/1935, Brooklyn, NY [CEN1018?; ~CEN20; CEM052 (photo); Verify old DEATH record 24], married Ana (Chienna) Minkin, b. abt. 1869 or abt. 1874, d. 9/8/1947 or 9/18/1947, Brooklyn, NY [CEM053; Verify old DEATH record 42]. He was a Hebrew school teacher. In 1935, they lived at 16 E. 105th St., and in 1947 she lived at 279 E. 92nd St., Brooklyn, NY. He arrived about 1914. He was born in Bobruisk [HE]. His family is outlined in a family tree done by Hyman Efron [GEN023] She arrived in 1910 with her four children. Her father's name was Avigdor. [ARR297]

> > > Benjamin (Joseph Beer), b. 5/5/1896, Bobroisk, Minsk, d. 5/-/1978 [SSDI081], married 2/10/1922 in NYC [MAR046] to Dora Board, b. 5/5/1896, Podol, Russia, d. 9/-/1986 [SSDI083].According to their SSDI records their last residence was XX873(Asia); this might mean that they were living in Israel.

> > > Isadore Noah "Izzy" (Yehoshua or Israel) (Noach Ieschia), aka Isador Minkin, b. 5/5/1898, Bobroisk, Minsk, d. 1/5/1947, Brooklyn, NY [~CEN20; CEN3170; CEM051; Verify old DEATH record 43; EST 49], married 1/16/1924 in NYC [MAR028] to May Hauptman, b. 3/27/1901, NYC, d. 12/30/2001 [SSDI579]. In 1924, Izzy lives at 42 Leonard St and is in the dry goods business. In 1930 they live at 969 57th Street, with her family. In 1947, they lived at 275 Linden Blvd., Brooklyn. His mother's maiden name was Minkin, and he used that name as well.

> > > Ida (Chaia Sarah) Tannenbaum , b. abt. 1901, Bobroisk, [~CEN20], married Tannenbaum. Divorced.

> > > Eli E. (Eliahu), b. abt. 1903 or 4/5/1905, d. 10/27/1959, Bobroisk [~CEN20; CEM054; Verify old DEATH record 75; EST 52]. Never married. He lived in NYC (ME)

> > Isidore (Yitzchak) Efron, b. 2/17/1877 or 3/17/1877, Minsk, d. 11/28/1962 or 11/29/62 [CEN2093; SSDI057R; CEM055; Verify old DEATH record 83; NAT004; ARR098] married in Europe to Esther Pinchassy, b. abt. 1879 or 1871, Minsk, d. 7/21/1957 [CEM056; Verify old DEATH record 67; ARR017]. In 1920 he is a receiving clerk for a wooden(?) company. He arr. in 1904, indicating that he was a tailor and single (sic), and that he was going to his brother-in-law Chaim Bernstein who lives at 24 Monroe Ave. – no connection determined yet for Chaim Bernstein and/or his wife. She arr. in 1905, from London. They were naturalized in 1912. In 1912 they lived at 8 East 109 St. and he was a news dealer. In 1915 they lived at 14 Monroe Ave. In 1917 and 1920 they lived at 506 147th St., NYC [DIR020]. In 1920 his nephew William Strongen, age 20, an alien, lives with them. One of the witnesses on Isidore's naturalization is a "Rachmiell Suton," tailor, of 272 Cherry St.(note that Isidore's brother is also named Rachmiel). On 12/28/1905, when "Isidor" completes his first papers for naturalization, he lives at 2 Monroe St. They are buried in the Congregation Puchowitzer section of the Mount Hebron Cemetery. Puchowitz is the town where Basheva Green was born and her brother Abraham Efron last lived. In 1930 they lived in Bayonne.

> > > Sol or Saul ("Samuel" in the naturalization), b. 7/15/1909, NYC, d. 11/3/1990, Brooklyn [SSDI591]

> > > Frances, b. abt. 1913, NYC. There is a Frances Freundlich, b. 6/14/1913, who is buried in the Puchowitzer cemetery, where Isidore and Esther are buried.

> > Philip (Rachmiel Feitel), b. 7/1881, d. 2/9/1920, Brooklyn [CEN2092; CEM018; NAT050; Verify old DEATH record 9; DEATH045], married 1/29/1907, Manhattan, to Eva Bella (Chava Beila) Metlitsky, b. abt. 1881 or 1884, d. 11/13/1955 [CEM058; MAR072; Verify old DEATH record 59]. He arrived at NY 7/14/1900 [verify source – also see Meyer of Niemecien, son of Avraham Chaim]. In 1906 he was naturalized and was then a clerk and lives at 644 Driggs Av., Brooklyn. In 1920, he lived at 1652 St. John Place, Brooklyn. Her father was Dovid Ber and her mother Dwoshe Krasavitzky. He had blond hair.

This may be the Philip Efron of 253 Grand St. who was arrested [verify date] for managing a penny arcade on bowery st. where police found seven immoral pictures in a penny slot machine. Seven machines and Efron were hauled to the station. [NYT 023]

A Taube Efron, wife of F. Effron, arrived in 1902 to join her husband in Lehigh, PA; she does not appear to be the same person as Eva Bella.

Philip is buried in the same cemetery section, the Volkovysker Society, as Meyer Efron, son of Benjamin Efron of the Niemecien branch (see p. --) However, there is no obvious connection. Also, no connection can be found between Philip and the Izabelin/Volkovysk (St. Paul) branch (see p--).

> > > Dora Schein, b. 12/17/1907, d. 6/5/1992, Buffalo, NY [SSDI464], married Louis Schein

> > > Rose Dolen, b. abt. 1912, married Max Dolen. Rose lives in Brooklyn, NY.

> > > Sam (Israel Shmuel), b. 11/16/1914, d. 8/29/1980 [SSDI121; CEM085; Verify old DEATH record 123], married Lucy (Leah) Radom, b. 1/29/1918, d. 1/30/1996, Queens, NY [CEM084 (photo); SSDI603]. She was the daughter of Aaron. Lucy lived in Queens with her daughter Tina. 718-352-7615

> > Abraham, b. abt. 1885 [ARR093; ARR222; CEN1016; CEN2091], married Rose Kaduchin, b. 12/25/1891, d. 9/-/1967 [SSDI154]. He lived in Allentown, County, Pennsylvania early on. Abraham spoke often about Ilya Efron, the encyclopedist (Sam). Abram arrived, age 17, single, at NY 11/20/1903 on the Patricia. He last resided in Minsk. He is going to see his brother, Feitel Effrien at 146 Madison St., NY. In 1910 he lives alone in the Allentown area.

> > > Morris, b. 3/15/1912, d. 3/-/1987, Allentown, PA [SSDI159]

> > > Samuel, b. 5/6/1915 or 5/16/1915, Lansford, PA, d. 1/4/1997, Washington, DC, married 4/5/1941 to Hope Bachrach Newman. Sam was an attorney. [SSDI525; Who's Who]

> > Yosef Dov ber "Beryl", married Itka Unknown. He was the author of a book about Josef Dov Ber Soloveitchik. All details of the descendents of Feivel came from his great-grandson Eyal. According to Eyal Efron, Yosf Dov Ber also had a sister Haya and a brother Moshe, not otherwise known. He never came to the US (Eyal Efron).

> > > Feivel, b. 1905, d. 1984, married Taube "Vitya" Yarcho, b. 1905, d. 1978 (formerly thought her birth date was 1882, based on arrival ARR091). Feivel (and family) immigrated to Israel 1926. Feivel had a neice in Israel who has two children. (ME). Fievel authored the chapter in a Memorial book on Slutsk, which includes photographs of his mother and father [verify and get photos]. Initially I was told that there were about three children. One went to Cornell and one went to the U. of Penn (ME), but this has been revised based on emails from Eyal Efron of Jerusalem – must be someone else from this family.

> > Tserlya (Tsira) Gavse b. 1865, d. 1941, Holocaust, married Isaac Gavse, b. 1870, Lyakhovichi, d. 1941.

Maris Gavzy Rabolini put her Gavzy family tree on the internet, which I located. I invited her to swap information -- I gave her ancestors, and she gave me descendents. Prior to receiving that information I had oral history information from Rabbi Mordecai Efron, but I did not then know Tsira Gavse's married name and in fact had her listed as "Tseitel."

Oral history information on this family, prior to locating the Gavse family online allowed me to determine that the Gavse family belonged in this part of the Efron family hisotry. That initial oral history, from Rabbi Efron included that "Tseitel" lived in St. Petersberg; she had seven sons and most were killed in WW II; that one son may have made it to France; and that a daughter, Rose, died in Israel around 1992 after she was hit by a motorcycle.

> > > Isrolik

> > > Faivel, b. 1897, d. Israel, married Franka Unknown

> > > Feitel, b. 1900, d. 1941

> > > Joseph, b. 12/7/1903, d. 1981, Moscow

> > > Lazar, b. 1905, Lyakhovichi, married Denise Renaud, b. 1918, France.

> > > Rosa, b. 1907, d. abt. 1992, Haifa, married Unknown.

> > Yentel (f), remained in Russia

> > Bryna (f), remained in Russia

> > Haya (Chai). (Eyal E.)

> > Moshe (Eyal E.)



Tsirel Soloveitchik, daughter of Isaac, son of Chaim, son of Israel of Ivenets

Tsirel Soloveitchik, b. approximately 1823, d. abt. 1871, Slutsk, married Yosef Dov Ber "Yoshe Ber" "The Beis HaLevi" Soloveitchik, b. 1820, Nieswich, d. 1892. They lived in Slutsk, and then later in Volozhin. See the descendants of Israel of Ivenets for additional details. The revision list showing her is located on a website dedicated to Ivenets, by Eilat Gordin Levitan (www.eilatgordinlevitan.com).

See "Israel of Ivenets" above for more information about her ancestry and related branches.

This history of this family can be found in the book by Rabbi Chaim Karlinsky, HaRishon LeSholset Brisk, First in the Genealogical Chain of Brisk: The Gaon Rabbi Yosef Dov Ber Soloveitchik z'l: His Life, Times and Activities. (Hebrew).(Machon Yerushalyim, 1984) [MISC019].

One source of information for this branch is The Soloveitchik Heritage: A Daughter's Memoir, by Shulamith Soloveitchik Meiselman. I contacted Mrs. Meiselman, who lived close to me in Brookline, MA. No mention of the Efron family is found in this book, and Mrs. Meiselman told me that she had not remembered until I mentioned to her, the name "Efron." The book mentions the rabbi's wife by name once, on page 64, as "Tsirel." Tsirel died in Slutsk in 1871; according to TSH, the family arrived in Slutsk in 1865 and Tsirel died shortly after the six years that they had stayed in Slutsk. Yoshe Ber mourned deeply for his deceased wife. Around 1875 he left Slutsk, and went to Warsaw where he re-married a widow with seven children. He stayed there until about 1878, at which point he took over the rabbinate in Brisk. Prior to becoming the rabbi in Slutsk, he helped run the Volozhin Yeshiva. However, a dispute between him and the other leader of the school, the renowned Naftali Zvi Yehuda Berlin, (also known as Reb Hirsch Leib Berlin, the "Netziv") resulted in Rabbi Soloveitchik's departure.

The Soloveitchik family tree can be traced back to Reb Yosef b' Abba HaLevi Soloveitchik, a "very wealthy and scholarly man [who] had lived in Brest-Litovsk" (Brisk) [TSH]. In the 1760s, he traveled to Kovna and eventually settled in Villijampole (later called Slobodka). Yosef's son was Yitzhak HaLevi Soloveitchik. He in turn had two sons, Reb Moshe and Reb Avraham. Reb Moshe had a son named Yosef. Reb Yosef was first [subsequently married?] married to Relke, daughter of Chaim Volozhiner, the founder of the Yeshiva. They had two children: Eliahu Zevi and Isaac Zev. Yosef died, and Relke remarried to Moshe HaKohen Shapiro. Reb Moshe HaKohen Shapiro's first wife had died, leaving a daughter, Rivka. Rivka Shapiro married Isaac Zev, her step-brother. Isaac Zev was crown rabbi (appointed by the Russian governmet) of Kovna Gubernia. Rivka and Isaac Zev's son was Yoshe Ber. Yoshe Ber "The Beis HaLevi" was the first Soloveitchik to reach renown as a torah scholar. [TSH]

The ancestry, in summary, of Yosef Ber Soloveitchik:
Abba (Abraham)
> Yosef, of Brisk, Kovna and Vilijampole (Slobodka), flourished 1760
> > Yitzhak HaLevi Soloveitchik
> > > Moshe (his brother was Avraham)
> > > > Yosef, married Relke, daughter of Chaim Volohziner
> > > > > Isaac Zev (brother was Eliahu Zevi), married Rivka, his step-sister through his mother's second marriage (to Moshe HaKohen Shapiro)
> > > > > > Yoshe Ber, b. 1820, married Tsirel Efron
> > > > > > > Chaim Soloveitchik, "The Brisker Rav"

> Chaim, known as "The Brisker Rav" and "Chaim Brisker", b. 1853, Volzhin, d. 1918, married abt. 1873 toLipshe Shapiro.

> > Yisroel Gershon

> > Moshe HaLevi, b. abt. 1878, Kaslovitz, d. 1/31/1941, NYC [~CEN20], married Peshe Feinstein

Reb Moshe came to the US in 9/1929 to become the head of the Rabbi Isaac Elchanan Seminary, a Yeshiva that is part of Yeshiva University.

> > > Joseph Dov "The Rav", b. Feast of Purim (erev Purim), 1903, Pruzhany, d. 4/8/1993, Brookline, MA [~CEN20], married in 1931 to Tonya Lewitt, d. 1967.

> > Isaac Ze'ev HaLevi "Velvel", b. 1886, Volzhin, d. 1959, married Unknown, d. abt. 1942, Holocaust. He was the Rabbi of Brisk.

> > Sara Rasha

> > Simchah, b. 1881, Brest, d. 11/16/1941, Brooklyn, married Deila. He was a rabbi in Mogilev, and then later in Brooklyn.



Israel Solomon Ephron, son of Abraham, son of Chaim, son of Israel of Ivenets

> > > Israel , b. 1819 or 1821 [RL012; RS043] or Izrel Shmuel (Israel Zalmon or Israel Solomon), abt 1824 [RS064], married 1. Udel, b. 1820 [RS043]. Borukh, b. abt 1844, might be a son [RS057]. Israel [RL012] and Izrel Shmuel [RS064] are presumed to be the same person. It is not known which childfen were born to which of Israel's wives. If the children have been placed properly, then his name might actually be Israel Zalmon. [SEE FAMILY INFORMATION ABOUT ISRAEL SAMUEL (ABRAM'S SON) EPHRON FOR INFORMATION ABOUT CHILDREN OF HIS FIRST MARRIAGE, ABOVE.]

Israel Solomon Ephron, b. abt. 1824, d. before 1900. His birth date is estimated based on the birth dates of his sons. His death date is estimated based on the fact that Chaim Nachum's son was named Israel Zalman. Revision list records name him as Israel or Israel Samuel. There is some uncertainty about the earlier generation of this family because there appears to have been some individuals with the same name who were born around the same time and lived in the same place. He was a Flax ("Flocks") merchant [Peisha's Mar cert --]. He had an uncle, Moshe, who was also a flax merchant [RL--]

See "Israel of Ivenets" above information about his first wife and their children.

Alfred and Alexander, from this branch, have not been connected to the Sag Harbor Affron family although there are some similarities. Also, there is an entry in the social security death index for a Margaret Ephrion, b. 7/25/1885, d. 2/-/1974, Newark, NJ, who may be connected [SSDI510; SSDI480?]

Mary Cooper told me that Alfred Peisha, her grandfather, had a brother in Birmingham named Joe (maybe Jacob Efron of Islington?). She said there were also two brothers and a sister who went to the US. She told me that the sister owned a hotel on Coney Island, which is how the Somach family was connected.

Veronica Noll said that her father had a cousin in NY who was a photographer. That would be, presumably, Alexander Somach, and further confirmation of the connection of these families.

With his second wife, Israel Solomon had five known children:

Joseph (Jacob?)
Alfred Peisha Ephron
Rivel Somach
Chaim Nachum Ephron
Alexander Ephron

Acknowledgements: Mary Cooper, Joan Miller, Veronica Noll; Paul Fisher; Michael Ephron, Ida Kalbern, Jerold Touger

> Joseph Ephron, married. They lived in Birmingham, England. According to Mary Cooper, they did not have any children. He is a brother based on information from Mary Cooper.

Possibly, his name was Jacob and he is the Jacob Efron who lived in the Islington area of London [CENENG9101; CENENG0102]

> Alfred Peisha Ephron, b. abt. 1854 or abt. 1857, Valozhin, Belarus [ARR015; CEN91--; CEN01--], d. about 2/19/1924, Manchester (?), England, married 1. Marion Wyman, b. abt. 1869, Chesterfield, England, d. abt.first quarter, 1893, Manchester (BMD Records, Ancestry). His granddaughter, Mary, told me that her father's best recollection was that Alfred was born in something like "Vladimir" or "Valdin." With other information, this indicates he was born in Valozhin.

In the 1891 census he is living in Manchester and is a traveller, hawking jewelry. Living in the same house is the Henry Lewis family. Henry Lewis has the same occupation, and has three children, all born in Belfast. [CENENG9104]. In 1901 Alfred lives in Birmingham and is a tobacconist in a shop which is in his home. In 1901 he has received his citizenship papers. [CENENG105].

In the 1901 English census there is a Hyman Lewis, 38, born in Russia, who may be the same as the Henry Lewis that lived with Alfred in 1891. This Hyman Lewis lives in London with his wife Anna and has several children, of whom there is one son, his oldest, who was born in Dublin [CENENG01--]. There are several differences, however, that would suggest that Hyman and Henry are not the same person. On FamilySearch (Beta engine) I found what appears to tbe the births of Alfred Lewis and Fred Lewis, in Antin, Ireland, in both cases to parents Henry and Elizabeth (Napiers) Lewis – this agrees with the 1891 census entries for the Henry Lewis family that lived with the Ephrons.

Alfred Peisha came to the US for a visit, landing at NYC on 12/24/1904, on the "Campania," sailing from Liverpool. He is then married, and is going to see his brother Alexander Ephron at 570 Hunterdon St., Newark. He is described as an artist and a citizen of England. He had last resided, for 3 months, in Birmingham. His "race" is Hebrew. [ARR015]

There was also a Peishach Ephron, a tin worker who was in London for a few months prior to coming to the US in 1906, to his son Itzig at 220 Broome St. [ARR013]. He does not seem to be the same person as the above Peisach, but instead a member of another branch (see p. --).

Joan Miller and Mary Cooper confirmed that Leopold's mother died young, along with her baby, and that Leopold's father then remarried. Census records agree.

From Singers Hill Synagogue (Bernard Gingold) I learned that Alfred Peisha Ephron was buried at the Witton Jewish Cemetery in Birmingham, England on 2/20/1924, at grave location P 112. On 7/6/09 I emailed the JGSGB to locate someone who might take a photo of the grave.

> > Leopold, b. abt. 8/1890, Salford, Manchester, Warwickshire, d. 10/21/1967, Coventry, married abt. 8/1921 in Aston, Warwickshire, England to Elsie M. Rawlings, b. abt. 1895, Aston. [BIR038; MARR112; BIR040] He is living with Alfred in 1891 and 1901, according to the censuses for those years. She is possibly the Elsie Rawlings who was the daughter of William and Ellen Rawlings of Birmingham [CENENG0106]. At the time of his death, he was at Styvechall Lodge, Coventry [death certificate].

> > > Mary Cooper, married Unkown Cooper. He is deceased. I spoke to Mary in June 2009. She told me that Alfred came from "Vladimir." Mary and her late husband were separated but not divorced.

> > > Joan Miller, married Richard Henry Miller, d. I spoke with Joan in June, 2009. Joan has two daughters and 3 grandchildren.

> > Albert, b. abt. 8/1892, and died at birth [BIR039]. According to Mary Cooper, mother and baby died together at the time of birth.

> Married 2. on July 31, 1900 to Millie Berrens, b. abt. 1865, London, d. between 1932 and 1936. Her father was Benjamin Berrens, a tailor. At the time of their marriage they both resided at 185 Bloomsbury St., Nechells. Witnesses to their marriage are Benjamin and Leah Fisher. According to the London Gazette, Benjamin Fisher is a commercial traveler who sells tobacco. This was also the occupation of Alred, according to Joan Miller.

> Rivel (Roza, Rebecca) "Beckie" Somach, b. approx. 1855 or 5/1869, married 1. Morris Somach, b. 5/1869, near or in Vilna, d. abt. 1922. Morris owned Turkish baths in NYC and on Coney Island. The family lived at 74 Orchard St. at the time of Jennie's birth, but then settled on Coney Island. In 1900 they lived on Sheepshead Bay Road in Brooklyn, and he was a photographer. In 1900 they lived next door to Morris' mother and sister and and the sister's family, name of Levinson. Max Levinson was also a photographer. In 1920 the family lives in NYC. [CEN0048; CEN2174]

Paul Fisher contacted me and supplied most of the narrative regarding the Somach family. He learned that Rivel's maiden name was Efran or Ephran. The only other info he had on the family was that a cousin, of some nature, was named Sonya, and she lived in Carbondale, PA. I began researching by finding an older Jewish resident of Carbondale. He recalled one Sonya, which was a Sonya Goldstein, married to Louis. From there I learned more about Sonya. By learning Sonya's relationship to Chaim Nachum, I was able to conclude that Rivel was a sister of Chaim Nachum.

> > Jennie Fisher, b. 8/28/1888, NYC, d. Coney Island, married Joseph Fisher, b. 1877, Bucharest, d. Coney Island [~CEN20; CEN3221]. She died possibly of Parkinson's disease.

> > > Lillian Krentzel, b. 1914, d. abt. 1965, married Joseph Krentzel.

> > > Irving, married 1. Arlene Miller, d. He is a retired photographer, having taken over Alexander's business.

> > > married 2. Sylvia. She did not have any children with Irving.

> > > Ernest Clarence "Ernie", married Blossom Tunick (or Spitze)r. He was a radio operator in WW II, and later had a TV repair shop in Jackson Heights, Brooklyn. He is retired

> > Alexander, b. 6/1892, NY, d., married in Manhattan 6/1/1917 to Freida Rosenbaum, d. [~CEN20; MARR113]. He was a photographer with many contracts with the city of New York City.

> > Irving, b. abt. 1901, NY, suicide, married Mitzi, d [~CEN20]. She was secretary to NYC Mayor Fiorello LaGuardia. He was a manic-depressive and poisoned himself. He was a doctor at Mt. Sinai Medical Center in NYC. His practice consisted primarily of prominent show-biz types. They did not have any children.

> > David, b. abt. 1906, NY, d. abt 1943 or 1944, married Celia, d. They lived in Brooklyn.

> > > Morrie, d., married 1 Unknown. He lived in Florida, and was a manager of the Lerner Shops.

> > > Married 2, Unknown

> Married 2 to Morton Golden (Morten or Martin Gould, per PF). This marriage certificate may give Rivel's mother's name. The labels on the photograph of Alexander Somach's 25th wedding anniversary has his name as Morton Golden.

> Chaim Nachman or (Pesach?) Ephron, b. approx. 1856, married Pearl Tillie Levitt (according to the marriage record of Isadore). There is a revision list entry that may be for her, showing a Peshe Levit registered to the town of Volzhin, born in 1852, the daughter of Israel b' Osher [RS004].

Pesach is the name of the father of Itsko-Osher Efron [RL017] and Srol-Zalman Efron [RL018], residents of Volozhin in 1898, with origins in Ivenets. These appear to be the exact same brothers as found in this family tree, but all other indications (e.g., gravestones) are that they are the children of a man named "Chaim Nachum." If in fact they are the same individuals, and it sure looks that way (same name combinations and birth years and they are brothers), then how to explain the records that says their father's name is Peisach? One possibility is that the researcher made an error. A better explanation may be that they were residing with their uncle, whose name was Peisach but in error the census taker thought they were children of that resident. Or, it could be that their mother was first married to Chaim Nachum, who died, and she then remarried to Peisach Efron. Jewish law requires a brother to married his widowed sister-in-law, or maybe he wasn't even an Efron, and the sons simply adopted their new father's family name. An unsolved puzzle.

There was a "Peseich Ephron" who arrived in the US 11/21/1904 [ARR013] and is going to his son Itzig Ephron at 220 Broome Street. His later whereabouts are unknown.

According to the research done by researcher Perzaskevich, in Ivenets in 1898 (F. 1, op. 1, D. 3397) were two Efrons: Itsko Osher Peysakhov, born in 1876 in Volozhin, Vilno Province [RL017] and Srol-Zalman Peysakhov, born in 1890, also in Volozhin [RL018]

On Isador's marriage certificate, his father is "I. Hyman." Isaac's death certificate has his parents as Hyman and Pearl Levitt. [DEATH038]

A "Nochen Effren" arrived from Lunna in 1903, age 40, and he was a shoe maker [ARR092?]. He would be the correct age to be Nachum, the father of Isador identified on Isador's gravestone (and elsewhere), but his later whereabouts are not known. Another Lunna reference for this family is from interview of the Tzvi Efron of Rosh Pina, grandson of Meir Efron.. Tzvi told researcher Ruth Marcus that Henry Ephron's father [Yitzhak Asher] was Meir's brother/cousin. Tzvi visited Henry Efron in California and he was in contact with his daughter, Nora Ephron.

> > Isaac (Yitzhak Asher) [RL017] Ephron, b. 12/12/1876, Grodno, Russia, d. 4/2/1932, Bronx [CEN2094; CEM026; DEATH038; OBIT056; NAT071, Verify old DEATH record 18], married Gussie (Gittle) Weinstein, b. 9/2/1876, Skidel, Belarus, d. 10/7/1943 [CEM103; Verify old DEATH record 35]. He arrived in 1903 and was naturalized in 1906 (perhaps, difficult to read census). In 1920 the family lived at 792 166th St. Bronx, and at 736 Home St. in 1925 the widow Gussie lived with Israel (Isadore) and Henry at 1687 Selwyn Ave. in 1932-1934. In 1943, she lived at 2970 Marion Ave., Bronx. Isaac ran the Ephron Marble Works in 1916, and the Imperial Linoleum & Carpet Co., Inc.

> > > Harris "Harry" G. (Gershon), b. 7/6/1904, NY, d. 1/2/1962, NY [CEM104; OBIT057; Verify old DEATH record 87], married Mathilda Unknown, b. 10/10/1906, d. 7/7/1980, Hollywood, FL [CEM105]. He lived at 1511 Shnider Ave. in 1934. She remarried to Wexler.

> > > Isadore "Irving" (Israel), b. 4/6/1906, NY, d. 8/28/1967 [CEM106; OBIT058; Verify old DEATH record 97] ], married Clara Dornbusch, b. 3/23/1908, d. 12/18/1992, Hallandale, FL [SSDI224]. At one time she lived in New Jersey (SSN issued there). Irving had a law degree, but suffered from depression and was therefore a phys ed teacher (ME).

> > > Charles "Charlie", b. 5/28/1908, NY, d. 12/25/1983, Rancho Mirage (Riverside), CA [SSDI110; EST48], married to Birdie.Z., b. 1/30/1908, d. 8/26/1993 [SSDI231] DNA Status: possible, try to locate male descendants.

> > > Henry R., b. 5/26/1911 or 7/26/1911, NYC, d. 9/6/1992 [EST06; SSDI234; ARR038; 9/21/1992 Time Magazine], married 1. Phoebe Wolkind, b. 1/26/1914, d. 10/13/1971, CA [SSDI119; Verify old DEATH record 108]. His estate says that he died ------------------. Henry and Phoebe were responsible for some of Hollywood's most memorable romantic comedies: "Take Her, She's Mine," Carousel," and "Desk Set.". According to a NY Times piece, their children grew up in Beverly Hills, CA. Wrote "How to Eat Like a Child, And Other Lessons in NotBeing a Grown-up."

> > > > Nora Ephron, [Current Biography, 1990], married and divorced Carl Bernstein. She is one of the most successful movie directors in Hollywood , having directed movies like "When Harry met Sally" and "Sleepless in Seattle." Carl Bernstein was the reporter for the Washington Post, immortalized together with Bob Woodward for exposing the Watergate scandal that brought down President Richard Nixon. [MISC117]

> > > Married 2. June Unknown. She was the widow of Oscar Levant (article about Delia Ephron)

> > Isador or Isidor (Israel Zalmon or Szoel) [RL018] Ephron, "Jr." of NYC, b. 12/27/1889, 12/27/1891 or 12/27/1893 Volozhin, d. 8/28/1965 [~CEN20; CEN3171; SSDI066R; Verify old DEATH record 91; CEM040; NAT051; ARR063], married 3/25/1917 in NYC [MAR032] to Esther Meyerowitz, b. abt. 1894 or 1896, NYC, d. 10/18/1961 [CEM041; OBIT059; Verify old DEATH record 82]. Her mother is listed as Bessie Leavitt on their marriage certificate, and Alex Somach is one of the witnesses. His parents, on the marriage certificate, are "I.Hyman," father and "Pearl Levitt," mother. In early records he is Isador Ephron Jr. He lived at 415 Cherry St. when naturalized. He appears to be the same as the immigrant who arrived at New York on 10/3/1906 as Szoel Effron and went to his father who lived at 214 Broome St. When he applied for his SS account number in 1943, he lived at 3339 Hull Ave., Bronx.

> > > Betty Levinson, married Unknown Levinson. Morris Somach's sister was married to a Levinson [CEN0048].

> > > Pearl Silberberg, married Unknown Silberberg

> > > Norma Goodstein, married Unknown Goodstein

> > Sonya Goldstein, b. 1896, d. 10/22/1969 [~CEN20], married Louis Goldstein, b. 4/25/1890, d. 4/11/1971 [OBIT –]. They lived at 87 Pike St., Carbondale, PA. He was a grocer.. Jennie was found because Paul Fisher, a descendant of Rivel Somach, recalled stories of a Sonya cousin of some kind who lived in Carbondale, PA. With much sleuthing, I was able to determine her connection.

Presiding at Louis' funeral were Max Posansk and Israel Dubner, the latter of Beth HaShalom The pallbearers at his funeral were Sam Goldstein; Harry Singer (an attorney); Morris Goldstein; Arthur Stone; Sam Morris; Rodblatt, Nathatn and Charles. At her funeral, they were Morris and Charles Rodblat, Morris and Sam Goldstein, Harry Finger and Arthur Stone. From the funeral directors (Zeman), I learned that they are buried in the Penn-Monroe section of the Dalton Jewish Cemetery, and that her mother was Pearl and her father was Chaim Nachum Ephron. She was born in Lithuania.

> Alexander Ephron, b. 11/1864 NY or abt. 1867, Russia, d. 8/4/1925 [CEN0011; CEN2045; PROB008], married abt. 1888 to Nettie (or Nellie or Ellen A or Hellen W.), b. 10/1864 or 1868, England, d. after 1929. Her parents were English natives [CEN3150] and his parents were born in Germany, according to ---- records. He arrived variously 1885 or 1889 and was naturalized in 1890. She arrived in 1890. In 1900 the family lived at 590 Henterdon St, Newark (Essex Cty), NJ and in 1920 at 352 Woodside, Newark. In city directories he is listed as a jeweler as early as 1909. Somewhere between 1915 and 1920 his address changed from 586 Hunterdon to 524 Clinton. He was a jeweler from at least 1900 to 1920. [DIR053] In 1920 the Twyford family boarded with them. Clarence still lived at home in 1920.

Note that William Affron of Sag Harbor, who had Affron relatives in Newark, was, like Alexander's brother, Peisach, originallyfrom Birmingham, and was, like Alexander, an engraver. Alexander's wife was born in England, which is interesting as well. All signs are that William Affron was not Jewish, though a list of families acquired from Sag Harbor historical society listed that family as Jewish.

> > Ida Twyford, b. 11/1890, NY, married abt. 1911 to John Twyford, b. abt. 1892, NJ, d. 1/17/1958. She is listed as a clerk and living at home in 1909. [DIR053] His parents were natives of North Ireland and Scotland. In 1930 they live in Maplewood and he is the manager of a lithography business. Nellie, Ida's mother, lives with them in 1930. [CEN3150]

> > > Myrtle Stevenson, b. 7/2/1914, NY, d. 3/30/1968, married William Stevenson, d. 3/31/1966. They did not have any children. (V.N.)

> > Grace M. Conway, b. 4/1893, NY, married about 1911 to Herbert Conway. (VN) In 1911 she is still at home and is a clerk for Prudential Insurance Co. [DIR053] Could not find this family in the census.

> > > Herbert Conway Jr. (V.N.)

> > > 4 other children (VN)

> > Clarence, b. 4/5/1896 (VN), NY or abt. 1895, NJ, d. 7/25/1962, married 6/8/1921 toVera (Veronica) Murray, b.12/6/1898 (VN), NJ, d. 2/20/1978, Newark [verify: get 1930 census (not yet extracted) -- Clarence Efrom (of Newark?) -- No children are listed with them]. In 1915 and 1920 he still lives at home and is a clerk at Prudential Insurance Co. [DIR053]

Obit, Newark Star Ledger, 2/22/1978, Vera R. Murray Ephron, of Newark on 2/20/1978. Wife of late Clarence. Mother of Mrs. Katherine Dughi of Spring Lakes, Mrs. Veronica G. Noll of Whippany, seven grandchildren. Interned at Holy Name Cemetery. Funeral by Joseph W. Preston Funeral Home.

Obit, unknown newspaper, Vera R. Ephron, 79, of Newark, Funeral Mass at Sacred Heart Church, Valisburg. She was born in Jersey City, and moved to Newark 10 years earlier..

> > > Katherine Ellen Dughi, married Charles A. Dughi, Jr., b. 11/25/1916, d. 6/25/1995.

> > > Veronica "Ronnie" Grace Noll, married Albert H. Noll


Israel Aron Effron of Vilna and Ivenets, son of Abram, son of Israel of Ivenets

Israel "Arcardi", b. approx. 1845, married Goda (Yetta? Odella? "Gertrude"?) Wilson [MAR-- -- verify]. One of his brothers went to Italy, and Andre, possibly a son (or grandson?), went to France (FSE). Her father was Wolf Leib.

The father of Leon Effron of Philadelphia is Israel Aron (Aaron) Efron from Ivenets, based on the evidence gathered. From oral history, it is known that Leon had brothers named Boris, Andre and Mark, though there is some uncertainty whether they were in fact brothers or had some other connection. For Leon, it is known that his middle name is Arcardovich and it is a patronymic, such that his father's name would be "Arcardi," a common Russification of the Hebrew name "Aharon." In addition, it is recorded that the father of Leon is "Israel." Thus, Leon's father's name was hypothesized to be either Arcardi/Aaron, Israel, and very possibly both. One would expect to find some record of an "Israel Aron Efron." In early April 2011, doing research on this branch in conjunction with a business trip to Philadelphia, I found new records posted to JewishGen which matched perfectly with my expectations – Birth Records for three sons of an "Israel Aron Efron" of Vilnius, with origins in Ivenets [BIRTH 043; BIRTH 044; BIRTH 045].

During that same burst of research on this branch in April 2011 I also found the immigration record of Andrew Effron, whose immigration was sponsored by Leon Effron of Philadelphia.

Much of the older generation information was obtained by Ed Effron from James Effron, son of Leon.

Dorry related that Gertrude had told her: "We believe that Arcardo or his father had 2 brothers one in France and one in Italy, one of whom was named Hudine. Gert was unclear whether this was a grandfather or great grandfather." There was also something about an assassination attempt. There are many similarities here to the family of Sergii Efron. Dorrie Effron created a family tree for this branch. [GEN018]

Acknowledgements: Ed Effron, James Effron, Frank S. Effron, Sr., Dorry Effron, Harry Boonin


3 Left: Leon Effron
4 Center: Leon Effron
5 Right: Sarah Sheppard Effron; Sarah and Frank


Frank and Dorry Effron located the marriage certificate for Leon's second marriage. It says that his father is Israel and his mother is Yetta Wilson. A Jewish family of the name of Wilson lived in Phialdelphia, according to researcher Shirley Palley. According to her, "My father arrived in NY in July of 1923. The family name was Woloshin (?). His siblings were already here and had had their name changed by immigration authorities (Wilson was President and it's easy to spell.). The siblings lived in Philadelphia when he came so that's where he went on arrival." Possibly Yetta also came from a family named Woloshin. Volozhin is a well-known shtetl, famous for its Yeshiva and close to Ivenets.

> Boris

> Andre (FSE) (or Andrew). Andre lived in France and was probabaly Leon's brother (FSE), although their age difference of 34 years (assuming that the Andrew Effron of ARR—is the same as Andre) suggests that Andre could be a nephew. Tentatively, Andrew Effron of New Haven, formerly identified as a possible son of Abraham Effron of Vilna (Eliashberg branch), is now considered part of this branch.

If there is more than one Andre(w)s who is related to Leon, it may be that there was an Andre Effron, a brother of Israel Aron Effron, and he is the same as Akim Efron, a member of the Legion of Honor of France, and a member of the family of Ilya Efron (see page --) [verify cite]. According to oral history, Andre Effron arranged for Leon to be the U.S. representative for Baldwin Locomotive Co., Phila, which was to supply the engines for the trans-Siberian Railroad. (FSE) It is unlikely this was the Andrew Effron who was born in 1898. Akim (Aaron) Effron, son of Abraham Effron of Vilna and brother of Ilya, Jean Effront, etc. was born in 1852 according to GARF001, or according to snippets of biographical data gleaned from online searchers, born in 1859. If he were born much earlier then he could be a good prospect to be Israel Aron of Ivenets, but it appears that Akim was not born early enough to be Israel Aron.

It almost appears that Leon and his brothers are the children of Abraham Efron of Vilna. There is substantial evidence for this, but in the end, it is well established that Leon and his brothers are the sons of Israel Aaron Efron, not Abraham Efron. Note that in the GARF records, one of the children of Abraham is a Judel who was born around 1864 – Judel and Leib are names that always go together [GARF001]. Abraham was on the board of the Libavo-Romenskaya railway – oral history informs us that Leon was an agent for a railway company. Abraham had an additional son named Mavrikiy – who was born around the same time as Mark. Abraham had a daughter (?) named Borisa. If there is any connection, it may be that Abraham's son Akim (Aaron), who was connected closely with France, is the same individual as Israel Aron – Leon's father. But as mentioned above, Akim was born too late (1852 [GARF001] or 1859 [various Google book results]) to be the father of Leon Effron.

According to oral history, Andre got Leon to leave Vilna because his views were pro-czarist and not compatible with the Bolshevic atmosphere.


> Mark Effron, b. 11/7/1863, Vilna [BIRTH044]

> Leon (Arcardovich), b. 10/7/1864, Vilna (or Moscow) (7/23/1863? [BIRTH043]), d. abt. 1938 (FSE) [~CEN00; CEN1017; ~CEN20; NAT–; CEN3146], married in Camden, NJ 11/30/1893 (FSE) to Sadie (Sarah) W. Sheppard, b. 4/1863, NJ, d. 3/18/1927 [CEN2050; MAR120]. "Arcardovich" was his patronymic. His naturalization is witnessed by Noi Horenstein (Florenstein? Florsheim?) of Philadelphia [NAT--].

He was a dentist, and was still practicing dentistry in 1935. He arrived 6/13/1881 at New York. Leon came to the US on a student visa and was one year at Penn (possibly where DDS was obtained) (FSE). (FSE says he did not come through Ellis Island). In 1889, he is listed as living in Reading, PA and practicing dentistry. In 1890, he was a dentist residing at 411 So. 8th St., Philadelphia. In 1895 and 1896 they live at 333 S. 8th St and in 1900-01 at 800 Pine St., and all the time he is listed in the local directory as a dentist. [DIR056]

He was appointed by the Russian government as a representative to the Baldwin Locomotive Co. (apparently through Andre's efforts) and received a commission on locomotives sold to Russia, thus getting money for school – this per Gert (FSE). (The Trans-Siberian Railway was started in 1891, which may be the railroad for which he supplied locomotives – FSE.)

In 1900 Sarah was living with her father and son, Frank S. [CEN0012], and in 1920 she was living with her brother. Her husband is never listed. Sarah created a scandal by being caught in a liason, and it made the newspapers. She was promptly divorced. (FSE) Her second marriage was to Russel H. Conwell. (FSE) Leon is listed in the 1900 census as Louis A. Effron, age 41, 800 Pine St., Phil (vol 151/ED80/line 118) per FSE. Leon was still at Pine St. when he died. He lived at 333 S.o. 8th St. in 1895, at the time that Frank was born. In 1930 they own their house and have several borders living there.

There was a divorce trial in April 1900. Harry Boonin found a short notation in a book from a doctor who testified at the trial. The Doctor was Michael V. Ball, obviously a friend.

Leon was the member of an acting troupe that put on productions in the Russian language. In 1894 the troupe did a production of a Gogol play in Philadelphia [MISC118]. He was a considered a member of the Russian-Jewish intellectuals of Philadelphia. [MISC119]

> > Frank Sheppard, b. 5/13/1895 Philadelphia, PA, (or 5/18/1895 in Camden, NJ?), d. 12/1949, Miami, FL (FSE viewed birth record), married in Pittsburgh, PA abt. 1919 to Florence Spandau, b. 1893, PA, d. 1981 [CEN0012; CEN10?; CEN2102; CEN30?]. They lived in Pittsburgh in 1920. His family lived at 333 So. 8th Street when he was born.

> Married 2. abt. 1904 (?) to Alice Blackman, b. abt. 1868 in NJ [CEN1017; CEN3146].

> > Amy "Gertrude", b. 2/6/1905, PA, d. 11/23/1992 [CEN1017; SSDI196; CEN3146]. She lived on Cape May, NJ. She said that Ernest Effron Borgnine, b. Hamden, CT 1917 (born as Ermes Effron Borgnino) was related to the Effrons, by his father who was a count (FSE). She also says that there is a connection with the family of Houdini (Erich Weiss) or Houdine (the French magician after whom Houdini took his stage name). (FSE) She has her father's birth cert (FSE). She says that the family came from Vilna (FSE). She says that a Boston area Professor was a related Effron.

> > James Isadore, b. 3/26/1910 or 3/10/1910, PA, d. 5/-/1991 [CEN1017; SSDI242; CEN3146; GEN004], married after 1950 to Josephine Elizabeth Fleck, b. 4/26/1911, PA, d. 12/1968, Blackwood, NJ [SSDI158]. He lived in Blackwood, NJ. He was in WWII (FSE). She was previously married to John James McCosker, Sr. of Philadelphia, with whom she had six children, including Sally McCosker, b. 6/30/1937. Josephine was the daughter of George Jackson Fleck and Sara Ellen (McGuckin) Fleck of Philadelphia. Josephine is buried at Locustwood Memorial Park in Cherry Hill, NJ.

Lev, b. 12/29/1864, Vilna [BIRTH045]

> Euphem (This could be the father of the Russian poet Ariadna Ephemovna Efron.)

> Bernice


Chaim Noah Yankel HaLevi Efron of Dukora, son of Abraham, son of Baruch, son of Chaim, son of Israel of Ivenets

Chaim Noah Yankel, b. abt. 1835 or 1837 [RL005], d. aft 1916, married Asne Unknown.. His family lived in Dukora, which is very close to Svisloch. He was registered to Igumen in 1873 [RL005]. He lived outside the Pale, was an Av Bet Din (head of a rabbinical court) and was secretary to the Hassidic Kasdive sect's Grand Rabbi. He was a Hasid, and was an associate of Rabbi Yoshe Ber Soloveitchik.

See "Israel of Ivenets" above for more information about his ancestry and related branches.

Asne's father was Menachem Mendel. Her brother was Itche Berl (Isaac Dov Ber), married to Fruma Beila. Itche Berl and Fruma Beila had a daughter, Breina, who married Yehuda Zvi Israel, son of Moshe Chaim. Itche Berl lived near Skovruvka. (My Fringed Garment)

Acknowledgements: Ed Effron, Irving Effron, Mark Greenfest,

> Abraham Yudel, b. abt. 1865, 1. married Fannie (Feiga Chana) Wapnick or Napnick (per marriage cert of Harry). He came from a town near Minsk called Dukora. He sold beer from a cart. He was a friend of Telushkin [I.E.]. Nissan Telushkin, b. 1881, the son of Moshe Isaac, came from Dukora (Ohalei Shem, Gottlieb, 1912). Joseph Telushkin (of California?) was from Dukora. [MG]

Abraham Yudel was in a horse accident when the horse saw a car for the first time. At that time Harry was saving money to bring him over (ca. 1929). He was a Chosid. In 1921 he lived in Puchowicze, according to his sister's arrival record.

Irving Efron recalls his grandfather had a sister in Poland named Hanye

> > Aaron, d. Holocaust. He remained in Minsk.

> > Mendel. He remained in Minsk.

> > Bertha (Bluma?) Weitzman, b. abt. 1895, married Unknown Weitzman, d. abt. 1930. In 1930 Theresa is an infant and Bertha is a widow. [CEN3178] Bertha arrived in 1911. In 1930 they live in Brooklyn, and living with her are her sister, Hannah Catorish or Catorvish (?), married, 23 years old, arrived in 1927; her nephew (Hannah's son) Leon, age 5, born in Russia, arrived in 1927, a cousin, Louis Taishoff, 21, single, born in Poland, arrived in 1927 and another cousin, Elex (Alex?), 19, b. Poland, arrived in 1927. [CEN3178]. Names of her children originally came from Irving Efron. There is a death notice for a Bertha Weitzman in the New York Times in 1955, but it appears to be for a different Bertha Weitzman. [OBIT060]

> > > Harry
> > > Solomon "Solly"
> > > Theresa "Terry"

> > Harry (Uri Tzvi), b. 7/9/1896, Gawetz?, d. 4/23/1976, Miami [~CEN20; SSDI082R; CEM099; ARR042], married 1. On 10/9/1920 in NYC [MAR027] to Sarah Wapnick or Napnick, b. abt. 1899 or 1896, Russia, d. 12/7/1995 [CEM098]. He immigrated in 1916 from Rudinsk, Minsk, where his father is living. . In 1946, Harry lived at 1082 Gerard Ave. and worked at 156 E. 165th St., Bronx. When he arrived in the US, he is joining his sister Bluma at 245 Monroe St. and lived in the Bronx. He had a garage, but lost it in 1932. He was a taxi driver. He had blond hair, blue eyes and was tall. [ARR042]. He drove an ambulence in WW II. His social security application states that he was born in the city of Minsk. She was the daughter of Issie (Yitzchak) and Rose Levine. She was an Efron [IE]. When married, he lived at 63 E. 100 St. Harry had two half sisters.

Irving related a story, that Harry, in 1932, at Irving's urging (he was only 10 at the time) received $350 from the estate of a wealthy Effron who died somewhere in the Midwest, through a NY lawyer, Harry Grossman, because he could show that he was an Effron [IE]. That story sounds like the one about the California estate, which I believe was for one of the Minnesota Effrons.

> > > Irving Effron (Yitzchak), married Ruth Unknown.

> > > Helen Budick, d. abt. 2005, married Unknown Budick. She lived in Boca Raton and has three children

> > > Eunice Wolfson, married Unknown Wolfson. Apparently, no relation to the Wolfson family of Bayonne, NJ.

> Married wife 2. Tema. She had some children of her own and did not treat her step children well, according to one source.

> > Hanna (Chana) Greenfest, b. 1903 or 5/20/1925, Jablonka, d. 1/29/1999, Israel [ARR007; SSDI--], married Greenfest. She lived in Jerusalem. She moved from Minsk to Bialystok in 1919. She arrived in the US on the United States, sailing from Copenhagen, on 9/15/1926, being then 22 and single, and a tailor. She left behind in Jablonka her friend Lipa Goldberg. She knew Joseph Telushkin and he knows the Efron family history. She was living with her half sister, Bertha, in 1930, with the surname Catorish (or Catorvish). Leo was also living with them at that time. [VERIFY]

> > > Leo

> > Leja Unknown, b. abt. 1905, married [ARR002]. She arrived in the US on the Estonia sailing from Danzig to NY on 10/9/1923. She is then single, age 18, and a tailor. She came from her mother, Tema, who lives in Bogadalnaja, Minsk. She lived in the Bronx and moved to Westchester. He was in the Coal business.

> Mordecai Zev Velvel "Mottel Velvel" He was a wealthy merchant, and lived in Puchowitz. (My Fringed Garment). He was an important member of the Minsk Rabbinical Council. He was a gaon (genius) (Irving Efron)

> > Avraham "Avramel," d. Erev Pesach, 1921, Emek-Yisroel. He went to Palestine in 1918 and died young, on the eve of Passover (erev Pesach), 1921. (My Fringed Garment)

> Basheva "Bessie" Green, b. abt. 1882, Puchowicze, married abt. 1905 to Mordecai (Max) Green (Gringlass) of Puchovichi, d. prior to 1930. [CEN3177; NYT033] She was tall. She lived in Albany in 1930, and later in Witherbee, NY (part of the town of Moriah) [NYT033] and then NYC (IE or MG). Irving Efron told me that his father once visited a step-sister (not a pleasant visit) and they lived near Lake Champlaign, NY. Emanuel, Irving and Basheva arrived in 1923 [CEN3177], but no ship arrival records has been found. Basheva and children arrived in 1921 as Gringlaz. They were born in and last lived in Puchowicze, where her brother Abram Efren lives. [ARRIVAL] Mordecai emigrated abt. 1911. Basheva and the children arrived in 1921 and are joining Max Green in Albany, NY. Mordecai's parents were Mitnags and farmers.

There is some conflict about Mordecai Green's family. His parents were Shmuel (son of Yitzchak) and Mirka and they lived in Shliva, Iguman, Cherson Gubernia. Mordicai also had a brother Baruch. Or, Mordecai's father was Yizchak Gringlass (although, that could be Noach Chaim's father, not sure), his brothers were Shmuel and Baruck, and Shmuel's wife was Mirka. (My Fringed Garment)

Mark Green wrote: "I have information I obtained on visiting Mineville, New York where I discovered the site of Koblentz and Green, the dry goods store Moredecai Gringlas (Greenglass, Green) had to serve the Polish miners - extrapolating the relationships among peoples that they were familiar with in Europe I imagine. I spoke to a son of the Koblentz who was a partner in the store. He is retired from a position at IBM, if I remember correctly, an electrical engineer. I have some notes on all this."

Bill Rubin of Malden, MA is also researching a Gringlaz family that settled in Albany. I think they are related. Bill's family came from Selica, which is close to Puchowitsche, the closest train station to Seliba. His g-g-grandmother on his father's side was Mary Debra Greenglass. He believes they are related (?) on his paternal grandmother's side of the family: His grandfather was Mordicai Rubinchick, who married Chenya Nishnovitz. "This side of the family had relatives in Springfield MA and Cleveland."

It is possible that the father of Max (Mordecai Greenglaz), Samuel, was the son of Itsakh.This Itsakh, whatever his last name, came from "Shliva." Sounds like Seliba (where Bill Rubin's Greenglass relatives came from) to me, based on my research. Samuel Gringlaz and his wife, Mirka, were farmers.

It may be that Mirka Gringlaz is the same as Bill Rubin's Mary Debra Greenglass.

> > Eunice (source?), b. Puchowicze

> > Bracha (source?), b.

> > > Jack, b. abt. 1905 [source?]

> > Emanual "Manny," Green (Mendel Gringlas) b. 1907, Puchowicze , d. abt. 11/19/1980, married Anne Bragin. [NYT032] She lived to just about 100, and d. abt. 2005 in FL (IE) Manny received his ordination at Wise synagogue, was a rabbi in Westchester, NY and then in Chicago (IE). Her father was Professor Joseph Bragin who taught at the Teachers Institute of the Jewish Theological Institute. Manny was a reform NY Rabbi, and author of the Yiddish book "My Fringed Garment", a book of selective memories from his early childhood. His nephew Mark Green had the book translated.. Records of a Rabbi Emanuel Green state that he was rabbi of Temple Bene Israel of Aurora, IL for 1935-1942, after which he is said to have taken a pulpit in Worcester, MA (online info of Temple Bene Israel). In 1950 he was appointed head of the National Jewish Music Council [NYT034]. He got his simcha from the Stephen Wise synagogue and was a rabbi in Westchester, NY and later in Chicago (IE). He was at the Genesis Center in Westchester, NY in 1957 [NYT035]. His two sons were both doctors, but they died young (IE). He later took the pulpit in Syosset, Long Island and in 1967 he is Rabbi Emeritus of the North Shore Synagogue in Syosset, L.I. and was a member of the foreign-language faculty of Hofstra University. In 1967 he lived in Westbury, LI.[NYT033] Manny's brother was Irving.

> > > Joseph M. (Joseph Mordecai), married Rachel Unknown. He was a cardiologist. [NYT032]. He died in his 40s.

> > > Benjamin "Ben" Ezra, b. 1945, d. 8/1981, married 11/22/1967 to Susan Lee Guttmacher. Benjamin was often referred to as "Ben Ezra." [GEN012]. He was a child psychologist.

> > Irving (Isidore), b. abt. 1911, Puchowicze, married Lillian Unknown. He was a maitre d'

> > > Mark

> > Esther "Elaine" Zahler, married Ben Zahler

> > Bracha

http://efronfamilyhistory.com/Vol2TOC.htm