kov-art-#1: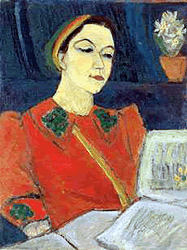 Percikovichiute, Cherne
Jewish Girl, a Member of a Corporation
Date 1938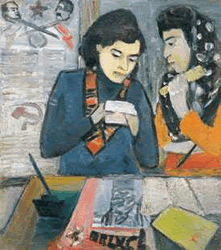 Two Girls Prepare the Wall Newspaper

Percikovichiute, Cherne
CHERNE PERCIKOVICHIUTE (1912-1942) was born in Kaunas, Lithuania. She
was a student at Kaunas University and studied art under J.
Vienozinskas from 1930-1932. She was one of the more promising
students at the acclaimed Art School of Kaunas and a favorite of
Professor Vienozinskas. Ms. Percikovichiute took part in many
exhibitions in Lithuania. Because of the Holocaust and the looting of
Jewish art, few of her works survived. However, one of them is on
permanent display at the Presidential Palace in Vilnius, Lithuania.
The artist was killed in the Kaunas ghetto in 1942.
kov-art-#2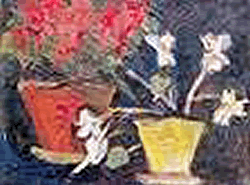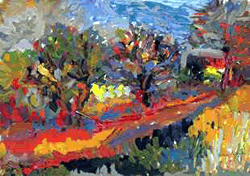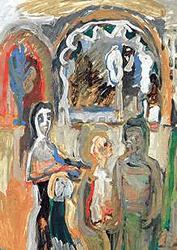 Portnovaite, Dina
DINA PORTNOVAITE (1924 - 1989) was born in Kaunas. She lived at a time
when it was dangerous to be "modern," particularly as an artist in
Soviet Lithuania. With the exception of a brief trip to Wales in 1939,
her entire career was spent under Soviet rule. Between 1944 and the
death of Joseph Stalin [1953], everything was defined in political
terms. And everyone knew that guidance from above was more than a
friendly suggestion. "Soviet Realism" was in. Everything else was out,
or highly suspect. How any self-respecting artist could survive that
kind of oppression and develop a personal style is anybody's guess. We
don't know how to explain that. We only know that a few artists, like
Dina Portnovaite, were able to do just that and lived to tell the
tale. Her medium was oil or paper gouache - a technique of painting
with opaque watercolors prepared with gum. Her work was sometimes
expressionistic; at times it was almost abstract. At the Stage favors
the former. Landscape comes close to being abstract. [Portnovaite was
a student devotee of Zale Bekeris, the well-known Jewish Expressionist
http://www.jewishartnetwork.com/artistDetail.asp?authID=2071107256&aID=16