Bronia Bruenner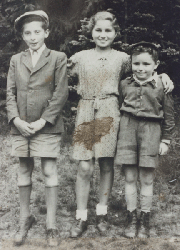 RECOGNIZE SOMEONE?
Bronia Bruenner poses two other cousin Shaul Klieger (left) and Shaul (Bobush) Hochstein (right.).
Shaul Klieger and Bronia both escaped Poland with the help of Ben Zion Kalb.
Bronia, (Brandel) Bruenner (now Blanche Fixler) is the youngest child of Solomon (Zalman) and Frimet Bruenner (b. 1898). She was born in Krakow on May 15, 1936. Her parents were Bobover Chassidim and friends of the Rebbe. She had a sister Malka (b. 1929) and a brother Shabsi (b. 1930). Following the German invasion of Poland, her father and his brothers fled east to Lvov. From there the Soviets deported him to Siberia, and the family lost contact for the duration of the war. Frimet decided to take her children to Bochnia to live with family. She had hoped conditions would be better there than in Krakow but soon discovered the town was just as dangerous. By 1942, the family had to live in a bunker to escape round-ups. Frimet feared that Bronia might make noise and endanger the rest of the family. She therefore sent her back to Krakow to stay with her sister-in-law, Rosa Berger who was living as an Aryan under the assumed name Vanda Gurska. Soon afterwards Frimet, Malka, Shabsi and Bronia's grandmother, Sara Bruenner were deported from Bochnia and sent to Belzec where they were all killed on August 28, 1942.
Rosa's landlady became suspicious and reported that Rosa was harboring a Jewish child. Rosa hid Bronia in her bed under a wooden board with a quilt on top, and the Germans never found her when they came to search the apartment. Rosa then decided it was too dangerous for Bronia to remain with her any longer and sent her to the Jewish orphanage in the Krakow ghetto. Bronia stayed there for a couple of months, but once Rosa heard rumors that Germans planned to liquidate the home, she brought Bronia back to her apartment. Soon after, Rosa gave birth to a baby girl named Masha. Her husband had been killed earlier in her preganancy, and Bronia helped care for her baby cousin. Rosa realized that Bronia would not be safe for long and in 1943 arranged for her to join a group of children who were being smuggled out of Poland. Bronia traveled by foot through forests and mountains with a group of 10-15 children. Each carried a rucksack with food for the way. The escape was organized by Ben Zion Kalb, a Polish Jew living in Slovakia. When the children arrived in Bratislava, they were sent to the homes of members of the Jewish community. The Duschinskys, an Orthodox family, cared for Bronia for a few months before Bronia was sent on to Hungary and brought to the Jewish orphanage there. The Duschinskys were later deported to Auschwitz where they perished. Rosa eventually also fled Poland and came to Budapest and starting to look for Bronia; she found her in the orphanage. Bronia lived with her aunt again and cared for her cousin while her aunt went to work. However after the German invasion of March 1944, Rosa had to put Bronia back in the orphanage. A Jewish man from Debrecen agreed to take her in temporarily. One day the Bobover Rebbe who had also made his way to Hungary visited the gentleman. He told the rabbi that he had a child in his care but didn't know what to do since he couldn't care for her. The rabbi asked to see the child. When he discovered that she was Zalman Bruenner's daughter, he took Bronia with him and placed her in safe children's home. After the war ended, the rabbi sent word to Zalman that his daughter had survived. Zalman came to Budapest and brought Bronia back with him to Cieszyn where his brothers were living. After the war Zalman worked with the Vaad Hatzalah to find Jewish children hidden in convents and monasteries. He remarried in 1946. Bronia accompanied her Aunt Rosa Berger to France where they lived in a Vaad Hatzalah children's home in Barbizon on the outskirts of Paris. Bronia, her father and mother-in-law immigrated to the United States in October, 1947. Bronia (now Blanche) attended Beis Yaakov elementary and high schools. On December 10, 1957 she married Bezalel Fixler, a survivor from Romania. She started college, graduated after the birth of her fifth child and then worked as a teacher.