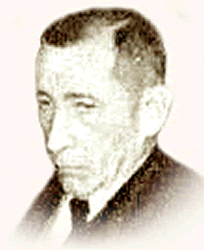 Dr. Menachem Dunkelbloom was born in Cracow in 1889. He studied law
in Cracow and immigrated to Israel in 1919. Although Dr. Dunkelbloom
was never active in party activities, he was active in various Zionist
groups. He served as legal adviser of the Zionist Congress from 1919
to 1923 and after that as legal adviser to the Municipality of Tel
Aviv. He also served as the head of the Central Lawyers' Union.
Dr. Dunkelbloom was very active in setting up the legal infrastructure
of Israel and of the Ministry of Justice, which functioned at the
early stages from Dunkelbloom's office in Tel Aviv. Dr. Dunkelbloom
was one of the first five Justices of the first Supreme Court in
Israel, which was appointed on July 22, 1948. He died in 1951.