The Goldbergers
by Ari Goldberger <ari@esqwire.com>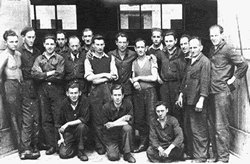 picture 1. Montelupich Prison. Jewish mechanics at garage;
My Dad, Adam Goldberger, is standing 3rd from the left , he is 86 (in 2011). My father said an SS Officer shot it. My father also wrote a book: Prisoner of the Gestapo.
http://dnjournal.com/cover/2006/june.htm
Adam and Ruth Goldberger are both survivors of the Holocaust. Only 5% of the 50,000 Jews who lived in Cracow, Poland before the war managed to survive extermination by the Nazis.
Adam led a privileged life as the son of a dentist. When the Nazis invaded and herded most of the Jews off to concentration camps, Adam (then just 15 years old) was among 20 Jewish mechanics the Gestapo kept as prisoners who were forced to work on German vehicles. Near the end of the war Adam was driving a jeep that senior Gestapo officers were using to try to escape from advancing Russian forces. When they stopped for the night, Adam managed to drain the radiator while the Germans slept. He then convinced them he had to walk into town to get water for the radiator and used that opportunity to escape. Ari helped his father edit a book about his experiences called
" Prisoner of the Gestapo: How I Survived the Holocaust".
Ruth was 12 years old her mother, Leonora, was taken away by the Germans and later perished in the Maidonek concentration camp. Ruth herself later went through several concentration camps, including the Plaszow labor camp in Cracow (spelled Krakow in English) that was featured in Steven Spielberg's movie Schindler's List (the 1993 Academy Award Winner for Best Picture). Ruth's father, well-known painter Leon Lefkowitz managed to escape to Russia with Ruth's sister Anna. Leon, whose paintings hang in national museums in Cracow and Warsaw today, rolled up some of his canvases and used them to bribe guards along his escape route to Russia.
Speaking of his grandfather, Ari said, "he painted Jews and Gypsies, seeing a common thread in their homeless existence – never being accepted into the societies where they lived. The faces in his paintings foresaw what was coming. The irony is that when he escaped to the Russian side, the victims he had painted aided him when he became a victim himself."
In the camps, Ruth was able to draw nighttime kitchen duty and eat the raw skins from the potatoes she had to peel. She reunited with Adam in Cracow after the war and the couple emigrated to Israel in 1946. Ruth did not learn until 1950 that her father had survived the war and was living in Russia, but neither he nor Ruth's sister Anna were allowed to leave the country. She would never see her father again as he died just a few years later. It would be another 26 years before Ruth was able to travel to Moscow in 1976 and see Anna for the first time in over three decades.
After Anna died, one of her friends brought three of Leon's paintings to the U.S. in 1990 to give them to the Goldberger family. Inspired by that artwork, Ari and his father traveled to Cracow six years later and cataloged some 50 of Leon's paintings that hung at various locations in Poland. "I believe that I inherited a lot of my creativity and care for the underdog from my grandfather and parents," Ari said.
Picture 2. 1996 photo of Ari Goldberger (left) with a museum guide and Ari's father Adam at a gallery in Cracow, Poland. They are standing next to a work done by Ari's grandfather, noted Polish painter Leon Lefkovitz.
Ari's parents moved from Israel to the United States in 1958, following friends and relatives who shared the dream of a better life in America. Ari was born 3 years later in Vineland, New Jersey, making him a first generation American. "My father worked as a truck mechanic and later was a foreman for a trucking company. My mother worked as a lifeguard, ballet instructor, and ran an exercise class she called "slimnastics" at the local YMCA. .....
For the rest go to http://dnjournal.com/cover/2006/june.htm