The story of Ernestyna (nee Esther Grunfeld) and her husband Chaskel Goldwasser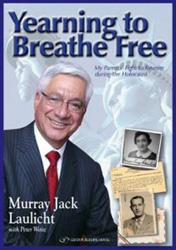 Yearning to Breathe Free av Murray Jack Laulicht (Innbundet)On February 1, 1940, a thirty-three-year-old Jewish woman arrived alone in New York Harbor bearing, in her womb, the person who would eventually become me. Ernestyna Goldwasser had left behind her family, steeped in the rich Jewish culture of
Krakow, to seek sanctuary from the marauding Germans, who had viciously invaded Poland the previous September.
As the child of a father who held US citizenship, Ernestyna enjoyed a special status that became priceless when the war broke out. She, too, was deemed a US citizen and thereby eligible to
emigrate out of Poland. Unfortunately, Ernestyna's husband — my father, Chaskel Goldwasser — enjoyed no such status. As his wife, pregnant with their
first child, embarked on her journey, Chaskel was forced to remain behind, trapped in the inferno that was soon to engulf and incinerate one third of the world's Jewish population.
My mother entered the US through the famed golden door mentioned in the final words of the Emma Lazarus poem that graces the Statue of Liberty. Unfortunately, because of the anti-Semitic policies of the US State Department, that door
remained shut tight to my father.
During my mother's valiant struggle to reunite with my father, they were able to maintain an intimate and highly emotional correspondence. Many of their letters have been preserved and are
presented in this volume as a first-person
account of their desperate struggle to find
the key that would unlock my father's imprisonment...before it was too late.
Abraham Chaskel Goldwasser
Gender: Male
Birth: June 17, 1908
Kraków, ma?opolskie, Polska
Death: December 3, 1944 (36) (Killed in Holocaust)
Immediate Family:
Son of Moshe Goldwasser and Feige Pessel Goldwasser
Husband of Esther Laulicht
Father of Murray Jack Laulicht
Brother of Chana Kohane; Joseph Goldwasser and Jacob Goldwasser
Esther Laulicht (Esther Grunfeld)
Gender: Female
Birth: April 15, 1906
Kraków County, Lesser Poland Voivodeship, Poland
Death: November 2, 1987 (81)
Essex, NJ, USA
Place of Burial: Richmond, NY, USA
Immediate Family:
Daughter of Jakob Grunfeld and Leah Grunfeld
Wife of Abraham Chaskel Goldwasser andPhilip Laulicht
Mother of Murray Jack Laulicht
Sister of Gusta Hirschprung and Fany Goldwasser
--
Murray Jack Laulicht is the uncle of Jarred Kushner, the husband of Ivanka Trump.