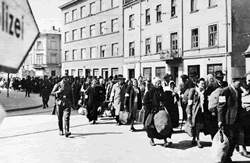 Krakow Ghetto 06694.jpgthe original March in 1943
65 years after the liquidation of the Ghetto in Cracow there was a commemoration march which included a few survivors of the ghetto.
At the end of the 2008 March in Cracow, a choir from Israel (about 60 people) sang "ANA BE'KOACH". You can hear it at
http://pl.youtube.com/user/krenau
16/03/2008
Holocaust survivors march from Krakow ghetto to mark 65 years since liquidation
By Reuters

Hundreds of Jews on Sunday marked the 65th anniversary of the liquidation of the Krakow ghetto with a march commemorating the German businessman
whose efforts had saved Jews from the Holocaust.
Some 700 Jews from Poland, Israel and other countries marched from the site of the former ghetto to what had been a Nazi German labor camp in the suburb of Plaszow, many of whose inmates were employed by Oskar Schindler
"Schindler was controversial, perhaps even a bit mad, but he was one of the few Germans who did such a thing," said 86-year-old Jan Dresner of Tel Aviv, one of some 30 marchers saved by the factory-owner.
"This is my first trip to Krakow since then, because I was afraid of those memories, but I felt it was my duty to come with my wife and daughter to tell about it."
Schindler, made famous by the 1993 Steven Spielberg film "Schindler's List", had used his influence with fellow-Nazis as well as bribes and forged documents to save more than one thousand Polish Jews.
After the occupying Germans had liquidated the ghetto in March 1943, gunning down those who resisted, they herded its survivors into the Plaszow labor camp.
"I saw the ghetto being liquidated," said Edward Mosberg of the U.S., now also in his 80s. "I saw hundreds of dead bodies strewn all about -- it was a total cataclysm."
"I have come to bear witness to those days, because the ranks of us survivors are growing extremely thin."
Niusia Horowitz-Karakulska of Krakow was only seven when the ghetto was liquidated, but she and 15 family members owed their survival to the German entrepreneur.
"Schindler was such a warm, magnificent person who had many problems of his own but felt human life must be saved," Hororowitz-Karakulska, 72, said.
Poland, which was invaded by Nazi Germany and Soviet Russia at the start of World War Two in September 1939, lost six million citizens in the war, half of them Jewish.
Up to 1.5 million perished at the notorious Nazi extermination camp Auschwitz, some 40 km (25 miles) west of Krakow.
And you can read about it in Hebrew at:
http://www.notes.co.il/yuval/42500.asp
Lili Haber
A participant in a march commemorating the 60th anniversary of the liquidation of the Krakow ghetto, puts flowers at the wall, a former border between the ghetto and the rest of the city, in Krakow,Poland, in this March 16, 2003 file photo. A handful of Holocaust survivors - including some saved by German industrialist Oskar Schindler - will mark the 65th anniversary this weekend of the Nazi's destruction of the Jewish ghetto in Krakow. In just two days in March 1943, German soldiers emptied the ghetto of its estimated 16,000 Jewish residents, shipping them off to a forced-labor camp in nearby Plaszow and to the Auschwitz-Birkenau concentration camp, where most of them were killed in the gas chambers.