Dr. Moshe Landau Z"L
From the March, 2009 Newsletter in Hebrew ( only short part is translated)
<![if !vml]>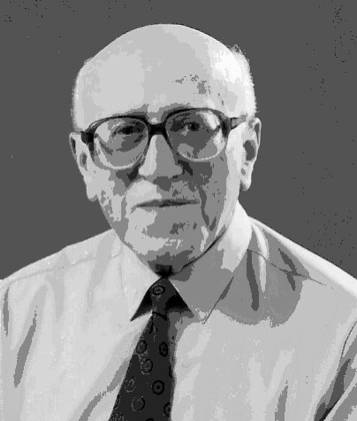 <![endif]>
<![if !supportEmptyParas]> <![endif]>
Moshe was born in 1917 to Yehuda Leib and Rivka Landau of Krakow. His sister Leah was born 3 years later.
Yehuda Leib was an insurance agent. He would read from the Torah to the members of his synagogue in Krakow. He spoke Hebrew to his son and raised him as a Zionist.
Moshe attended the "Cheder" for seven years and then the "Gimnasia Ivrit" in Krakow.
Moshe was an excellent student and received a stipend to attend the Hebrew University in Jerusalem.
Moshe was an active member and leader of the youth movement "Akiva" and spend the year after his graduation from the Gimnasia, organizing and establishing new branches of
Akiva all around Poland.
In 1937 he came to Eretz Israel to attend the Hebrew University. He received a Visa as a student. He studied History and after receiving his masters he became a teacher in Kiryat Mozkin and in 1945 headed the high school in Hedera. He married Tirza nee Davidson in 1946 and they had a son and a daughter ( today there are 6 grandchildren and 12 great grandchildren)
In 1951 the family moved to Tel Aviv and Moshe headed .'Tichon Ironi Hai' for 31 years.
He was a very special educator who cared much about the needs of his students and involved them in the decision makings of the school. He encouraged the students to be open minded and to care about the community and those who are less fortunate. In 1973 he received his PhD. From the Hebrew University and wrote 2 books.
He received many awards.
He cared much about the perished community of Krakow. His parents and sisted perished with the rest of the community during the Shoah. Moshe did much to keep their memory alive by awarding students with stipends named for those who perished and other such activities. For the rest go to the original newsletter on Krakow main page.
<![if !supportEmptyParas]> <![endif]>
Rivka Landau was born in Krakow in 1881 to Zeev and Lea. She was a housewife and married to Yehuda. Prior to WWII she lived in Krakow, Poland. During the war she was in Wieliczka, Poland. Rivka perished in 1942 in Belzec, Poland. This information is based on a Page of Testimony (displayed on left) submitted on 07-Aug-1956 by her son
Landau Yehuda Leib

Leib Landau was born in Krakow in 1879 to Moshe and Etel/Ester. He was a commercial agent and married to Rivka nee Grinberg. Prior to WWII he lived in Krakow, Poland. During the war he was in Wieliczka, Poland. Leib perished in 1942 in Belzec, Poland. This information is based on a Page of Testimony submitted on 07-Aug-1956 by his son Moshe

Landaw Yehuda

Yehuda Landaw was born in 1878 to Moshe and Etel. He was an agent and married to Rivka nee Grinberg. Prior to WWII he lived in Krakow, Poland. During the war he was in Krakow, Poland. Yehuda perished in 1941 in Krakow, Poland. This information is based on a Page of Testimony submitted on 12-Feb-1957 by his brother Yermiyahu Landau of Tel Aviv

Landau Riwka

Riwka Landau nee Grinberg was born in Krakow in 1880 to Lea. During the war she was in Krakow, Poland. Riwka perished in 1943 in Poland. This information is based on a Page of Testimony submitted on 12-Feb-1957 by her bro

Feldblum Hirsch

Hirsch Feldblum was born in Krakow in 1873 to Barukh. He was an agent and married to Roza nee Landau. Prior to WWII he lived in Krakow, Poland. During the war he was in Krakow, Poland. Hirsch perished in the Shoah. This information is based on a Page of Testimony (displayed on left) submitted on 12-Feb-1957 by his brother-in-law

<![if !supportMisalignedColumns]>
<![endif]>
<![if !supportEmptyParas]> <![endif]>
Landau Lola

Lola Landau was born in Krakow in 1916 to Yehuda and Rivka. She was single. During the war she was in Krakow, Poland. Lola perished in 1941 in Poland. This information is based on a Page of Testimony (displayed on left) submitted on 12-Feb-1957

Grunberg Wolf

Wolf Grunberg was born in Krakow in 1914 to David and Roza. He was a lawyer. Prior to WWII he lived in Krakow, Poland. During the war he was in Bochnia, Ghetto. Wolf perished in 1942 in Bochnia, Ghetto. This information is based on a Page of Testimony (displayed on left) submitted on 07-Aug-1956 by his cousin

<![if !supportMisalignedColumns]>
<![endif]>
<![if !supportEmptyParas]> <![endif]>