Gina Rappaport Leitersdorf
Yoav Leitersdorf donated a copy of his grandmother's memoir to the United States Holocaust Memorial Museum on 12 Dec. 2009.

Credit: United States Holocaust Memorial Museum Collection, Gift of Yoav Leitersdorf

Scope and Content
Consists of a copy of a memoir, 4 pages, written by Gina Rappaport immediately after her liberation in April 1945. In the memoir, Gina describes her memories of the German occupation of Krakow, her family's decision to flee to Tarnow, and the actions of the summer of 1941. Gina escaped to Lvov to find work, but returned after hearing from her mother that her family had received papers to immigrate to Palestine. A few months after returning to Tarnow, the family was told to appear at the police station to go to Palestine, but instead was sent to Bergen-Belsen. The family spent two years at Bergen-Belsen and in April 1945, was placed on a train. They were liberated by the American Army after seven days on the train, and Gina Rappaport was encouraged by her liberators to write down her experiences.

RECOGNIZE SOMEONE?
Gina Rappaport (later Leitersdorf) stands by the train tracks shortly after her liberation.
She had survived the Warsaw ghetto prior to her incarceration in Bergen-Belsen. Fluent in several languages, she translated for the Americans and other survivors of the train.
George Gross served as a tank commander with the 743rd Tank Battalion. He later became a professor of English literature at San Diego State University before passing away in 2009.

American troops of the 743rd Tank Battalion and the 30th Infantry Division came upon a railroad in Farsleben outside of Magdeburg. The train consisted of both cattle and passenger cars and contained approximately 2,500 concentration camp inmates, primarily Jewish. Many of the prisoners died during the transit, and most of the survivors were suffering from severe malnutrition and lack of medical attention.This train was one of three that left Bergen-Belsen between April 6 and 10 bound for Theresienstadt. The prisoners all held papers from neutral and non-European countries. Only one train arrived in Theresienstadt; the third was liberated by Soviet forces outside of Troebitz.
Gina- "I trust her dreams were realized."
January 5, 2012 by Matthew Rozell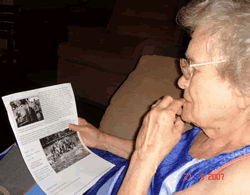 I never met Gina, but did finally meet her family on my visit to Israel last May.
Gina was the only survivor who has been positively identified by the soldiers themselves- in this case, George C. Gross, who took a photo of her in front of his tank on April 13th, 1945, before moving out to fight the final battle at Magdeburg. He always wondered what had become of her. I would challenge you to read the last paragraph of his narrative, especially. Then refer to the photo above.
Gina passed away this week. I think that George Gross, who passed in 2009, helped to welcome her home.
From the website:
Sgt. George Gross (relayed to Matthew Rozell, March, 2002):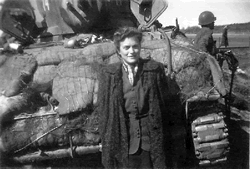 I spent part of the afternoon (13 April 1945) listening to the story of Gina Rappaport, who had served so well as interpreter. She was in the Warsaw ghetto for several years as the Nazis gradually emptied the ghetto to fill the death camps, until her turn finally came. She was taken to Bergen-Belsen, where the horrible conditions she described matched those official accounts I later heard. She and some 2500 others, Jews from all over Europe, Finnish prisoners of war, and others who had earned the enmity of Nazidom, were forced onto the train and taken on a back-and-forth journey across Germany, as their torturers tried to get them to a camp where they could be eliminated before Russians on one side or Americans on the other caught up with them. Since the prisoners had little food, many died on the purposeless journey, and they had felt no cause for hope when they were shunted into this little unimportant valley siding. Gina told her story well, but I have never been able to write it. I received a letter from her months later, when I was home in San Diego. I answered it but did not hear from her again. Her brief letter came from Paris, and she had great hopes for the future. I trust her dreams were realized.
We were relieved the next morning, started up the tank, waved good-bye to our new friends, and followed a guiding jeep down the road to rejoin our battalion. I looked back and saw a lonely Gina Rappaport standing in front of a line of people waving us good fortune. On an impulse I cannot explain, I stopped the tank, ran back, hugged Gina, and kissed her on the forehead in a gesture I intended as one asking forgiveness for man's terrible cruelty and wishing her and all the people a healthy and happy future. I pray they have had it.
Today I had every intention to read aloud these paragraphs from Dr. Gross' testimony to my 4th block tenth graders . I made it as far as the last two sentences, and had to stop, go back to my desk, and compose myself for a moment…when I passed around these two photographs and Eran's email, the kids understood…of course I reminded them that I was still a "tough guy".
From my inbox, a week after the reunion…
Dear Madam /Sir,
I am referring to your amazing World War II project (http://www.hfcsd.org/ww2/).
Mr. George Gross whose testimony is found in your site mentions the story of Gina Rappaport (and includes her photo) who happens to be my mother (!).
She survived the Holocaust and emigrated to Israel where she lives until today. In 1947 she married to my father and gave birth to two children, my brother Giora and myself.
Could you please provide me with contact information of Mr. Gross? I would like to contact him as soon as possible.
Many thanks for your help!
Sincerely yours,
Eran
Jerusalem, Israel.
The follow up:
Dear Matthew,
Thanks for your letter and for this fascinating project which is highly important for my entire family!
I am enclosing a photograph taken yesterday showing my mother reading for the first time Dr. Gross's article and watching her own photo in front of the tank.
With kind regards,
Eran