Looking for Nusia Richter/Rechter
Written by Eva Floersheim

What happened to Nusia, Anna's half-sister, during the Holocaust?
http://www.missing-identity.net/



Anna Gdanski, born after the Second World War, is still looking for Nusia Richter/Rechter, her half-sister, born in 1937, in Chrzanow, (Krakow?), Poland.
Anna knew about this half-sister, but it was only after her mother died, that Anna's father Roman Abraham Jacob Gdanski, her mother's second husband, mentioned that in the 1970's while visiting Europe he had suggested they should search for Nusia, but his wife had answered that "it was better not to upset Nusia in her present life".
Did this mean that her mother knew that Nusia had survived? Or did it mean that she hoped Nusia had survived?
Anna's father also told her about a woman who recently died in Tel Aviv, Mrs. Toibe /Tosha Schreiber ( later married to Arie Keidan, no children in that marriage), who had brought Nusia to a household or to a farm on the outskirts of Krakow.
For Anna, these statements have brought her on an endless quest to find traces of her half-sister.
She will of course be delighted if she finds her alive. But she will also feel a sense of closure knowing where and how and when she died, in case she did not survive.
Here is the basic information.
First Name: Nusia (Nickname for Anna or for Danusia?)
Last Name: Rechter or Richter
Father's name: Hersz/Hersch (died shortly after the war)
Mother's maiden name: Wita Elbaum (Ölbaum)
Birth Place: Chrzanow, or possibly Krakow, Poland
Birth Year: 1937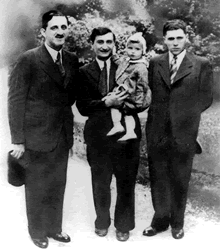 Here is an early photo of Nusia in the arms of her father Hersch Rechter and with her paternal uncle Abraham Abe Rechter and an unknown gentleman.
Perhaps taken in 1938?
The Second World War broke out in September 1939.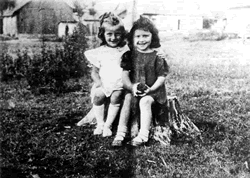 This photo of Nusia (white dress) and her cousin Hanna was taken by Roman Gdanski, probably in the summer of 1940. It is not known where the photo was taken.
First, most likely possibility of saving Nusia:
Could Nusia have been sent into hiding with the help of Tosia Toibe Schreiber before March 1941 when her mother entered the ghetto?
Based on the information on an ITS card for Wita Ölbaum / Rechter/ Gdanski, these are the places Nusia's mother was, during the war.
1. Ghetto Krakow from March 20th 1941 to November 22nd 1942
2. Biezanow, a subcamp of Plaszow, from Nov 22nd 1942 to Nov 15th 1943
3. Forced Labor Camp Skarzysko Kamienna from Nov 15th 1943 to Aug 20th 1944
4. Buchenwald from August 20th 1944 to May 7th 1945
5. Kommando Leipzig on May 7th 1945
From other cases of surviving children we know that some children were smuggled out of ghetto Krakow, so this seems the most likely place the mother would have been able to get a Polish family to save her daughter. Nusia would then be around four or five years old.
Would the mother have been able to bring Nusia with her from the ghetto in Krakow to the camp in Biezanow?
Second, less likely possibility of saving Nusia:
Are there any known cases of children smuggled out of the Biezanow camp?
During the time the mother was in Biezanow, Nusia would have been around five to six years old.
Would the mother have been able to bring Nusia with her to the labor camp in Skarzysko- Kamienna? It seems unlikely.
Third, very unlikely possibility of saving Nusia:
Would the mother have been able to smuggle her out of the Skarzysko Kamienna camp? This seems even less likely.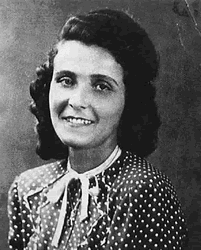 Wita Rechter in 1945.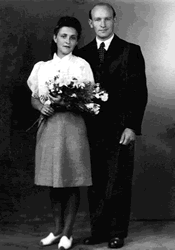 Wita and her second husband Roman Gdanski at their wedding
If you have any information that can help Anna find traces of her half-sister Nusia Rechter, please contact Anna at hanishi1@optusnet.com.au This e-mail address is being protected from spambots. You need JavaScript enabled to view it