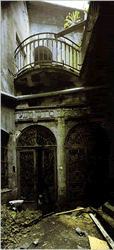 Chris Schwarz
http://www.nytimes.com/2007/08/08/world/europe/08schwarz.html?_r=1&oref=slogin
By DENNIS HEVESI
Published: August 8, 2007
Chris Schwarz, a freelance photographer who roamed the ancient heartland of Polish Jewry to record remnants of a disappeared people, then opened a museum to celebrate their cultural heritage, died July 29 at his home in Krakow, Poland. He was 59.
Chris Schwarz

The Tygner Synagogue in Krakow, which Mr. Schwarz called "almost unknown."
The cause was cancer, said Anna Ray-Jones, a friend and writer who recently interviewed Mr. Schwarz for a BBC documentary on Holocaust survivors.
When he first arrived in Krakow from England in the early '90s and wandered through Kazimierz, the city's Jewish quarter since medieval times, Mr. Schwarz "felt that the streets were saturated with centuries of Jewish history," he said in the BBC interview. "I was intrigued."
He was so intrigued, and so immediately reconnected to his father's Polish-Jewish heritage (his mother is Anglican), that he set off on the first of many journeys through Galicia, a region of Eastern Europe now divided between Poland and Ukraine. Galicia had been a homeland for Jews since the 14th-century king, Casimir III the Great, invited them to settle there with a vow to protect them as "people of the king."
Before the Holocaust, Poland had the largest Jewish population in Europe, about 3.5 million. More than three million were killed by the Nazis.
Mr. Schwarz photographed Jewish graveyards in the countryside, synagogues being used as garages and crumbling Hasidic schools.
In April 2004, in a old furniture factory in Krakow, he opened the Galicia Jewish Museum. Its main exhibition, called "Traces of Memory," consists of 150 of his photographs. In keeping with a movement among Poles to revive the nation's Jewish cultural heritage, the museum also offers seminars on Jewish history, classes in Yiddish and Hebrew, and klezmer music concerts.
"Rather than coming here just to mourn, we should come with a great sense of dignity, a great sense of pride for what our ancestors accomplished," Mr. Schwarz said last month in an article in The New York Times about the Jewish revival in Poland.
Christopher Ian Schwarz was born in London on Jan. 12, 1948. His father, Herbert Schwarz, had fled to England from Poland in 1939, just before the Nazi invasion, and become a physician. Dr. Schwarz met and married Joan Evans, a hospital administrator.
In addition to his mother, of Maidenhead, Berkshire, England, Mr. Schwarz is survived by a brother, William, of London.
Mr. Schwarz became fascinated by cameras as a child. At 17, he dropped out of school and began traveling the world as a freelance photographer. He first went to Poland in 1981 to cover the Solidarity movement, then returned in 1991 after the collapse of Communism. Soon after, he was wandering the Jewish environs of Galicia.
Mr. Schwarz was buried Friday in a municipal cemetery in Krakow. By Jewish tradition, he cannot be buried in a Jewish cemetery because his mother is Christian. In a short profile he wrote for his museum, Mr. Schwarz said, "I am Jewish enough for the camps, but not for the rabbis."
--------------------
Chris Schwarz (1948-2007)
Ten years ago, Cracow's Kazimierz district, erstwhile hub of the city's Jewish community, was a woefully forlorn labyrinth of crumbling houses and lifeless synagogues. Petty crime was rife, and the district had still not shaken off its post-war links with prostitution. The renaissance that occurred in the last decade salvaged the area as one of the most invaluable - and beautiful - vestiges of Jewish culture in the whole of Europe. Synagogues were renovated, the yearly Festival of Jewish Culture went from strength to strength, and above all, life returned to the streets and alleys.
In the Spring of 2004, Chris Schwarz, a British photographer of Polish/Jewish descent, opened a museum in the heart of Kazimierz that swiftly took its place as a beacon for Poland's Jewish culture. The Galicia Museum brought a breath of fresh air to the area, and Chris energetically promoted a plethora of local and international talent. Writers, singers, historians, musicians and statesmen from across the globe all took part in events at the museum, helping to revitalise Polish-Jewish dialogue. However, the showpiece of the enterprise was the founder's own exhibition - 'Traces of Memory' - an extraordinarily evocative record of the Jewish heritage of Galicia. Chris had spent over a decade compiling this collection, rooting out remote hamlets to capture his images. He had made frequent trips to Poland ever since covering the Solidarity revolution in 1981, and he eventually settled in Cracow in 2004.
It is a shock to have to record the passing of someone who seemed so very much in his prime. Chris's work was one of the best things to have happened to Kazimierz in recent years. He was not a partisan, but a creative thinker who was open to debate. And although he dwelt in a tragic heritage, he retained a lively wit, and created an optimistic tone in his dialogue about the future. This quality shone through in both the exhibitions themselves, and in his choice of guests at the museum. His shots of the historic landscapes of Galicia will endure as one of finest records of the fallout of the Second World War on Poland's seven hundred year Jewish heritage. Cracow will be a poorer place without Chris, and we sincerely hope that there will be a way to keep his work alive and flourishing. At this time of mourning we would also like to express our very deepest sympathies to Chris's immediate family and staff.

The Galicia Jewish Museum was founded and set up by Chris Schwarz. For over 12 years, with the assistance of the Wingate Foundation, he photographically documented the physical remains of Jewish culture and civilization in Polish Galicia. These photographs now have a permanent home in Poland, where the pictures originated