Yaakov (Janek) Waserman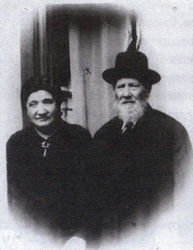 The Kliner grandparents Moshe and
KYLA WASERMAN KLINER, YAAKOV'S MOTHER. KRAKOW, POLAND. 1924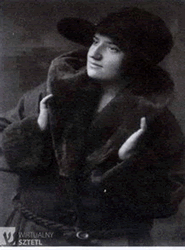 Kaila Rachel Wasserman (Kleiner)
Hebrew:
Gender:
Female
Birth:
1908
Kraków, Kraków County, Lesser Poland Voivodeship, Poland
Death:
Holocaust
Immediate Family:
Daughter of Moshe Kleiner and Dvora Kleiner
Wife of Baruch Cwi Wasserman
Mother of Janek Wasserman; Mordechai Motush Wasserman and Kalman Kalmush Wasserman
Sister of Sender Kleiner and Shmuel Kleiner

The parents Kyla nee Kliner And Zvi Waserman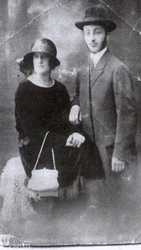 --An English resume of an interview in Hebrew that took place in Israel, as a part of the Polish Roots in Israel Project. Interviewee name: Yaakov (Janek) Waserman
"I was born to Zvi and Kyla Waserman" begins Yaakov, "in Krakow Poland, in 1925. I was the eldest son. The names of my younger brothers are Mordecai and Kalman". The Waserman family lived in the Kazimierz quarter of Krakow, in a several story building.
Grandfather Kliner, on the mother's side, had a piece of land of 30 km outside of Krakow, with a small stream passing through it and a waterfall. On that piece of land, he built a mill and hired gentiles to work in it.
"Grandfather's house was on Pawia Street, and as a child during our visits to Warsaw I would walk on the side of the street and, and every time we passed by poor people, Grandfather would always take out money from his pocket, put it in my hand and say: 'Do you see that poor man over there? Put the money in his hand and run', I really loved it".
Yaakov's father's family was a wealthy religious family, who lived in Warsaw and owned property and the local forest land. Mrs. Waserman, Yaakov's mother, was the only daughter among six brothers, and was therefore treated like a queen. "I remember her being exceptionally beautiful" recalls Yaakov, "and she used to sing a certain lullaby to me in Yiddish and Polish, which always moved me to tears. I sometimes think of it till this day".
"I was a very upbeat child, ever since infancy. I attended a state school along with both Jewish and gentile children. I first came back to Poland after the holocaust, it was in 1989. I later came back again as a tour guide, teaching groups about the holocaust. That time, I took my wife and children too my grandfather's old land, and prayed with them in the local synagogue. During one of our visits, the synagogue quire began to sing a song my father used to sing at home. I was thrilled and broke out in tears in front of a group of hundreds of school children, who was there on a historical visit. I returned to Poland dozens of times since then. It is very therapeutic to me because I remember everything that had happened to me and my family as if it was yesterday. If I wouldn't have returned to Poland as a guide, I would probably have to be placed in a mental institution. I need to talk about it, and when I talk about it to audiences I Poland, people always break out in tears and want to hear more and more. I don't really know what it does to me but it makes me feel better".

Janek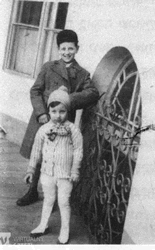 With his younger brother Mordechai
In 1937, Grandfather Kliner decided to sell his land and property and move to Palestine. His family members thought he had gone mad. Finally, they convinced him that two of his sons, Yaakov's uncles, Pinchas and Meir, would go to Palestine to examine the conditions. "Upon their return they declared: 'Palestine? That's not for us'. And so, our entire family stayed in Goddamn Poland. If we had only listened to grandfather's prophetic instinct in 1937, we would have been saved. But unfortunately, the perfect childhood world crashed on September 1st 1939.
My family and I were spending our summer holiday at my grandmother's house, when we were told that I war had just broken out and we should all lie on the ground. At night, there was a riot and gun shots outsides. On the third morning, we heard shouts in German: 'Raus, Raus!' calling us out. All the Jewish families in town stepped out with their hands up, and as we passed through the town's square we saw two Polish soldiers shot died. It was the first time I saw a dead body. We spent all night in the fields- hundreds of men, women, children and the elderly.
In the morning we returned and found refuge in a nearby house. When I stood by the window, I saw families marching on foot with German soldiers rushing them and shouting at them. I had a cousin who was very tall and stout, and he was forced to march up and down the street with 10 rifles hanging from his neck. Sometime later, he was taken away and shortly after his family received a jar of ashes from Auschwitz with his name on it. Not only was it the only remainder that his family had of him, but they were made to pay a considerable amount of money to receive the jar.
By the time we returned to Krakow, there had been no food left. My duty was to stand in line outside the bakery, from seven in the morning to seven in the evening, and wait for bread. One day, when I finally reached the counter, a Polish man came over and pushed me out of the line and no one dared to say a thing. I came home empty handed, and till this day it hurts me that I disappointed them. A little while later, the German soldiers caught my father on the street and pulled the beard right out of his face. He came home that day, ashamed and bleeding. It was a terrible experience for a boy, seeing his father like that.
After we had heard that the Krakow Jews were being moved to the ghetto, we moved into grandfather's mill, but then we received the order to move to a place called Proszowice, were I was put to work in the sugar factory.
I believe the German extermination roundups ("the actions") began on September 1940, on a Saturday. All the Jews in town were gathered in the market square awaiting the inevitable end, when suddenly two of my cousins, who had worked in a German factory, appeared in a truck driven by a driver whom they had paid off, and shouted at me 'Jankus! Come with us!' 'I'm not leaving my parents' I shouted back.
There were thousands of people standing in the square, and even though they all knew that they were headed for the slaughter, no one ran.
We were there for three whole days. On the second day I saw my mother losing her mind. She was throwing her jewelry at every direction, her rings and earrings, and shouting 'They are killing us! They are killing us!' Several other people were beginning to lose their minds, and all around was complete silence apart from the weeping of the babies. At the end of the three days, the Germans and Ukrainians came and began to stir us up with their shouts, including the pregnant women, the sick and the elderly. How could one raise up from the ground after three days like these? Only half of us got up- mother, father, my brother Motosh and I all got up together. I saw a wagon approaching and in it were several small children, with my youngest brother Kalman among them, who managed to hide with a Christian family. I ran over to him and grabbed him. I smeared mud on my face to hide my age, and I shoved layers of mud into my shoes to make myself higher, and indeed I appeared three centimeters higher.
The German officer approached my father and shouted: 'Move forward!' He then looked at me and asked 'How old are you?' I answered that I was nineteen. 'Can you work' asked the officer? 'I've been working my whole life' I answered. The officer hesitated for a minute, and then ordered me to step forward as well. And so, I was standing there, one step ahead of my mother and my brothers, knowing that they were about to die and that I was going to live. Father was standing next to me and we did not look back, as though they did not exist. How could we have remained normal?
Polacks with large wagons gathered those who could not get up. From a distance I saw them loading my grandparents onto the wagons. In the train station, we saw the overcrowded trains transporting people to the crematoriums. My father and I boarded the train, which was transporting the workers to the other direction.
We reached the Prokocim forced labor camp. After a short time, I told my father that we ought to run. He was so broken by that time that I was the strong one among us, and so he followed me without saying a word. No one captured us.
We managed to return to Krakow, entered the ghetto and hid there. Several days later we joined a labor group, which was paving the roads. Our supervisor was Dr. Grossman, a prominent personality in Krakow. We worked outside the ghetto, and my job was to carry the curbstones. We were walking freely outside with no guards, and still no one ran! I was so ashamed of it later! We were fed soup and horse meat. One day, we were looking for volunteers to carry wounded Germans. Some Jews volunteered just so that they could press the wounds, and I myself gloated every time a carried a wounded German on my back.
Sometime later, our work group was taken to P?aszów. There, by a large green hill near the Jewish cemetery, we saw a shed with a sign on the door saying: 'Yudenheime'. No one lived in the area apart from the old undertaker and his family. Inside the shed were work tools, Wheelbarrows and axes. We were very hungry. Some of the workers could afford to buy food with whatever money they had left in their pockets. My father and I had no money, so we remained hungry. On the way back, a Volkswagen pulled over next to us, and Commander Kundra, the commander of the ghetto stepped out of it, and he ordered us to empty our pockets. Two men, who had food in their pockets, were ordered to step forwards, and then Kundra took out his gun and shot them. The whole thing took maybe a minute, and I had to carry one of the bodies back to the ghetto. I was soaked in his blood, but my father said nothing. He was in complete shock.
Every day at ten o'clock in the morning, an S.S officer would arrive in P?aszów in a Volkswagen. In his car were several living men, all cramped like sardines. My job was to wait for him upstairs. He only wanted me, and I had to support the men as they were being dragged out naked out of the car. They were all badly bruised from torture, and I held them while he approached each one, shot them in the head and kicked their bodies into a large hole. As far as I remember, they wer e not Jews.

VERIFIED ARTICLE

One time, when he was in a particularly good mood, he said to me: 'you are doing such good work, and now it's your turn' and he pointed the gun at my temple. I do not remember what I did, I think I laughed. For several seconds I could not respond, and then he murmured: 'No, you I need'. I moved to Julag 1, a nearby labor camp, where we laid railways and poured gravel, while all the time being whipped by the guards. The work commander was Commander Miller. When he would get drunk, he would start shooting at every direction, and it was our duty to clear away the bodies.
Fortunately for us, we managed to return to P?aszów unharmed. There was a quarry there and above it was the home of the infaouse Amon Goth, the cammender of the camp. He used to ride across the camp on horseback with two dogs that were trained to rip people apart. At that time, I was busy carrying rocks.
I remember a time when my father and I were sent, along with a group of fifty men to the "Chujowa Górka" slaughtering hill, and shoved into a shed. The overseer was Albert Hujar. The next day the transports arrived- people were shot and we pushed the bodies into the holes. One day, when the officers were looking for people to push the wheelbarrows, I told my father 'let's take two wheelbarrows', and that is how we became corpse carriers. We would climb down to the camp, loading bodies indiscriminately- man, woman, child; and then we would climb up and through them down the gorge. Our group members would light a big fire by the shed and through the corpses into the fire.
At nights my father would break down, cry and say to me: 'You are only a child, how do you hang on?' And indeed my method of survival was unbearable; no one could pass me by since my robe reeked of blood and the remainders of the corpses. Everyone called me the. I was called 'The stinking boy'. Everyone ran from me.
The Ukrainian guards would rape the little girls before they would kill them and throw them down the gorge. Every time I heard screaming, I knew that soon I will be called to bring the wheelbarrow.
During one of these days, I waited for the Ukrainian murderers to finish eating boiler by the gorge, in the hopes that I may get some leftovers. But they completely soiled to boiler. When they were done eating, they put me in their room at the watch tower, gave me an empty Vodka bottle and ordered me to catch every fly in the room and capture it alive in the bottle. I cannot even describe how hard it was. I threw a damp rag at the ceiling to catch a living fly, and then chased it all over the room. When the room was completely empty, I brought them the bottle and of course received a hard beating. It became like their daily game, and I was so ashamed I only told my father about it. My story appears in the collection of testimonies from the survivors of P?aszów. Yes… I am the 'Fly Man from P?aszów'.
One morning, towards the end of 1943, four policemen called me and my father to the gate. 'Come quickly' they said. He hesitated for a moment, but then we took off our robes, left our wheelbarrows, and joined a group of twenty men. We were led outside the fences to an area surrounded by six beautiful cabins, and at the gatestood a Jewish police officer and not an S.S man. There we had a shower and a hot meal. We were shocked. As it turns out, these were the living quarters of the workers at the NKF factory for manufacturing airplanes and refrigerators. In a short period of time, I became a specialist at the factory. I also set up work for my father. And every time Mr. Schindler would pass through the yard, he would pet me on the head and ask me how I was doing. He also bribed the P?aszów commander, Amon Goth, to stay out of the camp and keep the S.S men out as well.
After several months of improved living conditions, I was sent back to P?aszów and father stayed at the factory. A Jewish policeman by the name of Huffman told me: 'Don't worry. We will look after your father. Whatever happens to us will happen to him too". And so, I did not say goodbye to my father, I never returned to P?aszów or to Krakow again, and I never saw my father again. I do not know what had become of him. I had investigated people for many years, but he disappeared without a trace.
In P?aszów, I was put, along with a transport of thousands, in cattle carts. I fought ruthlessly to get a spot by the small barded window so that I could have some air. People all around were fainting and urinating in their pants. And that is how we traveled for days without food or water.
inally, we arrived in Mauthausen in Austria, were I was locked up in the children's section of the camp. The Austrian Capo would walk among the children and molest them. I too was a victim, but since I put up a violent resistance, I was sent to the wretched "Steinbach" quarry. The quarry had 180 very narrow steps leading up to it, which people would climb up and down every day, carrying heavy rocks. The life expectancy at such a job is five or six days on average. I spent three days at the quarry and then sent to the Gusen 1 camp.
The morning line ups were always held near the crematorium. And one day, I was chosen along with 10 other people to be the ones who threw people into the ovens alive. I will never forget the screams of the victims. I worked there for about two weeks, until one day the S.S men came and led us through the fields to the Gusen 2 camp.
Outside, I saw tractors driven by young women, peasants walking through the fields with their dogs, and cows herding. I had already forgotten that another world exists. I thought everyone were in concentration camps.
In Gusen 2, my head was shaved with a line in the middle, four fingers wid. The staff members were ex-prisoners of all nations (among them Jews), who would give food only to those, who they wished to favor. And each would choose a child who would sleep next to them. They were sex slaves, and they were called 'Pipls'.
The camp was part of an assembling factory for the Messerschmitt airplanes, with an assembly line of 15 km. We were divided into work groups called 'Schtolers'. I was in Schtoler 2. After the teams would finish working, a manufactured plane would come out the other side. One of the supervisors was a sadist named Otto, who built his own private hanging device. And anyone, whose work was not satisfactory, was hanged on the spot.
On January 1945, we were taken out naked in the snow and cold, and lined up without moving. By noon, people began to drop like frozen logs. The head of the block, Elster, came over and began playing 'human dominoes' with us. He would walk slowly along the lines, and then suddenly push the first prisoner. The prisoner would fall and all the other would fall after him, one by one. The prisoners' limbs were so frozen that it was impossible for them to get up. But I got up time and time again, until out of the dozens of people in our line, only I and another prisoner survived.
In April 1945, my name was called out along with several others, and we were sent back to Mauthausen. I was so weak, I did not care anymore. At the yard at Mauthausen, we saw a group of healthy looking warmly dressed Hungarians, who had blankets and food. And so, I arranged my group and we attacked them at night. They thought we were Polish. We forcefully took their food and belongings, and they did not resist. They only cried and screamed.
When the Germans began evacuating the camp, I arranged my group for the 'death march'. We, the Polish children, were marching a head with me at the leading five. We were extremely frail by that time, but we held hands and that gave us the strength to continue. We were guarded by S.S female officers along with several men, and whoever could not keep up was shot. Along the way, children through food at us, but the female guards chased them away, broke into their homes, and then gun shots were heard.
The female S.S officers were particularly brutal. They would undress the young and handsome Hungarian prisoners. And then walk around from one to the other with a cup of coffee in one hand, and a rifle at the other, and shoot them in the testicles. Several days later, the women guards disappeared and older S.S guards replaced them. We were led to a shed in the woods, and the guards shoved a thousand people in. four other boys and myself climbed a rafter on the ceiling. From above we could see the Hungarians behaving like Cannibals; they were cutting away slices from the dead bodies and frying them. Several of them tried to climb up and kill us, and we fought them for five consecutive days. Down in the snow, the strongest were pushing the weakest to try and get up. But it was in vain, dead bodies were beginning to pile up in the snow. In the five days that we were up on the roof, half of the prisoners in the shack and a third of the Jewish children from Poland died.
On May 5th, all the prisoners were taken out. The sun was shining, and boilers with food were brought into the yard. Suddenly, gunshots were heard and everyone ran away. I had no strength so I could not run. Besides, a boiler with hot soup was standing only a few feet away from me. I crawled towards the boiler and put my head in. The whole world spun for a moment and I fell in. I would have probably drowned in the soup, but luckily the boiler spilled over, and I was lying in the snow and dirt, licking the soup that was covering me. That's how the American soldiers found me.
After the liberation, I took charge of a group of kids. We would walk into villages, break into homes and take the food. Afterwards, we joined a group of Russians, who roamed from house to house, raping the women and the girls, and shooting the men. The Russians robbed everything, and finally shot the horses and the cows.
We spent three days with them and then split up. Us children reached the Hershing camp, a former German airport turned refugee camp. There, we received food, clothing and housing, but we were rude and wild, and we stole anything we got our hands on. The cigarettes and other belongings that we stole, we sold in the nearby town.
My fate would have probably terrible, had soldiers from the Jewish Brigade not arrived at the camp. They gathered all the children from all the camps in the area and took us with them by trucks from Austria to Metaponto, Italy. On the way they spoke to us, and when we told them our stories they cried. In Metaponto we were placed in one of the Kibbutzim of Aliya B. We sailed to Palestine for the first time of the Shabtai Lijinsky ship, which suffered from mechanical difficulties and almost drowned. We returned to the harbor for renovations, and after a two week interlude sailed on the ship "Haim Arlozorov". By the Haifa cost, we were surrounded by British ships. The Commando soldiers threw tear gas bombs on the deck. We fought as hard as we could, but we ended up being sent to a detention camp in Cyprus. And so, I found myself behind fences again for another 13 months. Still, I spent the time learning Hebrew and going through military training. The assimilation in Palestine was hard. The natives did not want us around, so I slept on benches in the Meir garden and King George Street in Tel-Aviv.
Later, I joined the Zionist underground 'The Lehi' -Lohamei Herut Israel ("Fighters for the Freedom of Israel"), and later I joined 'The Etzel'- Ha'irgun HaTzva'i HaLe'umi BeEretz Yisra'el ("National Military Organization in the Land of Israel"). In 1949, I joined the Israeli defense force, and a fought under the command of Yitzhak Sadeh in the south. In the air-force I was sent to the technical department due to my previous experience with the Messerschmitts. In Tel-Nof, I was taught to work with the crane.
During my time in the army, I met Ahuva Shacham (Shmois). Her family embraced me immediately, and I always said that I had fallen in love with her family before I fell in love with her. Ahuva's friends called me 'The Refugee', and were very surprised when she chose to marry me.
We married on Lag-Ba'Omer (Jewish holiday), in Kfar-Saba, 1951. I had a cousin in Haifa, who examined me behind my ears before the wedding to verify my identity. She later told me that I was born by a tweezers delivery, and she was looking for marks.
After my discharge from the army, we lived in Kfar-Saba. I had several jobs, and Ahuva worked in a bank. We wanted to establish ourselves as soon as possible".
In 2005, Janek Waserman published a memoir entitled "Between two worlds". The memoir is based on Testimonies from Ahuva from 50 years of marriage, along with another recorded testimony.
"Life alongside a holocaust survivor is not easy" discloses Ahuva. "These people have lost their emotion, their childhood. And therefore, they do not always know how to treat their own children. The nights were particularly difficult. Some nights there would be screams, and I had to sit by him, listen and watch over him. Suddenly the bed would begin to shake and the screams would rise to the skies. There was a period where we were not allowed to throw any piece of food away, and it would result in fights with the children. I always have to be careful so that Janek will not see me throwing away a piece of bread, or a rotten vegetable.
Every family moves on, and things pass on. I have said to Janek several times before: 'You came back from the holocaust, but you pulled me into it' ". http://www.sztetl.org.pl/ru/article/krakow/16,-/16614,-janek-waserman-about-himself-before-and-during-ww2-in-krakow-and-mauthausen/?action=viewtable&page=4