#g5-19:
Rivka Labkovski (nee Spektor/ Gurevitz)
Birth: January 18, 1905
Vilnius, (Vilna) was a teacher in Kurenets.
Death: May 14, 1990
Tzfat, Israel
Immediate Family:
Daughter of Yaakov 'Yankel' Spektor ( nee Gurevitz) and Rachel Leah Spector
Wife of Dovid Leib Labkovski
Sister of Yitzchok Spektor; Malka Spektor; Zlata/Zahuva Reznik and Arthur Abraham Spektor
#g5-20:
I want to share a story about DNA connection with unknown relatives which I should have realized months before who they are. I noticed a third cousin predicted DNA connection with a Morris Reich and his son Steven (1.89% and 1.68%) . On the list of last names they shared with me Horowitz/ Gurevitz (Mordechi Gurevich, my maternal grandfather"s last name which is a common name) I wrote to the father with my details and he never replied. I compared the 2 to my brother's DNA and he shared little with them. I decided that it is an Endogamy case and gave up. Months later a second cousin of mine (Sharon nee Herbert took the DNA test (her grandmother Sima was a sister of my Horowitz/ Gurevitz grandfather Meir Gurevich) When comparing matches with her I noticed the Reich father and son had slightly above 2.0% with her. I wrote her that we should investigate it because it looks like a good match. I wrote to the son and got a reply that it must be his grandmother who is Horovitz/ Gurevitz. Shortly After Chaim Herbert, the father of my second cousin, got his results and he was above 3% match to the father. I knew that I must solve it. I looked again at their information. Do I know of any Reich beside the well known politician Robert Reich and the well known modern musician Steven Reich? ( my match posted 1990 as the year he was born so he was much to young) ....Yes, it came to me; Chaia Esther Reich, a holocaust survivor who was my grandfather's first cousin. 20 years ago I spoke with her many times about our family in Kurenets. I even have her profile on Geni with her son's and grandson's correct names. Now we are connected by email and I shared the Geni tree and more. Why did it take me months? I assumed that I will never know the connection because 1. My brother had Just a tiny match with his second cousin once removed and even smaller match with his 3rd. cousin. 2. I sent clear information to the father and he did not replay. Reading it for one second would have make it clear to him that we are related via Kurenets and Gurevich the birth place and the birth name of his mother. http://www.jewishgen.org/yizkor/kurenets/kur020.html
Rabbi Yakov Landau, Av Beit Din of B'nei B'rak Israel, Former Rabbi of Kurenets wrote about the family;
"Reb Mordechai Horwitz Gurevich was known in town as Mordechai Frada's (his wife was Frada daughter of Yehuda (ben Meir) Alperovich). He was the son of a Hasidic Jew Zalman Uri Gurevich who visited Tzemach Tzedek and the name of his father was Avraham Elia. By the order of Tzemach Tzedek he became a shohet. Even in his last days (ca. 1920) he served as a shohet in a community near Kurenets. His eldest son was also a shohet. His name was Chaim Israel Gurevich (perished in the holocaust in Kurenets). His son Mordechai, on the other hand, had a business selling iron but his soul burnt with the holy fire. In the middle of market day when his store would be filled with Christian buyers, he would leave the store and run to pray with the community in the synagogue. Every evening he would come to our minyan to study.
When Reb Mordechai Gurevich was young he went to study in the town of Labadowa, and was very influenced by Levik Labadower, who was very pure. He made a few visits with his friends at that time to the Koidanov Rebbe, but when he became middle aged, he turned to Lubavitch Hasidut and became a very devout Lubavitcher. He would pray for a long time on the Sabbath, finishing a long time after the rest of the community. A few times he went to the Admor of Lubavitch even when he was living in Rostov on the River Don. In his older years he was blessed to go to Eretz Israel. This took place about 20 years ago (ca. 1933). He settled in B'nei Brak, and after his wife Freda passed away, he moved to a kibbutz near Petah Tikva (Givat Hashlosha) and lived next to his daughter Batia Bender. Every day he would walk to Petah Tikva to study Gemara together with the Rabbi and a few of his friends. He studied the Mishna intensely, and his deepest desire was to learn all the Mishna 101 times. I am sure that he achieved his goal since he was constantly reciting the Mishna. About two years ago (ca. 1952), he passed away.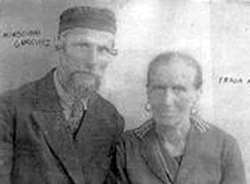 Mordechai Gurevich
Birth:
18, 1873
Kurenets
Death:
1954 (80)
Israel
Immediate Family:
Son of Zalman Uri Gurevich and Sarah Gurevitz
Husband of Frada (Freidel) Gurevich
Father of Natan Avraham Gurevich; Meir Gurevich; Batia Bender; Sima Lerman Herbert; Luba Bar-Dan and 1 other
Brother of Chaim Yisroel Gurevich; Leba Shafer; Yaakov 'Yankel' Spektor; Perla Gurevich and Chana Alperovitz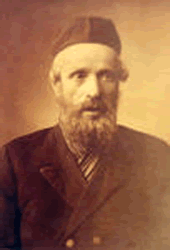 Chaim Yisroel Gurevich (Horowitz)
Birth:
1855
Kurenets
Death:
September 09, 1942 (87) (murdered by the Nazis with wife and daughter)
Immediate Family:
Son of Zalman Uri Gurevich and Sarah Gurevitz
Husband of Toibe Raizel Gurevitz and Cheyena Devorah Briskin Gurevitz
Father of Isaac Horowitz; Rachel Gurevitz; Abraham Elia Horwitz; Joshua Heshel Gurevitz; Samuel Horwitz/ Gurevitz; Maxwell HURWITZ Gurevitz; Leah Benes and Chaya Esther Reich« less
Brother of Leba Shafer; Mordechai Gurevich; Yaakov 'Yankel' Spektor; Perla Gurevich and Chana Alperovitz