World War II History, Captured in a Private's Letters to His Wife
By JAMES BARRONJULY 12, 2015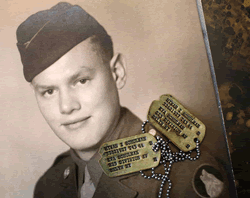 Pvt. Hyman Schulman wrote letters nearly every day to his wife, Sandy, who lived in Brooklyn. For years the letter lay in a box in the attic. It was postmarked in April 1945, just before the Nazis' surrender in World War II. It was just one letter among many letters, and the box was just one box among many boxes.
"Yesterday we visited something that you might have already read about in the newspaper or heard about over the radio," the letter began. "Not very far from here there is a concentration camp." Another letter, dated 13 days later, added a detail: "The name of the camp is Buchenwald located near Weimar here in Germany."
The letters were from Pvt. Hyman Schulman, the aide to Rabbi Herschel Schacter, the first Jewish chaplain to enter Buchenwald. Private Schulman wrote to his wife, Sandy, nearly every day, just as he had since his induction in 1942.
Back home in Brooklyn, the letters piled up, and after the war, they put them away. "We were busy," Mrs. Schulman, 92, said recently. "We raised five children. We always said we were going to read them."
Mr. Schulman died in 2013 at 91. Mrs. Schulman remembered the boxes in the attic — they had followed the Schulmans as they moved, most recently to Scotch Plains, N.J., but the letters had gone untouched for 70 years. Mrs. Schulman had them brought down, and soon Private Schulman's 20th-century letters were being given the 21st-century treatment. They were being organized — they filled 31 binders — and scanned and digitized.
Photo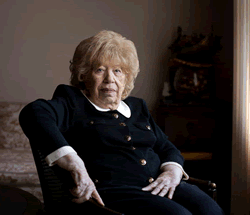 "We were busy," Sandy Schulman said recently. "We always said we were going to read them." Credit Victor J. Blue for The New York Times
Mrs. Schulman's daughter-in-law Arlene Shulman (she and her husband dropped the "c" in the last name) knew the founders of POBA, a nonprofit that helps people organize and archive collections they inherit — mainly artwork. Soon archivists from the group arrived at Mrs. Schulman's house with their computers and scanners.
"Originally this was done to help her with a resource and to look at the lost art of letter writing," said Jennifer Cohen, one of the founders of POBA.
But as she read Private Schulman's letters, she realized there was more to their importance. "He became not only a witness to history, but an accidental participant," she said. "There's a perspective that comes from seeing the extraordinary ordinary man's experiences. What we have here is not only a record of a historical event, but what it really meant to have a life, and a love, interrupted by extraordinary events."
Like many soldiers, Private Schulman evaded military censors by writing in a kind of code. Mrs. Schulman said he referred to a skirmish in the Battle of the Bulge, which had begun in December 1944 and continued into January 1945, by writing, "You went to the New Year's Party — I went to a party of our own." He was wounded in the Battle of the Bulge and was awarded a Purple Heart.
Photo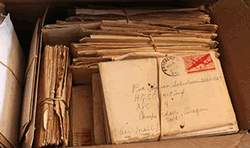 The letters piled up, and after the war, the Schulmans put them away. Credit POBA
He became Rabbi Schacter's assistant when he met a Protestant chaplain who mentioned that there was an opening to work for a Jewish chaplain. "Since I've been in the army I've always been hoping for a 'break' and I believe I finally got one," he wrote on March 8, 1945, after getting the job. "You won't have to worry about your husband being hit by shells, living in muddy foxholes and generally roughing it in the E.T.O." — the European Theater of Operations — "for we are quite a ways back of the front lines."
"Oh yes," he added, "the chaplain's name is Chaplain Schacter and he's from Brooklyn."
And to hear Mrs. Schulman tell it, her husband had done a little fast-talking to clinch the job. "The chaplain asked if he drove," she said. "He said yes, but he never drove. We were poor kids in the city." She said he had had an hourlong lesson at the wheel of an Army truck, but that was all.
Private Schulman was also responsible for handling Rabbi Schacter's correspondence. "He knew how to type," Mrs. Schulman said, "but he wasn't fast enough for the rabbi."
Photo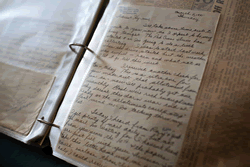 Private Schulman's letters are being organized into dozens of binders, scanned and digitized by professional archivists. Credit Victor J. Blue for The New York Times
On arriving at Buchenwald, he wrote: "The stench from the many dead bodies was nothing compared to the sight they presented. Old people middle aged and even younger folk were all shot up, bodies lying around." Mrs. Schulman said he made sure to mention the crematories "in case people at home don't believe it."
Ms. Cohen said the historical information was "at the same tone and frequency as the personal."
"I think you have an internal struggle from Hy trying to protect his wife from some of the horrors," she added.
After the war, Mr. Schulman went into the jewelry business and later performed as a singer under the name of Howard Shaw. He and Rabbi Schacter lost touch, but some years later, while the Schulmans were on vacation in Miami, Mr. Schulman passed a man on the street who looked familiar. He turned and said, "Rabbi?" It was Rabbi Schacter.
"I knew about Mr. Schulman without knowing his name," the rabbi's son, Rabbi Joseph J. Schacter, a professor at Yeshiva University and senior scholar at its Center for the Jewish Future, said recently. "My father really liked him. I remember he spoke very warmly about him."
Mrs. Schulman said her husband had assisted in the services that Rabbi Schacter led.
"In the Army," she said, "they all believed in God. They had to believe in something."
A version of this article appears in print on July 13, 2015, on page A14 of the New York edition with the headline: History Captured in Private's Letters to His Wife.
From: <woodway@bigpond.net.au>
The name Raskin does not seem to be in your listings but we believe Bernard's mother's maiden name was Shulman.
Best wishes,
Garth Willey
Bernard Raskin (1884 - 1943)
Born 15 May 1884 in Vilna, Lithuania, Russian Empire? [uncertain]
Son of William Raskin and Anna (Shulman) Raskin
[sibling(s) unknown]
Husband of Dora May (Tyrrell) Raskin — married 1910 in Wellington, New Zealand
DESCENDANTS
Father of Owen Raskin, Percival Raskin and Sonia (Raskin) Astley
Died 9 May 1943 in Levin, New Zealand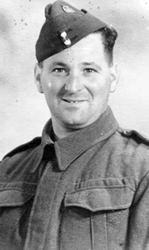 Percival Raskin (1914 - 1996)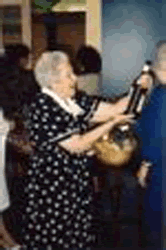 Sonia (Raskin) Astley (c1910- c 2000)
From: Biciulyste Spauda <biciulyste@gmail.com>
Date: January 17, 2019
To: daniel.levitan@gmail.com
Subject: Re: the Shulman family
Hello,
Thank You for information about Jews from Kaunas during WWII (http://www.eilatgordinlevitan.com/kovno/kovno_pages/kovno_stories_shulman.html)
I found a several mistakes in the story.
One day Chaia Miryam was able to leave the Ghetto and get in touch with a Jesuit priest named Smilgevi?ius her family was connected to a dynasty of Jewish religious leaders. Second; her husband is a Rabbi, which is similar job to his- So, he should help her children to find Lithuanian families who would keep them safe until the area is liberated. The Jesuit priest promised to help. Some guards were bribed and the children were transferred to the priest..- The priest arranged for her son, Natan, to hide with the family Tautkuvenia. There was another Jewish girl who hid with the same family.
A big mistake - my parents family BRONISLAVA Gecevi?ien? and ADOMAS Gecevi?ius hid the Jewish children, not my (TAUTKUVIENE) family!!! ?
The priest arranged for her son, Natan, to hide with the family BRONISLAVA AND ADOMAS GECEVI?IAI..
The priest SMILGEVI?IUS ask my mothers cousin, clergyman of priest seminary JUOZAS JALINSKAS, maybe somebody from his family can help rescue the Jews. Juozas Jalinskas ask my mother BRONISLAVA GECEVI?IEN?…
Shortly, my dad ADOMAS GECEVI?IUS walks off Nathan to farmstead (far from KAUNAS), to my mom's aunt
JALINSKAS family. There Nathan will end the war.
There are still some mistakes, but I can't repair them - needs a historical check.
Respectfully,
Ligija Tautkuvien?
P.S. sorry for my
poor English...