Hanoch Levin and his brother David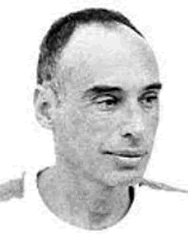 Hanoch Levin (December 18, 1943 – August 18, 1999), was a prominent Israeli dramatist, theater director, author and poet, best known for his theater plays.
David Levin was born in Lodz in 1934. His brother Hanoch Levin was born in 1943 in Tel Aviv. Their parents were Malka and Israel Alter (1847- 1905) His father was Rabbi Chanoch Tzvi HaKohen Levin , The rabbi of Benzin (1870-.1935) Malka Israel and baby David immigrated to Palestine in 1935 from ?ód?, Poland. They grew up in a religious home in the Neve Sha'anan neighborhood in southern Tel Aviv. The father ran a grocery store.
As a child, Hanoch attended the Yavetz State Religious School. In the 1950s, his brother, David, who was nine years older than he was, worked as an assistant director at the Cameri Theater. His father died of a heart attack when he was 12 years old. Hanoch attended Zeitlin Religious High School in Tel Aviv. After ninth grade, he left school to help support the family. He worked as a messenger boy for the Herut company and took classes at a night school for working youth at the Ironi Aleph middle school. There he joined a drama club and acted in Michal, Daughter of Saul by Aharon Ashman.
Professional life
Academic studies
After serving his compulsory military duty as a code clerk in the signal corps, Levin began to study philosophy and Hebrew literature at Tel Aviv University (1964–67). In 1965 he joined the editorial board of the Dorban newspaper, one of the university's two student newspapers. Some passages from the period were republished, with thorough revisions, as part of his later work. For example, "A Hardened Ballad of a Soldier Man and Woman" from June 1966 was revised as "Black Eagle on a Red Roof" and published after the 1982 Lebanon War.
During his university studies, Levin associated with the Communist Party, where he met Danny Tracz, the dramatist of the Communist youth. A friendship and professional kinship developed between the two that lasted beyond the period of their party activities.
Early writings
In 1967, Levin published a poem called "Birkot ha-Shahar" (the name of the Jewish "dawn blessings") in the literary journal Yochani, and was met with critical acclaim. The poem was later reprinted in his poetry collection Life of the Dead. In Haaretz he published the stories "Stubborn Dina" (1966) and "Pshishpsh" (1971, also published in the book The Eternal Invalid and the Beloved), as well as the verse cycles "Party Song of the Wicked: An Idyll" (1968, later appeared in Life of the Dead) and "Flawed People" (1970). Following Meir Wieseltier's invitations, he began in 1971 to publish stories, poems, and verse in the literary journal Exclamation Point : "The World of the Sycophantes" in 1973, "A Hunchback Finds a Prostitute" in 1976, "Life of the Dead" in 1981, and others.
Also in 1967, Levin sent a radio play called Catch the Spy to a radio drama competition at Kol Israel, winning first prize. The show, under the direction of David Levin, was broadcast several times. Levin's translation into English won first prize in 1969 in a radio drama competition in Italy. It was later published in the book Finale.
Theatrical work
In 1967–70, Levin devoted himself to political satire. In March 1968 he began working on a cabaret show entitled You, Me and the Next War, with Edna Shavit. The show was mounted in August 1968 at the Bar-Barim club in Tel Aviv by four of Shavit's students from the theatre department at Tel Aviv University: Bat-Sheva Zeisler, Shifra Milstein, Gad Keynar and Rami Peleg. Danny Tracz was the producer. Next, Levin wrote a satire called Ketchup. Under the direction of his brother, David, it was performed in the basement of the Satirical Cabaret in Tel Aviv in March 1969. In these two works, Levin mocked Israeli military pathos (as in the parody "Victory Parade for the 11 Minutes War" of the victory speech by General Shmuel Gonen at the close of the Six-Day War), the impotence and complacency of Israel's politicians ("Peace Talks in the Middle East"), and presented a macabre treatment of bereavement ("Squares in the Cemetery").
The criticism directed at Levin following You, and Me and the Next War and Ketchup deepened after the premiere of his third political play, Queen of a Bathtub ("???? ??????), produced by the Cameri Theater in April 1970. David Levin directed the controversial play, which made pointed use of vulgarity, and contained provocative sketches such as "The Binding" in which Isaac begs his father Abraham not to hesitate to slaughter him, and "The Courting" which mocks Israeli volubility and arrogance. Perhaps because it was presented on the stage of an established theater, the play aroused an unprecedented storm of public opinion. Viewers protested and made a disturbance during the performances. The National Religious Party demanded censorship of a song that, in its opinion, profaned the honor of the Bible. The government threatened to withdraw its financial support from the theater. The criticism further addressed the play itself: "a combination of flawed dialogues and ditties attempting to toss salt on our open wounds" (Dr. Haim Gamzu); "This 'theatrash' (mahazevel) makes us all out to be despicable killers, citizens of a militarist, money-grabbing state." (Uri Porat); and "a scene about a reporter, who comes to interview a young widow whose husband died in the trenches, and plays at love with her, only a demonic or infirm mind could devise... it's a malicious abuse of thousands of bereaved parents" (Reuven Yanai). In spite of Levin's objections, the theater's management decided, in the wake of these outraged responses, to close the show after only nineteen performances.
Mainstream success
Levin's first "artistic" play was the comedy Solomon Grip, which premiered in May 1969 at the Open Theater under direction of Hillel Ne'eman. He achieved his first great public success with his next comedy, Hefez, which was mounted on the stage of the Haifa Theater in March 1972, directed by Oded Kottler. This play had previously been passed up by the Cameri and Habima. His next play, Ya'akobi and Leidental, the first that Levin also directed, was first presented in December 1972 at the Cameri Theater. During the 1970s, he continued to write and direct plays that primarily appeared at the Haifa Theater and Cameri (see the list of plays below). During this period Levin also wrote two screenplays: Floch, directed by Danny Wolman in 1972, and Fantasy on a Romantic Theme, directed by Vitek Tracz in 1977. The two movies earned the acclaim of critics, but not the public.
The next great tempest occurred in the wake of the play Job's Passion in 1981. The play included a scene in which the naked Job, in the person of Yosef Carmon, is impaled through his anus on a pole by the Caesar's soldiers, and is sold to a circus so that his death throes can draw a crowd. Miriam Taaseh-Glazer, at the time the Deputy Minister of Education and Culture, announced from the Knesset dais that the State need not fund a theater "where a naked guy hangs for ten minutes with all his privates waving around." Levin's next play, The Great Whore of Babylon (1982), aroused opposition even among his colleagues the Cameri Theater actors, chiefly Yossi Yadin. Following this opposition, the play was cut by 20 minutes.
Levin returned to political writing with his play The Patriot, which opened October 1982 at the Neve Zedek Theater, directed by Oded Kottler. The play presents, among other things, an Israeli citizen who asks to emigrate to the United States. On account of this, the American consul asks him to spit on his mother, to kick an Arab boy's face, and afterward, to taunt God. Although the Council for Film and Drama Criticism banned the entire play, Kottler decided to present it. Yitzhak Zamir, then the government's legal counsel, recommended indictments against the theater management for transgressing censorship law. The play was allowed to go on only after it was edited.
During the 1980s, some of the critics charged that Levin was repeating material in his plays (Yakish and Poupche, Hamitlabet), although his later plays (The Dreaming Child, Those Who Walk in the Darkness, Repose, and others) received widespread acclaim.
In 1994, The Dreaming Child was adapted as a television film by noted Israeli director Ram Loevy. The opera The Child Dreams, composed by Gil Shohat, premiered in January 2010 on the occasion of the 25th anniversary of the Israeli Opera. Sets and costumes were designed by Gottfried Helnwein, and the production was directed by Omri Nitzan, Artistic Director of the Cameri Theater, who also helped Shohat adapt the play into the libretto.
Non-theatrical activities
Although his chief activity was in the theater, Levin also wrote popular songs ("Mr. Almost and Mrs. Already" recorded by Yehudit Ravitz, "What Does the Bird Care" and "Not Enough Room for Two on the Electric Pole" recorded by Aharit Hayamim, "I Live From Day to Day" recorded by Rita, "London" recorded by Chava Alberstein); published two books of prose (The Eternal Invalid and the Beloved and A Man Stands Behind a Seated Woman) and a book of poetry (Life of the Dead); and composed and directed episodes of the TV show Layla Gov ("How We Played -Pranks of Chupak and Afchuk").
Awards
In 1994, Levin was the co-recipient (jointly with Meir Wieseltier) of the Bialik Prize for literature.[1]
In 2005, he was voted the 62nd-greatest Israeli of all time, in a poll by the Israeli news website Ynet to determine whom the general public considered the 200 Greatest Israelis.[2]
Personal life and legacy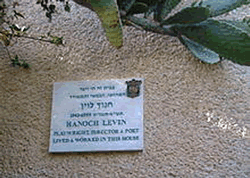 Memorial sign for Hanoch Levin on his house in Tel Aviv
Levin was married twice, to Naava Koresh and Edna Koren. His partner in the last years of his life was Lilian Baretto. He had four children.
Levin was known for his refusal to give interviews. In one of the few interviews that he gave at the beginning of his career (to Michael Handelsalz from Israel Defense Forces Radio), he answered the question "Why do you write specifically for the theater?":
(Unauthorized translation) I just think, the theater, it's much more charming, much more involving when you see these things on the stage. It's just much more exciting, I don't know why... you see the world, that way, formed on the stage. I don't know whether the material takes on a different quality, or it's better or worse, but in any case for me it's more exciting, material that's produced on the stage.
Levin died of cancer on August 18, 1999. He continued to work even in the hospital, nearly to his last day, but didn't have time to finish the staging of his play The Crybabies. During his lifetime he composed 63 plays and directed 22 of them.
Levin's death brought new interest in his early stage works. The Israeli Theater Habimah performed several plays by Levin. An updated version of the political satire "You, Me and the Next War" was staged from 2004 through 2008 by the original crew with Bart Berman at the piano.[3][4]
In 2000 the musician Dudi Levi released the disk Hanoch Levin Project, comprising eleven songs whose words Hanoch Levin composed.
Characteristics of Levin's work
Nurit Yaari divides Levin's plays into three general categories, based on their themes, characters and theatrical forms:
• Satirical Cabarets – Levin's early political pieces, "a straightforward reaction to the political reality prevailing at the time of their presentation…Levin's cabarets are composed of a series of sketches interspersed with songs"[5]
• Domestic Comedies – Plays focused on small, representative elements of society: individuals, families, friends and neighbors, "the dramatic space of these plays extends between the home, as the smallest unit, and the neighborhood. The city and country are not mentioned"[6] In this group Yaari identifies three subcategories:
Courtship and marriage
A particular family
A neighborhood.
• Spectacles of Doom – Levin's philosophical and mythical works, which are usually based on ancient myths and biblical texts. These plays vary greatly in terms of plot, structure and the myths they draw upon, but habitually display similar themes such as: "the agonies and humiliations suffered by people" and "the futility of human suffering" as well as the recurring motifs of "degradation and death"[7]
Selected bibliography
Plays
• Heffetz
• Solomon Grip
• Ya'akobi & Leidental
• Young Varda'le
• Schitz
• Krum
• Popper
• The Rubber Merchants
• Winter Funeral
• Suitcase Packers
• Execution
• Job's Passion
• The Great Whore of Babylon
• The Lost Women of Troy
• Everyone Wants to Live
• Yakish & Poupche
• Beaten and Defeated
• The Labor of Life
• The Hesitator
• Dreaming Child
• Hops & Hopla
• The Wonderful Woman Inside Us
• The Whore from Ohio
• Mouth Open
• The Conqueror
• Beheading
• Rape Trial
• The Man with the Knife in the Middle
• Elmo and Ruth
• Anxious and Frightened
• The People That Walked in Darkness
• Murder
• Must Be Punished
• Singles
• The Dreamer
• The Perpetual Mourner
• The Caretakers
• The Emperor
• Embarrassed
• Shozes & Bjijina
• Kludog the Miserable King
• To Hold On and Never Let Go
• Spasm and Twist
• Redemption
• And a Kiss for the Aunt
• Emperor Gok
• All the Queen's Men
• A Servant's Devotion to his Rigorous Lady
• Romantics
• Requiem
• Move my Heart
Sketches, Revues and Cabarets
• You, me and the next war
• Ketchup
• Queen of a Bathtub
• The Patriot
• The Gigolo from Congo
Screenplays
• Floch
• 'Fantasy on a Romantic Theme
Prose
• The Eternal Invalid and The Beloved
• A Man Stands Behind a Seated Woman
Poetry
• The Blessings of Dawn (1965)
• Friends' Party Poem (1967)
• Lives of the Dead (1980)
• As a Breeze Blows (1981)
• Farewell Rhymes to a Beloved (1998)
• Farewell Letters to a Beloved (1998)
Children's Books
• The Happy, Cheerful Cock
• Uncle Max's Journey
References
1. "List of Bialik Prize recipients 1933–2004 (in Hebrew), Tel Aviv Municipality website".
2. (June 20, 1995). . Ynet. Retrieved July 10, 2011.
3. Parchomovsky, Mart (2004) "You, Me and the Next War." Tarboot 7. (Hebrew)
4. Yudilovitch, Merav (2005) "You, Me and the Next War" in the Arab-Hebrew Theater. Ynet February 8. (Hebrew)
5. Yaari, Nurit. "Life as a Lost Battle: The Theater of Hanoch Levin." Theater in Israel. Ed. Linda Ben-Zvi. University of Michigan, 1996. p. 153
6. Yaari, p. 157
7. Yaari, 165–167
Part of the content of this article was translated from ???? ???? (Hanoch Levin) in the Hebrew-language Wikipedia,
Hanoch Levin - Success Story
Biography
By Moti Sandak
Hanoch Levin was born in Tel Aviv on 18 December 1943 and died of cancer on 18 August 1999.
Levin – playwright, director, poet and author – wrote plays, sketches, songs, stories and poetry, and also directed most of his own plays. In his stage work as a playwright and director, he developed a unique dramatic and theatrical language that was created through a combination of the poetical texts he wrote and the images he designed together with the actors and the designers of the sets, costumes and lighting, the composer and choreographer. His plays are characterized by his ability to combine the works of different writers in a constant festival of words and visual images founded on a great love of the theatre and all who take part in the performance.
Although one should not insert biographical circumstances into a wide-ranging corpus of work, be they multi-faceted and unique as Levin's, one can discern certain subjects, patterns and artistic leanings that characterize his work as well as the needs, drives and passions through which Levin the artist wove his works and life. From the standpoint of the atmosphere and culture that surrounded him, one can map out a number of junctions between several complex worlds. Levin was born into a religious family, the descendant of distinguished Polish Hassidic rabbis. His primary education was religious, first at the Jabetz Religious Primary School and later at the Zeitlin Religious High School. He grew up in a poor neighborhood close to Tel Aviv's old central bus station where he spent his childhood and youth. His father died when he was twelve years old and he was compelled to leave school and help his mother support the family. He completed his high school education while working as an errand boy.
Levin grew into adulthood in Israel of the sixties, in a society characterized by acute divisions between Israeli "sabras" and new immigrants, rich and poor, Sephardi and Ashkenazi Jews, and Jews and Arabs. These divisions became even more acute in the wake of the Six-Day War, at the time when Levin the playwright first gained attention. The seam that joined Levin's childhood world with his youth and adulthood was without doubt a unique compound of the Israeli-Tel Avivian culture in which he grew up and for which he wrote.
Levin began as a satirist. As a student at Tel Aviv University (1964-1967) he published satirical pieces in the students' newspaper. His first plays, too, were political satires, a trenchant criticism of the triumphal euphoria that gripped Israeli society after the Six-Day War. Levin derided and denounced Israeli society's boastful attitude and his works contain some truly prophetic warnings of the tragic consequences that occupation can cause, and has indeed caused. In August 1968, the satirical review, You, Me and the Next War was staged, directed by Edna Shavit, and March 1969 saw the staging of Ketchup, directed by Levin's brother, David. Levin's fame (in the view of only a few at the time) came in the wake of the public outcry raised by The Queen of the Bathtub that was produced by the Cameri Theatre in April 1970 and directed by David Levin. The play was taken off after only 19 performances as a result of public pressure.
In parallel with his political satires and in fact as the beginning of an additional dramatic form developed by him, Solomon Grip was produced by the Open Theatre in 1969, and directed by Hillel Ne'eman. Solomon Grip was the first in a series of comedies that focus on the desires and suffering of sad characters in the social framework of a couple or family in a housing project or any other type of city neighborhood. But Hefetz (Haifa Municipal Theatre, 1972), for example, is a play that can be given an Israeli-social interpretation, since Fogra, one of the work's leading characters, is 24 years old, the same age as the State of Israel at the time, and also as an existential [play on mutual humiliations. Other plays of this kind are Ya'akobi and Leidental (Cameri Theatre, 1972), Varda'leh's Youth (Cameri Theatre, 1974), Krum (Cameri Theatre, 1975), Popper (Cameri Theatre, 1976), The Rubber Merchants (Cameri Theatre, 1978), The Suitcase Packers (Cameri Theatre, 1983), The Labor of Living (Habima National Theatre, 1989), Can't Choose (Cameri Theatre, 1990), Hops and Hopla (Cameri Theatre, 1991), The Wondrous Woman Within Us (Khan Theatre, 1994), and The Whore from Ohio (Cameri Theatre, 1996).
In 1997, with the Cameri Theatre production of The Execution, a new direction became evident in Levin's work: the mythological plays. These are based on central myths in Western culture, like Job's Passion (Cameri Theatre, 1981), The Great Harlot from Babylon (Cameri Theatre, 1982), The Child Dreams (Habima National Theatre, 1993), Agape (Cameri Theatre, 1995), Beheading (Habima National Theatre, 1996), and on new readings of the Greek tragedies, especially those of Euripides, in The Lost Women of Troy (Cameri Theatre, 1984), Everybody Wants to Live (Cameri Theatre, 1985), and The Whiners, a new reading of Aeschylus' Agamemnon and the last play Levin wrote. In these plays Levin develops a dialogue with the principal symbols and fundamental patterns of Western culture while attempting to write a modern tragedy and dramatically reshape human suffering. An important examp0le of this kind of drama that focuses on suffering in Requiem, based on three Chekhov stories, and the last play to be directed by Levin (Cameri Theatre, 1999).
Levin's road as a director began with Ya'akobi and Leidental (Cameri Theatre, 1972), when he worked with Zaharira Harifai, Yosef Carmon and Albert Cohen, and set and costume designer, Ruth Dar. He went on to direct 21 of his plays and his association with numerous actors were often long-term, as was the case with Harifai, Carmon and Cohen, and also with Gitta Munte, Yitzhak Hezkiah, Sasson Gabbai, Rivka Gur, Ruth Segal, Rivka Neuman, Yehuda Almagor, Michael Koresh, Dror Keren, Dina Blei and Sandra Schonwald. He worked for many years with the designers Ruth Dar, Ronny Toren and Rakefet Levy, and with composers Alex Kagan, Poldi Schatzman, Ori Widislavsky and Yossi Ben-Nun, with all of whom he created his unique language in the theatre.
Levin left an extensive spiritual-artistic legacy that includes 56 plays (apart from the political satires, and of which 33 were produced in his lifetime); two volumes of prose, The Eternal Invalid and A Man Stands Behind a Seated Woman; two collections of sketches and songs, What Does the Bird Care? and The Gigolo from Congo, a volume of poetry, The Lives of the Dead, and two children's books, Uncle Max's Journey and Hayouta Meets a Mammoth. In 1999, the last year of his life, he had all his works published in a joint project with the Siman Kriah, Hakibbutz Hameuchad and Sifrei Tel Aviv publishing houses. An additional volume of his last works is to be published shortly.
As a prolific writer, the quantity of Levin's work vies only with its quality. Israeli literary, theatre and cultural critiques acknowledged Levin's qualities many years ago, in that he is one of those writers who gained an abundance of reviews. Only a few were negative while the overwhelming majority were more than favorable. More comprehensive academic critique of his work has also recently begun to develop, from the standpoint of its social statement, unique language (which has been dubbed, inter alia, as "thin", "precise" and "muscular"), and particularly from the standpoint of the rare relationship between categorical, blunt violence totally lacking in self-pity, and infinite tenderness, compassion, and perhaps even a facet of refined and completely non-establishment spirituality.
By Maya Sela
Published 02.03.12
Theater director and poet David Levin says that he has come to the conclusion that only love matters. "Everything else is truly nonsense. I know that a career is important, what a person does, who a person votes for in elections - that's important too, but the only thing that makes a person a person, more human, is not his education, not his origin, not his attitude about human rights, but only whether or not he can contain love within himself."
So says this 77-year-old, who attests that he loves and is in love, and his eyes well up with tears when he speaks of his wife, Alison Riach.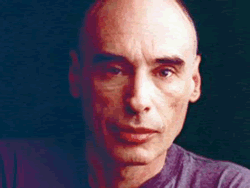 Hanoch Levin / Photo by Gadi Dagon
"Really," says Levin. "It is rare. We have been together for 17 years now and my love grows and my infatuation grows. A week and a half ago I woke her up during the night. She asked, 'Why are you waking me?' I said to her, 'To tell you that I love you.' She said, 'But you could have told me in the morning.' So I said, 'But how would you have known that I love you now?' When I talk about her I can be moved to tears."
Levin is not talking about love of all humanity or about world peace and brotherly love. "I don't believe in that. I believe that deep down a person cannot help being racist. I honestly think that if I were to assign a Sudanese neighbor to even the most liberal person, he wouldn't like it. To love humanity and all human beings - these are empty and bloated slogans that bring disasters upon us. You can treat another person with true tolerance, come to terms with his existence, with his way of life, with his culture, even if you don't accept them, but love is another story. Love can be only between one person and another; it's an utterly private matter."
It has been many years since David Levin lived in Israel. He is visiting from Edinburgh, where he lives with his Scottish wife, because the Herzliya Ensemble is putting on a new play that he wrote. Our meeting takes place in south Tel Aviv, in the area where he grew up with his brother, playwright and theater director Hanoch Levin, who was 11 years younger but died in 1999.
David Levin is a veteran of the theater world. After his military service in the entertainment troupe of Central Command, he worked as a stage manager and assistant director at the Cameri Theater, and then went to study in London. On his return to Israel he worked as a director, and in 1978 became artistic director of Habima Theater. In 1984, following bitter battles, and before his contract was up, Levin decided to leave the country.
"I was 50 and began working overseas," he says. "During the initial period I would return here all the time, but that started to become bothersome and I hate flying. I moved abroad, but I come here twice a year." (Levin also has two sons from a previous marriage and grandchildren in Israel ).
Though he spent a number of years in London, he has been in Scotland for the past five.
"People move to another country for two reasons: work or a woman. In my case it was a woman. If I didn't have a wife in Scotland, I would be here. I am an Israeli person ... my brother is buried here. Where else would I be? Without Hebrew, what am I? I live in Edinburgh. I don't know any Israelis there, I don't think there are any, and there aren't many Jews there either. There used to be but they fled, maybe because of me."
In 2009 Levin was invited to direct for the Edinburgh Festival, where he staged "The Testament of Cresseid" by Robert Henryson, a 15th-century poet. That same year he also put on a play of his own, "People," at the Edinburgh Festival Fringe.
For years now he has complemented his theater work with poetry writing, and has published 11 books. Keshev Leshira Publishing is now bringing out a collection of his love poems titled "Rak Al Zeh" ("About This Alone" ).
Levin's poems have entered the public's awareness in recent years because he has been published in the journal Mita'am, edited by Yitzhak Laor. He met Laor for the first time when the latter was working on his doctorate on Hanoch Levin.
"When it comes to anything Hanoch-related," says Levin, "he is a real expert. There are all sorts of pretenders to the crown, but I honestly think that for anyone who wants to read about Hanoch Levin and know about Hanoch Levin, his book is a must." (The reference is to Laor's book "Hanoch Levin: A Monograph," which Hakibbutz Hameuchad published in Hebrew in 2010. )
Fully formed at birth
David Levin says that his brother was fully formed from the get-go - an immense talent without any unripe moments. "Even with some of the greatest playwrights, such as Tennessee Williams, Arthur Miller and others, there was development. They had a clear-cut talent, but there was rawness to their first works. With Hanoch everything was there from the very first play. Don't ask me how. I knew him from the day he was born; there is no development in Hanoch in terms of his dramaturgical ability. That is something rare. It's like he knew everything there is to know."
Regarding the hated question of whether he envied his brother, he says: "When a person comes along who knows everything there is to know, you cannot be jealous of him. If I had wanted to be him, then I would be dead now. You can envy a person who buys a lottery ticket - he doesn't know what he's buying and neither do I, and he wins. But to envy a human being? Maybe there was such complication in him that, why envy him? With all of the insipidity I have from myself and the ills that I have from myself and with all that I am unbearable to myself - still this is what I have."
Levin says that he and his brother were very similar. "We were raised by the same mother and the same father. We were alike in our reactions, only I was aggressive and he was more moderate. But he was far more judgmental. When I look back today, there is no doubt that I was always softer than him. To this day, when it comes to music for example, when I hear Frank Sinatra sing, I cry. That could never happen with Hanoch."
Levin says: "His vision was so clear-sighted. I don't have that clear-sightedness. My mother had that kind of sight. Hanoch would look at a person and he would see him. I loved him very much and he me, but there were also fights and they were always about personal matters." They never fought about theater, he says.
His brother was angry with him, for example, for not coming to Israel for their mother's funeral. "Hanoch does not accept explanations, especially not from family members. He needs them to be absolute. Can I meet his expectations? How? Maybe he had additional expectations of me. When we would fight, Hanoch wouldn't yell, Hanoch stared with those eyes, that were like a knife he stuck into you, and you knew exactly where you stood. He would say, 'David!' and it was over. However, even when he fought with me, he was a great gentleman. What a character!"
Levin says that his brother was a wonderful, generous man, and humble. "This might sound pathetic, but he was how I would want a Jew to be. He was a man with manners, his plays as a whole are all prayers as far as I'm concerned. All prayers and pure intention in order to undo the decree. His writing was without compromise. His was a rare talent."
Gangster leaders
As for Israel's situation today, Levin says that it will end in disaster: "There is a problem here between two cultures, two peoples, and the part I belong to has been sitting for more than 40 years and occupying. More than I regret what is happening to them, I regret what is happening to us, because life here became totally warped over the years. And it was obvious that it would become warped, because whoever lives as an occupier, his entire way of life changes entirely. And the worst thing of all is that he also ignores the fact that he is an occupier. It is an incurable disease."
The worst things that happen, he adds, begin with good intentions, with statements like "It'll be okay," "It's temporary." "Good intentions are like metastasis of a disease. You don't treat something, and so metastasis begins, at a certain point numbness sets in, and something which began as something that could work out in two or three days has suddenly become a way of life ... If you want to save the body you have to cut off some organ. Otherwise the body will die. [David] Ben-Gurion said right after the Six-Day War to give everything back. Ben-Gurion did all kinds of things, but he was never a fool. It dragged on ... It is not a normal situation."
For years Levin says he has not seen any leadership in Israel: "Categorically there is no leadership here, not one of them. The last one was Yitzhak Rabin. Not Sharon, who was also a semi-gangster, not Peres who says three sentences in every sentence, not all of the people who love themselves. Not Netanyahu, who can comb his hair 10 times a day and still looks ugly, and certainly not Lieberman: I hate everything that he stands for, but he says exactly what he thinks and I respect him for that; but I respect him the way you would respect a gangster. I have the same kind of attitude toward Al Capone."
Levin is not overly fond of the Israeli left either: "The radical left is terrible, it is delusional ... it has almost no realistic perception. It has a terrific platform that does not belong to life here. The right is in part completely fascist and in part it's a sort of mixed bag, but there are also wonderful people there. When I was artistic director of Habima there were people on the board of trustees from the Labor movement and people who were more capitalistic, and all the problems were always with the people from Labor. The capitalists never handed out advice, didn't try to interfere."
Levin was Habima's artistic director when the late Zevulun Hammer was education and culture minister: "His views and mine were like East and West, but he was a great culture minister. He didn't intervene in anything. He had only one request: Whenever we invited him to opening nights, he'd say: 'Don't embarrass me. If the play is unsuitable, don't invite me.'"
David Levin directed his brother Hanoch's scandalous satirical play "The Queen of the Bathtub" in 1970 at the Cameri. The public outcry it aroused prompted the Cameri to pull the show. Today, he says, a scandal like the one that erupted then would never occur. "We are talking about a play that is milquetoast compared to the current situation. The metastasis has spread. Today it would be received with a smile, they'd say: Okay, so he wrote a play, so what. Nothing can have an impact."
Are you still motivated to direct?
"Not that sort of thing. Just challenging works. I want to tell you that all of the things that I did abroad, these are things I would never have done here: Kleist, Shakespeare, Schiller. Who would let me do them here?"
Why is that?
"Why do they play soccer the way that they do here? The level of the soccer is the level of the theater. If you check, you'll find that it is that way in every country in Europe."
In his play "Avram," now showing at the Herzliya Ensemble theater under Oded Kotler's direction, Levin depicts Tel Aviv's backyard today - the area of the city's old central bus station and the variety of marginalized people who walk around there. "I wrote the play two years ago. It is a searing play, about an acute matter," he explains.
When he is in Israel, Levin frequently roams around south Tel Aviv. He likes to go to the Carmel Market early in the morning, to observe the goings-on. "I hate talking about poetry and I hate talking about theater. I like talking to people, to see what's happening ... I like to walk through and see how they dig and stick electricity or telephone [cables] underground, and I've been doing this all these years and I never get tired of it. Because suddenly you see that this road, which we shall call civilization, is precisely two-and-a-half centimeters deep, and underneath is an abyss, and that is the whole story of life, that's all there is to it. We are on two-and-a-half centimeters."
HAARETZ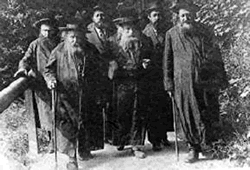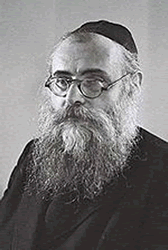 Uncle Meir Levin (1893- 1971), head of Agudat Israel. a member of the Polish saim in Warsaw and a minister in the Israeli governmen