Chaim Shniederman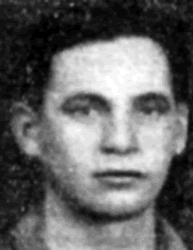 Born in 1923 in Lodz, Poland, and completed his primary school in Lodz. His many talents and much energies covered the lack of formal education and he made ??his way successfully through life. When the war broke out - (World War II) he was away from town and his parents, so they parted ways forever. The parents were imprisoned in the ghetto and killed he became a refugee drifting eastward and into hard work and much suffering. Such were the war years in the Soviet - Union. After the war he returned to Poland and found out that none of his family was left alive, he continued his way with Nativ - Escaped to the west. In Germany he joined Kibbutz "Dror". Being blessed with cleverness and quick perception he was soon appointed a member of the secretariat. From there he went to Italy, and made aliya to Israel by the ship "Radiance Bridge heroes." The ship was seized and the passengers were transferred to Cyprus. There he joined the Haganah ", a course instructors and was active in training. Life participated in the excavation of the hidden tunnel exit from the camp and on a rainy night in December 1947, when fighting broke out , he was gone. In March 1948 he arrived to Israel on a fishing boat.
With the Palmach, he served in "Harel" and participated in the mountains to Jerusalem. Wounded in Operation "Maccabi" near Kiryat Anavim and two days later died of his wounds in a hospital in Jerusalem, nineteenth Bayer Independence day (28/05/1948). buried in Sheikh - Badr.
03/09/1950 he was transferred and laid to permanent rest at Givat Shaul cemetery.