Ezekiel (Henry) Zonabend Sonnabend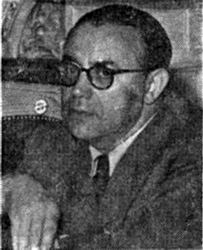 Born in the town of Dobsin the Vistula River in Congress Poland, in Trs"a (23/07/1901).
His father Rafael and his mother Sarah Leah.
Learn the local Jewish high school and Olotzlbk, studied at Dresden, Heidelberg Engineering graduated and came
Nibrsitt Padua. Italy received the degree of Doctor and Professor of Social Sciences (Lsoziologih).
Emigrated to Rhodes and from there to Johannesburg, where he was a university lecturer on Soziologih and demography (1938-48).
He served during World War II with the rank of Major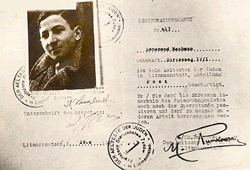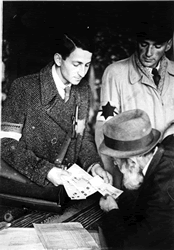 Nachman Zonabend, postal employee in the Lodz ghetto, paying money to the father of photographer Mendel Grosman at a post office branch in the ghetto. Photographed on June 10, 1941. The man standing on the left is wearing an armband with the Star of David symbol. The photograph was dedicated by Nachman Zonabend to his uncle Meir Rosenberg. Note: Yechiel Lewkowicz and Sawek - Yeshayahu Krotoszynski, survivors of the Lodz ghetto who had worked there as mail carriers, told that in 1941 - 1942, ... Nachman Zonabend was an inmate of the Lodz Ghetto from 1940 to 1945. In August 1944, following the liquidation of the ghetto, the Germans assigned him to a work unit whose task was to clean up the deserted ghetto. He succeeded in hiding parts of the ghetto archives, as well as photographs and art works of ghetto photographers and artists. He recovered these materials after the liberation of Lodz in January 1945. In 1947, Nachman Zonabend donated the bulk of his collection to the YIVO Archives. These are fragmentary records of the Eldest of the Jews of the Lodz Ghetto, by which name the Jewish ghetto administration was known. The ghetto was established by the Nazis on February 8, 1940, and Chaim Mordechai Rumkowski became its powerful Eldest of the Jews. He retained this office until the final liquidation of the ghetto and his own deportation to Auschwitz on August 29, 1944.
--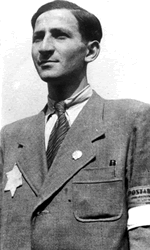 Lodz, Poland, Zonabend wearing a postman's uniform in the ghetto.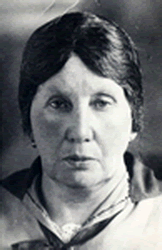 Yaakov Shabtai
Avraham Shabtai (Zonabend)
Birth:
circa 1910
Rypin, Rypin County, Kuyavian-Pomeranian Voivodeship, Poland
Immediate Family:
Son of Yaakov Sonnabend Shabtai
Husband of Masha Shabtai
Father of Yaakov Shabtai; Dr Aharon Shabtai; <private> Shabtai and Yoel ???? Shabtai
Brother of Nachman Shabtai and Zadok Zonabend Sonnabend
ai?Avraham and Masha Zonabend/ Shabtai with son Yaakov Shabtai Yaakov Shabtai (1934–81) was an Israeli novelist, playwright, and translator.
Biography[edit]
Shabtai was born in 1934 in Tel Aviv, Mandate Palestine. In 1957, after completing military service, he joined Kibbutz Merhavia, but returned to Tel Aviv in 1967.[1]
His best known work is Zikhron Devarim (1977), published in English in 1985 as Past Continuous. Written as a single paragraph, it was the first novel ever to be written in truly vernacular Hebrew. In its English translation the novel received international acclaim as a unique work of modernism, prompting critic Gabriel Josipovici of The Independent to name it the greatest novel of the decade, comparing it to Proust's In Search of Lost Time.
In Israel, Shabtai is also known as a playwright, having written such classics of the Israeli stage as Crowned Head and The Spotted Tiger. He also translated many plays into Hebrew, including works by Harold Pinter, Neil Simon, Noël Coward and Eugene O'Neill. Other works by Shabtai include Uncle Peretz Takes Off, a collection of short stories, andPast Perfect (Sof Davar), a continuation of Past Continuous in terms of narrative and style, published posthumously. In 2006 a collection of early stories was published under the title A Circus in Tel Aviv.
Shabtai died of a heart attack in 1981.
Shabtai's brother Aharon is a poet and a translator from Ancient Greek.
Awards and honours[edit]
• In 1978, Shabtai was awarded the Bernstein Prize (original Hebrew novel category), which was the inaugural year of the prize.[1]
• In 1978, he was awarded the Kinor David Prize for Plays.[1]
• In 1982, he was posthumously awarded the Agnon Prize for literature.[1]
• In 1999, the Tel Aviv Municipality named a street after him.
Published works[edit]
Works Translated into English[edit]
• Past Continuous (Zikhron Devarim) Jewish Publication Society of America, 1985, ISBN 0-8276-0239-1
• Past Perfect (Sof Davar) Viking Press, 1987, ISBN 0-670-81308-7
• Uncle Peretz Takes Off (Ha-Dod Peretz Mamree) Overlook, 2004, ISBN 1-58567-340-4
Other Works[edit]
• The Wondrous Journey of the Toad (Ha-Masah Ha-Muflah Shel Ha-Karpad, Children's book), 1964.
• Poems and Ballads (Shirei Ha-Zemer), 1992.
• The Spotted Tiger and Other Plays (Namer Havarburot Ve-Aherim), 1995.
• Crowned Head and Other Plays (Keter Ba-Rosh Ve-Aherim), 1995.
• A Circus in Tel Aviv (Kirkas be-Tel Aviv, short stories, some alternate versions of stories from Uncle Peretz Takes Off), 2006.
References[edit]
1. ^ Jump up to:a b c d Shabtai, Yaakov – Jewish Writers of the Twentieth Century Bookrags, accessed July 14, 2011
External links[edit]
• Yaakov Shabtai at the Institute for the Translation of Hebrew Literature
•