am looking for anyone who might have information on Abraham Shlomo Shub,
The Magid of Pinsk. He must have been born early to mid 1800's.
Michael Goldstein
------------------------
Over the past three weeks, I have laboriously worked on databasing more
than 12,000 burials within all of the thirty-eight Minsker society burial
plots that are located in New York and New Jersey. These are all of them.
There is now a unique surnames list for the combined Minsk plots on my
website within the Cemetery Project. You can access this list directly at
www.museumoffamilyhistory.com/cp-minsk.htm. Any requests sent to me for
more information on burials of a name found on my list (i.e. a gravestone
photo) should be sent to me with the words "Minsk Lookup" in the Subject
field. Include your e-mail address with your request. I can only supply
you with a specific surname, given name, cemetery name, and most
importantly, gravestone photograph. Be patient for a response, as I expect
many requests.
I had chosen to work on the Minsker society burials because I realized
that there are at least a couple of thousand Minsker researchers out there
that could find this information useful.
Just some reminders. Realize, of course, that not everyone buried in a
Minsker plot came from there. Also, many who are buried in a Minsker plot
might have lived at one time in the towns surrounding Minsk, and not
necessarily in Minsk itself. Some of the societies who own these plots
were established as early as 1880.
I have also started to work on Pinsk and Grodno unique surnames lists.
These lists should also be on my website within the week, albeit
incomplete. Please wait til these two lists are posted before making
requests for Pinsk or Grodno burials.
I hope that these lists will be useful to many of you who are researching
your family members who once lived in Belarus. This was a monumental
undertaking for me, but I feel my efforts will be quite worthwhile. I now
have listings for nearly 100,000 burials in the New York-New Jersey metro
area!

Best,
Steven Lasky
New York
www.museumoffamilyhistory.com
------------------------------------------------------
I recently found an old brief family history. Here is the translation
from the original Yiddish:
Pinchas SCHREIBMAN, a sofer lived in 1770 in Lubishev Russia-Poland, in
Minsk Gubernia.
Pinchas had 3 sons : Yehuda Leib, Zavel and Avraham Ber Singer.
Zavel's grandchildren are in Philadelphia under the names SCHREIBMAN and
FISHMAN.
Avraham Ber's grandchildren live in New York under the name SINGER.
Yehuda Leib had 3 sons and 1 daughter: Avraham Michel, Moshe Schmuel,
Yeshayahu Lubashevsky and Sara Mindel.
Yehuda Leib was born in 17788 and died in 1883. Avraham Michel's son,
Yitchak Isaac, left to London in 1885 or 1890.
Yeshayahu Lubashevsky had children and grandchildren under the name
LUBASHEVSKY in New York and Pinsk.
Moshe Schmuel was born in 1836 and died in 1881.
Does this fit anyone's family history?
Andrew Meyers
Queens, NY
--------------------------------------------------------
It has just come to my attention that David Arthur CROLL, a well respected
Jewish policitican in Windsor and Toronto Canada is related to my extended
BEGUN - KROLL family from the Pinsk, Minsk, Krugloye, Teterin and Mogilev
areas of Belarus. David Croll's father was Hillel Cross and he had a
brother Cecil Croll, a lawyer, all from Toronto area.
I would like to make contact with anyone who knows about this family and/or
descendents. My goal is to find Hillel's parent's names to be able to link
them conclusively to my large Kroll family who emigrated to Brooklyn and the
Bronx.
Thank you for taking the time to read this.
Diane Jacobs
----------------------------------------------------------------------
I am searching for the Meltzer family from Minsk or Pinsk. My grandfather's
name was Abraham Meltzer, born in 1875. He came to the United States with
his wife Sarah, and 3 children: Beila, David and Phillip. The family says
they came about 1902, however, I can't find them on any ship's lists. They
also had another son,Adolf, born in 1910. Abraham's brother Joseph, born in
1868 also came about 1902. Any help would be appreciated.
Susan Meltzer Gonzalez
---------------------------------
I have only recently discovered that my great-grandparents came from
Pinsk. They were known in America as FIALCO, FIALCOW and FIALKOW.
My great-grandfather's name was Yehoshua Mordechai son of Yisrael,
HaCohain FIALKOV, born around 1862. I have a marriage contract he
made with Yaakov son of Yisrael, HaCohain FIALKOV to marry his
daughter Chasha, born around 1871. It appears that my great-
grandparents were cousins. Yehoshua Mordechai had a brother whose
name in America was Benjamin. Yehoshua Mordechai became Marcus
FIALCO in America and his brother became Benjamin FIALKOW and sometime
between 1910 and 1920 became Ben FALK. Marcus and Ben lived in
Cincinnati, Ohio.
I have been doing research in Latvia for another family branch for a
while, but I am completely new to research in Belarus. Any
information, data or advice you could pass along would be deeply
appreciated.
Bruce Dumes
--------------------
I'm searching for lost members of the Pollack family. Abraham Pollack
may have been born in Volkovitz or Pinsk, Poland. The family story
states that he went to Palestine to work the land sometime in the late
1880's. He was later diagnosed with malaria and was sent to England for
treatment. He met his wife, Sarah, in England where they married. They
had three children, Jacob (Jack), Israel (Walter), and Jean (Jennie). I
believe they lived in Hull, England for a while as evidenced by the
family pictures I have from a photography studio in Hull.
Abraham may have had a sister that stayed behind in England. I've been
told that there was an editor for a London newspaper in the 1970's with
the surname Pollack that was also a family member.
Abraham, Sarah and their children emigrated to the US in 1916 and
settled in the Bronx. I would appreciate if anyone with information on
this Pollack family contact me privately by email.
Thanks.

Monroe Ginsburg
-----------------
have now put online photographs of the Pinsk
Holocaust memorial that stands proudly at the Beth
Abraham Cemetery in New Jersey. There are also
photographs of the names that are inscribed on the
memorial that you can look at. I am hoping that
someone will transcribe these Hebrew names into
English for me so that I may list them for folks who
visit the page and do not read Hebrew. The photos with
the names are in thumbnail form, so just left-click on
them to see the regular-sized images. There is also a
webpage that displays the memorial for Baranavichy in
Belarus. There will be a page for a Shereshevo
memorial soon.
On my site I also have a unique surnames list from two
of the fourteen extant Pinsk society plots in New York
and New Jersey. This list will only tell you if
someone with a particular surname is buried in these
two Pinsk plots. If you need more info about anyone on
the surname list, please let me know.
The URL to my site is listed under my name below. All
that I have mentioned above can be accessed via my
museum's Site Map page and its Cemetery Project main
page.
Regards,
Steve Lasky
www.museumoffamilyhistory.com
-------------------------
My husband's grandmother was Anna PIKMAN/PICKMAH who was one of 10 children
born to ZelikMy husband's grandmother was Anna Pikman/Pickman who was one of 10
children born to Zelik PIKMAN and his wife Goldie. Anna was from a small
town which no longer exists - it was Pohost/Pogost and was near Pinsk. Zelik
was a teacher and among his students were the SHMIDMANS (who were related to
Anna somehow).
Anna was born in 1895 and came to New York in 1911 to live with her aunt and
uncle (the "KARTELLS"). She had a brother & sister who had already moved to
New York, but I don't know their given names. The sister married a man named
WEISS and they had a son Lou in 1918. The sister then died during the flu
epidemic in 1919 and the baby went to live with Anna who was by then
married and
living in Brooklyn (1920 census).
We're told that Anna had two brothers who disappeared during World War I.
Has anyone heard of a teacher named Zelik PIKMAN? Or related to this family?
And who are the SHMIDMANS? My husband's uncle mentioned them, but don't
know anything about them.
I have checked the website - JGFF and the Belarus database but the only thing
I have found is Zelik PIKMAN on the 1906 voting list in Pinsk - I believe it
was the same Zelik, but no way to know for sure at this point.
LaVerne Markart
--------------------------
To all who have volunteered to help with the Pinsk Ghetto List, and to
those of you in the Belarus SIG who are interested in our progress...
After some recent correspondence and phone conversations with Michael
Haley Goldman at the Holocaust Museum, I received today in the mail a
package containing photocopies of the Pinsk Ghetto List. We are ready
to begin. If you have volunteered to help with the list and haven't
sent me your "land mail" (as opposed to email) address, please do so
now. If you can't remember if you sent it to me, go ahead and resend.
I will be speaking to Mr. Goldman, hopefully this week before Shabbat,
in order to get any last minute instructions, and will then begin
mailing out the lists to the volunteers to begin the encoding.
Mr. Goldman had previously sent me a sample page from the list, which I
attach here.
Linda S. Birnbaum
------------------------
Talking with a second cousin I learned a little more about the family of
my grandfather Isaac PLOTNIK, from PINSK (now Belarus). So now is the
time to share this information with you, maybe someone out there has
any knowledge or a hint that can assist me.
Here goes: My grandfather had three brothers and a sister (Mordechai
Michael, David, Baruch Mendel and Slava/Sylvia respectively) My request
for help regards two of his brothers.
David PLOTNIK, was a carpenter. He moved from Pinsk to Vilna. He had two
sons, Ephraim (that emmigrated to the US and was the only to survive the
Holocaust) and Menashe.
Baruch Mendel PLOTNIK, owned a candy store in Pinsk. He was married but
we do not know for sure the name of his wife, nor if they had any
children. He (and probably his family too) perished in the Holocaust.
Many thanks in advance to everyone for any comment.
Mario Schejtman
--------------------------------------
After finally discovering the names of my maternal Grandparents, from
Svarycewicze,[near Pinsk], Belarus. I have been unable to go back any
further. My Mother said that her Grandfather was a Rabbi, but not which
Grandfather ! Her parents' names were : Shaindle MODACK and Isaac DRYZUN.My
question to the group is : Does anyone know of a book , or list of Rabbis
in Belarus, covering the time-period
1850-1920 ?
Evelyn Doberstein
---------------------------
From Pinsk: About Weizmann, Shertock, Golda, Moshe Kol, Gvati, Meshel, the Torah
Tmimah, George Weiss .....etc........ I heard
THREE PINSK ORPHANAGES
David Sandler, an ex South African who now lives in Perth, Western
Australia, has completed two volumes on Arcadia, the Jewish Orphanage
in Johannesburg - ARC 100 YEARS OF MEMORIES. ARCADIA - SOUTH AFRICAN
JEWISH ORPHANAGE 1906 - 2006. He then proceeded to complete a third
volume THE OCHBERG ORPHANS AND THE HORRORS FROM WHENCE THEY CAME which
describes the rescue of 181 Jewish orphans from the Pale of Settlement
in 1921 by Ochberg. He brought the orphans to South Africa where they
were housed in the care of Jewish orphanages in South Africa.
He is now in the process of trying to find anyone who may have had
ancestors from orphanages in Pinsk who would have been aged between
two and 14 in 1921 with names the same or similar to those listed
below.
THREE PINSK ORPHANAGES - 1921 - 1939
In 1917 a man by the name of Alter Bobrow, together with his friends
from a Zionist Socialist Group, helped establish three Pinsk
orphanages in the devastated city. They were supported by the North
American Joint Distribution Committee. Pinsk, a border town during the
Great War (1914-1918) was devastated in the battles between advancing
and retreating German and Russian soldiers.
In 1921 Isaac Ochberg the representative of the South African Jewish
Community selected 30 children from the three orphanages in Pinsk and
took these to South Africa via Danzig and London. Alter Bobrow was
asked to help Isaac Ochberg and he accompanied the children to South
Africa and helped looked after them.
When Alter Bobrow left Pinsk he was given two exercise books with 135
letters from his pupils and his colleagues. He also had photos of the
three orphanages with the names of the children and colleagues written
on the back of two of the photos.
Below are the names on the back of the two photos and the names of the
children and colleagues who wrote the letters. The numbers following
the names are references to letters written in Hebrew or Yiddish. If
anyone would like to volunteer to translate the letters from Yiddish
to English, please contact David Sandler - see contact details below.
While I understand that most of the children listed below would have
perished in the Holocaust I am hoping to make contact with the
descendants of those who may have survived.
PINSK ORPHANAGE ONE - NAMES WRITTEN ON THE BACK OF PHOTO
Lev Debranshka, Trina Dan, Dvorah Dolinki, Leah Dorfman, Rafel
Dorfman, Moshe Dubovsky, Miriam Epstein 119, Fellta Feldman, Chava
Fridel, Mental Frozinski, Shindel Golshmit, Yitshak Gunzer, Chaya
Gute, Fridel Kagan, Dina Kaplan 84, ??? Kantsfleski, Ruzi Kimstein,
Miryam Knovits, Dvorah Lev, Peshe Lev 62, Mordechai Levin, Rania
Levin, Shmuel Lichtan, Chana Lichtinson, Chana Lichton, Chana Rivka
Litvin 58, Malka Litvin 81, Mindel Merzel, Bashe Rachel, Rashke Rubin,
Bashra Rubinshtein, Leah Rufershtein, Rachel Safanznik, Toybel
Safolznik, Gushagot Shabat, Natee Shulman 75, Bracha Trushkin, Sarah
Trushkin, Rosa Tshiz, Feigal Tzrel 69, ??? Yochbad, Elman Yosef and
Ginl Zavodinkov.
PINSK ORPHANAGE TWO - NAMES WRITTEN ON THE BACK OF PHOTO
Sheindol Aranov, Moshe Avizonshtein, Nachum Avizonshtein, Hillel
Bakaltovich, Chaim Bammel, Feigel Bammel, Asher Bantshik, Nramia
Basalitz, Fesh Bashevits, Benzalel Beliak, Label Belozavski, Rivka
Bokliar, Necham Borman, Baruch Bregman, Hershil Bregman, Kalman
Bergman, Shachar Bregman, Yakov Chomsky 7 & 105, Sarah Cosmonisim,
Feivish Dalinka, Chana Dingman, Masha Dllaron, Vair (Leah?) Dorfman
61, Motil Eizenberg, Galda Epshtein, Gdala Epshtein, Chashar
Fagelevits, Moshe Faladavonik, Yosef Feldman, Rubin Fikman, Yehudit
Fikman, Harshel Friedman, Izik Friedman, Itshak Abraham Fritman,
Yehuda Gelfond, Shmuel Chaim Gorbooz, Avigdor Gotlieb, Esther Grets,
Moshe Grets, Rachel Grooshka, Fina Haltsman, Yacob Helshtein, Leah
Izluk, Eliezer Kagan, Henia Kagan, Itshak Kantor, Shmuel Katsenelson,
Elke Katsenelson, Aharon Mosel Klempert, Abraham Knoosolnits, Bashke
Knoosolnits, Zlota Knorvats, Nechama Kole, Gishel Koodnats, Leibel
Kushner, Leibel Lamish, Chira Levin, Yacov Leviton 110, Fridol
Liberman, Tsat Liberman, Yosel Liberman, Golda Libshovsky, Luby
Lidvinsky, Hene Lubashavsky, Genia Luria, Gershon Luria, Moshe Lydrok,
Mirle Mailin, Chaya Menasha, Asher Mashal 112, Elke Melamed, Tova
Migdalovits, Chaim Sheme Pinsker, Otke Pinsker, Dov Portnoy, Nechama
Portnoy, Regina Rabinomit, Michael Relznesi, Chaya Rimski, Aharon
Ruchalnki, David Rubin, Malkia Rubin, Yente Rubin, Henia Shifon, Dov
Silberman, Daniel Tarantsa, Rivka Teitelbaum, Yacob Telman, Chana
Toranda, Chaim Torkin, Arye Tsifarshtein, Chava Tsnovats, Arye
Tsoofershtein, Itshak Tsoofershtein, Miriam Tsoofershtein, Seindil
Tsoofershtein, Toybel Tsoofershtein, Mendel Tsutski, Leah Vaks, Mile
Vegman, Zisl Vinik 10, Yehudit Werman 115, Chaya Yerlansky, Fruma
Yerlinkski, Malka Zilberman, Arye Zuberman and Sara Zuberman.
COLLEAGUES Shepshge Bragton, Breshge Gefy, Nechama Helper, Aharon
Kaperplinski, Rachel Koosk, Toybe Kosol, Libentor, Sarah Raskot, Tina
Rubin, Tina Zil and P. Kantor - Headmaster 106.
LETTERS FROM PUPILS AND COLLEAGUES GIVEN TO ALTER BOBROW WHEN HE LEFT
IN PINSK WITH THE OCHBERG ORPHANS IN 1921
R Appelman 139, Tzaba Asselman 5, Peshe Bassevitz 88 & 107, Berle
Butenski 77, Feigle Calb 8, Tzeitle Cletzev 76, Lana Cohen 28, Rachel
Cohen 24, Shara Cohen 34, Gittel Davidovsky 55, Lezate Davidovsky
53, Shashke Davidovsky 52, Liba Denenberg 35, Shifra Eiberman 32,
Tzachzekit Eidel 12, Esther Eisenberg 37, Rachel Eizenberg 42, Zeev
Ben Meir Eizenberg 2, Itzhak Federman 4, Yehudit Fedeman 43, Chaya
Feldman 20, D Ferman 135, Malka Fiska 14, Masil Gorshtein 16, Gishe
Gutshabes 57, Miriam Kalton 33, Yache Kantzepleskis 83, Tvi Katzelson
41, Chaya Freidle Klempert 72, Bantze Klepatz 78, Shoshana Kuraz 27,
Zeev Kushner 19, Chaya Lemoosh 29, Devushka Lev 121, Rony Levine 117,
Shalom Levine 118, Chaim Lieberman 6, Tzarne Lieberman 87, Golde
Livshovsky 114, Reva Lutzki 38, Nechama Lutzkit 26, Bashe Rachel
Lubertan 63, Gitle Mann 86, David Marutetky 18, Rachel Pakatz 23,
Bashe Patzekin 80, Chana Peikov 25, Zipora Platnik 15, Gittel Poratz
3, G Poraz 141, Lea Rappaport 40, M Retzvi 109, Chanan Sapasznikov
149, Chazke Segalovitz 113, Ethel Shelkman 22, Chana Sherman 17,
Rachel Shertok 31, Hende Shifman 108, Natee Shulman 75, Tvi Shvetz 9,
Malka Shvetz 30, Yosef Sopalnik 82, Tzirel Sopatznick 68, Bracha
Tiroshek 59, Berle Triguch 79, Yaakov Turkenitz 73, Shena Tzelizika
39, Chaya Tzevin 64, Faigl Tzrel 69, Dasha Yosselman 147, B Zilberman
116 and Chaya Zilberman 111.
If you have an ancestor from Pinsk who would have been aged between 2
and 14 in 1921 (born say 1907 to 1919) with a name the same as or
similar to one of those listed above please make contact
with David Solly Sandler on sedsand@iinet.net.au. He plans to compile
a book on these three orphanages which will include all the letters
with translations, the family histories of any survivors he can make
contact with and any further information he can gather.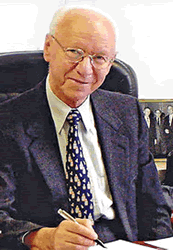 September 18th, 2011
Eli Zborowski, a survivor of the Holocaust who made it his mission to ensure that it would never be forgotten, founded an American organization to support Israel's official Holocaust memorial and raised more than $100 million for it, died on Monday in Queens. He was 86.
e
George Berman
Eli Zborowski, a Holocaust survivor, founded the American Society for Yad Vashem.
The cause was cardiac arrest, said Rochel Berman, who, with her husband, George, published a biography of Mr. Zborowski last year.
Mr. Zborowski (pronounced zbor-AHV-skee) started the American and International Societies for Yad Vashem, the Israeli memorial, in 1953, a year after he arrived in the United States as a penniless Jewish immigrant from Poland with little knowledge of English. He was the founding and only chairman of what was — in fact, if not in name — a single organization. Under him, it grew to 50,000 members.
Mr. Zborowski served on the board of the memorial and helped come up with the idea, which it adopted, of remembering communities, not just individuals, lost in the Holocaust.
He also founded the American Federation of Jewish Fighters, Camp Inmates and Nazi Victims, and was one of six survivors — and the only American — to greet Pope John Paul II during his visit to Yad Vashem in 2000.
Mr. Zborowski and his wife, Diana, established a chair in Holocaust studies at Yeshiva University in Manhattan in 1976, the first such professorship in the country. He started a newspaper on Holocaust issues, Martyrdom and Resistance, which has been published for 37 years.
Presidents Jimmy Carter and Ronald Reagan appointed him to the United States Holocaust Memorial Council, and Mayor Edward I. Koch named him to the New York Permanent Commission on the Holocaust. Among many campaigns, he fought for compensation for victims of Nazi medical experiments and the return of property seized from Jews during World War II.
He also started a program for younger members of the American Society for Yad Vashem, mainly descendants of survivors, to keep the memory of the Holocaust alive.
Eliezer Zborowski was born in Zarki, Poland, on Sept. 20, 1925 (to Zisel and Moshe) . In 1939, at the war's beginning, Nazis confined his family in a ghetto they created for Jews. Taking advantage of his fair complexion and forged papers identifying him as a gentile, Mr. Zborowski acted as a courier between the ghetto and other Poles opposed to the occupiers.
When the Nazis' program to exterminate Jews and other minorities began in 1942, the ghettos were liquidated. Mr. Zborowski and his family were hidden by Christians in an attic and a chicken coop. His father was separated from the family and shot while trying to escape from a German work camp.
After the war, Mr. Zborowski helped smuggle Jews to British-ruled Palestine. In one instance, he encountered a train car containing 100 teenagers and took them to safety at a camp for displaced persons in Germany. At the camp, he set up a youth center to care for them, and it became a model for others set up at other camps. He then helped the youths immigrate to what was soon to be Israel.
Mr. Zborowski had planned to settle in Israel himself, but he had met and married Diana Wilf, whose asthma was aggravated by the Middle Eastern climate. They came to New York in 1952, and Mr. Zborowski imported camera parts from Germany, then began trading in currency. The currency business took him to Latin America, where he set up a company to distribute Sheaffer pens. He later expanded into other businesses, including commercial real estate in New York and the distribution of cellphones in Latin America.
In their biography, "A Life of Leadership: Eli Zborowski," the Bermans said Mr. Zborowski had taken up the cause of Holocaust remembrance because he believed that few survivors wanted to talk about it and that few Americans wanted to hear about it. An early success in the mid-1950s was getting Jewish schools to require Holocaust studies. He became involved in Yad Vashem during visits to his sister in Israel.
Mr. Zborowski's wife, Diana, died in 2004. He is survived by his second wife, the former Elizabeth Mundlak, who is also a Holocaust survivor; his daughter, Lilly Zborowski Naveh; his son, Murry; his brother, Marvin; his sister, Tzila Listenberg; and seven grandchildren. He lived in Forest Hills, Queens.
In 2000, when the pope visited Yad Vashem, some criticized him for declining to comment directly on the church's silence about Hitler's crimes during the war. But Mr. Zborowski complimented the pope, saying the visit was a momentous gesture.
Mr. Zborowski's biographers said his magnanimity extended even to German soldiers who had been captured after the war and had nothing to eat or drink. He gave them water.
"I don't know why I did it," Mr. Zborowski said, "and to this day I do not regret it."
Is it possible there is family left in Pinsk? Can you tell me how to research?
my father (now deceased) was Moisha Schwartz born in 1888 in Pinsk. Immigrated around 1904 age 16 to escape the Russian conscription for WW1.
Dad's fathers name : Harry
Mothers Name: Ida
Arlene Lewetzow
alewetzow@earthlin
Dear Arlene,
Thank you for writing. Your father could not have left Pinsk because of the First World war that did not start until 1914. C 1904 was the war of Russia with Japan which started in 1905. Regarding the first names of the parents; Most likely it is Hirsh ( not Harry/ an English name) and Ita/ Itel. Most Jews who lived in Pinsk in 1941 were killed by the Nazis. The few who survived mostly left Pinsk after the war. Search the Yad Vashem list of those Shwartz family members from Pinsk who perished. Check the names of the family members who gave the reports
Shwartz, Bashka Bashka
1899
Drohichin, Poland‎
Page of Testimony
Murdered
Sorc, Etil Etel

Pinsk, Poland
Page of Testimony
Murdered
Svarc, Chaja Khaia
1896
Pinsk, Poland‎
Page of Testimony
Murdered
Svarc, Michaeil Mikhael
1910
Pinsk, Poland‎
Page of Testimony
Murdered
Svarc, Mila
1912
Pinsk, Poland‎
Page of Testimony
Murdered
Svarc, Etul Etel
1915
Pinsk, Poland‎
Page of Testimony
Murdered
Svarc, Zeev Zeiv
1894
Pinsk, Poland‎
Page of Testimony
Murdered
Svarcs, Ester
1918
Pinsk, Poland‎
Page of Testimony
Murdered
Szorc, Chawa Khava

Pinsk, Poland
Page of Testimony
Murdered
Szorc, Ester

Pinsk, Poland
Page of Testimony
Murdered
Szorc, Mirla Mirla

Pinsk, Poland
Page of Testimony
Murdered
Szwarc, Syma Sima
1912
Pinsk, Poland‎
Page of Testimony
Murdered
Szwarc, Yaakov

Pinsk, Poland‎
Page of Testimony (PDF)
Murdered
Szwarc, Syma

Pinsk, Poland
Page of Testimony (PDF)
Murdered
Szwarc, Judif

Pinsk, Poland‎
List of persecuted p ...

Szwarc, Iaska

Pinsk, Poland‎
Page of Testimony
Murdered
Szwarc, Chana

Pinks, Poland‎
List of persecuted p ...

Szwarc, Iaska

Pinsk, Poland
Page of Testimony (PDF)
Murdered
Szwarc, Iaska

Pinsk, Poland‎
Page of Testimony (PDF)
Murdered
Szwarc, Hersz
1919
Pinsk, Poland‎
List of persecuted p ...

Shvertz, Fishel

Pinsk, Poland‎
List of persecuted p ...
Murdered
Shvartz, David

Pinsk, Poland‎
List of persecuted p ...
Murdered
Shvartz, Genya

Pinsk, Poland‎
List of persecuted p ...
Murdered
Shvartz, Idel

Pinsk, Poland‎
List of persecuted p ...
Murdered
Shvartz, Ruvin

Pinsk, Poland‎
List of persecuted p ...
Murdered
Shvartz, Volf

Pinsk, Poland‎
List of persecuted p ...
Murdered
Shvartz, Iosif

Pinsk, Poland‎
List of persecuted p ...
Murdered
Shvartz, Zkhariya

Pinsk, Poland‎
List of persecuted p ...
Murdered
Shvartz, Mikhel

Pinsk, Poland‎
List of persecuted p ...
Murdered
Shvartz, Litman

Pinsk, Poland‎
List of persecuted p ...
Murdered
Shvartz, Litman

Pinsk, Poland‎
List of persecuted p ...
Murdered
Shvartz, Etlya

Pinsk, Poland‎
List of persecuted p ...
Murdered
Shvartz, Sheyna Khaya

Pinsk, Poland‎
List of persecuted p ...
Murdered
Shvartz, Iosif

Pinsk, Poland‎
List of persecuted p ...
Murdered
Shvartz, Leya
1923
Pinsk, Poland‎
List of persecuted p ...
Murdered
Shvartz, Khaya

Pinsk, Poland‎
List of persecuted p ...

Shvartz, Ester
1899
Pinsk, Poland‎
List of persecuted p ...

Shvartz, Khatzkel
1915
Pinsk, Poland‎
List of persecuted p ...

Shvartz, Ber

Pinsk, Poland‎
List of persecuted p ...
Murdered
Shvartz, Volf

Pinsk, Poland‎
List of persecuted p ...
Murdered
Shvartz, Genya

Pinsk, Poland‎
List of persecuted p ...
Murdered
Shvartz, David

Pinsk, Poland‎
List of persecuted p ...
Murdered
Shvartz, Zkhariya

Pinsk, Poland‎
List of persecuted p ...
Murdered
Shvartz, Ida

Pinsk, Poland‎
List of persecuted p ...
Murdered
Shvartz, Iosif

Pinsk, Poland‎
List of persecuted p ...
Murdered
Shvartz, Litman

Pinsk, Poland‎
List of persecuted p ...
Murdered
Shvartz, Mikhel

Pinsk, Poland‎
List of persecuted p ...
Murdered
Shvartz, Ruvin

Pinsk, Poland‎
List of persecuted p ...
Murdered
Shvartz, Sulamit

Pinsk, Poland‎
List of persecuted p ...
Murdered
Shvartz, Sheyna Khaya

Pinsk, Poland‎
List of persecuted p ...
Murdered
earch the list of those who perished;