Ralph Lauren (born Ralph Lifschitz on October 14, 1939) is an American fashion designer and business executive.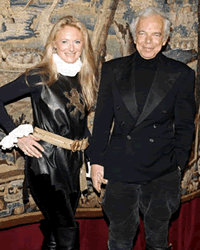 Ralph J. Lauren was born Ralph R. Lifshitz in the south of New York City borough of The Bronx to Ashkenazi Jewish immigrants Fraydl (Kotlar) and Frank Lifshitz, a house painter
From a very young age, he started working after school to earn money to buy suits that were stylish, expensive suits with an early preference for quality over quantity. His attire soon gave him a trendy reputation among his peers. Calvin Klein, a younger contemporary also lived in the same Bronx neighborhood, but it is not believed that they ever met while living there.
Lauren attended the Salanter Academy Jewish Day School followed by MTA (now known as the Marsha Stern Talmudical Academy), before ultimately graduating from DeWitt Clinton High School in 1957.[citation needed] In MTA Lauren was known by his classmates for selling ties to his fellow students. In his Clinton yearbook he stated under his picture that he wanted to be a millionaire.[citation needed] Other notables who attended this school include Burt Lancaster, Robert Klein, and Stan Lee. At age 16, Ralph's brother Jerry changed their last name from Lifshitz to Lauren (his brother Lenny remained a Lifshitz for many years).
He went to the Baruch College (of the City University of New York) where he studied Business and dropped out after two years. From 1962 to 1964, he served in the United States Army. After his discharge, in 1968, he married Ricky Low-Beer. He did not attend fashion school, but worked for Brooks Brothers as a salesman and then created the label Polo, a necktie business. He later purchased this name from his initial backer, Norman Hilton. Lauren's fashion empire has since grown into a billion-dollar business.
In 1984 he recreated the Rhinelander Mansion, a former home of the photographer Edgar de Evia and Robert Denning, into the flagship store for Polo Ralph Lauren. This same year de Evia photographed the cover feature story for House & Garden on the Lauren home Round Hill in Jamaica[1], which had formerly been the home of Babe and Bill Paley.[2]
In the middle of the 1990s, Polo Ralph Lauren became a public company, traded on the New York Stock Exchange under the symbol RL.
Ralph and his wife, Ricky, have three sons and a daughter: Andrew (b. 1969 in New York City, New York), David (b. 1971), Dylan Lauren (b. May 1974 in New York City, New York), and Marc Lauren (b. 1984 in Connecticut). David is an executive at Polo Ralph Lauren and Dylan owns and operates an upscale candy store, Dylan's Candy Bar, at 59th Street and Third Avenue in Manhattan. Ricky appeared on the television show Martha on December 10th 2006 and stated that her son Andrew is in the "movie business".
Lauren is the subject of several biographies (written by Jeffrey Trachtenberg, Michael Gross and Colin MacDowell).
Lauren is also well-known as a collector of classic automobiles. His cars have won best in show at the prestigious Pebble Beach Concours d'Elegance multiple times. His collection was recently displayed at the Boston Museum of Fine Arts.
By 2007 Ralph Lauren had over 35 boutiques in United States. There were 23 locations that carried Ralph Lauren Purple Label, including Atlanta, Beverly Hills, Boston, Chevy Chase, Chicago, Costa Mesa, Dallas Denver, Honolulu, Houston, Las Vegas, Manhasset, New York, Palm Beach, Palo Alto, Philadelphia, Phoenix, San Diego, San Francisco, Short Hills, Troy, and Washington DC.
In 2000, Ralph Lauren created the home section. It now has Lauren by Ralph Lauren collection and the fancier Ralph Lauren collection. The signature stores of the Ralph Lauren home collection are Madison Ave, Boston and Short Hills Mall.
There are 15 locations that carry Ralph Lauren Home, including Atlanta, Beverly Hills, Boca Raton, Chevy Chase, Chicago, Dallas, Denver, Manhasset, New York, Palo Alto, Phoenix, San Francisco, Short Hills, Southampton, New York, and Troy.
Grandfather of Ralph in Ellis Island records;
First Name:Schleime
Last Name:Lifschutz
Ethnicity:Poland - Hebrew
Last Place of Residence:Pinsk, Poland
Date of Arrival:Jul 14, 1920
Age at Arrival: 50y Gender: M Marital Status: W
Ship of Travel:Lapland
Port of Departure:Antwerp
Manifest Line Number:
0016
Aunt; First Name:Marime ( Miryam)
Last Name:Lifschutz
Ethnicity:Poland - Hebrew
Last Place of Residence:Pinsk, Poland
Date of Arrival:Jul 14, 1920
Age at Arrival: 20y Gender: F Marital Status: S
Ship of Travel:Lapland
Port of Departure:Antwerp
Manifest Line Number:0017father;
First Name:Borg
Last Name:Lifschutz
Ethnicity:Poland - Hebrew
Last Place of Residence:Pinsk, Poland
Date of Arrival:Jul 14, 1920
Age at Arrival: 16y Gender: M Marital Status: S
Ship of Travel:Lapland
Port of Departure:Antwerp
Manifest Line Number:0018
--------------------------
1930 census; Name: Frank Lifschitz
Home in 1930: Bronx, Bronx, New York
Age: 25
Estimated Birth Year: abt 1905
Birthplace: Poland, came to the country in 1920
Relation to Head of House: Head
Spouse's Name: Freda
Race: White
Occupation: house painter
Education: can read and write English- speaks Yiddish
Military service:
Rent/home value: rent for $44
Age at first marriage: 23 - wife was 22
Parents' birthplace: Poland
Household Members: Name Age
Frank Lifschitz 25
Freda Lifschitz 24 came to the country in 1921
Thelma Lifschitz 8 10/12 born in New York.
from Genuine Authentic by Michael Gross;
...When Grandpa Lifshitz arrived at Ellis Island in New York harbor in 1920, with two of his five children, a daughter Mary and a son Frank, who would become Ralph Lauren's father, he said they'd come from Pinsk. The first Jews in Pinsk -- which was at various times part of Lithuania, Poland, and Russia arrived in about 1500.
Pinsk was hardly nowhere. It was a center of Jewish population and produced renowned religious leaders and scholars. Jewish culture flourished in the Pale -- they spoke their own language, Yiddish; had their own schools and houses of worship; their own theater, literature, and newspapers -- despite the fact that Jews there had been insecure for centuries. Protests against their presence and confiscation of their property were the norm. Organized massacres of Jews were common enough at the turn of the twentieth century that they had their own name: pogroms. Through it all, the Jews persisted.
When the Pale became part of Russia, Jews were forced to urban areas and tiny villages called shtetls; among them were Ralph's great-grandfather Yosef Lifshitz and his wife, Leah Schmuckler, who had a son named Shlomo Zalman. Most Eastern European Jews had both secular and religious given names, and were also known by nicknames. Shlomo, aka Schleime and Shmuel, was born just before Christmas in, depending upon which of the contradictory documents you believe, 1870 or 1872. The Lifshitzes were Ashkenazim, German Jews, and their surname, too, came from someplace in present-day Germany or the Czech Republic, where there were towns named Licbschuetz, Leobschutz, and Liebeschitz. One of them was the source of Grandpa Lifshitz's name, which means "loving support" in German.
Though Ralph Lauren would drop it, Lifshitz is a Jewish name of renown. The first prominent Lipschuetzes were rabbis in sixteenth-century Poland -- and their line is unbroken to this day. Descendants of the family used many spelling variations -- and so did other Jews who were forced by law to assume Christian-style hereditary surnames beginning in the late eighteenth century when the Hapsburg ruler Joseph the Tolerant sought to integrate them into the European society.
How did Yosef Lifshitz get his name? It's hard to say. Surnames were often assigned by Jewish administrators. If Yosef was a typical case, his father would have adopted the name at the start of the nineteenth century, when imperial Russia decreed that all Jews had to take surnames -- and stick with them. "Perhaps, some Lifshitz are indeed unrelated to the rabbinical families," says Alexandre Beider, an authority on Jewish names. "But I can hardly see how a person unrelated to these rabbinical families could adopt such glorious names without being ridiculed by other Jews."
Ralph Lauren's grandfather Shlomo Zalman Lifshitz bore the exact same name as the first rabbi of Warsaw, circa 1821. He could also be a descendant of the sixteenth-century rabbis Moses ben Isaac Lipschuetz of Gdansk or Isaac Lipschuetz of Poznan. But then again, young men born in the Czarist empire would sometimes change their names in order to avoid compulsory conscription into the Russian army. Who is to say? Ralph Lauren may not be the first in his family to reinvent himself into a better life.....through his mother, who was born Fraydl Kotlar, he is related by marriage to a Jewish dynasty that was considered aristocratic .....Ralph's grandpa, Sam Lifshitz, né Shlomo Zalman Lifshitz -- .
... Ralph's oldest sibling, his sister Thelma Fried, by all accounts the most traditional and family-oriented member of his brood, is said to know more. But Lauren, who let all but a few friends and business associates give interviews for this book, wouldn't let her speak. "He doesn't want me to discuss our family -- not that we're ashamed of anything," she says in a brief phone call. Before declining an interview, Thelma says she knows very little and expects that Ralph knows even less.....
The foregoing is excerpted from Genuine Authentic by Michael Gross
http://www.iht.com/articles/2007/05/14/style/fralph.php
MOSCOW: This powerful, busy city is far from the small farm in Belarus where Ralph Lauren's green-eyed mother grew up; and from the town of Pinsk, where his father, as a stripling, dodged the soldiers trying to grab him for the White Russian army, as he ran home with a jug of milk.
Yet as the quintessentially American designer is surrounded by the Kremlin domes on this crystal Monday morning, Lauren knows that he is, at 67 and in his 40th year in fashion, coming home.
"It was very exciting to come to Russia - I grew up hearing about it," says Lauren, who spent the weekend sightseeing in St. Petersburg, but is now enjoying the "energy" and "buzz" of Moscow.
I would like to know more about my history; at some point you ask: where did I come from?" he says. "There is a connection to my heritage - but where I grew from is foreign to me.".....
.
....Yet the Russian visit is bittersweet to Lauren, because he was discouraged from going down to Pinsk to dig up his past. But then he remembers taking his kids to see the family home in the Bronx, looking out on the schoolyard where his mother would appear with a cup of milk as he played ball - and found that sweet memories are sometimes better left alone.
"I would like to have seen what my parents lived through and saw with their own eyes," says Lauren. "You are a product of what you grow up with. My parents were very European. On some levels I connect more with Europe than America. I definitely have a message: clothes have history and romance. It is not about glitz, but about quality, beautiful things and understatement."
But what about the new Russia, the one that is super glitzy with its frenzied acquisitions and consumers greedy for goods unattainable in the Soviet era?
"It's not all about heritage - it's about now," he says. "They are fashion-conscious and there is a hip new Russia that is about consumption. But the thing I find very interesting is the refinement of Russian taste. There is a history behind Russia. It has a culture."
He senses an affinity with young Russians, especially since he found that more than 50 percent of models he picked for his last show were from the former Soviet Republic.
"It must be my Russian blood - they look familiar," says Lauren, remembering his mother and her delicate features.
The Lauren family - including Ralph's brother Jerry, who expressed his overwhelming excitement at being in Moscow - are savoring Russia, past and present.
"All of a sudden it became very real and very emotional," says David Lauren, describing how he walked through the flea market looking at old Russian memorabilia.
"I think I'm caught somewhere between the humorous interpretation of Woody Allen in 'Love and Death' and a very cultured people," he says, referring to the 1975 movie with Dostoyevsky as inspiration and Prokofiev on the soundtrack. "As I landed I played the Beatles 'Back in the U.S.S.R.' on my iPod. I wanted to celebrate going to this country - At the age of 16, his brother Jerry changed their name into "Lauren", while his other brother Lenny remained a "Lifshitz" for many years.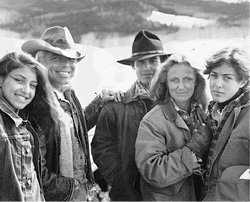 His children are: sons, Andrew Lauren, born in 1969, and David Lauren, born in October 1971, and daughter, Dylan, born in May 1974.