Ryszard Kapu?ci?ski
From Wikipedia, the free encyclopedia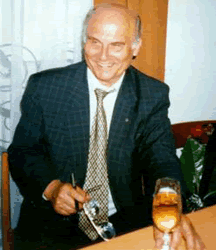 Ryszard Kapu?ci?ski
Kapu?ci?ski pictured in May 1997
Born March 4, 1932(1932-03-04)
Pi?sk, Poland
(now in Belarus).
Died January 23, 2007 (aged 74)
Warsaw, Poland
Occupation historian & journalist
Ethnicity Polish
Notable credit(s)
[Ryszard Kapu?ci?ski Official website]
Ryszard Kapu?ci?ski (IPA: ['r??ard kapu?'?i?ski] ); March 4, 1932 - January 23, 2007) was a popular Polish journalist, author, publicist and poet, at both home and abroad. Born in Pi?sk, a city formerly located in the Kresy Wschodnie (Eastern Borderlands) of the Second Polish Republic, and now belonging to Belarus, Kapu?ci?ski is generally thought of as the leading Polish journalist of his time.
Third World reportage and other work
During the years from 1954 to 1981 Kapu?ci?ski was a member of Polish United Workers' Party. In 1964, after honing his skills on domestic stories, he "was appointed by the Polish Press Agency (PAP) as its only foreign correspondent, and for the next ten years he was 'responsible' for fifty countries." [1] Since 1965 he traveled around the developing world and reported on wars, coups and revolutions in Asia, Europe and the Americas; including the Football War a "bloody, scarcely believable conflict that Honduras and El Salvador waged in 1969 over a pair of soccer games."[1] When he finally returned to Poland, he had lived through twenty-seven revolutions and coups, been jailed 40 times and survived four death sentences [2]. In the English speaking world, Kapu?ci?ski is best known for his reporting from Africa in the 1960s and 1970s, when he witnessed first-hand the end of the European colonial empires on that continent.
[] Author
From the early 1960s onwards, Kapu?ci?ski published books of increasing literary craftsmanship characterized by sophisticated narrative technique, psychological portraits of characters, a wealth of stylization and metaphor and unusual imagery that serves as means of interpreting the perceived world. Kapu?ci?ski's best-known book, The Emperor, concerns itself with the decline of Haile Selassie's anachronistic regime in Ethiopia. Shah of Shahs, on the fall of Mohammad Reza Pahlavi, the last Shah of Iran, and Imperium, about the last days of the Soviet Union, have enjoyed similar success.[3]
Kapu?ci?ski was fascinated not only by exotic worlds and people, but also by books: he approached foreign countries first through literature, spending months reading before each trip. He was skilled in listening to the diverse people he met, but he was also capable of "reading" the hidden sense of the scenes he encountered: the way the Europeans moved out of Angola, a discussion regarding alimony in the Tanganyikan parliament, the reconstruction of frescoes in the new Russia—he turned each of these vignettes into a metaphor of historical transformation. This tendency to process private adventures into a greater social synthesis made Kapu?ci?ski an eminent thinker, and the volumes of the ongoing Lapidarium series are a fascinating record of the shaping of a reporter's observations into philosophical reflections on the world and people.
In Poland, Kapu?ci?ski was also known as a poet. In November, 2007, Biblioasis published Kapu?ci?ski's selected poems in English, I Wrote Stone, bringing this aspect of Kapu?ci?ski's work to an English audience for the first time.
[] Praise and honours
Salman Rushdie wrote about him: "One Kapu?ci?ski is worth more than a thousand whimpering and fantasizing scribblers. His exceptional combination of journalism and art allows us to feel so close to what Kapu?ci?ski calls the inexpressible true image of war".[4]
Although he was frequently mentioned as a favorite to win the Nobel Prize in literature, it was never awarded to him. In a 2006 interview with Reuters, Kapu?ci?ski said that he wrote for "people everywhere still young enough to be curious about the world." This quote from Kapu?ci?ski may be the most important. Introducing him into college level courses provides another view to those students about the world of the Cold War and the role of dictators, "revolutions" and the US and Soviet's attempts to influence the world. He died on January 23, 2007, following a grave illness.[5] Since his death he has been offered many epitaphs in the press, such as, "The master of modern journalism"[6], "Translator of the World" and "The Greatest Reporter in the World"[7], "Herodotus of our times"[8], "Third World chronicler"[9][10].
[] Criticism and accusations.
Specific elements of Kapu?ci?ski's writings were questioned[11].
In May 2007, the Polish edition of Newsweek magazine revealed that Kapu?ci?ski worked for the Communist Polish secret service from 1965 to 1972 or 1977, and that he had reported on several of his colleagues [12]. However according to the files kept by the Polish Institute of National Remembrance (IPN) Kapuscinski's activities for the secret service while working as a foreign correspondent never brought anyone to harm. Certain journalists feel that the leaking of this report is aimed to make him lose all his prestige. According to Italian daily "La Stampa" accusation over Kapuscinski is an example of arrogance[13].
[] Selected Bibliography
[] Works which have been translated into English
* Another Day of Life (Jeszcze dzie? ?ycia) (1976)
* The Soccer War (Wojna futbolowa) (1978)
* The Emperor: Downfall of an Autocrat (Cesarz) (1978)
* Shah of Shahs (Szachinszach) (1982)
* Imperium (Imperium) (1993)
* The Shadow of the Sun (Heban) (2001)
* Travels with Herodotus (Podró?e z Herodotem) (2007 [4])
* Encountering the Other: The Challenge for the Twenty-First Century (Spotkanie z innym jako wyzwanie XXI wieku) (2007 [5])
* I Wrote Stone (2007)
[] Works currently unavailable in English
* The Polish Bush (Busz po polsku) (1962) — A collection of early essays.
* Black Stars (Czarne gwiazdy) (1963) — A book which focuses on Kwame Nkrumah and Patrice Lumumba.
* The Kirghiz Dismounts (Kirgiz schodzi z konia) (1968) — Essays and articles about the (then) Asian and Caucasian Soviet Republic.
* If All Africa... (1968) — A collection of essays and articles about Africa.
* Why Karl Von Spreti Died (Dlaczego zgin?? Karl von Spreti) (1970) — A book about Guatemala during the 1960s and 1970s, in the background of the assassination of Karl von Spreti.
* Christ With a Rifle on His Shoulder (Chrystus z karabinem na ramieniu) (1975) — A book which focuses on the partisan movements in Africa, Latin America and Middle East.
* An Invitation to Georgia (1983)
* The Notebook (Notes) (1986) — A collection of the author's poetry.
* Lapidarium (1990)
* Lapidarium II (1995)
* Lapidarium III (1997)
* Lapidarium IV (2000)
* Out of Africa (2000) — The author's first photo album.
* Lapidarium V (2002)
* A Reporter's Self Portrait (Autoportret reportera) (2003) — A collection of interviews with and quotes by Kapu?ci?ski.
* Lapidarium VI (2006)
[] Journal contributions by issue
* Granta 15: The Fall of Saigon
* Granta 16: Science
* Granta 20: In Trouble Again
* Granta 21: The Story-Teller
* Granta 26: Travel
* Granta 28: Birthday Special!
* Granta 33: What Went Wrong?
* Granta 48: Africa
* Granta 73: Necessary Journeys
* Granta 88: Mothers
[] Notes and references
1. ^ a b The Soccer Wars (excerpt from jacket), at Granta
2. ^ Fellow Travelers By Donald Morrison
3. ^ Institute of Books
4. ^ [1] - Gazeta Wyborcza Internet edition, in Polish
5. ^ Polish chronicler of Third World Kapuscinski dies – International Herald Tribune, (Jan. 23, 2007)
6. ^ (English) "The Best Journalist in the World?", Europe Today, BBC (2007-01-24). Retrieved on 2007-01-25.
7. ^ (German) Claus Christian Malzahn (2007-01-24). "Der beste Reporter der Welt", Der Spiegel. Retrieved on 2007-01-25.
8. ^ (German) F.A.Z. (corporate author) (2007-01-24). "Ein Herodot für unsere Zeit", Frankfurter Allgemeine Zeitung. Retrieved on 2007-01-25.
9. ^ (English) "Third World chronicler Kapuscinski dies", CNN.com, CNN (2007-01-23). Retrieved on 2007-01-25.
10. ^ (German) kai/dpa (2007-01-23). "Polnischer Autor Kapuscinski gestorben", Der Spiegel. Retrieved on 2007-01-25.
11. ^ [2] - Times Literary Supplement "Tropical baroque, African reality and the work of Ryszard Kapu?ci?ski", by John Ryle, 27 July 2001
12. ^ Newsweek Polska Teczka pisarza
13. ^ [3] - "La Stampa": Zarzucanie Kapu?ci?skiemu wspó?pracy z SB to przyk?ad arogancji, by Gazeta Wyborcza, 13 January 2008, in Polish