Joseph Shreberk (using google translation )
unedited
Born in Postav (near Vilna), (12/29/1896).
son of Shakhna and his second wife; Malka nee Dobkin.
He studied in the heder and later in a yeshiva. he was greatly influenced by the Haskala ( enlightenment) and Zionism.
His much older brother Shlomo founded in 1900 in Vilna a publishing house and began publishing Hebrewtextbooks etc and Joseph joined him in his very young age (see Volume IV, page 1681 )
he was a member of Tzeirei Zion in Vilna.
On the Month of April 1914 he came to Israel.
Worked as a pioneer in agriculture and joined the Jewish Legion (1918) among the first to volunteer.
With his release from the Battalion, he and two others in the battalion: Joshua Chechik and Mordecai Newman, opened a bookstore in Jerusalem called "culture" - which soon became a center for the spiritual and well educated in Jerusalem.
In 1920 was among the defenders of Jerusalem and was arrested with the group
Known under Ze'ev Jabotinsky . So was the company commander protecting the Hungarian neighborhood in Jerusalem.
In 1921 he married Rachel, daughter of Zalman Horowitz.
In 1925 he and his aforementioned founded - a publishing house called "Mitzpe/ expects", which was actually the first Jewish private expenditure in Eretz Israel.
All the years he was a member of the Hagana.
since 1944, "Mitzpe/ expects" owners split - Partners all started on their own, and he began publishing activities under "Joseph Shrbark Ltd."
Member of the Publishers Association of the Hebrews in Israel.
Daughter: Bruriah . His half brother (not same mother);
Shlomo Zanvil Solomon Shreberk
Born in Postav near Vilna (October 1876), his father was Shakhna and mother Chaia Rebecca nee Rom. He studied in the Heder and in a Yeshiva. Was attracted the Haskala movement and to Zionism.
He married Anna, the daughter of Moshe Weintraub.
In 1900 he founded a publishing house in Vilna and began publishing textbooks in Hebrew. He did well and started publishing books in Yiddish.In 1911 he was one of the founders of the Publishers Association of Hebrew and Yiddish books named "Central" in Warsaw together with Eli Ezer Kaplan (published by "Dawn"), a. To. Ben - Avigdor of Kubitz (published by "nous"), b. Joy immediately to the right. To. Lidsky (Press "Fragras"). In 1914 started publishing a daily newspaper in Yiddish as "Das Leben" in Warsaw. Moved to Warsaw in 1922 and headed the company "Centrale" was reorganized, and in 1925 he founded a publishing Hebrew as "The Book" et al renamed as The Book ". In the same year he visited Israel in 1933 and later settled in the country and continued operation of Hebrew publishing all his life.
Spent a lot of energy perfecting the publishing industry in Yiddish and Hebrew, kept on improving the external form printing, entertainment, quality of paper, decorations and paintings, fine binding, not to be disgraced Hebrew letters versus school foreign language school. Even the commercial side included and in 1911 went to America to organize the market books issue, passed before the War - WWI Babylon over Russia and its divisions, and instead of the old practice, the authors of the books fueling wandering distributing books in bummed traveled is in place and laid the basis of distributing books commercially Modern promised to honor and connector income distribution and dealer commandments. In Slahrcc further travels to America, Canada, England, France, Germany, Italy, Romania and more. Liked books and was often read in his free time and his work see not only business, but also purpose, and often took a book even if his defeat was certain in advance, if you see that profit cultural and national.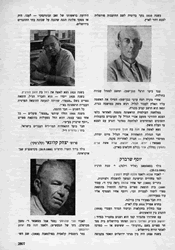 Publishing books , joining thousands prose, poem, research, and study guide books, three generations were brought up in Israel. He took the letters Mendele Yiddish books, writings of "a mind", h. Niger, a. Litwin, P..Halperin, and more, in 1910 began to take the Bible with traditional commentary - modern "explicit Scriptures" (score) of s. A.. Triuos, b. Nosik N.. Levin, and in 1941 the country began to get the new and revised edition featured the. mother
Mirror, g. Son, a. To. Faience, a. A. Akiva and edited general. Also took out the history of Israel Prof. Graetz Hebrew translation of Saul Pinchas Rabinowitz (PR), and re-issued in the country (translated by s. To. Citron, Dr. h. A.. Kamenetsky, a. Son - Uri with an introduction by Cur. Lachover V Fibmn) edition revised and juvenile spotted in six books. Among other things, removed the "posterity" Professor Martin Philippson, "Law of Lights" Joshua Steinberg (Lexicon Language Biblical Hebrew and Aramaic translation of German and Russian) ran out of the market and the demand for it from the small crowd of men of science and research, "chronology in the Bible" of a.A. Akavya and different science books. Israel also took about 200 books with historical content works best for young writers and poets, including "Memories of David" in 12 volumes complete and score dozens of books for youth and child are translated from the best world literature. He took the first country to print the Bible in one volume in a fine and elegant, and before that were all Bible need not remove the mission. His ambition was to get a general encyclopedia in Hebrew, and the last two years of his life began to prepare and coordinate the material and organize a system for all subjects and values, and work continues even after his death by his successors: Esther, Ida and Alexander, managers' Jezreel Press. "
Publishers Association was one of the founders and president in the country by the end of his life.
Scripture articles left behind memories of personalities and writers and his work in publishing and dissemination.
Died in Tel - Aviv, the nineteenth Cheshvan Tashah (5:11:1944). And was buried in the territory of Isaac.
Descendants: Esther Ida, Isaac, Alexander, Rachel, wife of Leon Liebman.