Joseph Zubin (9 October 1900 – 18 December 1990) was a Lithuanian born American educational psychologist and an authority on schizophrenia who is commemorated by the Joseph Zubin Awards.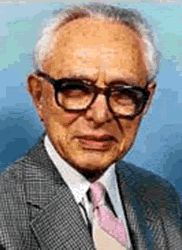 Life
Zubin was born October 9, 1900 in Raseiniai, Lithuania, but moved to the USA in 1908 and grew up in Baltimore. His first degree was in chemistry at Johns Hopkins University in 1921, and he earned a PhD in educational psychology at Columbia University in 1932. In 1934 he married Winifred Anderson (who survived him) and they had three children (2 sons, David and Jonathan, and a daughter, Winfred). At his death on December 18, 1990, he had seven grandchildren.[1][2]
Zubin was President of both the American Psychopathological Association (1951-2) and the American College of Neuropsychopharmacology (1971- 2) and received numerous awards for his work.[2] In 1946 he was elected as a Fellow of the American Statistical Association.[3]
Dr. Joseph Zubin, a research psychologist whose career spanned more than 60 years, died on Tuesday at the home of his son in Buffalo, where he was visiting. He was 90 years old and lived in Leonia, N.J., and Pittsburgh.
He died of congestive heart failure, the son, David, said.
At his death, Dr. Zubin, a professor emeritus of psychology at Columbia University, was research career scientist at the Highland Drive Veterans Administration Medical Center in Pittsburgh, where he established a biometrics laboratory in 1976. He was Distinguished Research Professor at the Western Psychiatric Institute of the University of Pittsburgh, and was for many years the Gregory Razran Psychology Professor at Queens College.
In the last year Dr. Zubin, an authority on the diagnosis of schizophrenia and other diseases, conducted several symposiums in this country and abroad, the most recent in Cleveland last month.
He was born in Raseiniai, Lithuania, and grew up in Baltimore. He was a graduate of Johns Hopkins and received a doctorate from Columbia, where he taught from 1939 until 1969.
He is survived by his wife, the former Winifred Anderson; another son, Jonathan, of Baltimore; a daughter, Winifred Riley of Manhattan; a brother, Henry of Poughkeepsie, N.Y.; three sisters, Blanche Becker of Worcester, Mass., and Doris Goldstein and Shirley Levin, both of Baltimore, and seven grandchildren.