November 22, 2007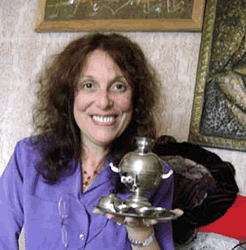 Meet the multitalented, endlessly energetic Zane Buzby
By Jane Ulman
There are not enough hours in the day for Zane Buzby.
At 5:30 a.m., fully awake, she sits in her home office atop Mount Washington, with a view of downtown Los Angeles' skyscrapers, checking the news and drinking from a large mug of coffee. Her husband, Conan Berkeley, and their 15-year-old Blue Russian cat, appropriately named Blue, are both still asleep.
Once she is confident that the world didn't explode overnight, she immerses herself in the Survivor Mitzvah Project -- reading translations of the survivors' letters and composing replies. A stack of envelopes sits on a nearby desk, a High Holy Days mailing to survivors in Ukraine and Moldova that was halted when she ran out of funds. Now she's aiming for Chanukah.
She also worries -- about Fanya K., who is borderline blind and needs an eye operation, and Elke F. who is now living alone since her husband's death. She finds $80, emptying the Survivor Mitzvah Project's bank account, to send to Elke to reimburse her for the burial.
Buzby logs in all the transactions in the computerized database and files all the survivors' letters -- originals, translations and envelopes -- in sheet protectors in a large binder, filling a new one every four months. If there's time, she makes final edits on a book she has compiled of their letters and photos, which she offers as a gift to donors contributing $1,000 or more and which she hopes to publish.
"Nothing I can say compares with their words," she said .
But the Survivor Mitzvah Project is only one of her full-time pursuits, and at 9 a.m., she turns to "Stomp the Run," a serialized live-action comedy that she and Berkeley have been creating for the past three years, serving as directors/producers. Preproduction for 100 episodes began in November.
"It's the first totally interactive show," Buzby said, explaining that it will appear on "new media" such as cell phones and Web sites. For "Stomp the Run," Buzby answers e-mails and fields calls to and from New York. Later she attends editing or casting sessions as well as other meetings and often works out of her production office in Hollywood.
Buzby, who grew up in East Meadow, Long Island, began her entertainment career as an actor, songwriter and film editor. She was also a singer and moved to Los Angeles in 1977 with Berkeley and their rock band B & B.
From there, Buzby began acting, with credits that include Cheech & Chong's "Up in Smoke," John Ritter's "Americathon" and "Oh, God!" with George Burns.
"I was always the crazy person," she said.
In the 1980s, she moved into television, training in multicamera direction under "Cheers" co-creator James Burrows. She went on to direct about 200 comedic episodes, including "Newhart," "Golden Girls" and "Married ... With Children," as well as other pilots and comedy series. Now "Stomp the Run" occupies all her time.
But along with her passion for comedy has been a passion for history -- for her own Jewish heritage and for the "great immigration" and the Holocaust. She devours non-fiction and is currently reading "Women in the Holocaust" and "Minsk Ghetto." On a trip to Hawaii, for beach reading, she brought along "The Destruction of Lithuanian Jewry."
It was family history, however, that prompted the 2001 trip to Belarus to visit the former shtetls of her two grandmothers.
In Vishnevo, where the Jewish population was completely wiped out, she set out to find the grave of her great-grandmother, Basha Ita. Buzby and a guide searched all day for the cemetery. Finally, an elderly non-Jewish lady took them to a hill outside the town to an area, strewn with garbage and overgrown that is now the town dump. Crawling underneath the dense brush, they discovered the cemetery.
Determined to restore it, Buzby teamed up with an Israeli couple, originally from Vishnevo, and together they raised enough money to have the trees and trash removed and the tombstones righted. Four hundred graves were discovered, which were all photographed and mapped, although Basha Ita's grave was never found.
Buzby's passion for Jewish history also led to her business of selling and restoring samovars, candlesticks, Kiddush cups, menorahs and other Judaic ritual items, primarily from the late 1880s to early 20th century; many of them are museum-quality pieces.
She does much of the repair work herself in a home workshop equipped with the necessary tools, including a drill press she requested for one birthday.
"I'm the only one on this planet who has parts for samovars," she claimed. Some items, such as wooden knobs and handles, she makes herself. She outsources other repairs to a few metalsmiths but laments that the profession is dying.
Buzby acquired her inventory in 1996 when she chanced upon a Judaic shop going out of business in New York's Lower East Side. Hundreds of samovars, candlesticks and other items were slated to be melted down and sold according to weight. Buzby couldn't allow it. She purchased the inventory from the shop's owner and paid his rent for two months while she arranged to ship everything to California. Two years later, she opened her own business.
"I was compelled to save these things and get them back into modern life," she said.
Buzby, who is named Zane after her great-grandmother Zipra, credits her family for her various passions and pursuits.
It was her father who told her, "You have a right to paint your dreams," and her mother who instilled in her an avid desire to read. One grandfather, an eccentric, fun-loving man, taught her the importance of eating ice cream at 3 p.m. -- every day. One grandmother, who died with a list in Yiddish of everything she planned to do for other people that day, modeled for her the value of doing mitzvot.
In the evenings, if she is not in the editing room for "Stomp the Run," Buzby is back at her computer working on the Survivor Mitzvah Project. And while there's always more to do, she tries to turn in before midnight.
"I have no problem sleeping," she said.