Return to Vishnevo Stories Menu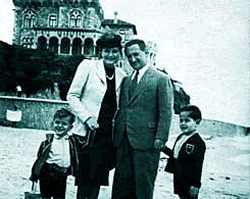 Nachum Goldman
(1894-1982)
Nahum Goldmann was born in Vishnevo and lived with his paternal
grandparents in the shtetl until the age of six. Nahums' grandfather was a doctor
and a leader of the jewish community in the area. At age six Nahum joined his
parents in Germany. He was educated at German universities where he studied
philosophy and law. From an early age he became strongly allied with Zionist
thought, and during World War I, while working at the Jewish division of the
German Foreign Ministry, he attempted to enlist the Kaiser's support for the
Zionist idea.
In the 1920's, Goldmann was involved in publishing a Zionist periodical and
also in launching the project of a German Jewish encyclopedia. In all, twelve
volumes of the encyclopedia, ten in German and two in Hebrew, appeared before
the Nazi rise to power halted the project. Retaining the idea, Goldmann
was a key figure in the 1960's behind the English language Encyclopedia
Judaica.
During the Mandate period, Goldmann was involved in a range of Zionist
causes, including negotiations with the British, aimed at realizing the idea
of Jewish statehood. In particular, he supported the partition of Palestine,
arguing that sovereignty was more important than territory. In 1935, stripped
of his German citizenship and forced to leave Germany, he settled first in
Honduras and thereafter in New York. He continued to labor there for Zionist
causes, and for several years represented the Jewish Agency in New York.
In addition to his Zionist work, Goldmann championed other Jewish
interests. Indeed, Goldmann never felt that a Jewish state would answer the needs
of all the Jews, on the contrary, a strong Diaspora was always a must for the
survival of the Jewish state . In 1936, he helped organize the World Jewish
Congress, and was the first chairman of its executive board; he later served
as its president for many years. He was a major link in negotiating German
reparations to survivors following the Holocaust. He founded the Conference
of Jewish Organizations (COJO) and was actively involved with other causes
such as Soviet Jewry, Jewish education, and Jewish culture. Goldmann believed
that the future of world Jewry depended largely on a successful fight against
assimilation, and hence the attention to developing vibrant Jewish institutions in the Diaspora.
In 1962 Goldmann became a citizen of Israel, but despite frequent visits,
never became a permanent resident, dividing his time primarily between
Switzerland and Israel. He was critical of what he deemed was Israel's
excessive reliance on and adulation of its military prowess, and following
1967, he faulted Israel for not adopting a more conciliatory stance towards
the Arabs. Despite his belief in the centrality of Israel to the Jewish
people, he was also convinced of Israel's dependence on the support of
World Jewry and the world at large. His critics attributed this belief, in
their eyes erroneous, to a mentality that essentially belongs in and to the
Diaspora.
--
Source: The Pedagogic Center, The Department for Jewish Zionist
Education, The Jewish Agency for Israel, (c) 1997, 1998, 1999, 2000,
Director: Dr. Motti Friedman, Webmaster: Esther Carciente
Nahum Goldmann
A Jew without borders By Tom Segev
Nachum Goldman has often been described as a statesman without a state. Considering that he invested quite a lot of energy on the establishment of the State of Israel, there is something insulting about this description. But this man of the world who loved life, this intellectual who preferred the pleasures of "the Diaspora" to the bleakness of life in Israel, was indeed a Jew without borders. According to Goldman himself, he never identified 100 percent with anything - with no man, no woman, no idea, no movement.

When once asked whether he loved, deep down, typical Israelis like, for example, Ariel Sharon, Goldman said: "Israelis are people who are impossible to like; it is only possible to admire them." He also knew how to be arrogant toward them and to mock them, sometimes with biting sarcasm and not always fairly, but above all, he knew how to expose the mistakes they made. The Israeli establishment loathed him for the most part, and was afraid of him. To a large extent, in Israel they related to him the way they related to him in most of the world's capitals: They very much exaggerated in estimations of his influence, as if he were the all-powerful ruler of a great power.

If he were alive, he would now be celebrating his 100th birthday.
Prof. Anita Shapira of Tel Aviv University has initiated an international conference in his memory, Rachel Arbel is curating an exhibition in his honor at the Diaspora Museum, which is named after him, and in it there are at least two surprising exhibits: a book that Goldman wrote toward the end of World War I in which he expresses enthusiastic support for German militarism, and a document that reveals how the initiative to have him meet with the president of Egypt, Gamal Abdel Nasser, came about.

His son, Guido, for many years the head of the Center for European Studies at Harvard University, said this week that the book must be read in the context of its times: Before Britain issued the Balfour Declaration, there was something in the air that suggested that Germany might make itself the patron of Zionism, and Russia, the Germans' enemy - was also the enemy of the Jews.

The scandal of the meeting with Nasser, which Golda Meir torpedoed, apparently began in a conversation between president Nasser and a visitor from France, who most embarrassingly numbered among Israel's friends at the time: Roger Garaudy, a communist Catholic who has since converted to Islam and become a Holocaust-denier. That was back in 1969. Garaudy told Nasser about Goldman, and when Nasser commented that Goldman represented only an insignificant minority, Garaudy convinced him that he was mistaken. According to Garaudy, he was hesitant about suggesting to Nasser that he invite Goldman, but he volunteered to do so later on. Goldman received the invitation by other means; he told Meir about it and she initiated a government decision that forbade him to go to Egypt to meet Nasser. This was a milestone in the formation of Israeli protest movement and in the crystallization of Meir's image as someone who did not want peace.

Later Goldman related that he had told Golda that he envied her because of the purse she carried, although it was a cheap handbag of fake alligator skin. This was because in her bag, she carried all the absolute truths and all the solutions to all the problems. According to Goldman, he, as opposed to Golda Meir, was never 100 percent convinced about anything. She confirmed only that the bag was made of fake alligator skin.

In Goldman's circles, they preferred genuine leather. Goldman once said, or perhaps is only said to have said, to David Ben-Gurion: "You see the world from Sde Boker, I see it from an altitude of 12,000 feet, from an airplane. That's the difference between us."

Guido Goldman: "My father had a positive approach toward himself."

Goldman's address book looked like the "Who's Who" of 20th-century statesmanship. Heads of state attributed to him almost unlimited clout to set the wheels of history in motion, just at they had attributed this kind of influence to Chaim Weizmann, with a mixture of awe and anxiety that was anti-Semitic at base. The Nazis included his name on the list of enemies that also included Bertholt Brecht, the playwright. When he was still in Germany, he was one of the editors of the Encyclopedia Judaica, the publication of which was interrupted because of the war. Before the war, according to Goldman, an envoy came to him with the suggestion that he meet with Adolf Hitler. He said that he refused but later regretted this. Who knows whether he might have succeeded in saving a million Jews, he wondered.

Guido Goldman, this week: "Father tended to exaggerate a bit in his stories, like most people who tell about their lives, but I can't recall that he related anything that was completely wrong. He had a very pragmatic attitude toward all the statesmen he met: The question was to what extent the meetings would help the matter at hand. As he wasn't dependent on public opinion or any voters, he could allow himself to meet with anyone he saw fit, even with Hitler. Among others, he met with Mussolini."

During the war, Goldman was involved in rescue efforts, some of which succeeded; he was involved in contacts that led the United States to recognize Israel, he worked to bring Jews to Israel from Morocco and other countries, and gave priority to contacts between the World Jewish Congress and the Catholic Church. Konrad Adenauer, the chancellor of West Germany, accepted almost all of Goldman's demands for the payment of reparations for the Nazis' war crimes.

The president of the World Jewish Congress and the president of World Zionist Organization walked a tightrope between the Jewish interest and the Zionist interest, and between both of these and the interest of the State of Israel. In contrast to the founding fathers of the state, and first and foremost Ben-Gurion, Goldman tended to see Israel as one among many possible alternatives for organizing Jewish life, including Jewish life in the Diaspora.

It turns out that he was right and perhaps this was his major sin: Jews can live outside of Israel, they can live well and many of them can live better there than in Israel. ("What would Henry Kissinger have done in Israel?" Guido Goldman asked this week.) Flying from one luxury hotel to another, a wealthy man equally at ease with intellectuals and heads of state, always with a tone of humorous skepticism and skeptical humor, so very Central European, Goldman also always gained cachet from the "ladies" who graced his life. He not only aroused the envy of the Israelis, but also subverted some of the basic truths of their existence.

Like Chaim Weizmann, Goldman believed in the limits of power and in the power of self-restraint. Thus he was in favor of postponing the Declaration of Independence, in the hope of preventing the war, and he thought that the Sinai Campaign and the Six-Day War broke out basically as a result of mistakes made by the government of Israel. After the Six-Day War and until his death, he believed that it was to Israel's benefit to withdraw from the territories. As opposed to the thesis that Israel's deterrent power would ensure its existence, he believed that only the Arabs' agreement to accept it in their midst would ensure this.

His son, Guido, spoke about him warmly this week: "He was not really interested in my career as a basketball player," he said, "but when I began to understand what was written in books - he showed interest." Apparently he also taught his son something about the pleasures of Jewish life in the Diaspora: When he was 17, his father bought Guido his first car, a used red Plymouth convertible.
From the internet;
…..Nachum Goldman, former president of the World Zionist Organization, wrote in 1981: "Jewish suffering during the Holocaust no longer will serve as a protection ... To use [it] as an excuse for the bombing of Lebanon, for instance, as Menachem Begin does, is a kind of 'Hillul Hashem' [sacrilege], a banalization of the sacred tragedy of the Shoah [Holocaust]"……
Nahum Goldmann
Nahum Goldmann: "I Told Them to Throw Themselves into the Water"
In his memories, Nahum Goldmann, first president of the World Jewish
Congress, tells its difficult negotiations with the American Government
to save some refugees.
"A number of Jews in France who had somehow succeeded in getting
Mexican visas sailed for Mexico on the S.S. Quenza. When they arrived in
Tampico, if I remember rightly the Mexican government declared that its consul had
not been authorized to issue them visas and refused to admit them, ordering
the ship to return. Of course, if they had landed in France these people
would immediately have been deported by the Nazi authorities. I received
desperate telegrams from the Central Jewish Committee in Mexico and from the
individuals in question, asking me to do everything possible to have
them admitted to the United States when the ship stopped to refuel at
Norfolk, Virginia. At the request of Stephen Wise, Mrs. Franklin Roosevelt,
deeply sympathetic and eager to help, spoke to the President, who informed us
he was prepared to instruct the immigration authorities in Norfolk to admit
these refugees without visas, provided we could persuade Secretary of State
Cordell Hull, who was very conservative in such matters, not to oppose the
move.
Dr. Wise and I went to see Secretary Hull to ask him to agree to the
admission of these unfortunate souls. At first he took a strictly
negative attitude, explaining that under American law no one may immigrate
without a visa. When I pressed him relentlessly, he exclaimed: "Do you see that
American flag behind my desk? I have sworn by it to uphold the
Constitution and the laws of the United States. You are asking me to break my oath."
I told Mr. Hull that I read in the newspaper about some anti-Nazi German
seamen who had jumped ship rather than return to Germany. The Coast Guard had
had to send out a cutter to pick them up and take them to Ellis Island, where
all immigrants whose papers were not in order were held.
"If you like," I said, "I'll send the Quenza refugees a telegram, and I
guarantee they'll jump overboard at Norfolk. Then the Coast Guard will
have to send boats to pick them up. Some of them may catch pneumonia. In the
end you'll have to do the same with them as you've done with the German
seamen. I personally have nothing against the idea of these unfortunate people
sitting out rhe war in safety on Ellis Island. But why do you want me to go
about it in this devious, complicated, expensive, and insalubrious way?" Hull
gave me an angry look and said: "You are very cynical, Mr. Goldmann.
I wonder who is more cynical," I replied, "the Secretary who wants to
condemn hundreds of Jewish refugees to certain death, or he who tries
everything to save them."
My argument seemed to impress him, because finally he said, in a
grumbling tone: "Tell the President that if he issues the orders on his own
authority I won't make any difliculties." The order was issued; the refugees were
allowed to land at Norfolk, sent briefly to Ellis Island, and later legally as immigrants.
Nahum Goldmann and Nahum Goldmann
(1895 - 1982), community leader.
Born in Vishnevo, Lithuania, he was taken as a child to Frankfurt on
Main, Germany, and was early influenced by Zionism. He had a broad general
education, spoke several languages and attended Heidelberg University where
he obtained doctorates in law and in philosophy.
During World War I he joined the propaganda division of the German
Foreign Ministry in Berlin. After the War Goldmann worked as a journalist,
established the Eshkol publishing house and - together with Jacob
Klatzkin - launched and edited the German-language Encyclopaedia Judaica of which
ten volumes appeared before being stopped by the Nazis.
Active in Zionist work, in 1934 he was appointed Jewish Agency
representative at the League of Nations in Geneva. He worked to establish the World
Jewish Congress and at its foundation in 1936 was elected chairman of its
executive.
Goldmann was deeply involved in activities to help Jewish refugees in
the 1930s. In 1940 he moved to the US where he was involved in the
political work of the Jewish Agency and from 1949 was president of the World Jewish
Congress. In 1956 Goldmann was also elected chairman of the Jewish
Agency and president of the World Zionist Organization, becoming the foremost
figure in Jewish political life.
Among his achievements were the negotiations of the Reparations
Agreement with Germany; the establishment of the Conference of Major Americans
Jewish Organizations; activity on behalf of Soviet Jewry; and initiatives
leading to the publication of the 16-volume English-language Encyclopaedia Judaica
and the establishment of Beth Hatefutsoth â€" The Museum of the Jewish
Diaspora in Tel Aviv. In his later years he lived in Israel and Switzerland.
Selected Bibliography:
Nahum GOLDMANN: The Jewish Paradox. Pp. 218. London: Weidenfeld and
Nicolsin,
1978
Nahum GOLDMANN: Memories. Pp. VIII, 358, [16] plates. London:
Weidenfeld and
Nicolsin, 1970
Patai RAPHAEL: Nahum Goldmann, his missions to the Gentiles. Pp. VII,
315.
University ALA: University of Alabama Press, 1987
http://www.bh.org.il/Names/POW/Goldmann.asp
IN-DEPTH FEATURES
The Reparations Controversy
by S. Fried
"My dear Nachum," wrote Prime Minister David Ben Gurion to Histadrut Chairman Dr. Nachum Goldman in the 1950s. "This sets a precedent as it is the first time in the history of relations between nations that a large nation has agreed, due to moral pressure alone, to pay compensation to the victims of the previous government.
"This is the first time in the history of the Jewish people, which for hundreds of years has been the victim of persecution, oppression, pillage and plunder in the nations of Europe, that the persecutor and the plunderer has been forced to return a portion of the spoils and has even agreed to pay collective reparations for part of the material damage done. This, beyond any doubt, is a result of the resurrection of the State of Israel. The rights of Jews are no longer hefker. Now an advocate and a patron has risen up to defend them . . . "…..
….In 1944 the Congress drew up clear demands: a) Compensation for Jewish communities and individual Jewish survivors. b) Recognition in principle of the right of the Jewish people to receive collective reparations for the material and moral losses to the Jewish people, its institutions or individual Jews.
These general demands are recorded in the memoirs Dr. Goldman published much later, but it appears that in fact the guiding principles for negotiations with the Germans had already been drafted at that point. At the time Goldman did not know that the State of Israel would be founded and therefore probably hoped to represent the Jewish people, either alone or else through a joint representation with the Jewish Agency, the Histadrut, etc.
But when the State of Israel was set up, Ben Gurion crowned himself representative of the Jewish people, leaving Goldman nothing to do but to conduct the secret negotiations that preceded West German Chancellor Konrad Adenauer's public announcement of his willingness to pay reparations, and then to hand the conductor's baton over to Ben Gurion. Goldman was not left idle, for the agreement stated that the negotiations would be conducted through two channels: the Material Claims Conference of the Jewish People was set up to conduct negotiations for individual Holocaust survivors and an Israeli delegation was dispatched to negotiate the reparations that would be paid to the State treasury as the homeland of the Jewish people. Dr. Nachum Goldman was named head of the Claims Conference.
Dr. Goldman set up the Claims Conference himself just as the negotiations proposal was passed in the Knesset. He selected representatives arbitrarily, based on connections, although he did try to include representatives from various organizations including the Joint Distribution Committee, The Jewish Agency, World Jewish Congress, American Jewish Congress, American Jewish Committee, Jewish Workers' Committee (U.S.), American Veterans' Association, etc. Most of the representatives were from the U.S., England, Australia and South Africa. A representative for the Reform Movement was also selected. Israeli representatives were not chosen-- since ostensibly Israel was represented by the government- sponsored delegation--nor were any Holocaust survivors chosen. It seems the latter were perceived as sick and feeble invalids incapable of representing themselves. …..
Guido Goldman
Political Scientist
Goldman is Director of the Program for the Study of Germany & Europe at the Minda de Gunzburg Center for European Studies, and Chairman and CEO of the First Spring Corporation in New York. He served as the Founding Director of the Center for twenty-five years (1979-94).
He is also co-Chairman of the Board of the German Marshall Fund of the United States, Chairman and President of the American Foundation for Textile Art, Inc., Vice-Chairman of the Board of the Alvin Ailey American Dance Theater, and a board member of the American Council on Germany.
Workshop: Collecting Ikats-An Irresistible Addiction - Collector Guido Goldman will talk about his collection of central Asian silk weavings-the largest and most comprehensive collection of its kind-at this Curator's Circle
Why Israel Should Settle Now
By Guido Goldman Prime Minister Begin has appealed to Americans friendly to Israel, and especially to American Jews, to back up his government. The present course of the Israeli government, however, seems to be working against, not in favor of, its own interests, and it is important to see why....
In 1998, our American patron, Guido Goldman, who published an album on Central Asian Silk History, was awarded a medal and the title: "Honorary Member of the Academy of Arts".
"Ikats are patterned textiles produced by tying and resist-dying the warp and/or weft threads before weaving, a technique known in many parts of the world. Moved by their bright colors and complex designs, Guido Goldman, a former professor of European studies at Harvard, began collecting 19th-century central Asian ikats... Beyond the Silk Road was published in conjunction with an August 1999-June 2000 exhibition at the Powderhouse Museum's Asian Gallery (Sydney, Australia), which houses Australia's largest collection of textiles and clothing as well as Asian decorative arts and design.
The de Gunzburgs' support has been essential to the success of the Center," said Guido Goldman, who served as founding director of the CES from 1969 until 1994. "We needed a larger permanent home for our growing group of faculty, students, and visiting researchers -- and, we had the opportunity to move from 5 Bryant Street to the extraordinary ambiance of Busch Hall. We also required funds for our myriad activities. The de Gunzburgs' original gift generously provided both. The new gift enhances and stabilizes our existence for the next generation."
Dr. Guido Goldman
Chairman, First Spring Corporation, NY
Director, Program for the Study of Germany and Europe
Center for European Studies, Harvard University
__________________________________________________________________________________________________________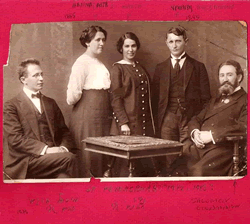 1913 Russia Michel Berkovitzch , Nadia Noemie Barkay, Hanna "Alta" Rachel Berkovitch, Nahum Goldman, Solomon Hirsch (Zvi) Goldman
__________________________________________________________________________________________________________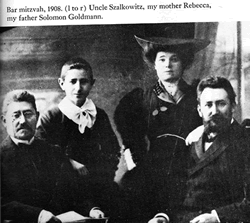 Nachum Goldman born in Vishnevo in 1894 at his bar Mitzvah in 1908 with his mother Rebecca nee Kwint or Baumgarten of Vilna. On the right is his father Solomon Goldman nee Liebman. On the left the brother of his father
Avraham Leib Szalkowitz Ben Avigdor nee Liebman
Avigdor Leibmann (doctor in Vishnevo) and his wife Chaya
Riva Leibmann ( submitted by Yuri Kissin)

Progeny of Leibmanns.
Left to right: Harry Abrahams - grandson (son of his daughter Dvora)
and his young wife Fanny; Abraham Leib Shalkovitz (son, thus his
penname Ben Avigdor), Rebecca and Solomon Goldman (son) and young
Nahum Goldman (grandson of Avigdor and son of Solomon Goldman). (submitted by Yuri Kissin)

Harry Abrahams, with his cousin, Nahum
Goldman.( submitted by Yuri Kissin)

Dvora Leibmann, one of three daughters of Avigdor. She was
was a woman of a horrible fate. Her husband, Abram Pelovsky, died when
she was pregnant. She remarried but died three years later. Her son,
a complete orphan, moved to England when he was ~21, changed his name
from Herschel Pelovsky to Harry Abrahams, married there, had three
children, and now a large family of his descendents lives there. (submitted by Yuri Kissin)