Return to Menu
Mass Holocaust Burial Site Discovered in Volozhyn
Posted on October 23, 2014 by jhrgbelarus https://jhrgbelarus.wordpress.com/
During ground-breaking for construction of a new apartment building in Volozhyn, a mass burial site was discovered for Jews killed during the Holocaust.
About a year ago, the Volozhyn town administration granted a construction permit for construction of the new building on the site of an abandoned stadium in the town center.
It is a known fact that there is a Holocaust memorial not far from the stadium remembering the extermination of more than 200 young Jews, ages 16-25.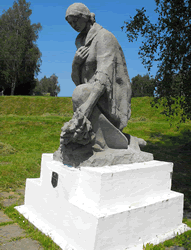 Holocaust memorial in Volozhin outside of the stadium
Local elderly residents said that although the monument is located not far from the stadium, the actual mass grave must be somewhere along the stadium's perimeter.
The town administration sent a specially trained battalion to research the area and, during the first day of work, human remains were found.
Currently, the remains of more than 150 people have been found, along with clothing, shoes and personal items. The future of these remains is to be determined.
The town authorities said they would cancel the construction project and that they are considering the building of an avenue lined with trees as a memorial to Nazi victims.
https://jhrgbelarus.wordpress.com/
Below is the list of booksellers licensed by the publisher in 1873-1883, "Widow and Brothers Romm."