The farming Colony in Alliance, NJ
By
Jana Perskie
Most of what I am going to write here is from YOVAL - in quotation marks. Other text I wrote and published on the Perskie Website, which was up for about 6 years and is now defunct. I still have all the genealogical information, (over 1000 names), photographs, archival data, etc.
"The Alliance Jewish Farming Colony, Past and Present"
"Generations pass like leaves fall from our family tree. Each season new life blossoms and grows benefiting from the strength and and experience of those who went before." Author: Heidi Swapp
Lazer and Minnie Dithy Perskie immigrated to the US in 1882, along with their 4 children, after experiencing anti-Semitic persecution in what was then their home, Volozhin, the Russian Jewish Pale of Settlement. Here Jews were not permitted to own and farm land. With the assistance of the Alliance Israelite Universalle and the Baron de Hirsch Foundation they were able to come to this country, along with forty-two other families from similar backgrounds, all sharing the philosophy of the Am Olam Movement. These pioneers founded the first Jewish agricultural colony in the United States in Alliance/Norma/Brotmanville, NJ.
Lazar's and Minnie's youngest son, Joseph B. Perskie, was their only child born in the United States, in 1885, on the farm in Alliance. The Am Olam movement was a response to the stereotype of the Jew as an "urban parasite," and its constituents had vowed to prove to the world that they could be hardworking, land-tilling producers. "Our motto is labor in the fields," an Am Olam member explained, "and our goal is the physical and spiritual rejuvenation of our people. In free America, we Jews shall find a corner in which to rest our heads. We shall prove to the world that we are qualified for physical labor."
As Sidney Baily, one of the earliest immigrants wrote, "I had the privilege of being one of three men, including Michael Baka, Moses Herder and myself, who formulated, in Odessa on Shabouth/Shavuot of 1881, the Am Olam Movement idea that our brethren should go to America to become tillers of the soil. Our goal was to own a home and land as a means of earning a livelihood, and to be true citizens of our adopted country. We aimed to bring our children up to receive the blessings of a natural life from heaven and earth. For these goals we left Russia to become farmers in the 'land of the free and the home of the brave.'"
"We came here, to America, instead of going to Palestine which was then under Turkish rule. Thus the Jewish exodus of 1882 began, rolling en masse to America."
"The first new colony of hope was located in Alliance, NJ, situated on the Maurice River, in the southeast corner of Salem County, NJ and about 5 miles northwest of Vineland. The farming colony was founded upon the principles of the above mentioned Am Olam Movement, and was named for the Alliance Israelite Universalle, a French organization that provided the novice farmers with basic necessities."
"Our wanderers, from various parts of Eastern Europe, were Talmudists, merchants, and tradesmen who knew nothing about farm life. When they came to New York City and arrived at Castle Garden, (Ellis Island was not functioning as a point of immigration at that time), they talked, in a very naive manner, with German Jews who came to meet the immigrant ships. These German Jews advised us to give up the idea of becoming farmers. They meant well, but encouraged us to continue at our trades or to become peddlers on the lower East Side. Thus many members of the original Am Olam left our group, but 43 families remained true to our ideals."
"On a May morning in 1882, 43 families boarded the train for Bradway, in Salem County, NJ. Four years later it would be to this station, (renamed Norma for the station master's daughter), that the new farmers of the gravelly loam fields would bring their first crops - strawberries at one cent a quart, cranberries a penny or two more - for the produce markets of New York and Pennsylvania."
Jacob H. Perskie wrote about the conditions of early life in the Alliance colony: "The new immigrants came to this country, poverty stricken, without a knowledge of the language, without friends. Their hardships were almost indescribable. I recall the large barracks where men, women and children were crowded together under unsanitary conditions, with few clothes and hardly any necessities. I can still remember a great big iron pot in the woods where they cooked their food over an open fire while people clamored for something to eat. The cries of the children and the sighs of their mothers were the personification of misery. It resembled a gypsy camp, but with this difference - in a gypsy camp one hears song and laughter, here, in Alliance, one heard only lamentation and weeping." Mr. Perskie continues: "There were thirty houses built, consisting of but two rooms, one downstairs and one upstairs. In these shacks large families dwelt for years. We can marvel today how the pioneers cleared the roads and dug the stumps, made vineyards out of wilderness, and became self-sustaining in a relatively short period of time."
"There were no bathrooms or toilet facilities, so tin washtubs were used for heating water and served as bathtubs. The toilet facilities were outhouses. Yard pumps were the sole source of water and in winter the water would freeze in the pipes above ground. In the summer, mosquitos and flies would torment those working outdoors in the cranberry bogs, picking grapes, etc. And poison ivy was an even greater source of woe. Clearing the land provided lumber for farmhouses, which were apportioned by lottery."
According to my/our great grandfather Eliezer Persky's Last Will and Testament, he owned 2 lots of land on Gershel Avenue, Alliance, NJ. He also owned a farm, known as lot #30. "An organization called the Alliance La Trust, (sic), held 10-year mortgages on each 15 acre farm. Each family got $100. for farm tools, seed and teams of four horses and plows. Until the crops were planted and harvested, each family also received about $10.00 a month as an allowance. For a brief period, a cigar factory was installed in the barracks and a shirt factory provided piecework for men and women. Neither succeeded."
"The work was very hard and in the first years many thought the colony would fail. Some mortgages were foreclosed and properties were sold by the sheriff. Without the help of their Christian neighbors, and the philanthropy of men like Baron Maurice de Hirsch, Jacob Schiff and Maurice Fels, more of the pioneers would have been forced to seek work in the cities."
"A synagogue, Eben Ha' Ezer, was established and dedicated in 1888. Before this prayer meetings were held, as Mr. Stavitsky brought with him to America a Sefer Torah and Rabbi Krassenstein the Talmud."
"The children attended a public school in Union Grove, NJ and another in Willow Grove. These schools were about 4-5 miles apart and the children had to walk long distances, through woods, in order to reach school."
"After school, in the winter, the children went sliding on the frozen cranberry bogs - they had no skates. In the summer, they swam in the Maurice River, boys and girls in separate sections. The girls wore their petticoats, the boys swam naked. Men bathed upstream of the bend in the river, women downstream."
"Eventually a library was established, a place for speeches and singing, and also for a theatrical group called 'The Amateur Players.' The actors played on a bare stage until a visiting theatre company, under the management of Boris Thomashefsky, fitted it out with scenery and a curtain, which they later donated to the colony." Jacob H. Perskie was considered to be an excellent actor with a fine voice.
"As the Jewish population in the general area of Alliance increased, it grew to include the new nearby colonies of Brotmanville and Norma, NJ. The efforts of these first pioneers were the genesis of Jewish life in southern NJ, particularly in Salem and Cumberland counties. This area was all woodland with scarcely a house to be seen when the new immigrants arrived."
"The agricultural colony still exists today in Norma, NJ, along with the original synagogue, buildings, a museum and cemetery, filled with tombstones 'of those who toiled and sacrificed their lives in exchange for freedom which they found in the new world.' (Jacob Perskie).The descendants of the original pioneers have become prominent citizens - physicians, lawyers, judges, elected officials, rabbis, artists, photographers, writers, manufacturers, teachers, businessmen and women who contribute much to our society."
This from me: The colony has existed for 128 years now, however the descendants of the original pioneers cannot afford to wait to document this period, especially since memories fade and familiar faces disappear.
No one is left who recalls firsthand the way it once was in Alliance. Those who feel attached to the colony by ancestry are obligated to keep its memory alive. Just as we gather each year on Passover to tell the story of the Exodus from Egypt, we must remember to tell and retell the story of the exodus from Russia and other Eastern European countries in 1882 of one small, courageous group that founded this Jewish farming community.
In the last 27 years, the Alliance Colony Foundation has attempted to keep this story alive. Scholars have sought and been provided with resource material, speeches have been made and visitors have been hosted. Jay H. Greenblatt, Chairman of the Alliance Reunion Committee, writes that, "We must continue the telling of the story, so that our pride in that daring accomplishment may be sustained and the memory of that marvelous piece of Jewish American history may be honored."
We take great pride in our rich heritage and respect and admire the hardships our ancestors experienced to forge a better life for us all.
The First Settlers of Alliance, NJ, who arrived in 1882: Eli & Ethel
Abramowitz, Eli & Feigeh Bakerman, Moses & Ethel Bayuk, Abraham & Channah Leah Berman, William & Beckie Cohen, Hersh & Jennie Coltun, Joseph & Rachel Diamond, Jacob & Rebecca Ecoff, Chaim & Bessie Goldman, Nissan & Molka Greenspan, Abraham & Duba Grutsky, Simcha & Sarah Helig, Joseph & Yenta Kleinfield, William & Lizzie Kolman, Zurach & Esther Konowitz, Hersh & Rivka Kutzibow, Isaac & Golda Krassenstein, Labe & Bayla Kuden, Simcha & Pearl Luborsky, Israel Hersh & Esther Levin, Leapa & Toba Levinsky, Berel & Leah Levinson, Labe & Toba Riva Levinson, Henry & Rose Levy, Sholom & Pearl Luberoff, Chaim & Sarah Mennies, Labe & Rachel Moyd, Israel & Feigeh Opachinsky, Lazer & Mindel Persky, Jacob & Golda Rosenberg, Yonah & Anna Rosenfeld, Jacob & Anna Rosinsky, Joseph & Feigeh Rothman, Joseph & Deborah Rudnick, Solomon & Frima Salonsky, Moshe & Ruchel Serebrenick, Chaim Hersh & Sima Liba Silberstein, Hersh & Rose Silberman, Lazar & Bessie Staver, Eli & Riva Gitel Stavitsky, Moses & Bayla Strasnik, Pesi & Brucha Tolchinsky, Naphtula & Deborah Yosep, Joseph & Rose Zager.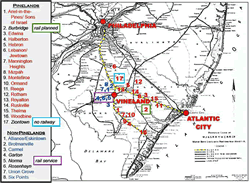 1, Early farming communities, such as Alliance, (1882), and Woodbine, (1891), became a laboratory for those that followed. The map shows the early Jewish farming colonies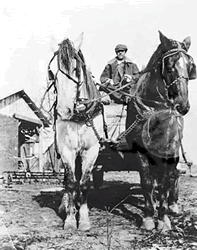 2. Farmer at Alliance - late 19th century.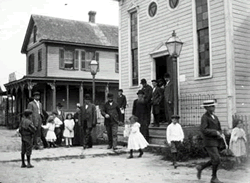 3. People exiting the Alliance synagogue, circa 1910.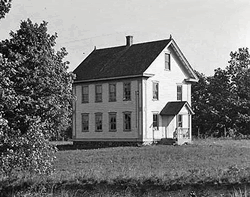 4. The original building of the Tiphereth Israel Synagogue (Splendor of Israel), this building has been restored and is in occasional use today; it is commonly known as the Alliance synagogue.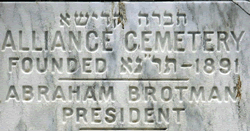 5. Memorial stone for Abraham Brotman, President of the Alliance Cemetery Society, probably a burial society.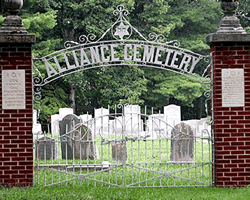 6.Gateway to the Alliance Cemetery as it is today.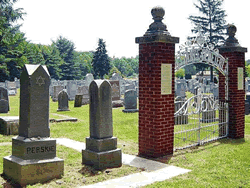 7.Eliezer Mordechai ben Tzvi Perskie's tombstone at the cemetery at Alliance, NJ. His wife, my/our great grandmother Minnie, is buried on the other side of the front gates.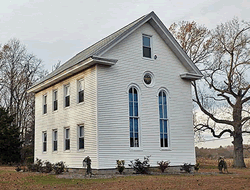 8.Current photo of Tiphereth Israel Synagogue at Alliance.
Extended Perskie family reunions were once held here, usually organized by the Rovine branch of the family, descendants of Yocheved Persky Ruvinsky (Rovine), and her husband Aaron.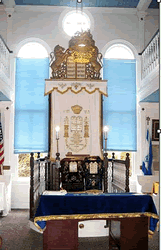 9. Interior of the Tiphereth Israel Synagogue as it is today.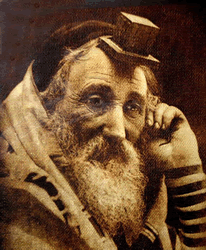 10. Portrait of Rabbi Krassenstein by Jacob H. Perskie. This portrait is in my possession. This photograph is quite poor. The actual portrait is extraordinary.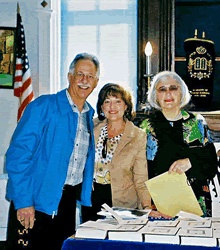 11. From left: Steven Perskie, (grandson of Judge Joseph B. Perskie), his wife, Barbara Fendrich Perskie, and me with a broken arm. This was taken at a family reunion at the former Alliance colony, in NJ, a few years ago. We are in the synagogue.