The Perskies of Volozhin, a family of photographers.
By Jana Perskie
My grandfather, Jacob H. Perskie, and my father, Erwin "Buddy" Perskie, were photographers, as were most of my Dad's brothers. My grandfather was a photographer when he came to the U.S. from Volozhin, (now in Belarus,), in 1882. So, the Perskies, (my grandfather changed the spelling of the name from Persky to Perskie because he thought it looked more American), are fortunate to have many very old photographs of our large family.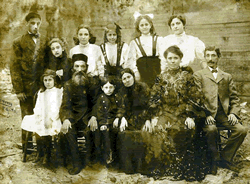 1, This is a photograph my grandfather took of his parents, My great grandmother, Minnie "Mindel" Dithy bat Eliyahu Persky, (affectionately called "Minna Disha"), who is seated front row, 4th from the left, and my great grandfather, Eliezer Mordechai ben Tzvi Persky, seated front row 2nd to the left. The other people in the photo are my great aunt Fanny Persky Jacobs, her husband Joseph Jacobs and their children.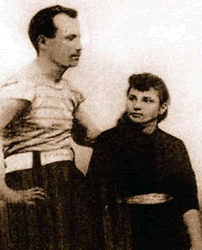 2. My paternal grandparents, Lena Abramowitz Perskie and Jacob H. Perskie, circa 1900 in Atlantic City, NJ. They are wearing bathing suits. My grandmother is seated...I give you that info as some people think she is very short. ?;) She wasn't. I never knew them. My grandmother died in her 40's. She bore 13 children. My Dad was the youngest. She died when he was about 5 years-old. My grandfather died 7 years before I was born. How I would have loved to have met them.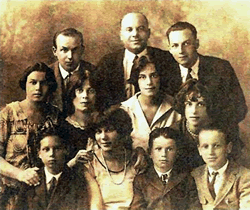 3. The children of Lena Abramowitz, my paternal grandmother, and Jacob Perskie, my grandfather. The couple had 13 children but only 11 survived their 2nd year. Front row from left: Edward Perskie, Sylvia Perskie Hart, my father Erwin "Buddy " Perskie, and Theodore Herzl Perskie. Second row from left: Rose Persky, Lillian Perskie Perrell, Clare Perskie Bloch, and Ethel Perskie DeBrier. Last row from left" Alexander Perskie, Leon Perskie, and Leonard "Lossie" Perskie.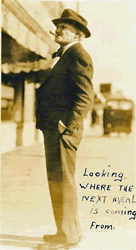 4. As I mentioned above, my paternal grandparents had 13 children, 11 of whom survived. So my grandfather, "Jake," was always looking for ways to make money. Seasonally, he had photography studios in Atlantic City, Philly, Ocean City, MD, etc. He and my grandmother ran a farm, (n Ocean City), a boarding house, a nickelodeon/silent movie theater, and their eldest daughter, my Aunt Clare played the piano as a background for the films. He wrote the text on the photo below.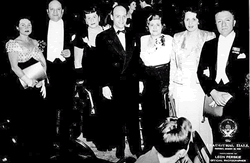 5. Perskie guests at Truman Inauguration. My grandfather was President FDR's personal photographer and portrait painter from 1930 until my grandfather's death in 1941. His eldest son, Leon, took over photographing not only FDR, but Presidents Harry Truman, JFK and LBJ also. His brothers, my Dad among them, assisted him. This is a photograph taken of some of the Perskies invited to the Truman Inaugural Ball in 1949. My father as youngest, and low man on the totem pole, wasn't invited. From left: Leah Kupersmidt Perskie standing to the left of her husband Leon Perskie, Clare Perskie Bloch, Leonard Perskie, to Clare's right and Evelyn Berger Perskie, Ethel Perskie DeBrier and at far right, Daniel DeBrier, Ethel's husband.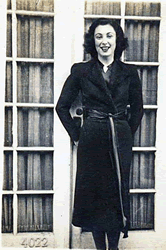 6. My mother at age 16, which is when she began to date my father who took this photograph. Mom is standing in front of her house in Atlantic City. When she and my father divorced the same house was on the market and Mom and my Nana bought it so I grew up where my mother and uncles did, and my bedroom was my mother's old room.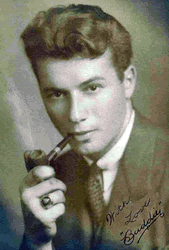 7. My father in his early 20's when he began to date my mother. The photo is dedicated to her.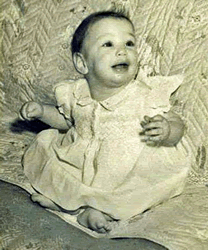 8. Me at age 6 months.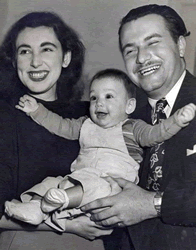 9. Mom, Dad and me at age 7 months.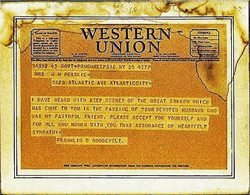 10.. FDR sent a telegram to my step grandmother after learning of my grandfathers death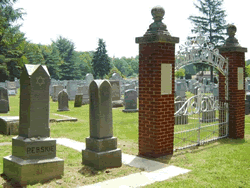 11, A photograph of my great grandfather's, Eliezer Mordechai ben Tzvi Persky's, tombstone in the cemetery at Alliance, NJ, where our family settled with 42 other families from the Am Olam Movement.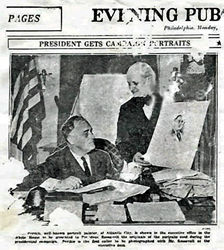 12. This newspaper clipping is obviously quite old and in poor condition. It shows my grandfather, Jacob H. Perskie, presenting a drawing he made of President Franklin D. Roosevelt. My grandfather was the first civilian to visit the Oval Office after Roosevelt's swearing in in 1933.
Here is the caption from the newspaper clipping:
"Jacob H. Perskie in White House Oval Office with FDR." 1933. White House, Oval Office, Washington, DC.
"Jacob H. Perskie, well-known portrait painter of Atlantic City, NJ, is shown in the executive office in the White House as he, ?, (I cannot make out the word), to President Roosevelt. The originals of the portraits were made during the presidential campaign. Perskie is the first caller to be photographed with President Roosevelt at the executive desk."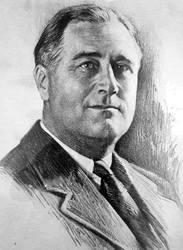 13. Drawing of FDR created by Jacob h. Perskie.
"***Note by Jana Perskie - below is a newspaper article from the Atlantic City Press written by Charlotte Johnson and dated July 9, 1940
"Perskie Bidden to Convention by Roosevelt"
"The Democratic National Convention will be just 10 days old when Jacob H. Perskie, who created the Roosevelt portrait, at left, used on campaign posters of 1932 and 1936, will have reached his 75th birthday."
"More than likely Mr. Perskie, dean of Atlantic City artists, will be seated somewhere in the galleries. He received a letter from the President's secretary, Stephen Early, saying that tickets would be set aside for him. In customary gray business togs and flowing black silk artist's tie, Russian-born Jacob Perskie will probably be the only individual, among hundreds of politically-minded Americans, viewing the scene through eyes of an artist."
"His Teacher Poverty"
"Three quarters of a century is a long time, but the years have dealt gently with the man who says - 'My school of art was the farm and my teacher, poverty.' Patriarchal head of a large and distinguished family that established itself in Atlantic City 55 years ago, Perskie looks back now to the dim years when he came here from Volozhin, Russia, a frightened, sensitive lad, burning with inborn ambitions to paint the New World - and all the beauty he saw. Yet he was destined, for a time, to bend his back to the plow."
"In the swirl of shifting years, commingling heartbreak with brave hope, young Jake Perskie found himself. It happened on a Jersey farm near the Jewish colony of Alliance. He made a portrait, sold it for $6.00, and took this as proof that art would be his life's work."
"Today he numbers among his patrons Postmaster General Farley, the late Cardinal GIbbons, Rabbi Stephen WIse, Secretary Stephen Early, Supreme Court Justices Hughs and Brandeis, and of course, President Franklin Delano Roosevelt and his family. He also counted, among his clients, many other well-known and appreciative figures."
"Reverences America"
"Mr. Perskie cherishes a deep and reverential love for America. Even now, despite his advanced age, he is willing to fight for its principles and rights. 'I begged to be enlisted in the army, (both WWI and WWII), he said, a solemn, quiet to his voice - to be of some help to my country in its time of need. But they wouldn't take me.(**Note by Jana Perskie: My grandfather had a disability which prevented him from serving in the military). But if today, old as I am, they'd surely let me help. I'd do anything in the world for this country. If a man can live, as I have been permitted to live in the United States, then that man ought to be willing to give his life, if need be, for such privileges.'"
Much of Mr. Perskie's gratitude to America is due to the fact that it afforded him, born to poverty and oppression, the opportunity to rear his large and illustrious family in a democracy rife with opportunity.
His six sons and five daughters, all artists and photographers, (and one author), found success in various fields."
"His son, Leonard L. Perskie, is a noted lecturer on color photography. Sylvia Perskie Hart, (Mrs Ralph Hart of Philadelphia), is a talented painter of miniatures. Clare Perskie Bloch, (Mrs. Peter Bloch), is a graduate of the Philadelphia School of Industrial Arts and is an accomplished pianist. Sons Theodore, Edward, Erwin, ("Buddy"), and Leon, are graduates of various universities and art institutes. They found their calling and success in the photographic arts.
*** Note by Jana Perskie: This newspaper article doesn't end here, but it was clipped here. and so, this is where it stops.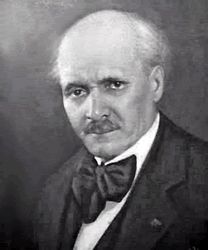 14. Obituary of Jacob **Harrison Perskie:
"J. H. Perskie Dies, Funeral Wednesday".
Atlantic City Press, July 29, 1941
"Another leader in local Jewish affairs will be laid to rest, tomorrow, Wednesday. He is Jacob H. Perskie, a noted artist, photographer and master at etching. He acquired fame by painting the nation's notables, including President Franklin Delano Roosevelt."
"Perskie died shortly after midnight, Sunday, in the Sinai Hospital, Baltimore, MD, after an illness of four weeks, following an operation. (Note by Jana Perskie: my grandfather died of colon cancer, as did my father Erwin "Buddy" Perskie)."
"His body is being removed today to Atlantic City, NJ. Funeral services will be held tomorrow at 10:00 a.m. at the Hillelson Funeral Home. Rabbi Joseph Narot, of Beth Israel Temple will officiate and the internment will be in Beth Israel Cemetery in Pleasantville, NJ."
"COLORFUL FIGURE"
"A colorful figure in Atlantic City, Perskie was the dean of resort artists, and was distinguished by his customary black suit, thin black silk artist's tie, and his flowing main of white hair."
"He made the portraits of many dignitaries in governmental, judicial, professional and political life throughout the country, and often received commissions to photograph them in his distinctive style - a method he called "charcoals." Perhaps the most famous of his photographic-etchings was the one he made for President Franklin Delano Roosevelt for the first campaign in 1932 and the 2nd campaign in 1936."
"Mr. Perskie, who was 76, was born in Volozhin, Russia. He was brought to this country as a teenager, along with his three sisters, by his parents, Lazer and Minnie Perskie. They settled as pioneers at the first Jewish farming community in America, in Alliance, NJ, just outside of Vineland."
"His first years in the United States were spent behind a plow, amidst comparative poverty. At that time, however, according to his own admission, Mr. Perskie felt the surge of inspiration to draw and sketch the countryside about him. He was determined to eventually begin a career as a professional artist and photographer. He had experimented with photography while in Russia and was fascinated by it."
"In the years that have passed, his achievements have been a far cry from the lonely ambitions of a youthful immigrant from Russia. When Atlantic City was still in the era of horse-drawn trolley cars, Mr Perskie moved to the resort from Norma, NJ, in 1885. and began taking photographs of local residents."
"Living quietly in the mellowing years of his life, at his home at 33 South Raleigh Ave., Mr. Perskie could look about him with satisfaction and gratitude at his own success and of the achievements of his large family. Jacob Perskie and his first wife, Lena. had thirteen children. Two of them died as infants. He was the father of nine living children, all adults with children of their own - six sons and five daughters. His sons are engaged in some aspect of the photography business, and Leonard L. Perskie lectures on the field of color photography. Leonard, Called "Lossie," and his family reside in New York. Leon and Edward Perskie live with their families in Baltimore, MD. Theodore and Alex Perskie live in Philadelphia. Erwin "Buddie" Perskie, of Atlantic City, assisted his father in the studio on the boardwalk near the Ritz Carleton Hotel"
His daughters include Sylvia Perskie Hart, (Mrs. Ralph Hart), of Philadelphia, a painter of miniatures; Clare Perskie Bloch, (Mrs. Peter Bloch), a graduate of the Philadelphia School of Industrial Arts and an accomplished pianist who studied at a music conservatory for a few years. She and her family reside in Chicago, IL; Both Lillian Perskie Perell, (Mrs. Godfrey Perell) and Ethel Perskie DeBrier, (Mrs. Daniel DeBrier), live in Atlantic City. And Rose Perskie Greenberg, (Mrs. Oscar Greenberg),resides in Bridgeton, NJ. As mentioned above, all the children were born of his first wife, Lena Abramowitz Perskie. She and Jacob were married here in November 1894. She died 20 years ago."
Surviving Jacob H. Perskie, other than his children, are 13 grandchildren, his brother, Associate Chief Justice, Joseph B. Perskie, sisters Fannie Perskie Jacobs and Sadie Perskie Kurtz and his 2nd wife, Goldie Goldstein."
** Jacob H. Perskie's given name did not include the middle initial "H." He gave himself the middle name "Harrison" after President Benjamin Harrison, the 23rd president of the US who held office from March 4, 1889 – March 4, 1893. My grandfather and his family came to the US in 1882. He wanted to be as American as possible and to shed his initial Russian roots.
*** "The highest reward for a person's toil is not what they get for it, but what they become by it." John Ruskin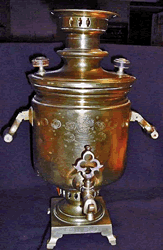 15.Lena Abramowitz Perskie inherited this precious heirloom samovar from her mother-in-law, Minnie Dithy Persky. It was brought to the United Sates from Volozhin, Russia.