Return to Menu
Yaakov (Yani) Garber,
By Lea Baksht (Fayguenboym) — Nataniya
Translated by M. Porat (Yani's nephew) from Vol.Y.Book P. 492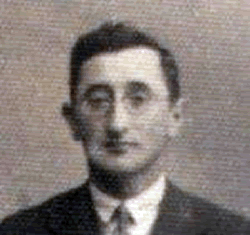 Yakov (Yani) Garber was one of the prominent and most honored figures in our town. He arrived in Volozhin from Nikopol in Ukraine, where he encountered his future wife, Haya-Dina nee Perlman. The Perlman family lived in Nikopol during the First World War. Yani had academic high education. His inner culture was expressed in his behavior and attitude to human beings. He honored everyone whom he dealt with.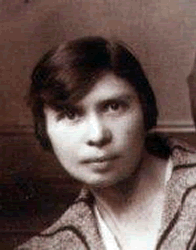 Haya-Dina was an intelligent and well-educated woman. One could not imagine her presence without reading a book of Russian classics. She passed away at young age during an appendectomy that was performed at the Volozhin hospital in the year of 1933. A period of mourning was declared in the entire town of Volozhin. All Chanukah events were canceled.
Yani owned oil, flour and vine stores. Yani and his family lived in the big stone house, which was built by count Tishkievitsh for Rabbi Hayim of Volozhin and finally Malka Perlman (nee Itskhaykin), a descendant of Rabbi Hayim and Haya-Dina's mother, inherited it. In its large cellars were situated the stores. From this house Yani also managed his business.
Yani was a wealthy man, but he did not thirst for power and money. He worried much about the shtetl's poor population. The Congregation even offered him a position as the town's head, but the Polish authorities rejected the Jew's candidacy. He was elected, at least, to represent the Jewish inhabitants in the town council. Yani considered this position to be an important function and worked hard to defend and to satisfy his congregation.
In 1937 there was a pogrom in Pshitek, Poland, and as a result, I was ready to go on Aliya, but first I asked Yani's advice. He took the pogrom to be an ominous sign for the Polish Jewry, and since he was such an ardent Zionist, Yani strongly encouraged me to go, saying that he was very sorry that he could not stand up and do it himself. Every Jew, in his opinion, was obliged to go to the land of Israel to build a home for our chased people. Such was his opinion but like the great majority, he and his two sons did not move.
Yani was musically talented and blessed with perfect pitch. He often joined the Beytar amateur chorus. The simple choir singing became a true multi-voice concert when Yani would add his voice.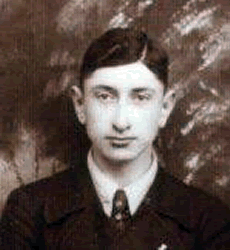 A piano stood inside the big salon of the stone house. It was the sole piano in shtetl.
Dania, the elder son, often played it. He was taught by a Russian woman.
Gossips said that Malka Dania's grand mother said once, "The teacher woman is already covered with gold while Dania still only plays the octaves." But Dania continued his piano lessons in spite of the Shtetl's sayings. Parallel with High School learning he took music lessons in the Vilna-conservatorium and used to play concerts in public. Finally the piano saved his life. During the Soviet rule the authorities invited him to teach piano in Russia. There he married a Bobruysk-born girl, and she too was a pianist. They lived in Russia when the Germans occupied Volozhin. Dania the pianist survived the war.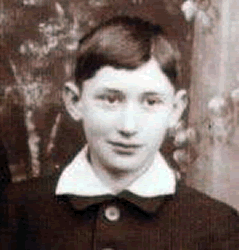 Monia, Yani's younger son played a prank during the Russians' rule. He tore out Stalin's mustache from a wall journal at the Volozhin High School. The Soviet NKVD did not appreciate such jokes. Monia Garber was arrested on March 1941 and was sent into the Soviet Gulag Camps. He joined the Polish Anders army, after the Stalin-Sikorski agreement in 1942. With this army he arrived via Teheran in Israel. He could not remain in the Land and was obliged to go with his Polish unit to Italy to fight the Germans.
Monia - Moshe Garber, was killed in the Monte-Cassino battle against the Germans as a soldier of the Polish army.
Yani Garber was nominated to function as head of the Volozhin Judenrat after the Germans occupied Volozhin. The SS ordered him to gather 300 Jews for work near the Military sports stadium. The group was enclosed inside the cinema building near the stadium. Word was spread that all of them would be executed. Yani understood that the Germans cunningly lied. As the Judenrat head, he could go free but it was against his nature. Yani asked to be shot first. His demand was fulfilled. Yani Garber one of the most honored Volozhin citizens and head of the town's Judenrat was murdered at the Sport Stadium in Volozhin on October 28th 1941.
Yani Garber was the first martyr at the first Volozhin Jewish population's mass-slaughter.