Return to Volozhin Stories Menu
Bialik, Haim Nahman (1873-1934) Yeshivah of Volozhin most well known student.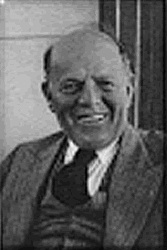 The greatest Hebrew poet of modern times, was also an essayist, storywriter,
translator and editor who exercised a profound influence on modern Jewish
culture. Bialik was born in the village of , near Zhitomir (Volhynia). His
father, who came of scholarly stock, had come down in life through his
impracticality in his business affairs. For his father as well as his mother,
this was a second marriage, both having been widowed previously. Despite his
family's dire economic circumstances, some of Bialik's best poems recall and
idealize the enchanted hours which he spent as a child romping in the secret
shade of the forest. Other poems recall loneliness and parental neglect. When
Bialik was six, his parents moved to Zhitomir in search of a livelihood and
his father was reduced to keeping a saloon on the outskirts of town. Shortly
thereafter, in 1880, his father died and the destitute widow entrusted her
son to the care of his well-to-do paternal grandfather. For ten years the
gifted, mischievous Hayyim Nahman was raised by this stern, pious old man. At
first he was instructed by teachers in the traditional heder, but later, from
the age of 13, he pursued his studies alone. Convinced by a journalistic
report that the yeshivah of Volozhin in Lithuania would offer him an
introduction to the humanities as well as a continuation of his talmudic
studies, Bialik persuaded his grandfather to permit him to study there. In
fact, however, the curriculum of the yeshivah enabled him to immerse himself
only in the scholarly virtues of talmudic studies. But in the end modernist
doubts triumphed over traditionalist certainties. Bialik began to withdraw
from the life of the school and lived in the world of poetry, reading Russian
verse and European literature. While still in the yeshivah Bialik joined a
secret Orthodox Zionist student society, Nezah Israel, which attempted to
blend Jewish nationalism and enlightenment with a firm adherence to
tradition. In this period Bialik was influenced by the teachings of Ahad
Ha-Am's spiritual Zionism. In the summer of 1891 Bialik left the yeshivah for
Odessa, the center of modern Jewish culture, in southern Russia. He was
attracted by the literary circle that formed around Ahad Ha-Am, and harbored
the dream that in Odessa he would be able to prepare himself for entry to the
modern Orthodox rabbinical seminary in Berlin. Penniless and alone, he earned
a livelihood for a while by giving Hebrew lessons, while continuing to study
Russian literature and German grammar. At first the shy youth did not become
involved in the literary life of the city but his first poem, a song longing
for Zion, was favorably received by the critics. When Bialik learned, early
in 1892, that the yeshivah of Volozhin had been closed, he cut short his stay
in the company of the writers of Odessa, and hurried home in order to spare
his dying grandfather the knowledge that he had forsaken his religious
studies. On returning home he found that his older brother too was dying. The
atmosphere at home embodied for him the despair and squalor of Jewish life in
the Diaspora. In 1893, after the death of his brother and grandfather, Bialik
married Manya Averbuch, and for the next three years joined her father in the
timber trade in Korostyshev, near Kiev. During the long and lonely stretches
in the forest, he read very widely. In business, however, he failed, and in
1897 Bialik found a position as a teacher in Sosnowiec, near the Prussian
border. But the pettiness of provincial life depressed him, and in 1900
Bialik finally succeeded in finding a teaching position in Odessa, where he
lived until 1921, except for a year's stay in Warsaw (1904), where he served
as literary editor of a Hebrew journal. Together with three other writers he
founded the Moriah Publishing House which produced textbooks for the modern
Jewish school. Throughout these years Bialik's reputation grew, and when his
first volume of poems appeared in 1901, he was hailed as "the poet of the
national renaissance." Soon after, in 1903, the Kishinev pogroms deeply
shocked the whole civilized world. After interviewing survivors of the
atrocity, Bialik wrote "Al ha- Shehitah" ("On the Slaughter," 1903) in which
he calls on heaven either to exercise immediate justice and, if not, to
destroy the world, spurning mere vengeance with the famous lines:
Cursed is he who says 'Revenge!'
Vengeance for the blood of a small child
Satan has not yet created.
Later he wrote "Be-Ir ha-Haregah" ("In the City of Slaughter," 1904), a
searing denunciation of the people's meek submission to the massacre, in
which he is bitter at the absence of justice, and struck by the indifference
of nature:
"The sun shone, the acacia blossomed, and the slaughterer slaughtered."
After three years in Berlin, Bialik settled in Tel Aviv in 1924 where he
spent the rest of his life. He died in Vienna where he had gone for medical
treatment. Bialik was a very learned man in Jewish subjects and, together
with Yehoshua Hana Rawnitzki, he compiled an anthology of the aggadah (Sefer
ha- Aggadah, 1908--11) which is still a standard text in Israel's schools. He
was very active in public affairs had traveled all over the world in the
cause of Zionism and the Hebrew language. In his later years he took an
increasingly positive attitude towards Judaism and initiated the popular Oneg
Shabbat, a Sabbath study project. Bialik's literary career was a turning
point in modern Hebrew literature. He had a thorough command of Hebrew and
the ability to fully utilize the resources of the language. To a large degree
he anticipated the Hebrew spoken in modern Israel and influenced it a great
deal. Very many of his poems have been set to music and are still very
popular, particularly the poems he wrote for children. In Israel, he is
considered to be the national poet and his position is much the same as that
of Shakespeare in English-speaking countries.
Upon the Slaughter
Heavenly spheres, beg mercy for me! If truly Gd dwells in your orbit and
round, And in your space is His pathway that I have not found,-- Then you
pray for me! For my own heart is dead; no prayer on my tongue; And
strength has failed, and hope has passed: O until when? For how much more?
How long? Ho, headsman, bare the neck--come, cleave it through! Nape me
this cur's nape! Yours is the axe unbaffled! The whole wide world-my
scaffold! And rest you easy: we are weak and few. My blood is outlaw.
Strike, then; the skull dissever! Let blood of babe and graybeard stain
your garb-- Stain to endure forever! If Right there be,--why, let it shine
forth now! For if when I have perished from the earth The Right shine
forth, Then let its Throne be shattered, and laid low! Then let the heavens,
wrong-racked, be no more! While you, O murderers, on you murder thrive,
Live on your blood, regurgitate this gore! Who cries Revenge! Revenge!
--accursed be he! Fit vengeance for the spilt blood of a child The devil
has not yet compiled... No, let that blood pierce world's profundity,
Through the great deep pursue its mordications, There east its way in
darkness, there undo, Undo the rotted earth's foundations!
--Haim Nahman Bialik
A Twig A lighted A twig alighted on a fence and dozed; So do I sleep. The
fruit fell and what have I to do with my trunk, What with my branch? The
fruit fell, the flower is already forgotten, The leaves survive. One day the
storm will rage, they will drop to the ground, dead. Afterwards, the nights
of dread go on, No rest or sleep for me, Alone I thrash about in the dark,
smashing My head against my wall. And again spring blossoms, And alone I hang
from my trunk A bare shoot, without bud or flower, Without fruit or leaf.
Haim Nahman Bialik Translation: T. Carmi
Aharei Moti/ After my Death
After my death say this eulogy for me: There was a man who died
before his time, leaving his poetry, the song of his life, unfinished. And
what a shame! He had another song to sing, and now it's gone, gone forever!
And what a great shame! He had a harp -a soul expressive and alive - and the
poet used all its strings to tell his private thoughts. But he kept one
secret hidden. Round and round his fingers played, but one string was mute to
the end, silent to the very end. And what a very great shame! All her
days the string quivered and strained for her song, her redeemer. Thirsting,
suffering, longing as the heart longs for something made for it. And though
he was late in coming, she waited, groaning in pain for him, but he never
came, he never came! And the pain is so very very great! There was a man who
died before his time, leaving his song unfinished. He had another song to
sing, and now it's gone, gone forever!