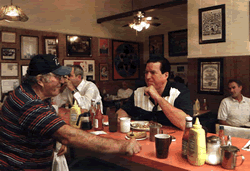 Here is what I found about Isak Zaidlin from the net and ancestry.com ;
Isak ( with hat) at his Coffee Shop
Best Place to Savor the Past
In a world filled with 21st-century pretension, Isak's Coffee Shop is retro refuge. Go ahead, call it a greasy spoon--since 1973, this tiny diner has been a landmark in San Rafael's rapidly gentrifying downtown. There are plenty of artery-clogging dishes on the menu, Formica on the tabletops, an affable smile at the door, and vintage psychedelic posters on the walls. Seventyish proprietor and grill cook Isak Zaidlin is a Polish Jew who ( was born in Druya in March of 1930, survived to holocaust with brother and father) He emigrated to the States in the early '50s ( I found the records;
Name: Isak Zaidlin
Arrival Date: 2 Jun 1954
Port of Departure: Haifa, Israel
Ethnicity/Race­/Nationality: israeli
Ship Name: Jerusalem

Port of Arrival: New York, New York
Line: 18
Microfilm Serial: T715
Microfilm Roll: T715_8459
Page Number: 204
and still holds forth over the smoking grill. Back in the heyday of the counterculture, Zaidlin and his brother ran a Haight Street deli and operated the food concession at the venerable psychedelic music emporium at the Avalon Ballroom (thus the psychedelic posters, Formica, and burgers motif). This ain't a Madison Avenue concept of a '60s diner--no $7 milkshakes or perfect coconut cakes on the counter. Just a gritty, working-class burger joint where the past is something you can savor without the taint of gentrification. Unfortunately, Isak's is closing down after next month, so soak in it while you still can.
920 B. St., San Rafael. 415.456.5810.--G.C.

On Jan 4, 2008 11:03 PM, meir levitanos <meirlev1@bezeqint.net> wrote:
Dear Eilat
I am most thankful for the 'job' you did about the Zaidlin conection.
The picture you sent is realy Isaks. I wonder when and how you get it.
Hope to hear from you more.
Meir