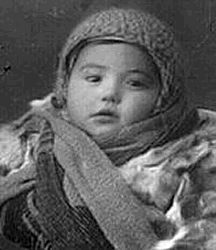 I received an email from Eva Floersheim;
..You may like to read the profile of Chana Mirski who was born in
Glubokoye
http://www.missing-identity.net/mi/index.php?option=com_content&task=view&id=17&Itemid=26
As you will see, there are several unsolved puzzles connected to
Glubokoye:
1. When exactly Chana was born – Dec 1939 or January 1940?
2. When was her mother Sonia (Sara?) Mirski nee Fejgelson born? In
1915?
3. What were the names of her maternal grandparents?
4. What was the name of the maternal aunt who brought her from
Glubokoye to her paternal grandparents?
In any case, this week Chana is enjoying the visit of Marysia from
Poland – and thanking Marysia for having saved her, with the rest of
Marysia's family, during the war.....
CHANA MIRSKI /ANNA ANDZIA'S STORY
Sonia and Shabtai Mirski;
Shabtai Mirski emigrated to Eretz Israel in 1939.
His pregnant wife Sonia was supposed to come later, after giving
birth, with her parents from Glebokie, now in Belarus.
In September 1939 the war broke out and Sonia was stuck in Europe,
unable to emigrate. This area of what was then Poland was occupied by
the Soviet Union from the end of September 1939 under the
Ribbentrop-Molotov agreement.
In the end of 1939 or in the very beginning of 1940 Sonia gave birth
to a little girl – Anna Andzia.
At some point after that, Sonia tragically died.
A sister of Sonia, name unknown brought little Andzia from Glebokie to
her paternal grandparents Rachel and Nathan Mirski who lived in
Pabrade, now in Lithuania. The distance between Glebokie and Pabrade
is around 120 km.
In the end of June 1941 or the beginning of July 1941 this area was
occupied by the Germans.
Andzia stayed with her paternal grandparents till September 10th 1941.
Then her grandfather Nathan Mirski gave her to a Polish man named Jan
Swietlikowski. Jan Swietlikowski Senior was married and the father of
Jan Swietlikowski Junior and Marysia Swietlikowski. Andzia was then
around a year and nine months old.
Jan Swietlikowski got Andzia baptized and she was named Katarzyna
Swietlikowska. They nicknamed her Kanuszia.
During the time Andzia lived with the family, they would leave the
window to her bedroom open so that her paternal uncle Zvi Mirski, a
partisan, could secretly visit her at night.
In 1946, under the Repatriacja program, the Swietlikowski family moved
into what had become a smaller Poland.
On July 18th 1947 the Koordinatzia organization brought Andzia from
the Swietlikowski family to their children's home in Lodz.
In 1948 she was brought to Israel and reunited with her father Shabtai
Mirski.
RESEARCH JOURNAL AUGUST 2005
Glebokie/Glubokoye is situated 146 km N of Minsk, and is today part of
Belarus.
The Jewish population there before Holocaust was 2844.
Andzia's mother : Sonia (Sara?) Mirski nee
Feigelson/Fejgelson/Fejgielson
Sonia was born in Glebokie. It is likely she was born around 1915, but
her birth date is not known.
The names of her parents and siblings are not known. Did any of them
survive?
Are there any additional photos of Sonia?
FEIGELSON EMIGRATING TO THE USA THROUGH ELLIS ISLAND
Through Ellis Island http://www.ellisisland.org/ several persons
named Feigelson from Glubokoye open up an interesting new possibility
for finding relatives of Chana's mother.
In 1904 a tailor named Schimen ( Simon) Feigelson from Glubokoye is
on the ship manifest but his name is crossed out. Did he have to
return to Europe without being able to enter the USA? He was born ca
1878.
In 1910 a tailor named Chaim Feigelson, born ca 1889 in Globokoye, son
of J. Feigelson was going to his married sister .
In 1912 a tailoress named Feige Feigelson, born ca 1892 in Globokoye,
daughter of Rubin Feigelson , named her uncle as her contact person in
the States
In 1914 Hersch Feigelson, a tailor born ca 1891 in Glubokoye, was
going to his brother Philip Feigelson in New York.
In 1921 a mother and her two daughters are leaving one son/brother
named R. Fejgelson in Globokoye and going to another son/brother
named S. Fejgelson in the States. The mother is Zelda Fejgelson,
born ca 1866 . The two daughters are named Dobe-Leja ( born ca 1902)
and Esja (born ca 1904).
Could any of these be relatives of Chana's mother Sonia Mirski nee
Feigelson?
Could Zelda's brother R. Feigelson be Rubin Feigelson, father of
Feige Feigelson who emigrated in 1912?
Could Zelda's brother S. Feigelson be Shimen Feigelson, whose name is
on the ship manifest from 1904, but whose name was crossed out?
In other words were Zelda born ca 1866, Rubin born around 1870 or
earlier and Shimen born ca 1878, siblings?
PADRADE / PODBRODZ IN LITHUANIA
Pabrade (earlier Podbrodz) is located 50 km NNE of Vilnius.

Andzia's father: Shabtai Mirski born 1913
Shabtai Mirski was born in Pabrade (earlier Podbrodz) in 1913.
His parents were Rachel and Natan Mirski. They were both murdered in
Holocaust.
Here are the names of Shabtai Mirski's known brothers and sister:
1. Feigel Schein nee Mirski, born 1915, lived in Vilnius
2. Zvi Mirski born (?), partisan, survived
3. Henech Chanoch Mirski born ca 1923, murdered in Holocaust
4. Daniel Mirski born ca 1929, murdered in Holocaust
Shabtai worked as a printer.
He married Sonia Feigelson probably in 1938.
When the certificate for emigrating to Ereta Israel arrived, Sonia was
pregnant, and the couple decided that he would go first and she would
come afterwards with her parents.
Arriving in Eretz Israel in 1939, he settled on Kibbutz Ein Harod
where he worked as a printer.
After the war, his brother Zvi who had survived as a partisan, told
him that his wife and most of his family was killed, but that his
daughter Andzia had survived and was on her way to Eretz Israel.
Andzia settled in Ein Harod with her father and the new family he
started after the war.
For more information and pictures go to;
http://www.missing-identity.net/mi/index.php?option=com_content&task=view&id=17&Itemid=26