To watch Shalom speak go to:
http://www.youtube.com/watch?v=QpFHB797RfI
P.1 (of 3) - Recovering and Living with Holocaust Years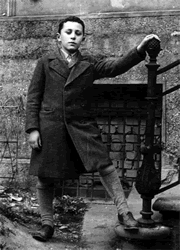 Shalom is the son of Israel Kaplan (b. Purim 1902 in Voloyzin) and Leah Greenstein (b. August 1903 in Seda). He was born in Kovno on May 21, 1933, his younger sister Yehudit was. August 20, 1937. Israel Kaplan was a teacher and historian who wrote his thesis on the Spanish Inquisition. He taught in the Hebrew Tarbut school; Leah was a nurse and a poet. On June 22, 1941 Germany invaded the Soviet Union and Lithuania and immediately began the mass murder of its Jews. Shalom's mother was not at home when this occurred. She had gone with children to the OZE (International Jewish Communal Health Association) summer camp but she managed to return with her charges by riverboat as soon as war broke out. In the first days of the summer of 1941 the family hid in a cellar while Lithuanian collaborators went from house to house slaughtering families, especially in Slobodka, the Jewish quarter. Soon, laws were imposed targeting Jews; certain hours were allotted for shopping. Since Shalom did not look Jewish he was able to leave the apartment to buy supplies for the family. On July 10th, the Mayor of Kovno, Kazys Palciauskas ordered all Jews to wear a yellow Star of David on every article of clothing. Leah, who owned a Singer sewing machine, made stars for all of the family. That August, Shalom's grandfather was led to a killing pit and executed. His grandmother was imprisoned in a synagogue of Vidukle for three weeks and then shot as well. In July 41 the Jews were ordered to move into a ghetto in the old Jewish suburb of Slobodka. Shalom's family tried to exchange their flat for one in the ghetto but they lived in a damp 4th floor apartment and no one was interested. Having no choice they first moved in with friends for a month until they found a place to live. On August 15, 1941 the ghetto was locked.
rossing the River is a personal memoir—and more. Against the backdrop of Lithuania's occupation—first by the Red Army, next by the Germans, and then again by the Russians—it is a story reflected through the prism of a sharp-eyed young child, Shalom Eilati. His story starts in the occupied Kovno Ghetto and ends with his flight across the Soviet border, through Poland and Germany and finally, his arrival in Palestine.

The adult survivor, while recalling the terrorized child that he was and how he then perceived the adult world, also takes stock of his present life. Throughout the memoir, Eilati attempts to reconcile his present life as a husband, father, scientist, and writer, with the images, feelings, and thoughts from the past that have left an indelible mark on his life and that continue to haunt him.The family lived at the edge of the ghetto which enabled them to trade goods with Lithuanians by the fence. Further decrees were established confiscating many of their belongings, including their books. The Germans began by issuing special family permits certifying one was employed in the German war effort. They were known as Jordan passes since they were signed by Jordan, the ghetto commandant. Israel managed to obtain one for himself and his wife which afforded them a measure of protection. In October residents of the so called Small Ghetto underwent a selection. About 2,000 Jews without passes were sent to the Ninth Fort to their death. At the same time, Shalom witnessed the Germans burning of the ghetto hospital with all of its inhabitants including doctors, nurses, and patients inside. Holders of the Jordan passes were sent to the Big Ghetto. A few weeks later another 10,000 Jews were sent to their death in Kovno's Ninth Fort. Again Shalom's family managed to escape selection.
In January 1942 due to the consolidation of the ghetto, the family had to move to a flat on 44 Vigriu Street in the heart of the ghetto. They shared it with three or four other families. They even had a heating stove with a jointed chimney pipe. Israel worked in the airport brigade and was also appointed ghetto historian. Shalom was finally allowed to set up and peddle goods. The following month, a notice was hung asking for 500 healthy people to enlist for temporary work in Riga. Everyone was wary of such announcements claiming better conditions and better food. Still the next day Israel Kaplan decided to go to the selection site to investigate what was happening. He was promised by senior officers that he would not be sent, but no one was allowed to return home. Kaplan insisted he had special duties but to no avail. Shalom who had gone with his father was released. Israel Kaplan was sent to Riga. The family was instantly reduced to three. A few weeks later Shalom and his mother received a message and letters from Israel telling them he had been put into the Riga ghetto and put to work ironing in a tailor shop.
For the next year and a half, life in the ghetto took on a period of normalcy. Home based industries flourished; a choir and orchestra sprung up. Shalom joined the choir singing in Yiddish, Hebrew and Lithuanian. Shalom's mother worked and Shalom took care of his five year old sister Yehudit even though during the day they were separated. Leah was able to provide for her children by bartering and smuggling. She belonged to one of the underground cells and gathered strength from them. However at the end of September 1943, they heard about the liquidation of the Vilna ghetto. Leah went to see Dr. Elkes, the head of the Jewish Council, for moral support. She began to inquire among the Lithuanian workers where she worked about the possibility of placing Yehudit into hiding. She found a woman who was willing to take her. Marta worked in the felt-boot factory; she did not have children of her own and lived across the river from the ghetto. On December 22, Leah smuggled out her daughter while leaving on a work brigade. Yehudit lived for seven months with this woman, her husband and mother. Once a week Leah managed to visit her risking her own life and theirs. In June 1944 as the Soviet army advanced, Marta told her that they were leaving with Yehudit to the country; no one ever saw them again.
Meanwhile, life in the ghetto continued to deteriorate. People built underground bunkers called "malinas" to hide in during round-ups. In March 1944 the Germans held a Children's Action rounding-up and later killing some 1300 children. Soon afterwards, Shalom's mother arranged for his escape. She found a Gentile woman who agreed to hide Shalom in her house. Leah offered her money to cover her expenses. On April 12, 1944 Shalom left the ghetto together with his mother's brigade and walked towards the river to waiting rowboats. Once Shalom left the boat, he walked straight ahead crossing the street and onto a path leading to the hills. Eventually a woman appeared and directed him to a little house on top of the hill. Julia Grinceviciene, a Lithuanian was an elderly woman, gave Shalom her bed the night he arrived and instructions on how to behave. A hiding place had been prepared in a closet if needed and a pit was being readied as well outside of the dwelling. Since it was very small when he arrived Shalom helped to excavate it. The woman who had brought him worked with Shalom's mother and thru her she could send small packages as well as letters. In addition other neighbors acted as go-betweens and supporters. Shalom's sister lived only a few hundred meters away, but any contact with Yehudit was strictly forbidden.
Shalom spent ten weeks with this kindly lady until it was decided that Shalom would be better off living in a rural area. Ona Peckyte, another worker in the felt boot factory agreed to bring Shalom to her native village in June 1944 from where he would be sent to the village of Liepynu with Vincas Daugela, another Lithuanian who agreed to accept Shalom. Daugela told Shalom that he should pose as a deaf -mute refugee from Latvia who was needed to help with chores on his farm. The ruse didn't work; he soon revealed to the workers Shalom's true identity, but no one objected to his presence. Still it was safer for Shalom to live outside the main house in a hayloft where he also had a certain amount of freedom that he did not have previously. Altogether Shalom stayed with Daguela five weeks. The family had been told that they had to evacuate the area temporarily. It was suggested that Shalom flee to the surrounding woods and that food would be left at the farm if he returned. Soon the noise of airplanes surrounded Shalom. Red Army platoons swooped in. The war was over. Shalom returned to the farm and found Daguela. It was the last time he would see him.
Shalom wanted to return to Kovno to look for his family. It has been 150 days since he left his mother. Shalom went to see Julia hoping for some news of his family. She had witnessed the burning of the ghetto during its liquidation. He then went to the "Jewish courtyard" where survivors gathered, newcomers constantly arrived and a food kitchen had been set up, hoping to reunite with his family. Shalom also returned to the ruins of the ghetto. At the foot of the staircase where he had lived, he found a stack of a dozen family photos that had miraculously survived near the cellar where he once had hidden. He still had no news of his family. At one point Magda and Nachum Diener, a childless family offered to adopt him. He agreed to try this arrangement for a month. However, he craved his freedom. Nine months later they gave him an early birthday present of a large sum of money and left the area. Shalom had no hard feelings. He still hoped his parents would return. Shalom was able to remain in their apartment for a while and then moved into a children's home. In 1945 female survivors of Stutthof began returning to Kovno. Shalom questioned them hoping to learn about his mother but soon lost hope of her survival. However, Shalom learned that his father survived and was in Munich. He focused his efforts on reaching him which was not an easy task in 1945. Shalom eventually reached the Schlachtensee DP camp and from there proceeded to Nuremberg where his father came to meet him. Israel had been living in Munich for six months working for the Central Committee for Liberated Jews. His work with the committee would last two and one half more years and held up his immigration to Palestine. Shalom left on his own a few weeks after arriving in Munich. His father arranged for him to go on a Youth Aliya transport to Palestine. After a four day train ride, he boarded the Champillion for Haifa.
In 1948 Israel Kaplan edited "Fun Letstn Hurbn" [From the Last Extermination], one of the earliest histories of the Holocaust. He continued to write and publish throughout the rest of his life. Of Shalom's extended family of 29 souls, only two survived. Shalom completed his education in Israel. He became an officer in the IDF and an agronomist with a PhD in Horticulture. He served as a lecturer in the Agricultural faculty in Rehoboth and was a founder of the Israeli Environmental Protection Services. In 2005 Yad Vashem honored Vincas Daugela, Ona Peckyte and Julia Grinceviciene as Righteous Among the Nations.