Miriam Ben-Porat
http://www.mfa.gov.il/MFA/MFAArchive/2000_2009/2001/1/Miriam%20Ben-Porat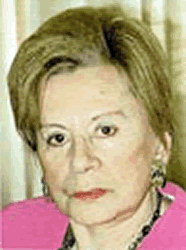 Miriam Ben-Porat, born in Vitbesk in 1918. The family moved to Kovno soon after, and Miriyam attended the Shwabe high school in Kovno. She immigrated to Israel in 1936 and studied law in Jerusalem, graduating in 1945.
1948-53
Served in State Attorney's office
1953-58
Deputy State Attorney
1958-75
Judge of District Court, Jerusalem
1964-78
Associate Professor of Law, Faculty of Law, Hebrew University of Jerusalem
1975-76
President of District Court, Jerusalem
1976-83
Supreme Court Justice
1983-88
Deputy President of the Supreme Court
1988-98
State Comptroller and Public Complaints Commissioner
1991
Awarded Israel Prize for her special contribution to the society and state

Miriam Ben-Porat is the author of commentaries on the laws of assignments and contracts and articles in the Israel Law Review and various other professional journals. She has been awarded several prizes for her achievements as a Supreme Court justice and State Comptroller.
--
Eilat Gordin Levitan