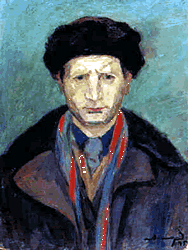 Meir Axelrod and his brother Zelik
from; http://www1.yadvashem.org/about_yad/magazine/data1/artistic.html
Meir Akselrod (1902-1970) was born in a small town ( Molodechno) in White Russia. During WWI, his family settled in Minsk and there he received his art education from private teachers, as well as from the teacher of Marc Chagall, Yehuda Pen, in Vitebsk. During the period of his training in Moscow, Akselrod returned to the small villages of his native area to draw the inhabitants and document their lives. In May 1941, his brother, the poet Zelik Akselrod, was arrested as an "Enemy of the People" and was shot by the Soviets during the retreat of the Red Army in the wake of Hitler's advance. Akselrod and his immediate family spent the difficult war years in Alma-Ata in Kazakstan, until returning to Moscow in 1944. He remained in the Soviet Union after the war, traveling extensively and painting scenes from various areas of the country.In 1964-69 he created the Ghetto Series, now part of Yad Vashem's collection, containing the works Those Led to Death (above left) and On the Edge of the Abyss. Both paintings reflect the experiences of his own family during the war and his travels in the small Jewish communities of White Russia. In both paintings, Akselrod avoids photographic reality; figures are created with soft, blurry lines and are not sharply defined. In Those Led to Death, the central focus, indicated by the point of a soldier's gun, is placed upon a mother holding her infant. This image, in addition to the scale in which the soldiers and the victims are depicted, with the soldiers twice the size of the victims, illustrates not only the power imbalance, but also the vulnerability of the victims.
current edition of the Korni (Roots) Quarterly opens with a section dedicated to the memory of the Yiddish poet Zelik Akselrod (1904-1941). In the article Zelik Akselrod, his niece Elena Akselrod (Israel), a famous poet in her own right, and the daughter of the well-known Jewish painter Meyer Akselrod, recalls her uncle's life and her extended prominent family. In Red Drops on White Snow, the Jewish writer Rivka Rubina (1906-1987), Meyer Akselrod's wife, describes in detail the creative work of Zelik Akselrod.
In this section readers can also become acquainted with the poems of Motl (Matvey) Grubyan and Elena Akselrod which are dedicated to Zelik Akselrod and poems by Zelik Akselrod which were translated into Russian by Elena Akselrod.
http://www.shorashim.narod.ru/Summary24.htm
--