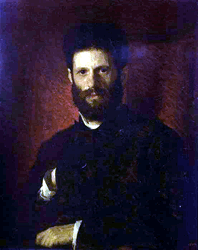 Mark Antokolski
From Wikipedia, the free encyclopedia

Mark Matveevich Antokolski in Russian;
born in 1843 in the city of Vilna, present-day Vilnius, Lithuania,
died in 1902 in Frankfurt, Germany), was a Russian sculptor who was
admired for psychological complexity of his historical images and
panned for occasional lapses into sentimentalism.
He was born as Mordukh Matysovich Antokolsky. Antokolski studied in
the Imperial Academy of Arts (1862¨C68). He first began with Jewish
themes, statues: "Jewish Tailor", "Nathan The Wise", "Inquisition's
Attack against Jews", "Argument over the Talmud".
From 1868-1870, Mark Antokolski lived in Berlin. His statue of "Ivan
the Terrible" (1870) was purchased for the Hermitage by Tsar Alexander
II of Russia. The Russian tsar approved his work and awarded the
sculptor the title of academic. Mark Antokolski believed that
sculpture was a social and humane ideal. In order to improve his
failing health, he moved to the Italian resorts in 1871 and settled in
Paris 6 years later.
Mephistopheles, 1884
Mephistopheles, 1884
In Rome, Antokolski completed the statue of Peter the Great for
Peterhof in 1872, with its copies for Taganrog and Archangelsk. In
1878 Antokolski exhibited most of his works at the Paris Universal
exposition, and received the Grand Prize. In 1880, the personal
exhibition of the artist was held in Saint Petersburg, and he was
given the rank of professor. Mark Antokolski left for Paris the same
year, and stayed in the French capital until the end of his life. He
realised here the following works: "Spinoza" (1881),
"Mephistopheles"(1884), "Yaroslav the Wise"(1889), "Nestor the
Chronicler"(1889) and "Yermak Timofeevich" (1891).
As his illness progressed, he had to spend part of his time in Lake
Maggiore in Italy, but he worked most of the time in Paris. Mark
Antokolski died in Frankfurt am Main in 1902.