<![if !supportEmptyParas]> <![endif]>
An article in a recent New Yorker tells us that the great composer Harold
ARLEN was the son of two Litvaks - I think from Vilna: Cantor Chaim
(Samuel) ARLUCK & Celia nee ORLIN. Harold was raised in Syracuse, NYÉ.
Best, Steve Orlen
Tucson, AZ
<![if !supportEmptyParas]> <![endif]>
1920 census;
Samuel Arluck Buffalo Ward 7, Erie, New York abt 1884 Russia;Poland White
Celia Arluck Buffalo Ward 7, Erie, New York abt 1883 Russia;Poland White
Hyman Arluck Buffalo Ward 7, Erie, New York abt 1906 New York White
Julius Arluck Buffalo Ward 7, Erie, New York abt 1912 New York White
Christina Schwck [Chestina Arluck] Buffalo Ward 3, Erie, New York abt 1866 New York White
Name: Samuel Arluck
<![if !supportEmptyParas]> <![endif]>
Age: 36 years
Estimated birth year: abt 1884
Birthplace: Russia;Poland
Race: White
Home in 1920: Buffalo Ward 7, Erie, New York
Home owned: Rent Cantor at a Heb. synagogue
Sex: Male
Marital status: Married
Relation to Head of House: Head
Year of immigration: 1895
Able to read: Yes
Able to Write: Yes
Mother's Birth Place: Russia;Poland
Father's Birth Place: Russia;Poland
Image: 703
Image Source: Year: 1920; Census Place: Buffalo Ward 7, Erie, New York; Roll: T625_1101; Page: 3A; Enumeration District: 63; Image: 703.
Name: Hyman Arluck
Age: 14 years
Estimated birth year: abt 1906
Birthplace: New York
Race: White
Home in 1920: Buffalo Ward 7, Erie, New York
Sex: Male
Marital status: Single
Relation to Head of House: Son
Able to read: Yes
Able to Write: Yes
Mother's Birth Place: Russia;Poland
Father's Birth Place: Russia;Poland
Image: 703
Image Source: Year: 1920; Census Place: Buffalo Ward 7, Erie, New York; Roll: T625_1101; Page: 3A; Enumeration District: 63; Image: 703
1930 census;
Samuel Arluck Syracuse, Onondaga, NY abt 1883 Russia Head pays rent.
Celia Arluck Syracuse, Onondaga, NY abt 1885 born in Russia, Wife married at age 20
Julius Arluck Syracuse, Onondaga, NY abt 1912 Son born in New York, musician
Name: Samuel Arluck
Age: 47
Estimated birth year: abt 1883
Birthplace: Russia came to the country in 1892 married at age 22.
Relation to head-of-house: Head "synagogue minister"
Spouse's Name: Celia Arluck
Race: White
Home in 1930: Syracuse, Onondaga, New York
From; http://www.haroldarlen.com
<![if !supportEmptyParas]> <![endif]>
Samuel Arluck <![if !vml]>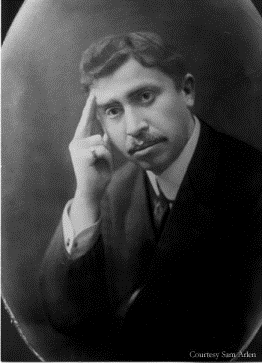 <![endif]>

THE EARLY YEARS
Harold Arlen
(born Hyman Arluck)
February 15, 1905 - April 23, 1986
http://www.haroldarlen.com
On February 15, 1905, Samuel and Celia Arluck gave birth to twin boys; one weighing seven pounds and the other, a mere four pounds. The larger of the two sadly died the following day. The Arlucks quickly changed their surviving son's name to "Hyman," after his twin that passed. Seven years later, on November 11, 1911, the Arlucks had their second and last son, Julius. The family of four resided in a modest two-family home in Buffalo, New York.
<![if !vml]>

<![endif]>

Hyman Arluck (a.k.a. Harold Arlen)
with his younger brother, Julius (a.k.a. Jerry Arlen).
Father of the household, Samuel Arluck, was a celebrated cantor in Buffalo's rapidly growing Jewish community. Around the time when Julius was born, Samuel Arluck took a position as cantor of the Pine Street synagogue where he directed the choir. It was here that Hyman first started singing and developing his musical talents.
Hyman loved to sing, but was extremely shy. In hope that her eldest son would become a music teacher, Celia introduced a piano into the Arluck home. Hyman began studying around the age of nine and quickly outgrew the neighborhood piano teacher. He therefore went on to study with the leading local teacher, who was also a conductor, organist and composer.
Hyman, like most nine and ten year-old piano students, did not like to practice. Though he found the classical pieces that he studied beautiful, he was much more interested in modern music. Hyman was twelve years old when he played his first popular composition, Indianola. Something about the ragtime syncopation and unconventional harmonies stirred and captured his imagination. He began to collect jazz records, which sounded strange coming from the Victrola accustomed to playing what his father liked - traditionally Hebraic melodies and Italian opera. Desperate to hear more modern music, whenever a new jazz band came to Buffalo, Hyman Arluck managed to see them perform.
Before long, Hyman began to play the piano in different bands around town and even took jobs as a pianist in various movie houses and for a vaudeville troupe. His show-business experience eventually led to the formation of his band, The Snappy Trio. With Hymie Sandler on the drums and Ted Myers on the violin, fifteen-year-old Hyman completed the personnel of The Snappy Trio, in which he sang, played the piano, and devised the arrangements. Even though all members of the trio were teenagers, they had little trouble getting work in Buffalo's red-light-district cabarets.
Hyman began earning good money as a young band leader. He loved that his work enabled him to purchase sporty new clothes and a Model T Ford, which was the first and only one in his neighborhood at that time. At sixteen years old, Hyman was much more interested in pursuing a musical career than an education, and decided to drop out of high school. Not surprisingly, his parents were quite annoyed and objected strongly. In order to pacify them, he halfheartedly attended a vocational school where he studied subjects such as astronomy and woodworking, which were clearly less challenging and time-consuming than arithmetic and Latin.
Meanwhile, The Snappy Trio was doing quite well and expanded to form a five-man band called The Southbound Shufflers, which now included younger brother Julius on the saxophone. The Southbound Shufflers performed on the Crystal Beach lake boat "Canadiana" during the summer of 1923 and then at nearby Lake Shore Manor during the summer of 1924. It was during the summer of '24 that Hyman took his first crack at songwriting by collaborating with friend Hyman Cheiffetz to write My Gal, My Pal. The two copyrighted the song as My Gal, Won't You Please Come Back to Me? and listed lyrics by Cheiffetz and music by Harold Arluck.
Although nothing ever happened with his first song, things began to takeoff for Harold Arluck, the pianist, the singer and arranger. Harold was invited to join a local band, The Yankee Six, that was very popular on the collegiate dance circuit. Before long, the band grew into an eleven-man group called The Buffalodians and became one of the best and most popular bands around Buffalo. Besides playing college and society dates, the band played in Geyer's ballroom restaurant in downtown Buffalo in the theater district. It was while playing here that Harold Arluck met an eccentric young dancer from Boston named Ray Bolger (now best known for his role as the Scarecrow in The Wizard of Oz), who later became one of Harold's best friends. As a member of the celebrated Buffalodians, known for its modern, jazz-inspired arrangements, the twenty-year-old musician was now earning an average of $75 to $110 a week! The Buffalodians recognized their marketability and decided to take their act on tour.
A DREAM TO PERFORM
The Buffalodians began their tour in Cleveland, Ohio. In late 1925, they traveled east to Pittsburgh, Pennsylvania and eventually landed in New York City playing shows at the Palace Theater and Gallagher's Monte Carlo, a blazing night spot on Fifty-second Street. Coincidentally, the one-man floorshow at the Monte Carlo was performed by one of Harold's old friends - dancer Ray Bolger. Harold and Ray quickly renewed their friendship and even decided to share an apartment on West Fifty-seventh Street.
Although Harold spent most of his time arranging, playing the piano and singing, he collaborated with Dick George in 1926 to compose Minor Gaff (Blues Fantasy). The solo piano piece, which was his first published music, bore the name Harold Arluck. However, sometime thereafter, the young musician, unhappy with his name, decided to change it instead to sound like his mother's maiden name (Celia Orlin). The transformation would be complete - Hyman Arluck would be known to the world as Harold Arlen.
Composing didn't interest Harold too much- his dream was to be a performer. Bent on a singing career, Harold considered arranging and piano playing to be the means to an end. Although his unique singing style and great sense of humor began to attract attention in the mid-twenties, his ability to arrange was still the draw. Yet, Harold was determined to sing.
Band Leader Arnold Johnson liked the new sound that Arlen was able to put into his orchestrations, but understood that if he wanted Arlen the arranger, he had to take Arlen the singer as well. As a member of the Arnold Johnson Band, Harold arranged several tunes for a revue called The Great White Scandals and even got to sing during the entr'acte. However, the arrangement grind was becoming too much and since singing was only incidental to the work he was doing, Harold left the Arnold Johnson Band and struck out on his own as a single act in vaudeville. With a distinct style, his popularity began to grow and he was finally doing what he really loved.
Although Harold lacked interest in songwriting, he continued to do so with much success. In 1929 he composed The Album of My Dreams to lyrics by Lou Davis and the song became a hit when picked up by singer Rudy Vallee. Despite his songwriting success, Harold continued to pursue his career as a singer.
In 1929, twenty-four year old Harold landed a singing and acting role as Cokey Joe in the musical The Great Day, by composer and producer Vincent Youmans. One day during a summer rehearsal the show's accompanist became ill and Harold, known to be a fine pianist, was asked to fill in and play for the dancers. During several inevitable waits, he unconsciously toyed with the pickup (a musical phrase that serves as a signal for the dancers that a routine is about to begin). As the rehearsal progressed, the pickup emerged more and more as a song fragment and varied far enough from the original idea to take on all the proportions of an original song. Composer Will Marion Cook heard Harold's idea and suggested that he make a song of it. Composer Harry Warren also liked the song idea and linked Harold up with lyricist Ted Koehler.
On July 31, 1929, Arlen and Koehler signed a yearlong contract with the George and Arthur Piantadosi firm. With the signing of this contract, Harold's hoped-for career as a singer came to an end. Harold said of the situation, "It got me away from that which I had loved, a goal I had set. And yet I suddenly realized that goal had become something my temperament couldn't take."
The newly formed Arlen-Koehler team took the song that originated as variation of a pickup and created the much-loved tune now known as Get Happy. Shortly after its completion, in 1930 producer Ruth Selwyn used the song for the first act finale in her new show entitled The Nine-Fifteen Review and hired the team to compose several other numbers for the review as well. Though the show itself failed, Get Happy became a big hit - a "noisy song," as Harold referred to it.
The noise of Get Happy was loud enough to attract attention to the new songwriting-lyricist team identifying Arlen and Koehler as hit writers. With Get Happy and other rhythmic songs to their credit, the team developed the reputation as writers of "bluesy" rhythm numbers**, which were much in demand in the flourishing cabarets. At the heart of the cabaret scene was Harlem's Cotton Club.
--------------------------------------------------------------------------------
<![if !supportEmptyParas]> <![endif]>
** It should be noted that while Harold Arlen's songs have often been mischaracterized as blues, they are actually rhythm numbers, jazz pieces, novelties, ballads and torch songs. The only song deliberately written in the blues style is I've Gotta Right to Sing the Blues.
During his work on Earl Carroll's Vanities in 1932, Harold Arlen met celebrated Powers model, Anya Taranda, who, barely in her mid-teens, was a member of the show's cast. All that the striking blonde model had to do was stand around in approved Earl Carroll fashion, but with her beauty, that was enough.
Harold was instantly taken with Anya, but was much too shy to do anything about it. After much time, he finally worked up the courage to invite her to his apartment for dinner one night. Unfortunately, he became so nervous about having her over that he started to panic and, in order to cope with the situation, invited another friend to dinner as well. Though the dinner was not as intimate as Harold had hoped, it did begin what turned into a grand love affair between the two.
Once the spark of romance had been struck between them, Harold and Anya were rarely apart. Even when their busy careers forced them to be apart, they would find a way to be together, even if it meant only being able to talk on the phone. Unfortunately, when Harold went to California in 1933 with Ted Koehler for one month to work on songs for the screen play Let's Fall in Love, his cross-country calls to Anya quickly added up. Anxious not to be apart from his love for too long, he quickly hurried back to New York as soon as his five weeks work on the film were up.
for the rest go to;
http://www.haroldarlen.com/bio-5.html
Searching for Surname ARLUK( ARLYUK)
(D-M code 098500)
Number of hits: 12
Run on Tuesday 20 September 2005 at 13:45:09

Surname

Given Name

Father

Occupation

<![if !vml]><![endif]><![if !supportEmptyParas]> <![endif]>




Address

<![if !vml]><![endif]><![if !supportEmptyParas]> <![endif]>




Telephone #

Year

Page #

Comments

Town

<![if !vml]><![endif]><![if !supportEmptyParas]> <![endif]>




Uyezd

<![if !vml]><![endif]><![if !supportEmptyParas]> <![endif]>




Gubernia

Publication Type

ARLYUK

Abr

Shepsh

<![if !vml]><![endif]>

Aleksandrovsky Boulevard, 28

<![if !vml]><![endif]>

1915

10


<![if !supportLineBreakNewLine]>
<![endif]>

Vilnius

<![if !vml]><![endif]><![if !supportEmptyParas]> <![endif]>




Vilnius

<![if !vml]><![endif]><![if !supportEmptyParas]> <![endif]>




Vilnius

Vsia Vilna (City Directory)

ARLYUK

Izrail

Ios

<![if !vml]><![endif]>

<![if !vml]><![endif]>