I would like to thank Marjorie Stamm Rosenfeld for submitting the story and
Prof. Algimantas Taskunas of U. of Tasmania for giving permission to post it on this site
From:
LITHUANIAN PAPERS:
ANNUAL JOURNAL OF THE LITHUANIAN STUDIES SOCIETY
AT THE UNIVERSITY OF TASMANIA
Volume 19 – 2005.

A Friend in Need is a Friend Indeed
Aldona KRUTULIS
Duncraig, W.A.
My story is based on a faithful and loving friendship, compassion, understanding and sacrifice.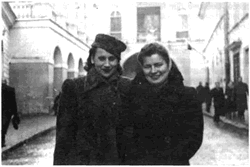 Aldona Krutulis (right), the author of this article, in a 1942 photo with her stepmother. The picture was taken near the Gate of Dawn, in Vilnius.
During the first Russian occupation of Lithuania in 1940, we lived in Vilnius, the capital city of Lithuania. One day, my father became very ill. The infection of the carbuncle on his neck caused him great pain and a high temperature. The inflammation" continued for days without relief. His Jewish friend, lawyer Abe Dimit, dropped in, being unaware of my father's illness. Father was not in any mood to talk to Abe. So, he asked Abe to leave and let him "die in peace". Abe ran out of the house, declaring, "I won't let my best friend die". Within 15 minutes, he was back with the city's best Jewish surgeon, Mr Zarcen. He took my father to his private rooms and operated immediately. After three days, my father went back to work
Months passed and spring 1941 came. On warm evenings, ladies of the neighborhood used to sit in our garden, chatting, laughing and gossiping. On one of those evenings a man appeared and walked towards us. We fell silent and looked anxiously at the stranger: he was dressed in a Russian KGB uniform. Our thoughts were, "Who's next for deportation?" He approached our group and asked in Russian, "In which apartment does Joseph Audiejus live?" That was my father's name.
I stood up. My blood froze in my veins, my legs were limp. The look of horror on the ladies' faces made me almost faint. I led the stranger to our place, feeling like a traitor to our family. I prayed, "God, let your will be done". Luckily, neither my father, nor my stepmother were at home. Once inside our unit, the KGB officer gently placed his hands on my shoulders and shook them, saying, "Dear Aldona, don't you recognize me? I am your father's friend".
"No", I said, "in that uniform, that hat and your beard, you look so different". He begged me to tell my father not to spend nights at home, because our family was on the list for deportation to Siberia. His advice was to sleep in the private dungeon rooms of Uzbek, a guest house in Vokieciy Street. We followed his advice.
Thanks to this friend of my father's, who was a Russian born In Lithuania, we escaped the first wave of mass deportations to Siberia, in June 1941. I regret that I cannot recollect his name. I only know his wife's name as Nadia. They lived in Kaunas, Ozeskienes Street, opposite the High Court building.
At the end of June 1941, German troops drove the Russians out of Lithuania and remained in Lithuania as the new occupying force for the following three years. In August 1943, the Nazis decided to clear out the Jewish ghettos and eliminate the Jews. On my way home from work at about 5 or 6 p.m., I was unable to cross the road to my street, Ausros Varty street, where I lived. I was stopped by a long procession of people that started from the ghettos and slowly marched toward Subaciaus Street, straight to their last destination - Bufalowa Gura or Devil's Mountain.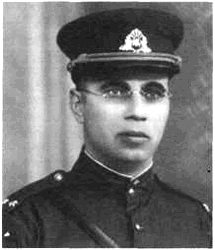 Joseph Audiejus, the author's father, in his Lithuanian Army Reserve uniform, 1938.
They walked very slowly, as if they were counting their final steps in this city. The lifeless look in their eyes and yellow faces made them look like corpses. An old lady with red swollen eyes which bulged from their sockets was constantly beating her chest with one hand and holding a little boy's hand with the other. How I wished I could steal that little lad from her and hide him somewhere - but where? The soldiers were armed with guns, on both sides of the procession. Finally they were all gone... The onlookers dispersed, too.
When I arrived home, my father, looking unusually excited and nervous, met me at the door. He explained the situation and warned me, "For God's sake, and for our own sake, be silent. Do not trust even your best friends". As I walked into the guest room, I suddenly saw my father's three Jewish friends. We shook hands, as if nothing had happened.
At dinner time, we sat around the table, sharing our daily bread, and we drank our soup. The tension disappeared, they felt at ease and relaxed. Abe Dimit (who had saved my father during his grave illness), his wife Cila and his sister Olga had escaped during a dark cloudy night, by climbing onto the ghetto's roof and jumping onto the balcony of an old ruined building and then down, into the street.
Abraham pretended to be drunk and both women led him to our place. When they stepped into our flat, both women sank to their knees and Abe, with his voice choking, could only say, "Joseph". He turned to the wall and his shoulders started shaking.
"Stay, Abrasha, stay", said my father. And to his own wife, my stepmother, father said, "If we send them away to their death, our conscience will torture us until the day we die. This would be a hundred times worse than to die in the hands of Gestapo. It would be inhumane".
After a few hours, there was another knock on our door. Two more Jews arrived: Abe ben Ephraim and his wife Rachilla. Both were gaunt, filthy and exhausted. They begged us to let them stay just for one night.
The atmosphere in the city was chaotic. Gestapo men surrounded buildings and searched for escaped Jews. But they did not find our five Jews; and so, they all remained with us - not for one night, but for almost one year. They were very quiet: sitting in their chosen seats, reading father's books, playing games of chess.
Every time there was a knock at the door, they would quietly disappear into our cellar. At night they slept in a big room on the floor, provided with pillows and blankets by us and supplemented by old coats or whatever we could find. I loved the evenings when we sat around the table having our meals. It felt like a big party. Whether the food was good or very poor, we accepted it as a gift from God and we were thankful for it.
On Christmas Eve, we shared plotkel?s (traditional Lithuanian Christmas wafers) with our Jewish guests. I felt love and joy in my heart. We were like a united happy family. And to this day, I bless my father for letting them stay with us, for this experience filled my whole life with love and compassion for the people who are less fortunate than myself.
But our fear was constant - the fear of being caught, tortured and executed. The Nazis did not differentiate between escaped Jews and the people who harbored them: when apprehended, all were shot without trial.
By July 1944, the Russians were coming back. They bombed Vilnius night after night, causing confusion, anxiety and looting. I packed, ready to leave Vilnius. My father was in Kaunas at that time. My stepmother, who was five months pregnant, decided to stay and hide somewhere in the country. The five Jews locked themselves in our flat and waited there until the battle lines passed…
And so ends my story, but my memories will never be forgotten. When I left Vilnius, my train did not stop in Kaunas where I hoped to meet my father. Instead, the train went to Gardinas, thus separating me from my family, my city and my country forever. I left a note for my father, begging him to leave the country. We would meet somewhere, somehow. However, he stayed in Vilnius and we never met again.
After twelve years of separation, I received his first letter. He would not write about his deportation to Krasnoyarsk (in Siberia), because times were too dangerous to speak or write openly. My father died on November 12, 1972, and I never got to know any details of his Odyssey at all.
Ben Ephraim and Rachilla went to Israel and lived in Tel-Aviv, where he had his own office as a lawyer and notary at 4 Ramhal Street.
Abe Dimit left Vilnius in April, 1945 and went to Italy. In May 1950 he emigrated to Boston, USA. His sister Olga remained in Vilnius. She was a pianist in the Philharmonic Hall and was a constant friend of my father's family. Olga died in 1969, from heart failure.
Aldona Krutulis's university studies stopped abruptly, when the German authorities closed down all Lithuanian universities in 1943, as punishment for the Lithuanians' non-cooperation in the German war effort. Aldona then spent most of her working life as an interpreter in Lithuania and Australia. She now lives in retirement, in Western Australia.