by Jeremy Nicholas
(author of Godowsky - The Pianists' Pianist)
I am not concerned at not being known; I seek to be worthy to be known.
-K'ung fu-tzu, quoted by Godowsky in the foreword to his Bach transcriptions
I love the piano and those who love the piano. The piano as a medium for expression is a whole world by itself. No other instrument can fill or replace its own say in the world of emotion, sentiment, poetry, imagery and fancy.
-Leopold Godowsky in a letter to Maurice Aronson (Paris, 10th July 1931)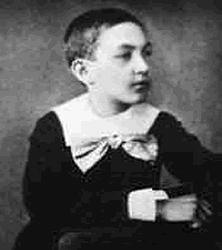 1870-1880
Godowsky was born on 13 February 1870, the only child of Anna and Matthew Godowsky, in Sozly, a little town not far from Wilna (37 miles NNW of Vilnius , known as Šešuoliai [Lith], Sheshol [Yid], Shesholi [Rus], Sheshvil [Yid], Szeszole [Pol], Sheshvill, Sušuoliai, Sheshuolyay, Šešuolių, Šašuoliai, Soshly)
.... His father, a respected physician, died in a cholera epidemic only eighteen months after his son's birth. With barely enough money for food and lodgings, Anna and her infant son moved to nearby Schirwinty Širvintos [Lith], Shirvinty [Rus], Shirvint [Yid], Szyrwinty [Pol], Širvintų, Širvintar, Širvintai, Shirvintos, Shirvintay, Shervint- 29 miles NNW of Vilnius
and thence, at the invitation of her friends Louis and Minna Passinock, to Wilno. Louis's consuming passion was music - a fine amateur violinist who ran a piano shop - and, having no children of his own, set about teaching young Leopold the violin in the hope that he might turn him into a second Paganini. Though his pupil was soon proficient enough to have mastered the solo part of Mendelssohn's Violin Concerto in E minor it was to the piano that he was instinctively drawn, despite being actively discouraged at first.
I would be very glad could I have stated with truth that I was a pupil of [Franz] Liszt or any other great man, but I was not. I have not had three months lessons in my life. I have been told I was playing the piano before I was two. I think, however, an imaginative family perpetrated this story. I cannot vouch for the truth one way or the other. I have had some extraordinary experience, and this may have happened. I do not remember whether anybody taught me the value and meaning of notes and the use of the fingers of the keyboard, or whether I acquired my knowledge in an autodidactic way, but I do remember that I had no help from my fifth year on.
-Retrospect, Godowsky's fragment of autobiography

Godowsky as a childGodowsky was only slightly exaggerating when he wrote this towards the end of his life. Apart from Louis Passinock and his wife (who played piano a little) and a brief period in Berlin some years later, Godowsky received lessons from no one. His aptitude for self-study has rarely been equalled in musical history and his attitude towards the piano, his subsequent experiments with piano technique and the effect he had on it, must be viewed in this light.
At five years old Godowsky composed his first piece, a minuet. "The middle section was a perfect canon. This is noteworthy because up to that time I had never heard a canon. I used this canon in another composition twenty-three years later."
Godowsky made his first public appearance at the age of nine in Wilno, and soon afterwards, under the enthusiastic auspices of his adopted father Louis Passinock, made his first tour as a piano wunderkind.
1881 - 1890
The 11 year-old Godowsky quickly made a name for himself (and his adoptive father some much needed money). His playing came to the attention of a banker named Feinberg. Realizing that the boy was in a fair way to being exploited, he arranged for Godowsky to take the examination for the Berlin High School for Music. Godowsky played for a panel who included Moritz Moszkowski, Woldemar Bargiel (Schumann's brother-in-law) and the director of the performance department of the Academy, the great violinist Joseph Joachim. Godowsky was accepted and, financed by Feinberg, began his studies under Ernst Rudorff.
After a mere three months, he had had enough. "My mother wrote more than usual and with a note of loneliness and motherly anxiousness which she always knew how to conceal." His 'Aunt' Minna had died, 'Uncle' Louis missed him...the 13 year old Godowsky packed his bags, met his mother and 'uncle' at the station and caught the train to Hamburg. In November 1884, they arrived in America. Godowsky made his debut there on 7 December in Boston as a member of the Clara Louise Kellogg Company. Early in 1885 he made a series of appearances at the New York Casino, alternating with Teresa Carreño. Soon afterwards, he embarked on an extended tour with the violinist Ovide Musin, who had heard him as a wunderkind in Wilno. Godowsky was eventually left stranded and penniless in the West and somehow struggled back to New York.
From 1886, both his mother and Louis Passinock faded from Godowsky's life. Passinock's fate is unknown and all we know of Anna Godowsky is that she died shortly before the First World War (she and her son had retained a nominal contact). But not for the first time, the young prodigy was taken up by a wealthy patron of the arts, one who was to have a lasting effect on Godowsky's life, Leon Saxe. Back in New York after his desolate return from the West Coast, Godowsky was introduced to the Saxes and their six children and was welcomed as another son. Here he also found romance in the shape of the Saxes' young daughter Frederica (known as Frieda). Saxe offered to take Godowsky back to Europe and to Weimar to study with Franz Liszt, the most famous and charismatic musician in the world.
In July 1886, Godowsky set sail for France with his new 'uncle', Leon Saxe, who would spend most of the next four years with him in Europe. (Mrs. Saxe was eventually sent for, leaving her six children behind her!) Liszt, alas, died on 31 July, within days of Godowsky's arrival in France. Saxe and his young charge instead made for Paris - and Camille Saint-Saëns. Saint-Saëns did no regular teaching but, once again, Godowsky's phenomenal ability won him special consideration. Having played for the great man, it was agreed that Godowsky would come and play for him whenever he wanted. For a time, the two met up every Sunday. Saint-Saëns seemed to believe that Godowsky had been sent by Providence to replace the son he had lost so tragically.
He wished to adopt me, but with the proviso that I take his own name; but this I refused to do, and it made him very angry.
Godowsky made his home in the French capital from the age of sixteen until he was almost twenty-one. He played for Tchaikovsky, moved in the highest social circles and could count among his acquaintances Charles Gounod, Jules Massenet, Amboise Thomas, Gabriel Fauré, Gabriel Pierné, Charles-Marie Widor and Leo Delibes. Success in the homes of the aristocracy of Paris and London was not, however, the same as success in the concert hall and Godowsky had many rivals amongst the myriad pianists competing for recognition.
In 1890 Leon Saxe died and this, as much as anything else, made Godowsky determined to return to America and to try his luck there once more. He arrived there in October.
1891 - 1900
Six months after his return to America, Godowsky gave a Carnegie Hall recital, one of the first pianists to play there - on 24 April, two weeks before the hall officially opened. On 30 April he married his childhood sweetheart Frieda Saxe and the next day became an American citizen.
Concert dates were hard to come by and he resorted to teaching, which was to become a lifetime's concern. Within the following decade, Godowsky held the following positions:
*
1891: Teacher at the New York School for Music.
*
1891-93: Head of piano department at Gilbert Raynolds Combs's Broad Street Conservatory, Philadelphia.
*
1893-1900: Head of piano department at the Chicago Conservatory (preferred to Edward MacDowell).
As early as 1892 Godowsky taught weight, relaxation, and economy of motion as the foundation stones of technique of interpretation and mechanism in piano playing. Together with Teresa Carreño, who developed similar theories by watching Anton Rubinstein practice, Godowsky was the first great concert pianist to consciously adopt and then teach the principle of weight release, rather than muscular impetus, as the most efficient method of playing.
It was during the 1890s that Godowsky began to make arrangements of other composers' music - transcribing not orchestral works for the keyboard, but already extant piano music. The earliest of these are Frédéric Chopin's Rondo Op. 16 and Grande Valse Brillante in E-flat, Op.18, and Adolf von Henselt's Etude Op.2 No.6 Si oiseau j'étais. His approach was one he pursued throughout his creative life: an absorption with polyphony, the simultaneous interweaving of many different themes. A set of 54 pieces in this style, reworking 26 of the 27 Chopin etudes, was produced between 1893 and 1914 and formed the basis of his reputation as an important composer for the piano.
By the end of the 1890s, Godowsky had played all over America and Canada. He was respected as a teacher in Chicago, and news of his astounding technical accomplishments as manifested in the Chopin-Godowsky studies attracted solid, if unspectacular, attention. Towards the end of the decade he gave many piano recitals in Chicago of enormous breadth and scope. For the 1897-98 season he presented a series of eight programs surveying the entire 19th-century literature of the piano. If it was unusual in 1897, no living pianist would attempt it now.
Godowsky at the pianoHe decided to take a year's sabbatical from the Chicago Conservatory and try his luck, once again, in Europe - in Berlin and Vienna, the real centres of the musical world. He sailed for France on 4 July 1900 together with Frieda, his daughters Vanita (born 1894) and Dagmar (born 1898), and infant son Leopold Junior (born 1900). Among the pianists and musicians he met and heard during the first few months were Harold Bauer, Gustav Mahler, Carl Reinecke, Artur Nikisch, Vladimir de Pachmann, Eugen d'Albert, Moriz Rosenthal, Ferruccio Busoni, Eduard Risler, Teresa Carreño, Emil von Sauer and Alfred Reisenauer. On 6 December 1900, Godowsky made his debut at the Beethoven-Saal in Berlin. His reputation had preceded him and it was said that a more critical audience had never assembled to hear a pianist play. The triumph of that occasion was certainly one of the most remarkable in pianistic annals, for overnight Godowsky was acclaimed as one of the greatest living pianists. He assured himself of a place among the great keyboard artists in history and became one of the highest-priced of all instrumentalists. Godowsky was thirty years old. Years of waiting in the wings were over. For the next thirty years, he remained at the top of his profession.
1901-1914
Godowsky embarked on the fourth decade of his life with a hectic schedule of composing, teaching and playing, all the while incessantly practicing and travelling. Of his immense repertoire it was said that "he could give from sixteen to twenty programmes without repeating a single number, and every selection a more or less important classical work." During his career he performed practically the entire standard classical piano literature - including the concerto and chamber music repertoire - in seasons that would include (to cite 1907 as an example) over seventy concerts in Europe alone. By the end of his first ten years on the continent he had played in nearly every country, enjoying triumphs in Austria, Hungary, Britain, France, Spain, Holland, Belgium, Scandinavia, Russia, and the Balkans.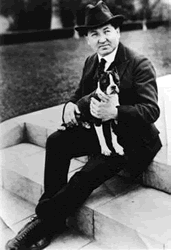 Godowsky and dog
His two daughters and Leopold Junior were joined in 1906 by Gutram (later anglicized to Gordon). Godowsky's home became a focal point for all artists visiting Berlin. Indeed, wherever he set up home - Berlin, Vienna, New York - this was the case. Few musicians have gathered such a glittering galaxy of creative minds to their circle. He befriended Edvard Grieg and spent much time with Jean Sibelius and Robert Kajanus in Finland. Lifelong friendships were sealed with the likes of Josef Hofmann, Fritz Kreisler, Vladimir de Pachmann, Theodor Leschetizky, and Sergei Rachmaninoff (this last dedicated his popular Polka de W. R. to Godowsky). Godowsky's original compositions from this time include the huge Sonata in E minor (1911) and the 24 Walzermasken (1912). What caused more of a stir were his continuing series of reworkings of the Chopin studies, his clever suite Renaissance (sixteen free transcriptions of the works of old masters like Jean-Phillippe Rameau and Jean-Baptiste Lully) and the three imposingly-titled Symphonic Metamorphoses on Themes from Johann Strauss II's Kuenstlerleben, Die Fledermaus, and Wein, Weib und Gesang. These three were among the best-known and most frequently recorded of Godowsky's music - "Johann Strauss waltzing with Johann Bach" one writer called them. Another described them as "probably the last word in terpsichorean counterpoint".
In 1909, Godowsky was invited to become the director of the Piano School of the Imperial Academy of Music in Vienna. It was unprecedented for a Jew to hold this prestigious post - and Godowsky negotiated extremely good terms, to make him the highest-paid artist-teacher in Europe at that time. The whole family moved to the Austrian capital with him and it proved to be a happy period.
His master classes at the Academy were highly sought after - fifteen pupils would play, twenty-five would listen. Among those who benefited were Jan Smeterlin, Issay Dobrowen and Heinrich Neuhaus (the future teacher of Radu Lupu, Sviatoslav Richter and Emil Gilels). He made introductions and offered help to Karol Szymanowski and Arthur Rubinstein among many young artists just establishing themselves. (Godowsky asked the former to compose a piano concerto for him which, alas, came to nothing.)
While engaged in his demanding roles of teacher, composer, and father of four, Godowsky managed to tour widely. From November 1912 to April 1913 he was in America - playing under Stokowski, among others - where he also made his first gramophone recordings (for Columbia). He returned for another US tour from December 1913 to March 1914.
In July 1914, Godowsky took a villa on the Belgian coast at Middelkerke for the summer, taking his Vienna class with him as usual. On the day Great Britain declared war, the Godowsky family managed by sheer good luck to scramble on to the last boat sailing from Ostende to England, in the face of the advancing Germans.
He arrived in London with only the possessions he had taken with him on vacation. After a brief stay in England, Godowsky and his family set sail for the United States, which would become home for the rest of his life.
1914-1922
Godowsky now left his elegant home in Vienna for the Plaza Hotel in New York. He was 44, a small man - only five feet three - with a high domed forehead, a round, cherubic face with twinkling eyes and a face that aged into Buddha-like placidity. From his thirties he acquired a figure that made him, while never less than sartorially elegant, compactly plump and the owner of that most important of pianistic attributes, a large and wide seat.
One of his pupils, Clarence Adler, watched him playing and noted that: "his hands were very small, but wonderfully well developed and exceedingly expressive. They were rubbery and he trained them so marvellously he could master wide stretches and dangerous skips with the greatest of ease..." Another pupil, Heinrich Neuhaus, observed: "those small hands... seemed chiselled out of marble and were incredibly beautiful... the main impression was that everything is terribly simple, natural, beautiful and completely effortless."
Though far better known in Europe than America, Godowsky had no trouble in maintaining his status as one of the highest-paid and most sought-after artists in the world. His financial situation was quickly restored.
As in Chicago, Berlin and Vienna, Godowsky's New York home became a focal point for all the important artists of the day. Abram Chasins, the pianist and composer, has left a vivid portrait of life chez Godowsky in his book, Speaking of Pianists.
Once anyone entered Godowsky's door, he became a disciple... Everyone and anyone was welcome. There seemed to be a perpetual party going on. The table was always set and loaded with food and drink. Godowsky was a born host. His sons and daughters came naturally by their linguistic virtuosity and easy sociability. Popsy [Godowsky's nickname] loved people and loved to be surrounded by them. If he invited you to come over 'just for a little quiet talk and music', you might arrive to find twenty people who had just dropped in, among them not only musicians but also, likely as not, Popsy's music-loving tailor or butcher, a man he had met the day before who said he liked music. Everyone was treated with equal informality and graciousness. Popsy's old-world courtesy and sparkling humor pervaded every word and action as he waddled between the living-room and adjacent dining-room filling plates and glasses, emptying ashtrays, scattering remarks and vicious jibes.
Godowsky and Charlie Chaplin"Everyone came to us, but everyone," remembered Dagmar. "It was not unusual to come home to find [Ignace] Paderewski, [Fyodor] Chaliapin, [Fritz] Kreisler, [Josef] Hofmann, [Enrico] Caruso, [Mischa] Elman, [Walter] Damrosch, everyone from [Leopold] Auer to [Efrem] Zimbalist. At the Met Opera were [Olive] Fremstad, [Ernestine] Schumann-Heink, [Beniamino] Gigli, [Lucrezia] Bori, [Geraldine] Farrar and [Antonio] Scotti." She could have added Igor Stravinsky, George Gershwin, Rosenthal, Rachmaninoff, the Lhevinnes, Rubinstein, Jascha Heifetz, Pablo Casals and Charlie Chaplin - all regular visitors. Abroad you could have bumped into Serge Diaghilev, Vaslav Nijinsky, André Gide, Henri Matisse, or Maurice Ravel.
In late 1916, the Godowskys moved from New York to Los Angeles. Godowsky divided his time, as before, between giving concerts, composing, and teaching. His high fees, some shrewd investing, and $80,000 a year from endorsements and various publishing and recording contracts meant that the family could live very comfortably. His hands were insured for $1,000,000. Leopold Junior developed an interest in photography, a hobby that would lead him - with his friend Leopold Mannes - to the invention of the color photography process that became Kodachrome. Dagmar pursued a career in films and had some success as a vamp of the silent screen.
It was a fallow period for composition but among the works that appeared were the six books of Miniatures (for piano four hands) and Triakontameron (30 pieces in 3/4 time). This latter set was composed in Seattle to where the Godowskys had moved in 1919. They took a small cottage overlooking the Olympic Mountains and near Lake Washington. Two of Godowsky's most played works were also published at this time - the transcriptions of Albeniz's Tango in D and Schubert's Moment Musical in F minor.
From Seattle, Godowsky moved back to New York and ensconced himself in the Hotel Ansonia. For much of the next decade his life would be one of constant travelling and touring, giving concerts all over the world. In 1921 he played 35 concerts in Mexico; in 1922 there was a two-month tour of South America; he had hardly arrived back in New York when he set off once more for Vancouver, Yokohama, and the Far East.
1923-1929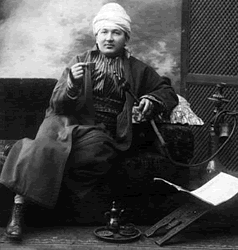 Godowsky in exotic dressIn February 1923, Godowsky was in China. From there he proceeded to Java. This visit resulted in one of his most original creations, the Java Suite in which he attempted to transfer to the keyboard the sonority of the gamelan - a series of musical post cards (Phonoramas he called them) recalling his impression of the places, events and atmospheres that had captivated him. It was also during this tour that he began transcribing three solo violin sonatas and three solo cello suites of Bach - 37 separate movements in all. Kaikhosru Sorabji felt that the peak of Godowsky's attainment was reached in these six transcriptions.
Frieda Godowsky had been diagnosed a diabetic and in 1924 fell seriously ill. Her health would deteriorate from now on, compounded by failing eyesight, weak kidneys, and high blood pressure. Much of her time would be spent in sanatoria, taking the cure, or resting on the Riviera. Nevertheless, in September 1925, she set sail for Europe with her husband and Leopold Junior for Europe and the Near East. After a lengthy concert tour, a holiday on the Riviera and a series of recitals in Europe, Godowsky returned alone to America in June 1926. After little more than three months, he was off again for a further tour of Poland, Finland, Scandinavia, Holland, Belgium, England, Russia, and Germany (his first appearance there since the war).
He began writing more and, following his return to America in 1927, produced a number of transcriptions (including his well-known elaboration of Saint-Saëns' The Swan), three of his four Poems, and his last major work Passacaglia, composed as a tribute to Schubert on the centenary of his death. It is a large-scale conception based on the opening eight bars of Schubert's Unfinished Symphony, comprising 44 variations, cadenza and fugue.
Vanita had married in 1924 (her husband, the concert pianist David Saperton, was to become the teacher of Abbey Simon, Jorge Bolet and Shura Cherkassky). Dagmar was enjoying her social life, in the midst of one of her two marriages and subsequent divorces. Leopold Junior had met an attractive, lively singer named Frances ('Frankie'), the sister of George and Ira Gershwin. Gordon, now 25, abandoned his English literature studies at Harvard to marry a vaudeville dancer. Godowsky was furious and disowned him.
Further transatlantic crossings were made in 1928 and 1929. Then, in October 1929, came the first in a series of disasters: the Wall Street crash, which left Godowsky in a financial position from which he never recovered.
for the rest go to http://www.godowsky.com/Biography/bio.html
--
Name: Leopold Godowsky
Birth Date: 13 Feb 1870
Birth Place: Wilna, Russia
Residence: New York City, New York
Passport Issue Date: 2 May 1891
5' 2 1/4" , brown eyes and black hair
Source: Passport Applications
Address c/o Oscar Saxe 165 E 66 st. New York
Came to the country; 15t of October 1884
wife; Fredericka Godowsky ( born in New York- October 4th, 1870
Name: Leopold Godowsky
Arrival Date: 1 Sep 1921
Age: 51
Birth Date: abt 1870
Gender: Male
Race/Nationality: Polish

Port of Arrival: Laredo, Texas, USA
Record has photo?: No
Name: Leopold Godowsky
Birth Date: 13 Feb 1870
Birth Place: Wilna, Russia
Residence: New York, New York
Passport Issue Date: 18 Jan 1908
Passport Includes a Photo: N
Source: Passport Applications, January 2, 1906 - March 31, 1925 (M1490