Michael Halperin (Vilna 1860- Zfat 1919)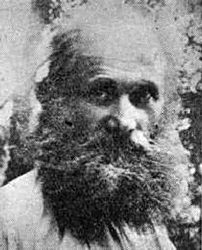 Michael Mihal-Yehiel Halperin (????? ????? ???? ??????) was a pioneer
of Zionism , a staunch defender of the idea of reinstituting the
kingdom of Israel , based on values ??of social justice . One of the
leading figures of the ideas of Return to Zion and the proposed
relocation Jewish Land of Israel . Michael Halperin was born in Vilna
in 1860 to a very wealthy family .
Following the pogroms targeting Jews in Russia (1881), Halperin
adheres to the ideas of Return to Zion and settled in Palestine in
1885 , where he bought land and created the first labor organization
in the country. He also supports the opposition movement pioneer
representatives of Baron Edmond de Rothschild . He participated in the
founding of Ness-Tziona and Hadera . Then he returned for a few years
in Russia , where he set up youth groups gathered around Jewish
Zionist ideas and workers. Michael Halperin contributes to the
creation of the party Poale Zion and to the group's self-defense .
In 1906 , he returned to Palestine , where he became a guard.
Halperin considering the idea of ??establishing a military battalion
defense for the protection of the country and its people. He was also
very close to the organization Hashomer . Michael Halperin involved in
many projects related to the future of the Land of Israel. Then he
left for Ethiopia , where it comes into contact with the country's
Jewish community , in which he proposed his project orce self-defense
in the Land of Israel. His return to Palestine during the First World
War , he asked to engage in the Jewish Legion , but given his age, he
was discharged. Michael Halperin died in 1919 , he is buried in
Mahanaim in Upper Galilee .
http://www.tlvstreets.com/165695/%D7%94%D7%9C%D7%A4%D7%A8%D7%99%D7%9F-%D7%9E%D7%99%D7%9B%D7%90%D7%9C-1-1