The Halperin/ Galperin Family
Angela Strohschein wrote;
My "never give up" story!
I have been actively researching my mother's line for the past several years and prior to her death in 2011, she gave me a few names she remembered from childhood as being relatives. Her grandmother Sara Freida nee Halperin/Galperin
(1887–1915)
died in Brooklyn at the age of 28, and her grandfather ;
Julius Pollack
(1884–1935) moved the children to Pittsburgh after her death. It is where my mother also grew up. My mother remembers visiting Brooklyn a couple of times as a young girl and staying with relatives who she only
knew as Sara and Harry (Halperin?)
They had a daughter Bernice. She knew Harry was a painter, and Sara made the best cheese blintzes she had ever had. I guessed these relatives were her deceased grandmother's kin, so I started with the census and found a Halperin family that seemed to match. The Bernice was born in 1930, and I thought she possibly could still be living. The 1940 census;

Name: Harry Halpern
Age: 35
Estimated Birth Year: abt 1905
Gender: Male
Race: White
Birthplace: Russia
Marital Status: Married
Relation to Head of House: Head
Home in 1940: New York, Kings, New York
Street: 740 Empire Blvd
House Number: 740
Inferred Residence in 1935: New York, Kings, New York
Residence in 1935: Same Place
Citizenship: Naturalized
Sheet Number: 5A
Number of Household in Order of Visitation: 77
Occupation: Business Agent
Industry: Hosiery Ind
House Owned or Rented: Rented
Value of Home or Monthly Rental if Rented: 61
Attended School or College: No
Highest Grade Completed: Elementary school, 8th grade
Hours Worked Week Prior to Census: 40
Class of Worker: Wage or salary worker in private work
Weeks Worked in 1939: 52
Income: 3640
Income Other Sources: No
Household Members

I spent hours trying to find her or a marriage record over the years-nothing. Then this past week I got a "hint" on my Ancestry site.
Another member had a Bernice, same birthday, and a married name! I sent him a message and that night he called me, told me she was 85, alive and well and would I like her phone number!!! I called her just to verify it was the right Bernice, and it was!! We had a wonderful 45 minute conversation, exchanged info etc. The next night her son sent me a photo of my great great grandfather, Bernice's great, and I can't stop smiling
?. This truly was my dream come true for genealogy, and I definitely plan on talking with her again!! Perhaps a meeting is in order too! Here is a photo of Israel Halperin/Halpern (gg grandfather) born approximately 1845 Vilna, Lithuania ( then part of the Russian Empire). Keep plugging away Jewish genners!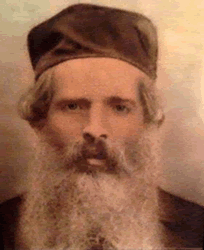 Israel Yehoshua Galperin/Halpern
1845 Vilna–1925 Brooklyn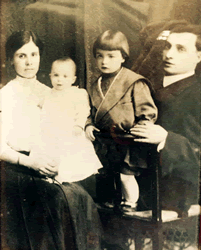 I found out that she never knew her grandfather had a sister (my great grandmother Freida who bore 2 children before her death at the age of 28).She told me she always thought she had no family, as both her mother and father were only children.
The great thing is that she now has
This is the photo I sent to her of my Freida with my great grandfather Julius Pollack and my (then) infant grandmother ; Mildred Pollack
(1912 Brooklyn –1984 Las Vegas)
and great uncle Jacob Bernard Pollack
(1907 Brooklyn-
1955 Pennsylvania)

The photo is taken shortly before
Freida,
(my great grandmother), passed away in 1915 in Brooklyn.

I have used the Jewishgen link in the past, and I believe I have found Israel's father Abram and his 2 wives (they were sisters) birth records of some of their children. His first wife was my ggg grandmother Sura Feige Cohen, and 2nd was Leah Mata Cohen. They had at least 14 children between the 2 of them.