Ivan Chernyakhovsky
From Wikipedia, the free encyclopedia
.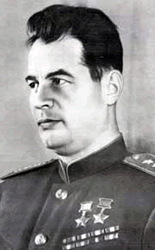 General Ivan ChernyakhovskyIvan Danilovich Chernyakhovsky, also
Cherniakhovsky, (Russian: ИваÌ?н ДаниÌ?лович
ЧернÑ?хоÌ?вÑ?кий); Uman,
current Cherkasy Oblast, Ukraine, 29 June [O.S. 16 June] 1906 -
Mehlsack, current Pieniężno, Poland, 18 February 1945) was a Soviet
General of the Army (the youngest ever to have this rank), twice Hero
of the Soviet Union, brilliant commander of the 3rd Belorussian Front,
who died from wounds received outside Königsberg at age 39.
Chernyakhovsky was the youngest Front commander in the Red Army,
Jewish by birth
Some highlights of his brief but very dramatic military career follow.
1 1943: Liberates Kursk
2 1944: Battles in Belarus
3 1944: Victory in East Prussia
4 1944: Into Germany
5 1945: Soviet Supreme Commander of East Prussia - Killed in action
6 Dates of rank
7 Awards
1943: Liberates Kursk
The 60th army of General Ivan Chernyakhovsky hoisted a victorious Red
Banner over the city of Kursk on February 8, 1943.
1944: Battles in Belarus
Operation Bagration was launched after a four month break in
activities because of the spring thaw. The Russians launched their
attack on June 22 on four fronts with 146 infantry and 43 armored
divisions. General Baghramian's 1st Baltic Front and General
Chernyakhovsky's 3rd Belorussian Front struck to the north and south
of Vitebsk and took the city on June 27. Chernyakhovsky's left wing
then took Orsha - this meant that the Moscow - Minsk highway could not
be used to threaten the German rear. To the south, General Zakharov's
2nd Belorussian Front, north of the Pripet Marshes, destroyed a force
of 33,000 at Babruysk on that day. Chernyakhovsky's army now headed
for Minsk. On July 2 his mobile forces reached Stolbtsy, 40 miles
away. General Rotmistrov's tanks entered Minsk on 3 July and 50,000
Germans were trapped.
The offensive pressed on to Baranavichy (8 July) and to Hrodna (13
July) on the Polish border. In the south Rokossovsky cleared the
Pripet Marshes taking Pinsk and Kovel on 5 July. In the north
Bagramyan turned to the Baltic States and took Vilnius in Lithuania
and Daugavpils in Latvia on 13 July. This split the Army Group North
in two (East Prussia and the Baltic States). The Russians arrived on
the Polish border within 24 days and claimed to had taken 158,000 men,
2,000 tanks, 10,000 guns, and 57,000 motor vehicles. They also claimed
to have killed 38,000 Germans. It was a resounding defeat for the
Germans and Hitler dismissed Busch from the command of Army Group
Centre, replacing him with Model. The Russians had swept the Germans
from Belorussia by mid-July 1944 and they pressed their advantage by
attacking Poland. In the north Generals Chernyakhovsky and Zakharov
joined to take Bialystok on 18 July.

1944: Victory in East Prussia
In summer 1944 General Chernyakhovsky pressed the Germans on the
frontiers of their own land in East Prussia. His 3rd Belorussian Front
drove across the Neman River, taking Kaunas on 1 August, and pressed
the eastern border of East Prussia. The center thrust took Suwalki on
July 26 and General Bagramyan occupied the Tukums junction on the Gulf
of Riga.

1944: Into Germany
Prior to his death in 1945, Chernyakhovsky launched the Soviet East
Prussian Offensive against stiff resistance from the III Panzer Army.
He was part of the drive on Berlin. Together with General
Rokossovsky's 2nd Belorussian Front, which attacked East Prussia from
the south and then headed north-westwards towards the Baltic coast
around Danzig (Gdansk), the 3rd Belorussian Front, commanded by
General Chernyakhovsky was ordered to attack from the east towards
Königsberg, even though this meant throwing his armies against heavy
German defence works. These two fronts mustered 1,670,000 men with
28,360 guns and heavy mortars and 3,300 tanks.

1945: Soviet Supreme Commander of East Prussia - Killed in action
General Rokossovsky's army made contact with Marshal Zhukov's forces
at Grudziadz (German: Graudenz) and they wheeled north towards Danzig
to cut off East Prussia. More than 500,000 Germans were caught in a
pocket, but many were evacuated. On 10 February, Rokossovsky reached
the coast near Elbing (ElblÄ…g) and East Prussia was under siege from
the south and east by the 3rd Byelorussian Front.
From January 1945 until February 18 1945, General Ivan Chernyakhovsky
was appointed Soviet supreme commander of East Prussia.
On 1 February General Chernyakhovsky split the pocket by attacking
between Elbing and Königsberg, but Chernyakhovsky was killed in action
and General Vasilievsky took over; he crushed a bridgehead at
Braunsberg (Braniewo) on March 20 and on April 9, Königsberg was
stormed and surrendered.
General Chernyakhovsky was buried in Vilnius, Lithuania, near a square
named for him. After Lithuania declared its independence of the Soviet
Union in 1990, Chernyaknovsky, among many others was declared an
"occupant", and his body was transferred to Russia and reburied at the
Novodevichy Cemetery.
After World War II, when the Soviet Union annexed northern East
Prussia and expelled the Germans, the town of Insterburg was renamed
Chernyakhovsk in his honor.
Dates of rank
General Major (equivalent to Brigadier General, US Army) 5 May 1942
General Leytenant (Major General, US Army) 14 Feb 1943
General Polkovnik (Lieutenant General, US Army) March 1944
General Armiyi (General, US Army) 26 June 1944
http://web.genealogie.free.fr/Les_militaires/2GM/URSS/Terre/General_Armiyi/C.htm

Awards
Order of Lenin
four Orders of the Red Banner
two First Class Orders of Suvorov
First Class Order of Kutuzov
First Class Order of Bogdan Khmelnitsky
Retrieved from "http://en.wikipedia.org/wiki/Ivan_Chernyakhovsky"