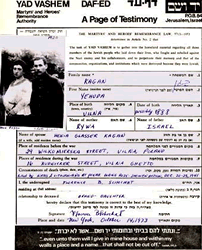 Yehuda Kagan
http://www1.yadvashem.org/stories/kagan/index_c.htm
This is the Page of Testimony for Yehuda Kagan. Yehuda was born in 1888 in Vilna, Poland. He and his wife Henia (nee Glasser) had, as far as we know, two children. During the war Yehuda was in the Vilna Ghetto. Together with his wife, Yehuda was murdered by the Nazis at the Ponary forest in 1941. His son Israel was also murdered during the Holocaust.
This Page of Testimony was submitted by Yehuda's granddaughter Florence Shochat (Levin) in 1973.