David Labkovski, Artist
David Labkovski was born in either Nevil or Vilna in 1906 to Chaim Shalom Labkovski (1870 - 1940) and Musia nee Chenin(1878 - 1955). . Studies: Hebrew Gymnasium, Vilna; 1924 completed studies at school under auspices of "Hilfe durch Arbeit" (Help through Work), Vilna, as painter and decorator; 1935-37 Art Academy, Leningrad. Member of group of plastic artists of "Young Vilna". 1932 Worked as designer of National Yiddish Theatre, Moscow. Immigrated with his wife Rivka ( daughter of Spector/ Gurevich and to Israel in 1958. From 1960 lived in Safed. 1990 A catalogue of his works was published. 1997 Museum opened in Ramat Gan to house his thousands of drawings. Dedicated his life to commemorating Vilna; the subject of many paintings was the Jewish shtetl. Died 1991.
Credit for pictures; David' great nephew; Yehonathan Sela.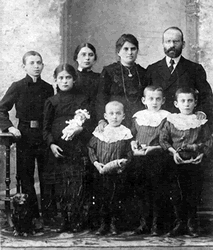 Moshe Pheibush Labkovski, Ida Gardi, Rachel Leah Berkman, Shmuel Refoel Labkovski, Musia Labkovski, Nachum Labkovski, Chaim Shalom Labkovski, Dovid Leib Labkovski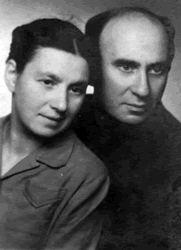 Rivka ( nee Spektor /Gurevich and artist; Dovid Leib Labkovski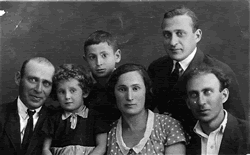 Moshe Pheibush Labkovski, ( children names unknown) Rachel Labkovski, Shmuel Refoel Labkovski, Dovid Leib Labkovski
His art;