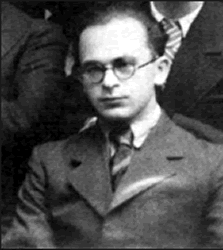 BENZION MIKHTOM (1909-1941) studied art at Vilnius University. As Schubert was in music, the precociously talented Mikhtom was amazingly spontaneous and prolific, working with considerable ease on a wide variety of illustrations, graphics and memorable pieces of art. He was a founding member of intellectually active Yiddish writers and artists called Jung Vilne. He was also the artist-in-residence a Jewish puppet-theater in Vilnius. However, he was best known for his creation of moving portraits and scenes of Jewish life in Litvakia, often with people at work. Rarely, if ever, did the artist use oil, preferring pencil, ink and watercolors throughout most of his aborted career. And what became of this outstanding man? He was slaughtered in Ponar by Wehrmacht troops in September 1941. Most of his works were destroyed. Many were stolen. Some survived. Fortunately, some have been recovered. A representative display of Mikhtom's work may be found at Vilna Gaon Jewish Museum and on Jewish Art Network.
Art of Benzion Mikhtom: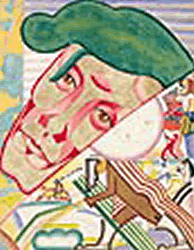 Jewish Fate
by Benzion Mikhtom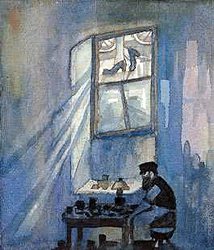 The Shoemaker is an ordinary man with an ordinary job, and his workplace is a dungeon. It's damp and it's cold down there. Look at the slightly cracked window! It leans toward medieval space. Many sounds of old Vilnius enter, with occasional bursts of fresh air. And ah, the radiant sunshine! On the sidewalk a woman is walking. He probably made her shoes.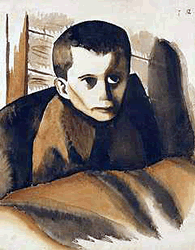 Portrait of a Boy is a painting of an attentive Jewish boy in a Lithuanian yeshiva. His facial _expression makes everything else about the experience abundantly clear. [Vilna Gaon Jewish Museum